Santa Cruz Nomad has been completely revamped for 2021. It's slacker and longer but still rolls on playful 27.5″ wheels. Our review will answer all of your questions.
The Nomad has long been the most fun and the most playful bike in Santa Cruz's lineup. Fear not as that hasn't changed after the latest update, even though many things have been improved.
The brand-new Nomad has all-new geometry that's roughly 1° slacker, features the VPP lower-link suspension, 170mm of travel, the flip-chip setting, and is compatible with both air and coil shocks.
Does Santa Cruz Nomad still have what it takes to be your favorite 27.5 trail ripper? Find out in our review.
Santa Cruz Nomad Builds
---
The 2021 Nomad comes available in eight diverse carbon builds, with a price tag that starts from $4,949. You can get it with either a Carbon C or Carbon CC frame, a coil or air shock, and SRAM or Shimano groupsets. There are no aluminum frames available and no mullet builds.
Here's a quick overview of the available models.
R (Carbon C)
This is the cheapest build, but not significantly less capable than the other ones. It costs $5,149 and gets you a carbon C frame, SRAM NX Eagle groupset, and SRAM Guide RE brakes with 200mm rotors. Moreover, it includes a Zeb fork and a Super Deluxe Select shock, along with WTB ST i30 TCS rims and Maxxis Assegai/Minion tires.
S (Carbon C)
By paying $6,249 for the S Carbon C build, you'll get an enduro ripper equipped with SRAM GX Eagle components and SRAM Code R brakes. This model also sports a FOX 38 Float Performance fork and the Super Deluxe Select+ shock. It keeps the same tires but comes with RaceFace AR Offset rims and DT Swiss 370 hubs.
XT Air (Carbon C)
If you prefer air suspension to coil, this is the build you should get. It features the same suspension setup as the build above, but comes with Shimano XT components and costs $6,849. It brakes with the exquisite Shimano XT 8120 hydraulic discs and even includes a carbon rises handlebar. There's also an option to choose the Reserve 30 Carbon rims with this build. You can also get it without a rear shock, for a $6,199 price tag.
XT Coil (Carbon C)
Do you find it easier to shred trails with a coil shock? You can do it with the RockShox Super Deluxe Coil Select+ rear shock found on this build. It costs the same as the one above and all the other specs are identical. You get DT Swiss 350 hubs, a RockShox Reverb Stealth dropper post, and a Cane Creek 40 IS Integrated Headset.
X01 Air (Carbon CC)
If you are all about marginal weight gains, you should check out the Carbon CC builds. The SRAM X01 Eagle costs a whopping $8,249 and weighs just 14.76kg (32.54 lbs.). This model comes with a Fox Float X2 factory air shock and a Fox 38 Float Factory fork. You'll also get the SRAM Code RSC brakes and Race Face ARC Offset 30 rims.
X01 Coil (Carbon CC)
This build costs the same as the X01 Air model but features a coil rear shock. You'll get the Fox DH X2 Factory Coil shock with a 2-position lever, coupled with a Fox 38 Float Factory 170mm fork. The other specs are completely the same, so you'll get a Cane Creek 40 IS Integrated Headset, carbon handlebar, and DT Swiss 350 hubs.
Santa Cruz Nomad Geometry
---
Like all other new launches nowadays, the Nomad has been stretched out and slackened compared to its predecessor.
The 2021 model now has a 64° head tube angle in the High setting that drops by 0.3° in the Low setting. The seat tube angle is 78° and also reduces by 0.3° in the Low setting. That is roughly a 1° difference compared to the previous iteration.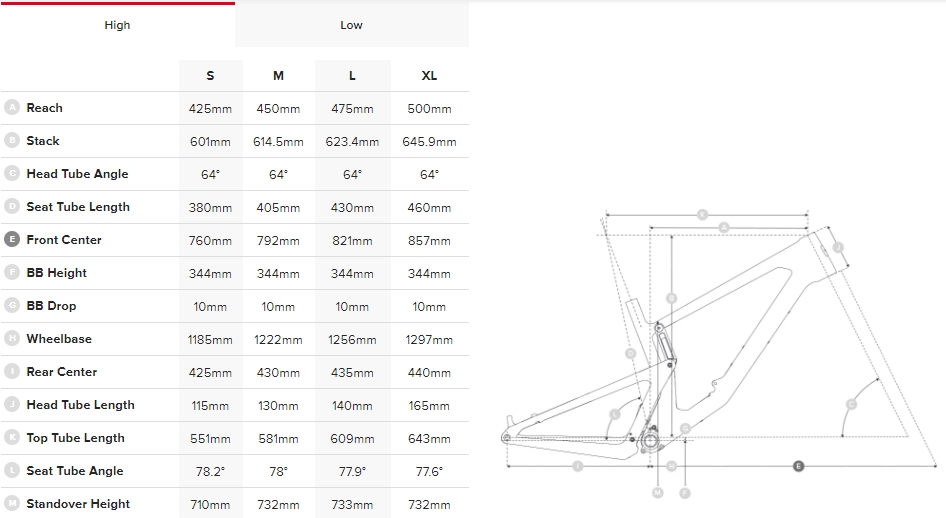 Moreover, the new Nomad has a 10mm longer reach, but with size-proportional chainstays. Therefore, the bike handles well and feels easy to maneuver no matter the height of the rider.
By using the flip-chip setting in the rear shock, you can alter the bottom bracket height as well. Depending on which setting you use, the BB will shift 4mm up or down. That's not a negligible amount considering that the Nomad is now 1222mm long in the medium frame size.
All in all, the latest version of the Nomad feels the same as its predecessor but puts more power through your pedals. It will forgive more of your mistakes and reward you every time you challenge yourself.
Sizing
---
The Nomad comes in four frame sizes, which is good but not ideal. It would be great if Santa Cruz offered the XS size as well, which would make this the perfect enduro bike for very short riders. In this configuration, the Nomad fits riders 5'1″ to 6'4″ tall.
Small:

5'1″

—

5'5″

Medium:

5'5″

—

5'9″

Large:

5'9″

—

6'1″

X-Large:

6'1″

—

6'4″
Other Similar Bicycles
Santa Cruz Nomad vs Bronson?
Santa Cruz Nomad and Bronson both roll on 27.5″ wheels and have similar amounts of travel. However, the Nomad is an enduro bike with a much longer wheelbase, whereas Bronson is best-suited for trail riding. Bronson is also available with an aluminum frame as well, unlike the Nomad.
Santa Cruz Nomad vs Ibis Mojo?
The only thing that Santa Cruz Nomad and Ibis Mojo have in common is that both are full-suspension mountain bikes. However, Nomad is an enduro bike, whereas Mojo is a trail bike. Nomad has 40mm more travel and a roughly 30mm longer wheelbase.
Related: Review of Santa Cruz 5010
FAQ
---
Final Verdict
---
From what can be seen, it's easy to conclude that Santa Cruz Nomad is every enduro lover's dream bike. The sad part is that not all of them can afford it, due to the steep price tag.
Santa Cruz did an excellent job revamping the Nomad for 2021, making it slacker, longer, and meaner. The result is a bike that has retained the same playfulness thanks to 27.5″ wheels but feels more capable and more aggressive than ever before.
If you want to race enduro or conquer long climbs and send terrifying descents, the Nomad will prove to be the perfect companion.
There are no comments yet, add one below.