Santa Cruz Bronson is a capable all-rounder that redefines what a 150mm trail bike can do. The third iteration is longer, slacker, and lower than ever before.
If you can afford to buy just one bike but you have a burning desire to ride trails, bike parks, and an occasional excursion into the world of enduro, then you shouldn't waste your money on anything else but Santa Cruz's Bronson.
This is an ingenious 150mm trail bike that's ready for action no matter what you have in mind.
Bronson is capable of such stunts thanks to its VPP™ suspension, wide 2.5″/2.4″ tires, and progressive but sensible geometry.
As a result, Santa Cruz has treated us with an all-out descender that's capable of some day-long climbing as well.
Different Builds
---
The Bronson is available in six total variations built around carbon C or carbon CC frames. The prices start at $5,049 for the aluminum SRAM NX Eagle build and quickly reach $8,049 for the Carbon CC X01 Eagle model. Frame-only options are available as well, but this year it is only the Bronson CC frame which is available for $3,699.
R (Carbon C)
This is the cheapest and most basic build with a $5,049 price tag. It has a Carbon C frame coupled with SRAM NX Eagle components. This build also gets RockShox Lyrik Select front and FOX Float X Performance rear suspension. It stops with SRAM G2 R brakes and rolls on RaceFace AR offset 30 rims.
S (Carbon C)
This build has the same carbon frame but sports better components and costs $5,949. Its outfitted with a SRAM GX Eagle groupset coupled with SRAM Code R brakes. You'll also get Fox 36 Float Performance front and RockShox Super Deluxe Select+ rear suspension. The rims are Race Face AR Offset 30, with Maxxis Minion tires.
XT (Carbon C)
This is the most expensive of the three Carbon C variations with a $6,949 price tag. It's built around a carbon frame with Shimano XT components. This model includes a 203mm Shimano XT, Ice Tech front brake rotor, and the same RaceFace rims as the R and S models. However, you have the option of getting Reserve 30 carbon rims with the XT. The rear shock is identical to the S model, though the front suspension is an upgraded FOX 36 Float Performance Elite.
X01 (Carbon CC)
This spec features the high-end Carbon CC frame which costs significantly more than the previous models. The X01 costs $8,049 and boasts SRAM X01 Eagle components combined with SRAM Code RSC brakes. This model has Industry Nine 1/1 hubs with aluminum RaceFace AR Offset 30 rims. It also features a RockShox Reverb Stealth dropper post.
X01 AXS (Carbon CC)
If you want the mid-range Carbon CC build, $9,849 is what you'll have to pay. For that much money, you'll get a premium frameset equipped with SRAM X01 Eagle components, including the SRAM Code RSC brakes that are the same as the X01 model's. This build rolls on carbon RaceFace rims, but comes with the same Maxxis Minion tires as the X01 and XT models.
XX1 AXS (Carbon CC)
A price tag of $11,399 will get you the best equipped Bronson build with a high-end Carbon CC frameset. It comes with a SRAM XX1 Eagle groupset, coupled with a Fox 36 Float Factory fork and a RockShox Super Deluxe Ultimate rear shock. You'll also get SRAM Code RSC brakes and carbon handlebars.
Carbon C vs. Carbon CC?
---
As you can see above, the Bronson comes either with one of the two carbon frames. Carbon C is the "budget" version, whereas Carbon CC is Santa Cruz's high-end frame option.
According to the company, the differences between Carbon C and Carbon CC are minuscule. The only difference is the weight, as Carbon CC frames are 250g lighter on average compared to Carbon C frames.
In terms of stiffness, strength, and performance, the two frames should feel completely the same. The added weight will not be a dealbreaker for most riders out there, with the exception of pro racers.
In addition, if you want high-end components, such as Shimano XT or SRAM X01 Eagle, you'll need to buy the Carbon CC iteration. The lower-grade frames are only available with SRAM NX Eagle or GX Eagle builds.
Sizing
---
Santa Cruz Bronson comes in five frame sizes suitable for riders between 4'8″ and 6'5″ tall. Check out the size chart below to find the perfect fit:
X-Small:

4'8″

—

5'1″

Small:

5'1″

—

5'5″

Medium:

5'5″

—

5'9″

Large:

5'9″

—

6'1″

X-Large:

6'1″

—

6'5″
How Does Bronson Compare?
---
Do you find it hard to decide between two Santa Cruz bikes? We feel your pain, so here's what we think how it compares to similar models.
Santa Cruz 5010 vs. Bronson
Santa Cruz 5010 and Bronson are similar bikes but differ in terms of geometry and the amount of travel. Both roll on 27.5″ wheels, yet Bronson has 150mm of travel versus 5010's 130mm. Therefore, 5010 is a purebred trail bike, whereas Bronson is a better all-rounder.
Santa Cruz Nomad vs. Bronson
Looking at the two models, it appears that Santa Cruz has drawn inspiration for the Bronson from the Nomad. The two have an almost identical shape but differ in terms of travel. Nomad is a lot more capable with its 170mm of travel, whereas Bronson is more playful and versatile.
Santa Cruz Megatower vs. Bronson
Santa Cruz Megatower and Bronson appear to be twins at first glance. These two bikes have the same shape, similar geometry, and almost equal amounts of travel. However, Megatower rolls on 29″ wheels, contrasted to Bronson's 27.5″. Get the Megatower if you're into descending and the Bronson if you cherish versatility.
FAQ
---
Do you have any burning questions that require quick answers? Check them out below or ask us directly in the comments.
Final Verdict
---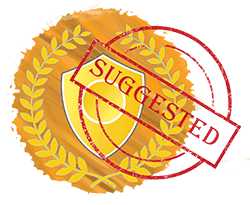 In short, Santa Cruz did everything right with the new Bronson. They tweaked the old version just a bit to make the geometry more aggressive and the handling better. Yet, they didn't overdo it so as to change Bronson's recognizable playful nature.
As a result, off-road enthusiasts get an all-around capable trail bike that's eager to test enduro waters as well. The frame gives you enough clearance for 2.8″ tires that can transform the ride, and you can do the same with the flip-chip setting.
Santa Cruz Bronson costs a lot but treats you with even more. Get it if you ride a different discipline every time you're out there and you need one bike that can do it all.
Santa Cruz Bronson
From $3,849