Santa Cruz Chameleon is one of the most adaptable hardtail bikes around. It comes with an aluminum or carbon frame, adjustable dropouts, and with 29″ or 27.5+ wheels and tires. Ride it hard on the trails or take it backpacking for weeks!
Santa Cruz Chameleon is a fun-loving hardtail designed to do whatever crosses your mind. Depending on the setup you choose, it can be excited about running singletracks, descents, and loose trails, or support you on day-long adventures in the saddle.
The name "Chameleon" suits it perfectly as it can change in numerous ways to blend in with its environment. If you want one bike that can assume the roles of several completely different two-wheelers, Santa Cruz Chameleon is your best bet.
Who Is Santa Cruz Chameleon For?
Santa Cruz didn't make Chameleon with a particular type of cyclist in mind. Instead, they made it to meet the needs of a wide range of cyclists with different riding styles and preferences.
The 29″ wheels are perfect for speed and distance, as they roll better and help you maintain flow. Even though they're a better choice for descents, Chameleon is not really suitable for smashing rock gardens as it is a hardtail. It is better to stick to dirt when riding it.
Santa Cruz Chameleon is an excellent trail bike with good climbing abilities, excellent descending prowess, and nimble handling.

If you want maximum playfulness, the 27.5+ version will make sure you get it. It's a pleasure riding it around corners, storming berms, and gliding over loose terrain. The wide tires give you excellent traction and the possibility to run low pressures provides plenty of comfort.
When you're tired of doing loops on backyard trails, fit it with bags, racks, and cages, and head out on a bikepacking expedition.
Quick Overview — Multiple Builds Available
Santa Cruz Chameleon is available in several builds called D, D+, R, R+ for aluminum (A) models, and S, S+, SE, SE+ for carbon (C) models. However, R and R+ builds are available with both types of frames. The "plus" in the name stands for 27.5+ wheels and tires.
While all of these bikes are essentially different and provide a different riding experience, they are all characterized by some common features:
Aluminum or Carbon C Frame and Fork.
27.5+ or 29″ Wheels and Tires.
120mm or 130mm Front Travel.
Adjustable Dropouts.
1x Drivetrains.
These models are also available in four color schemes — Blue, Orange, Bronze, and Black. The first two are reserved just for aluminum bikes, whereas the other two can be seen with both aluminum and carbon frames.
The prices vary greatly between these different builds. You can get an aluminum Chameleon D for as little as $1,799 or you can break the bank and get the Carbon SE+ for $4,799. 
Therefore, Santa Cruz Chameleon is suitable for beginners, enthusiasts, and hardcore riders alike.
Chameleon D & D+
Aluminum Only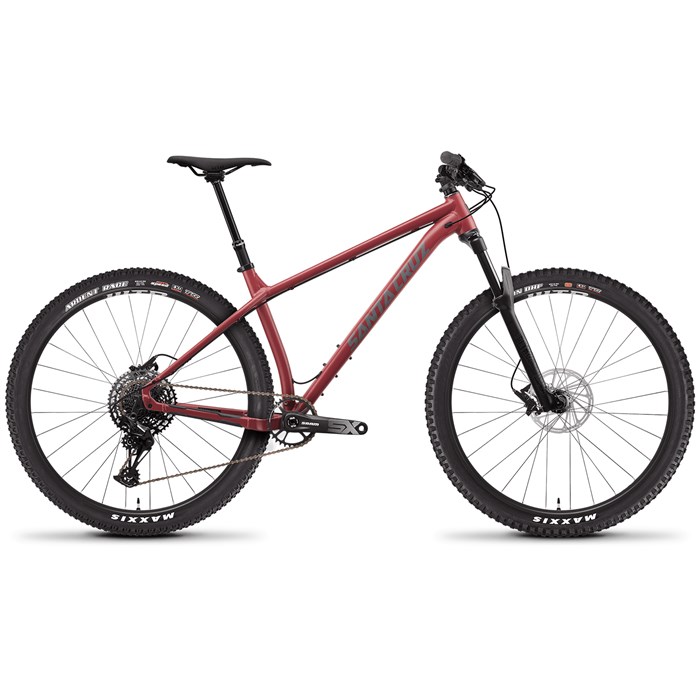 Santa Cruz Chameleon D and D+ are the most affordable models you can get. Right now, both of them cost just $1,799 which is a pretty reasonable price for the components and performance you get.
These bikes are only available with aluminum frames which are complemented with RockShox Recon RL forks. The 29″ model has 120mm of travel and the 27.5″ model has 130mm.
They are equipped with SRAM's SX Eagle groupset that offers a 1×12 drivetrain, coupled with SRAM's Level hydraulic disc brakes.
They roll on WTB ST i25 and ST i40 rims, whereas the tires differ. The 29er has a Maxxis Minion DHF (2.3″) and Maxxis Ardent Race (2.35″) tire combo, whereas the 27.5″ model sports Maxxis Rekon 2.8″ front and back.
You don't get a dropper post on Chameleon D, but the tires are tubeless. 
It's a great choice for beginner and intermediate riders who want recognizable quality at a low price.
See D & D+ models on evo or on Competitive Cyclist
Chameleon R & R+
Aluminum and Carbon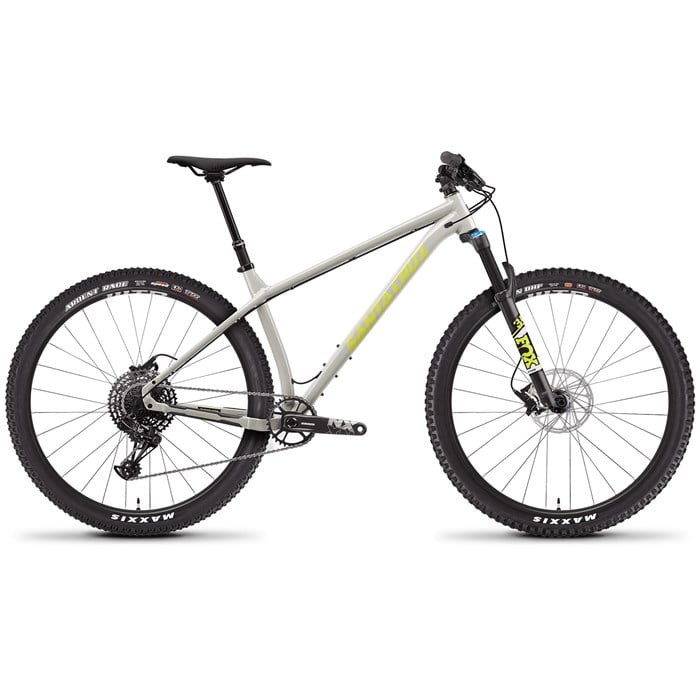 Chameleon R and R+ are peculiar builds in that they're available both on aluminum and carbon frames. Other than the frame material, there aren't really any big differences between the two.
These builds come with SRAM's NX Eagle drivetrain which is slightly higher-end than the SX Eagle and offers 12 speeds. All builds feature FOX Rhythm 34 forks with 120mm or 130mm of travel, same as above.
The brakes are SRAM Level T or Guide T. The latter ones are found on the more expensive carbon version that costs $2,699, which is $300 more than the aluminum one.
The distribution of tires here is the same as on the cheaper Chameleon D, which is fine as they are still a pretty good choice at this price.
The biggest difference is that this spike in price will get you a 150mm Race Face Aeffect dropper seat post, which will come in handy if you ride more aggressively.
See R & R+ models on evo or on Competitive Cyclist
Chameleon A R 29er
Aluminum 29er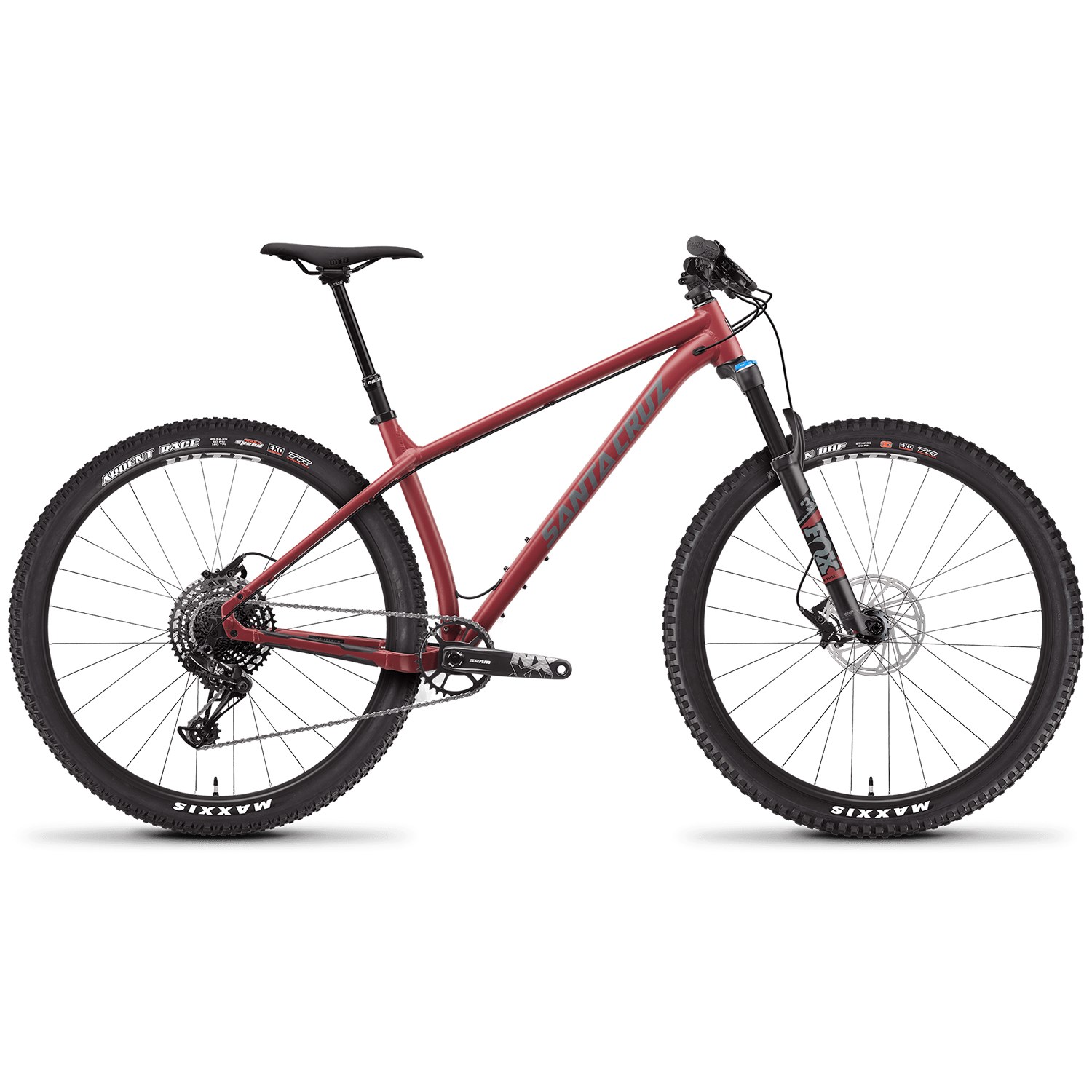 Chameleon S & S+
Carbon Only
Chameleon S & S+ is where performance builds begin. These models are built around Santa Cruz's carbon frames combined with a Fox 34 Performance front suspension that offers 120mm or 130mm of travel.
For this model, Santa Cruz opted for the 1×12 SRAM GX Eagle groupset with a 10-50T cassette and a 30T crankset.
The brakes have received an upgrade as well, so these builds come equipped with SRAM Guide T brakes and levers, coupled with Avid Centerline 180mm rotors.
Chameleon S and S+ models roll on Race Face AR wheels that are wrapped in the same Maxxis tires found on the other models.
The dropper post is upgraded as well, so you can expect to see a RockShox Reverb Stealth 31.6 dropper with internally routed cables.
All of these improvements make Santa Cruz Chameleon S and S+ great choices for results-oriented riders who don't want to stretch their budget too much.
See S & S+ models on Competitive Cyclist
Chameleon SE & SE+
Carbon Only
Chameleon SE & SE+ represent the crème de la crème of this series. These are high-end carbon bikes equipped with top-of-the-line components.
The groupset and the suspension are the same as on the S & S+ models described above. The brakes are the same as well. Basically, going up one class in these areas would increase the price too much.
The first improvement is seen with the brakes. They're SRAM Guide R with 180mm rotors that will stop you on a dime no matter the terrain or the riding conditions.
For these builds, Santa Cruz opted for their own rims, the Santa Cruz Reserve. These are very light and stiff carbon wheels that will surprise you on the trails.
They come with the same tires seen on all other builds, which might be a bit of a disappointment for some riders who have expected more.
Upgrades can be seen in the headset and the hubs as well, so Santa Cruz Chameleon SE & SE+ are definitely worth the $4,799 price tag.
Get it if you want the best components, reliability, performance, and the best results on races and group rides.
See SE & SE+ models on Competitive Cyclist
---
Downhill and Climbing Performance
Both Chameleon 29 and 27.5+ models offer decent downhill performance. As expected, 29er builds are much better in this realm.
However, the rather narrow 29 tires are not suited for trails with lots of rocks and roots. When descending, Chameleon feels most at home on smooth and fast descents that get the adrenaline going.
Moreover, Chameleon has a decently slack geometry, so it gets your heart racing when you find yourself at the top of a very steep descent. Once you get down, you'll enjoy confidence once again due to superb handling and traction.
When it comes to climbing, both 29″ and 27.5+ models perform really well, especially on very rough climbs. This is where its light tires really come to shine, and the position is comfortable as well, but not perfect.
The seat tube angle is rather slack, so it shifts your position backward, especially if you have very long legs. Therefore, on very steep climbs, tall riders might not get all the leverage they need to stomp the pedals.
All Chameleon models, except the D build, come with a dropper post as well, which becomes very handy when you need to get in an aggressive descending position and really storm the hill.
Therefore, we'd say Santa Cruz is a good climber and an excellent descender, so you can expect a well-rounded performance on most of your rides.
Related Santa Cruz Models
Geometry & Sizing
One of the reasons why so many riders love Santa Cruz is the geometry of the bikes they make. They've always had clever solutions to provide their fans with progressive geometries that become better with every new iteration.
Even though 29″ and 27.5+ Chameleon builds should be totally different, they have pretty much the same geometry. One of the ways Santa Cruz did this is by giving 29″ models 120mm of travel and 130mm to 27.5+ models.
As a result, the head tube angle on all models is 67.2-3° and the seat tube angle is 72.7-8°, which are minimal fluctuations.
Both versions are available in four sizes and the chart looks the same no matter the frame material or the wheel size:
Santa Cruz Chameleon Sizing
| | | | |
| --- | --- | --- | --- |
| S | M | L | XL |
| 5'0″ — 5'5″ | 5'5″ — 5'10" | 5'10" — 6'1″ | 6'1″ — 6'6″ |
FAQ
What kind of bike is the Santa Cruz Chameleon?
Santa Cruz Chameleon is a versatile hardtail bicycle that can be used for different types of riding. As its name tells you, it can assume different roles and lets you customize it. Chameleon is great for bikepacking, trail riding, cross-country exploration, and a lot more.
Is Santa Cruz Chameleon good?
Santa Cruz Chameleon is a premium hardtail mountain bike available with a carbon or aluminum frame. This bike is compatible with 27.5″ and 29″ wheels and comes with adjustable drop-outs, which means that you can even set it up as a single-speed rig.
Is Santa Cruz Chameleon full suspension?
No, Santa Cruz Chameleon is a hardtail bicycle. That means that only the fork has suspension travel, whereas the rear end is rigid.
Does Santa Cruz Chameleon come tubeless?
Santa Cruz Chameleon comes tubeless. It is shipped with tubeless rim tape and valve stems already installed. Santa Cruz even includes Stan's Sealant with the bike, so all you need to do is pour the sealant into the tire, inflate it, and head outside to ride.
How much does a Santa Cruz Chameleon frame weigh?
Santa Cruz Chameleon's frame weighs around 2000g (4.4 lbs). However, the exact weight depends on the size of the frame, so it's hard to attach a precise number to it.
Final Verdict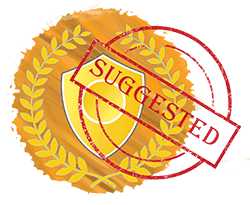 As we've mentioned above, Santa Cruz Chameleon is an unprecedentedly fun bike. It is also one of the most adjustable hardtail bikes out there, which makes it a safe choice for riders who are still trying to find their favorite MTB style.
However, it's a great choice for those who have their mind set on one type of riding as well, as Chameleon can change colors and do it all.
Get the 29er if you're a bit more serious and goal-oriented, focusing on speed and results at the end of each ride. On the other hand, the 27.5+ model will suit you well if you like having fun, testing new tracks, and spiking up the adrenaline.
See all Chameleon models on evo or on Competitive Cyclist