No matter if you cycle once a month or once a day, you won't get far without a pump. Should you get a floor, mini, CO2, or a shock pump? Find out in our guide, along with recommendations for the best bike pumps in each category.
Talking about the importance of bike pumps for cycling is pretty unnecessary. In short, you can't ride a bike without one. However, buying a pump is not as simple as it seems — there are many different types and tens of thousands of models to choose from.
If you're looking to buy a pump but you're dumbfounded by the variety of choices, you're in the right place. We'll teach you what you need to know and share our favorite models with you!
Let's pump it up!
Skip Buying Guide & Jump Straight To Best Picks
Floor vs Mini – Which One to Choose?
The answer is simple — Both.
There isn't one best bike pump, you need different types for different purposes.
A floor pump is a great option to have at home as it is bigger and pumps air into the tire more quickly. Floor pumps also allow you to pump your tires up to a bigger pressure, which is great for road bikes. You can easily reach 120+ psi, and they usually max out at around 160 – 220 psi.
Floor pumps are also easier to use because they have a wide platform that you can step on for more stability and pump with your whole body, so you'll get less tired.
A mini pump works great for emergency situations and weighs next to nothing, so it's a good idea to have one with you on the bike.
It's difficult to reach high pressures using mini pumps, but it's usually easy enough to reach 70-80 psi. Therefore, a mini pump will get you out of a jam and help you get back home if you have a flat on the road.
Bicycle Guider Tip: Don't use a mini pump as your main pump. It will put too much pressure on the valve, which will cause the valve to wear out more quickly and start losing air.
---
Best Bike Floor Pumps
---
Autoselect pump head for Presta and Schrader valves
High-volume and high-pressure settings
Easy-to-read 4-inch gauge
Do you have more than one bike at home? Do they use different valves and different pressure settings? There's no need to buy separate pumps for your fat bike and road bike. Bontrager Dual Charger can do it all as it is the best bike floor pump out there.
It comes with a large stable base that you can step on to prevent tipping and leaning when pumping air. The base is also where the 4-inch gauge is mounted, so you can easily see what pressures you're dealing with.
This is a heavy-duty floor pump with strong steel construction and replaceable internal parts. It should basically last you a lifetime with proper care.
Bontrager Dual Charger is a versatile floor pump thanks to the base-mounted switch that lets you transition between high-volume and high-pressure settings. Use high-volume for wide tires and high-pressure for narrow tires.
If you're dealing with both Presta and Schrader valves, the autoselect head on this pump will make your life easier. It automatically adjusts itself to the correct valve type.
All in all, the Bontrager Dual Charger floor pump is the only one you need in your garage. Plus, it reaches a 160 psi maximum tire pressure, making it useful for all bike types.
Double-sided TwinHead for Presta and Schrader valves
Wide base ensures stability
160 psi maximum pressure
If you don't want to spend too much money on a floor pump, Topeak JoeBlow is all you really need. This universal pump can be used with Presta and Schrader valves thanks to its TwinHead feature. One side of the pump head is for Presta and the other one is for Schrader valves.
Topeak JoeBlow has a long and slim steel body, so it can easily pump high pressure. The handles are pretty wide and padded for more comfort, meaning that your palms will not get sore when pumping. This is a feature the best bike pump must have.
We are big fans of the large base-mounted gauge that shows pressure in both psi and bars. You can easily check the pressure readings without leaning down even with poor eyesight.
This pump can reach a maximum pressure of 160 psi, which is more than enough for any type of bike. It weighs just 3 lbs, so you can carry it and move it easily.
Not a lot of pumps offer the same features and durability for $40, so Topeak JoeBlow is a bargain.
220 psi maximum pressure
Compatible with Presta and Schrader valves
Rebuildable multi-purpose ABS1 Chuck
Lezyne Macro Floor Drive is an affordable floor pump with pretty impressive specs. The first thing you'll notice is the sleek and ergonomic design, along with a good-looking red paint job.
If you ride road bikes, this is the perfect pump for you. It can reach a 220 psi maximum pressure with ease, which is more than what you'll actually need.
Macro Floor Drive comes with Lezyne's rebuildable ABS1 chuck. You can just flip it to transition between Presta and Schrader valves, and you can use it to disassemble your valves as well. The ABS button on the chuck also lets you bleed excess air from Schrader valves.
If you use this pump often, you'll appreciate the 2.5″ precision gauge that lets you easily read and dial in the perfect pressure.
Lezyne Macro Floor Drive pump does not cost much but offers a lot of versatility and practicality through its simple and utilitarian design.
---
Best Mini Bike Pumps
---
Folding foot support for easy pumping
160 psi maximum tire pressure
Compatible with Presta and Schrader valves
The best mini bike pumps out there are not necessarily weak, even though they're designed for emergency situations when you need to pump air into your tires on the road.
Take as an example the Topeak Road Morph mini pump. This small pump can inflate your tires up to a maximum of 160 psi, which is the same as some floor pumps.
It can be used with Presta or Schrader valves, you can carry it with both your mountain and your road bikes. This mini pump comes with a decently long hose that makes positioning yourself easy. The hose also features a pressure gauge that's fairly easy to read.
The best thing about Topeak Road Morph is that it can be used as a floor pump thanks to a folding foot support and a SwivelGrip handle.
It packs a strong punch in a small package that weighs just 202 grams, so you can easily carry it anywhere you go. It's easy to say it's one of the best bike pumps.
Detachable ABS Speed Flex hose
90 psi maximum pressure
Compatible with Presta and Schrader valves
High-volume pump best for MTB tires
Lezyne Grip Dive HV is one of the best MTB bike hand pumps because of its unbeatable clever design. At first glance, you might be confused — how do you pump air with it?
The trick is in the detachable ABS Speed Flex hose that's stored inside the pump. The hose has Presta and Schrader-compatible heads on either end and simply screws onto the pump in a matter of seconds.
While you're riding, the hose is securely stored inside the pump and protected from dust, sand, water, and dirt if you ride in such conditions.
You can use Lezyne Grip Dive HV to reach a 90 psi maximum pressure, which makes it suitable for MTB tires.
You can carry this mini pump on your bike with a matrix aluminum frame that can be attached to the bike frame either with screws or with a lightweight velcro strap.
If you want the most compact mini pump out there, you'll probably be happy with Lezyne Grip Dive HV.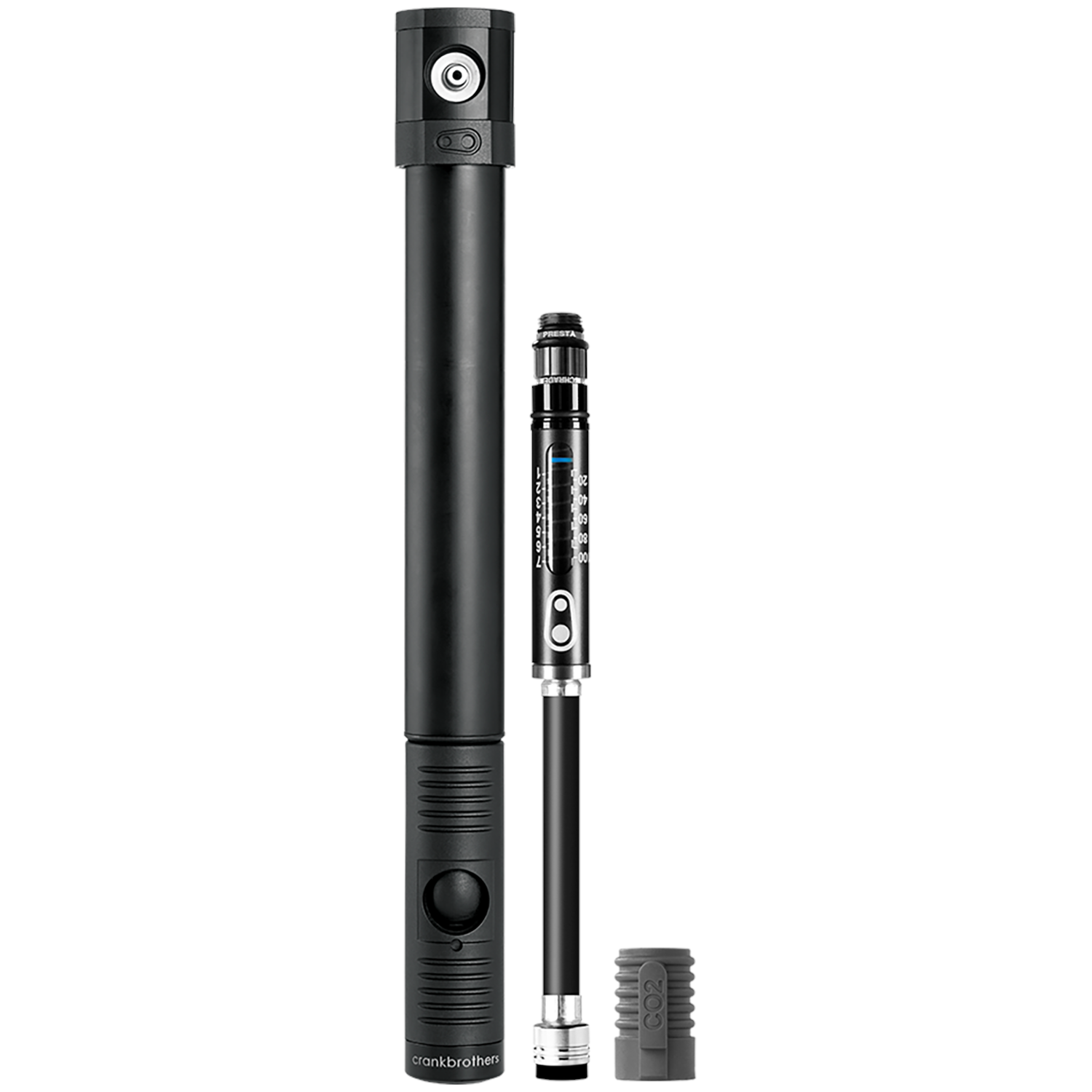 Steel housing with a plastic T handle
High-volume pump ideal for MTB tires
Built-in CO2 canister and gauge
Crank Brothers Klic HV is a premium mini pump with a very accessible price tag. It's made with a steel housing, so it is super-durable. The handle is made from plastic, and it can flipped into a T shape for easy pumping.
This mini pump is compatible with Presta and Schrader valves and you switch easily between the two thanks to an adjustable head that you can screw onto the hose.
The hose is stored inside the pump, so it is completely protected from dirt or debris while you're riding. The hose also includes a gauge that will show you the exact pressure in your tires.
The best thing about this pump is that you can first attach the hose to the valve and then attach the pump to the hose via a magnetic connection. Therefore, you don't have to fiddle with the entire pump while placing it on the valve.
This pump also has a built-in CO2 canister, so you don't have to carry a separate one which will save you room and weight.
Crankbrothers Klic HV is a high-volume pump, so it's intended for tires 1.8″ wide and above, and tire pressures of up to 110 psi. Perfect for MTB and fat bikes.
---
Best CO2 Bike Pumps
---
Mini pump and CO2 inflator — 2 in 1 design
CNC-machined aluminum construction
Maximum pressure: 120psi / 8.3 bar
If you can't decide between using a mini pump and a CO2 inflator, then why don't you use both? Lezyne Pressure Drive acts both as a mini pump and as a CO2 inflator. The best portable bike pump you can have.
Its design is pretty similar to the Lezyne Lite Drive mini pump that we reviewed above. It's made from CNC-machined aluminum casing, so it is very durable.
The hose is stored inside the pump and protected from external factors. It features a Presta-Schrader adapter that you can easily flip to inflate both valve types.
Now for the cool part — this little pump can be used with threaded CO2 cartridges. You simply thread them onto the hose and attach the hose to the tire. Voila! You can now inflate your tires up to 120 psi in a matter of seconds.
Inside the box, you'll find one 16g CO2 cartridge and a frame pump mount to take Lezyne Pressure Drive everywhere with you.
Spring-loaded mechanism suitable for Presta and Schrader valves
Reusable cartridge insulator protects your hands
Compact and light design that's easy to carry
Bontrager Air Rush Elite is a small CO2 inflator that fits inside your pocket and takes minimal space. It comes with a reusable cartridge insulator for hand protection that also fits snuggly inside your pocket.
When you're in a rush and you need to inflate your tires quickly, a CO2 inflator is your best bet. Bontrager Air Rush Elite can do it in less than five seconds, no matter if you have Presta or Schrader valves.
Thanks to a spring-loaded mechanism, you can easily control the airflow and pump your tires to the desired pressure.
Make sure to use this Bontrager inflator with threaded CO2 cartridges, because other types won't fit. All you need to do is screw the head onto the valve and screw the cartridge onto the head until the gas starts flowing into the tire.
Bontrager Air Rush Elite is the simplest and quickest way to inflate your road and MTB tires when you're out on the road and the clock is ticking.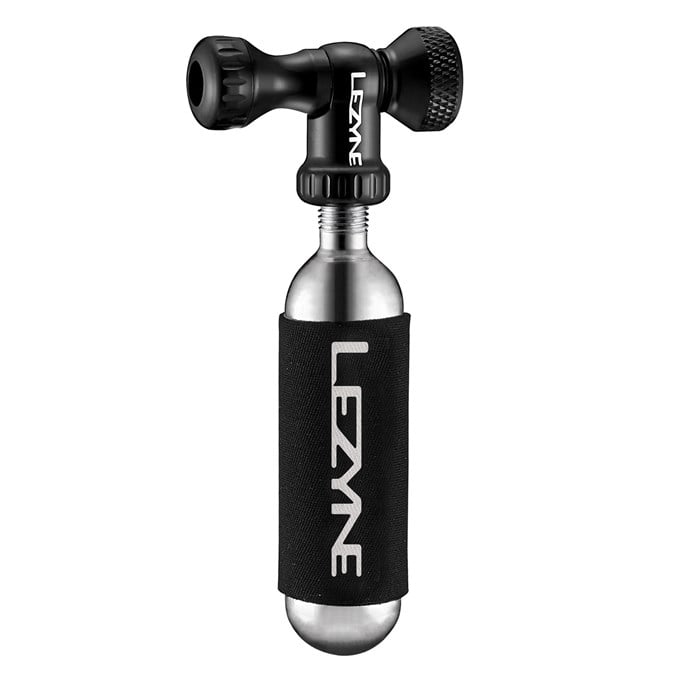 CNC-machined aluminum design
Compatible with Presta and Schrader valves
Features a control knob twist for easy inflation
Lezyne Control Drive is a heavy-duty CO2 inflator made from aluminum and brass. The outer casing is made from CNC-machined aluminum whereas the internals are made from brass. There are no plastic parts, so you can expect it to last for years.
In addition to the aluminum inflator, you'll also receive a neoprene sleeve that you can put on the cartridge to insulate it and protect your hands from cold burns.
Lezyne Control Drive is only compatible with threaded CO2 cartridges, so make sure those are the ones you have in your pocket.
This CO2 inflator also lets you control the amount of pressure you want in your tire with a handy control knob that you can twist to start or stop the airflow. A feature only the best bike pumps have.
We like Lezyne Control Drive because it's made from durable materials and weighs next to nothing. Plus, it pumps your tires in a matter of seconds.
---
Best Bike Shock Pump
---
600 psi maximum pressure
360-degree rotating hose
Features an air pressure release valve
A question we get asked commonly about bike pumps is whether you can use a regular pump to adjust the pressure in your fork and shock. The answer is NO. Well, theoretically you can, but it is not recommendable.
If you have an air fork or an air shock, you should definitely consider investing in the RockShox High Pressure Shock Pump.
It maxes out at 600 psi, which is more than enough for any type of setting you're aiming for, no matter what type of suspension you have.
This is one of the best bike pumps because it is very easy to use. It has a 360-degree rotating hose, so it's easy to reach the valve.
The gauge is located at the base of the pump and it is pretty easy to read. RockShox High Pressure also features an air pressure release valve, in case you pump too much air and you want to lower the pressure.
The RockShox High Pressure shock pump offers a lot of value for the money and is an absolute must for mountain bikers with high-end forks and shocks.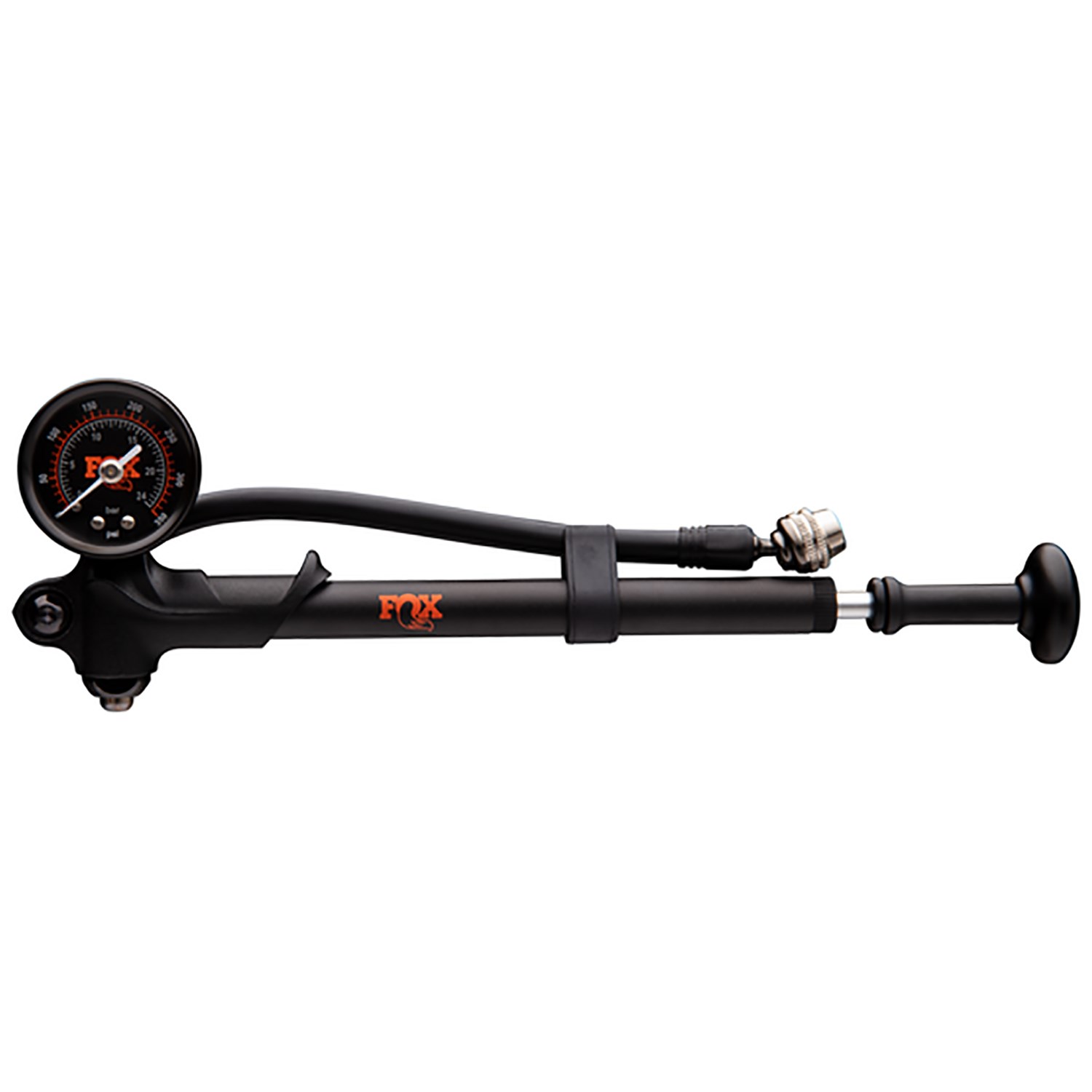 350 psi maximum pressure
Swiveling hose for easy access
Release valve available
Fox Racing is an affordable high-pressure shock pump built inside a durable aluminum casing resistant to impact. It comes with a practical swiveling rubber hose that will make reaching the valve on your suspension a breeze.
This shock pump can achieve a 350 psi maximum pressure with ease, which is good enough for almost all forks and shocks mountain bikers use nowadays.
What we like the most is the massive analog gauge located on the pump that shows air pressure both in psi and in bars.
A release valve is also located on the pump. This is an important feature because it lets you release air without having to remove the pump head from the valve. You can get the right pressure with ease.
The bottom line is that Fox Racing is a durable and affordable shock pump that can take care of the majority of popular forks and shocks out there. Plus, it will likely serve you well for decades.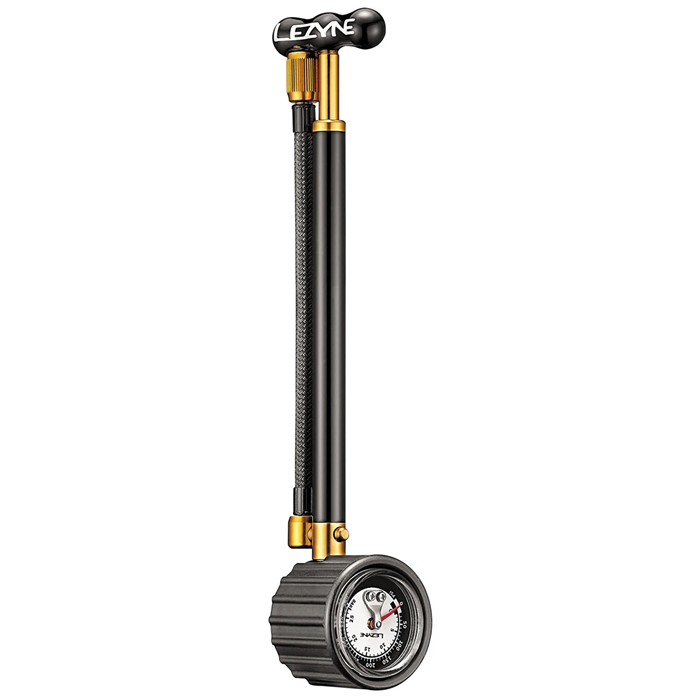 400 psi maximum pressure
Aluminum construction and compact design
Bleeder valve for fine-tuning the pressure
Lezyne Shock Drive is a compact shock pump that's only 258mm long and weighs very little. That makes it the perfect choice for backcountry adventures as you can easily carry it on the bike or in a frame bag.
Moreover, it's made from lightweight aluminum that ensures a smooth pumping action. The swivel hose and pump head are easy to attach and easy to use as well.
This suspension pump can reach a 400 psi maximum pressure, which is the maximum its industrial-grade gauge shows.
If you pump too much air into your fork or shock, you can simply release some using the bleeder valve located on the pump body.
Lezyne Shock Drive pretty much has everything you need to adjust your suspension to the perfect pressure in your garage or out on the trails.
CO2 Inflators and Shock Pumps — Why They Matter
Apart from floor pumps and mini pumps which are pretty common and very popular among cyclists worldwide, there are two other options you should consider.
CO2 inflators are a phenomenal alternative to mini-pumps. These consist of an inflator head that attaches to the valve and a CO2 cartridge that connects to the inflator head. Their main benefits are speed and ease of use.Once you attach the cartridge, your tire will be fully inflated in a matter of seconds. The setup is lightweight, so it's easy to carry the inflator and a few cartridges with you just in case.
Shock pumps are necessary for riders with front or rear air suspension. They are important because they create a seal with the valve before they open the valve. That way, no pressure is lost when attaching or removing the pump head.The air chamber on forks and shocks has a small volume, so the amount of air lost when attaching and detaching would be too significant. Plus, shock pumps have air bleed valves, so you can release pressure easily as well, if necessary. They can also reach much higher pressures than regular pumps, 300 – 600 psi.
Valve Types — Which One Do I Have?
Bicycles typically use three different valve types, which might confuse some people. These are Schrader, Presta, and Dunlop. Presta and Dunlop are similar and can be inflated with the same pump type, but Schrader is completely different.

Schrader valve is the type found on cars and other large vehicles. In the bicycling world, you can usually see it on inexpensive bikes and kids' bikes. It is shorter and wider than Presta and has a pin in the center that needs to be pressed to allow airflow. This type is pretty practical because it can be inflated on any gas or car service station.
Presta valves are bicycle-specific. They are longer and thinner than Schrader and have a knurled nut at the end. This nut needs to be unscrewed in order to allow airflow. These valves are usually found on road and performance bikes because they can sustain higher pressures and require a smaller hole in the rim, which makes the wheels stronger.
Dunlop valves are far less common and look like shorter and wider Presta. They're usually found on city bikes in Asia and Europe and are inflated with Presta-specific pumps.
In-Depth Guide to Bicycle Valve Types
Types of Pump Heads
Pumps nowadays come with different types of pump heads. The good news is that most modern pumps are designed to work with both Presta and Schrader valves.
Swappable — This type of pump head has all the parts necessary to inflate both Presta and Schrader valves. To switch between the two, you usually need to reverse the internals – a job that takes a few seconds and requires no tools.
Twin — This style has two individual openings, one for Schrader and another for Presta. They're usually located next to each other, or on the opposite sides of the pump head.
Adjustable — This is the most practical type. It has just one opening which automatically adjusts itself to fit both Presta and Schrader valves. Just put the pump head on the valve, lock it, and let it do its magic.
High Pressure vs High Volume Bike Pumps
Another thing you need to worry about when buying a new bike pump is whether you need high pressure or a high volume pump.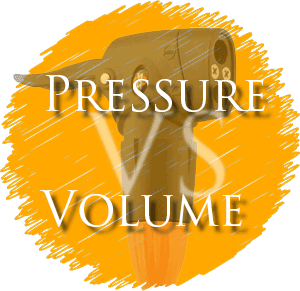 High pressure pumps add smaller amounts of air at higher pressures with each stroke. Therefore, they're suitable for narrow tires (such as those on road bikes) that don't require a large volume of air. The rule of thumb is to use a high pressure pump if your tires run on 60 psi and more. They can typically reach pressures of between 160 and 220 psi, depending on the model.
High volume pumps, on the other hand, add larger amounts of air with each stroke, but at lower pressures. That makes them perfect for mountain bikes and fat bikes which require a lot of air volume to inflate. They usually struggle to inflate a tire to more than 60 psi.
Features to Look for in Best Bike Pumps
Apart from the compatibility concerns that we explained to you above, there are a few other features you should consider when choosing the best bike pump for you. These have to do with the ease of use, efficiency, and build quality.
Stability: This is a feature that you should look for in floor pumps. Ideally, a pump should have a wide and sturdy base that you can step on to prevent the pump from moving when you move the lever up and down.
Gauge: Look for a gauge that is big and easy to read. Best bike pumps show both bars and psi. Of course, this is not something you should expect from mini pumps.
Materials: Bike pumps are usually made from a mix of aluminum, steel, brass, and plastic parts. The less plastic there is, the better.
Design: Many manufacturers pay a lot of attention to the design. Bike pumps should be made in a way that is easy to use, with ergonomic and padded levers that won't hurt your hands.
Size and weight: If you're in the market for portable pumps, do pay attention to size and weight. You want a model that is as small and light as possible, so you can easily carry it anywhere you go.
To wrap it up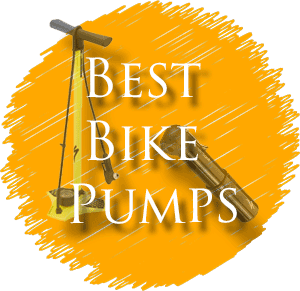 If you've been struggling with pumping your tires or suspension to the correct pressure, it means you're ready for a new bike pump.
Check out our recommendations for the best bike pumps out there in four different categories — floor, mini, CO2, and shock — as these can solve all of your problems.
We've carefully chosen which pumps to include on the list based on their features, price, and quality, so you can be certain the value you get for your money is high.
Press on!