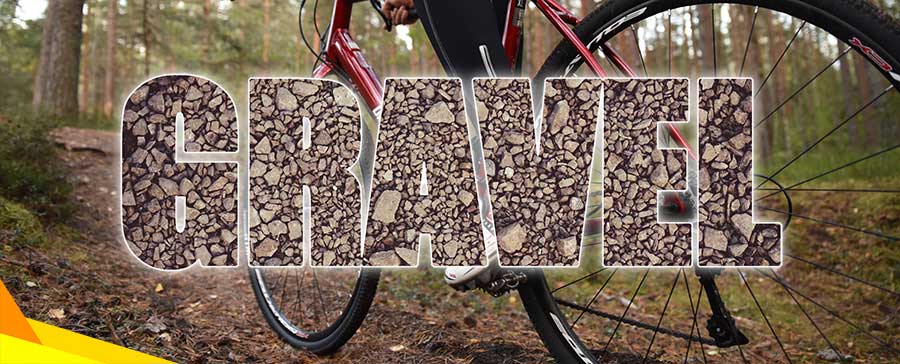 Gravel riding has been around for a few years and is winning the hearts of more and more cyclists. It combines the best aspects from several cycling disciplines and the worst from none.
It's obvious that gravel riding is not a fad and is here to stay. Gravel bikes have been the "CrossFit" of the cycling world for several years now, as it's everything anyone is talking about.
Many have been wondering what is so appealing about riding on a gravel road. Now that we are positive that gravel grinding is not going anywhere, we'd like to put our two cents in.
We've been hard at work lately — researching a lot, talking to our readers, friends, and industry officials. As a result, we're presenting you with the 8 main reasons why gravel is the hottest trend in the cycling world right now.
Enjoy and see you on the road less traveled!
Related: Best Gravel Bikes In Our Opinion
#1. Road Safety — Bye-Bye Cars and Trucks
One of the main reasons why so many gravel riders are former road converts is the lack of safety on paved roads. Cars and trucks are big and fast, and car and truck drivers often don't care a lot about the safety of cyclists.
As a consequence, most roadies have multiple close calls every season and many of them even go down.
Gravel roads are much safer, as there is little to no motorized traffic on them. You can ride down a gravel road for hours without seeing any cars, or even people.
Sticking to such roads means having more fun, being more relaxed, and generally enjoying the cycling experience a lot more. Therefore, it doesn't surprise us that so many cyclists are saying "enough is enough" and starting to steer off the beaten path whenever they can.
Related: Gravel vs Road Bikes
#2. Gravel Is More Adventurous and More Scenic
Staying off the highways and sticking to gravel roads means that you will get much better views and have more time to enjoy them as well. Gravel roads often take you through the countryside or other remote areas that you wouldn't have a chance to see and experience otherwise.
Riding a gravel bike will take you into more wild areas with little or no service where you can really just wind down and be in the moment. When riding on paved roads, you often stick to populated and urbanized areas that don't have much to offer in terms of views.
Considering that the US and most European countries have tens of thousands of miles of relaxed, winding gravel roads, it doesn't surprise us that gravel grinding is here to stay.
#3. Gravel Bikes Merge Road and Mountain Biking
You might have heard it many times, but it's true — gravel bikes are a mid-way between road bikes and mountain bikes. Many call them the "modern retro mountain bikes" because they resemble the first mountain bikes from the 1990s, but are much more capable and better-looking.
Gravel bikes challenge what the cycling industry has proclaimed to be a standard that everyone should stick to. They start with road bike geometry but incorporate a longer wheelbase and more slack. They also take 40+ mm tires and give you drop bars to steer them.
This makes it possible to do long, "mixed surface" rides that include paved roads, gravel roads, fire roads, doubletrack and tame singletracks. On a road bike, most of this would be almost impossible, whereas a mountain bike wouldn't provide enough of a challenge.
#4. New Technologies Popping Up
The cycling industry is focusing more and more on the gravel market, which in turn creates even more demand from the lovers of the outback. New technologies have made it a lot easier and a lot more fun to go on long gravel rides and explore.
For example, one of these technologies is GPS. Most gravel roads do not have signs, so it's pretty easy to get lost, waste time, or get in trouble. Thanks to advanced GPS computers, you can now discover rides much more easily, mark them, and even share them with others. 
Another example are gravel-specific components, such as Shimano's GRX groupset. Splurging on it is absolutely not necessary for most recreational riders. However, if your plan is to enter and win gravel events, the GRX can give you the edge you need.
Gravel-specific tires have come a long way as well. Nowadays, they provide superior puncture protection and a combination of knobby and sleek surfaces that make them super-efficient on both paved and unpaved roads.
#5. Gravel Bike — The Only One You Need?
Has the old "n+1" premise become wrong thanks to gravel bikes? Is a gravel bike actually the only one you need to complete most types of rides and meet your other daily needs? Many believe yes.
If you're a roadie, you probably like covering large distances and developing high speeds. If you're a mountain biker, you love a challenge and technical terrain. A gravel bike provides both.
Related: Best Handlebar Tapes
Surprisingly, gravel bikes are not at all slow on paved roads, as many might think. If you fit them with a new pair of wheels and 28/30 mm sleek tires, you'll be just as fast as the other roadies in the group. Even with stock 40 mm wheels, you'll only be a few seconds slower than on a road bike, which is negligible if you're not a pro.
Best of all, a gravel bike is durable and burly enough that it can double as an urban and off-road commuter or an all-around workhorse you can use and abuse any way you want.
Related read: Gravel vs CX – Which one to choose?
#6. Bikepacking Is Becoming More Popular
Bikepacking goes hand in hand with gravel bikes, and it has become the new cycling craze in recent years. More and more bike adventurers give up on traditional bike touring on paved roads with heavy, loaded panners and replace it with a more lightweight and versatile setup. 
For many, bikepacking is a form of escapism. If you take a gravel bike, strap some frame bags, a saddlebag, and a handlebar bag on it, you can be compact enough to go anywhere you want to.
The bikepacking community is huge and definitely takes one part of the blame when it comes to the growing popularity of gravel bikes.
#7. Laid-Back Gravel Events — "Run What Ya Brung"
A lot of our readers have mentioned that one of the reasons why they love riding gravel so much is the community. The culture surrounding gravel bikes is quite relaxed — nobody expects anything from you except for having fun.
Gravel events are usually not focused too much on the finish line as much on the journey itself. It sounds cheesy but it's true. Well, the finish line is important as well, as that's where you get to enjoy a can of cold, sizzling beer.
Moreover, gravel events are a lot more accessible, which is a big draw for a lot of people. Anyone can turn up, finish a ride, and have fun, without being afraid that they will get dropped in the first few miles.
"Run what ya brung" is a frequent motto that you can hear at gravel events. It means that anyone is welcome, on any bike they have. If you want, you can ride your old MTB in a flannel shirt or a cotton t-shirt and nobody will blink an eye.
#8. Mountain Bikes Are Boring
Don't freak out, but we think mountain bikes have become boring. If you have a bike park or a mountain full of challenging singletracks near your home, they're an excellent choice. However, most people don't live with such developed MTB infrastructure nearby.
If you try riding a high-end full-suspension bike on anything less than gnarly terrain, the experience will be underwhelming, to say the least. Riding such a bike on tame forest roads that most mortals live around feels like taking a machine gun to a sword fight.
On the contrary, a gravel bike lets you explore the fire roads and doubletracks around your home and actually makes them challenging enough to have fun and to want to come back.
What do you think about our reasons and gravel biking in general? Do you have a gravel bike or have you tried riding one? We'd love to hear about your experiences! Let us know in the comments below.