Nowadays, you can find a multisport watch or smartwatch that can do almost anything. Well, it can't cook a meal or balance your checkbook, but you'll see what I mean. You can now connect to heart rate monitors and power meters, track your steps, calories, distance, speed, elevation gain, and more.
It wasn't that long ago that a watch was a simple tool. With an analog clock face and two ticking hands, you could tell the time by looking at the watch on your wrist. And that was it.
The capabilities are mind-blowing, and in this article, we've put together our favorite smartwatches that can do all this and more.
But first, let's take a little closer look at cycling smartwatches.
Smart Watches vs GPS Units
Smartwatches are increasingly popular among multisport athletes because of their versatility and convenience.
Compared to a cycling computer or head unit such as the Garmin Edge 830, a smartwatch such as a Garmin Fenix GPS watch will have a much wider range of capabilities, while also fitting comfortably on your wrist.
GPS head units and cycling computers work great for cycling because they usually come with handy handlebar mounts that make adjusting your computer and seeing your numbers on the screen easy during a bike ride.
Smartwatches are different because you won't be able to see your numbers while cycling – unless you wrap your watch around the handlebars instead of your wrist.
They can offer all of the same capabilities as GPS units. Both smartwatches and GPS head units can have wireless connectivity such as ANT+ and Bluetooth which enable them to connect to external sensors such as heart rate monitors and power meters.
Related: Best Bike Computers
They also have GPS navigation and the ability to upload and ride routes, whilst providing distance, speed, and elevation data.
There are many smartwatches that offer even more features, many of which cannot be found in GPS head units.
Smartwatches are also popular for their multisport versatility. Instead of being designed exclusively for cycling, smartwatches are often designed for all kinds of exercise including cycling, running, swimming, walking, hiking, yoga, strength training, and more.
In this article, we're naming 9 of our favorite smartwatches from a number of different brands and covering all of the major price points. These are the best cycling smartwatches.
---
Best Smart Watches For Cycling
---
Wahoo Fitness ELEMNT RIVAL
Best cycling smartwatch for (multisport) racing
MSRP: $379.99
Lightweight
24-hour battery life
Great GPS accuracy
When Wahoo Fitness launched the ELEMNT Rival, it was their first-ever smartwatch.
Competitors such have Garmin had been dominating the market (just look at this list), but Wahoo came out swinging with a mid-range smartwatch with excellent capabilities and even better accuracy.
The watch is meant to be simple and elegant – lacking a touchscreen (which is a downside for many), the unit is relatively small and lightweight, which makes it great for hard workouts and multisport racing.
You can track multiple activities on the ELEMNT Rival including cycling, yoga, indoor swimming, and treadmill running.
Like many other Wahoo Fitness products, the data runs deep in the ELEMNT Rival, which is perfect for serious triathletes and competitive athletes.
The watch even has transition technology that will automatically detect when you are switching from one discipline to another, such as going from the swim to the bike.
The biggest downside of the ELEMNT Rival is its lack of daily activity and fitness tracking. You won't be able to measure your sleep or daily steps, which is disappointing to learn about a $380 watch. However, the ELEMNT Rival is known for its simple look, strong functionality, and incredible GPS accuracy, making it a great option for data-driven multisport athletes and cyclists.
Wahoo is mainly known for their indoor trainers. Take a look at their bestselling trainers, like the KICKR Core or the KICKR Snap.
Garmin Fenix 6 Pro Solar Multisport GPS Watch
Best features in a GPS smartwatch
MSRP: $799.99
Incredible functionality for sport and fitness tracking
Big color display screen options
Includes pulse oximetry (blood oxygen levels)
3 screen sizes: 30.4mm / 33.0mm / 35.6mm
The Garmin Fenix 6 Pro Solar Multisport GPS Watch not only has one of the longest names on this list, but it has one of the longest lists of features of any smartwatch.
A big step up from the Garmin Fenix 6 – which is an incredible smartwatch itself, the Pro Solar watch comes with a Power Glass™ solar charging lens and customizable power manager modes.
In other words, this watch includes a solar-charging lens that can stay on for up to 14 days.
There are also TOPO maps – which are maps created for outdoor activities using the OpenStreetMap database – and navigation capabilities, and onboard music.
The biggest problem that most high-end smartwatches face is their battery-swapping features doing exactly that: swapping the battery.
But in the Fenix 6 Pro Solar model, the watch has a solar coating on top of its glass face which turns the sun's rays into extra battery life.
The Fenix 6 is available without its solar self-charging feature too, as well as in three different sizes, and multiple colors and combinations of wrist straps and cases.
However, the biggest downside of solar charging is that you'll need to be spending a lot of time outside in order for it to work. So if you train or spend a couple of hours outside every day, it's a wonderful feature that is worth the extra cost.
In addition to ANT+ and Bluetooth connectivity, the watch also includes GPS tracking, optical heart rate measurement, and pulse oximetry which tells you the oxygen level in your blood.
Garmin Forerunner 945
Cheaper version of the Garmin Fenix
MSRP: $649.99
A pulse oximeter (PulseOx)
Full wireless connectivity
ClimbPro (detects and details climb sections during activity)
The Garmin Forerunner 945 is cheaper than the Garmin Fenix, but it still isn't cheap. With that, you'd expect excellent quality; and the Forerunner 945 delivers. This watch features onboard music and contactless payments, which you certainly can't find on just any smartwatch.
There is also full wireless connectivity with Bluetooth, ANT+, and even Wi-Fi connections possible.
Perhaps the best features of the Forerunner 945 are the Garmin ClimbPro which detects upcoming climbs and displays them in detail right on your watch's screen, and the altitude and heat acclimation features released with the Garmin Edge 530 and Garmin Edge 830 cycling computers.
These are unique features that are nearly impossible to find anywhere else; and along with full-color maps and pulse oximetry capabilities, this is why people choose Garmin smartwatches.
Suunto 9 Sport Watch
Best cycling watch for ultra-endurance riders and back-packers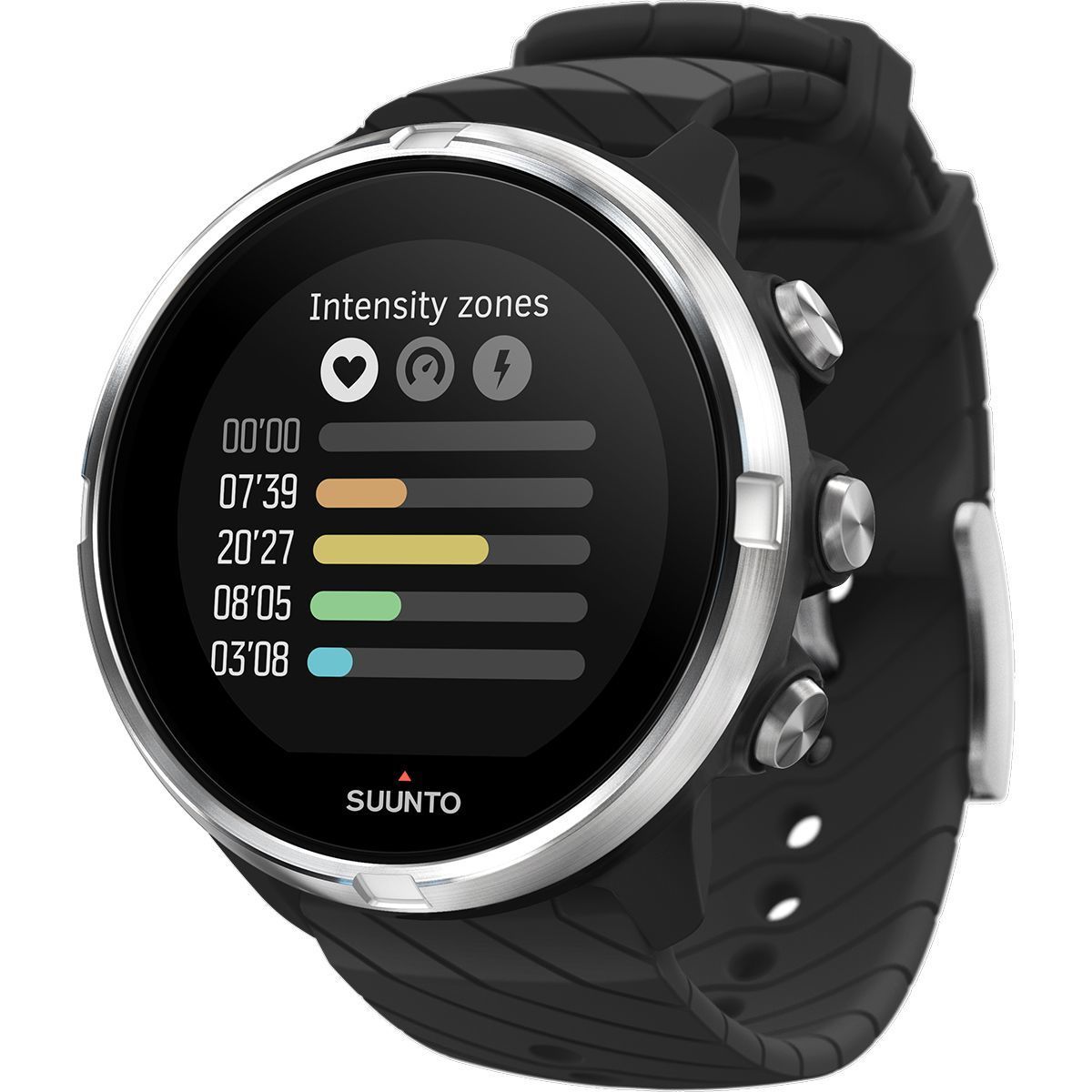 MSRP: $329
Long 25-hour battery life
Provides charging breakdown prior to the activity
Large, easy-to-read touchscreen
The Suunto 9 is the ultimate battery in the form of a smartwatch. Claiming up to 120 hours of tracking in its Ultra-saving battery mode, the watch puts competitors to shame in terms of longevity.
Made for ultra-endurance riders, triathletes, IRONMAN competitors, and people who don't want to charge their smartwatch every day, the Suunto 9 is the smartwatch for you.
There is an integrated heart rate monitor and optional barometric altimeter, although the Suunto 9 does not have the ability to sync workouts with third-party apps.
There is no music either, but there is Bluetooth connectivity which allows you to connect your phone and other wireless sensors such as power meters.
The Suunto 9 has a large touchscreen and accurate GPS data – but in the multiple battery-saving modes, you can turn off the GPS GLONASS and QZZS satellite networks, and use the Suunto's FusedTrack.
These are integrated gyroscopes, accelerometers, and a compass that calculate your GPS data without actually using energy-sapping GPS data.
Related: Best GPS Trackers For Bikes
Garmin Enduro GPS Watch
Longest battery life in a smartwatch
MSRP: $799.99
80-hour battery life
Solar-powered feature
VO2 max metrics
The Garmin Enduro is the king of smartwatch battery life. The unit can last more than 80 hours using GPS tracking. That's five times the amount that normal smartwatches can last.
Aptly named, the Garmin Enduro is designed for ultra-endurance and long-course athletes, those that stay out all day, and maybe even through the night.
For multi-day events or cross-country bike pacing, the Garmin Enduro is arguably the very best smartwatch option because no one can compete with its stamina in between charges.
There is even an integrated solar panel that helps recharge the battery when outside.
Despite being the same price as the Garmin Fenix, the Garmin Enduro lacks a few important features such as onboard music, animated workouts, round-trip creation, and topographic maps.
Depending on your goals as an athlete, the Garmin Fenix may be the better fit. But for ultra-endurance competitors who like to spend all day every day in the sun, the Garmin Enduro is the best smartwatch for you.
Polar Vantage M2 Premium Multisport Watch
Best lightweight smartwatch
MSRP: $499.95
Weighs just 66 grams
Long battery life of 40 hours
Includes sleep, recovery, and stress tracking
The Polar Vantage M2 is quite different from a lot of the smartwatches on this list. A few of the others focus on a highly accurate and detailed map and elevation data, while the Vantage M2 is great at tracking your sleep and recovery.
Similar to the Whoop Strap, the Vantage 2 tracks your sleep, recovery, and stress to help you realize when you are fit, fresh, or tired.
Weighing in at just 66 grams, the Vantage 2 is also one of the lightest smartwatches on this list. It comes with excellent battery life (up to 40 hours in GPS mode, and up to seven days without).
The Vantage 2 has wireless capabilities which allow it to pair with external sensors such as heart rate monitors and power meters. However, there is no ANT+ compatibility, which means the Vantage 2 won't be able to connect to all of your sensors.
The watch is easy to use, and you can even adjust it from the Polar app which can be connected to the Vantage 2 in an instant.
You can also sync your activities and data to third-party training sites such as TrainingPeaks and Strava, rounding out an excellent smartwatch that is lightweight and elegant.
Fitbit Versa 3
Best-looking smartwatch with GPS route tracking
MSRP: $229.95
Sleek
Lightweight
Long overall battery life of 6 days
The Fitbit Versa 3 is Fitbit's top-of-the-line smartwatch. With GPS tracking, long battery life, and connection to the Fitbit app and smartwatch ecosystem, the Versa 3 is more than capable as a smartwatch.
Great for women, the Fitbit Versa is small and sleek – in fact, it doesn't look like a smartwatch at all. But even so, you can track your rides, connect the Versa 3 to the Fitbit app, and save your activities.
Battery life is claimed to be 12 hours in GPS mode, but the smartwatch can last up to 6 days in the more basic mode.
You can link your Fitbit to your Strava account, save, and upload your rides using Bluetooth technology as soon as you're done.
However, the small watch doesn't have a touchscreen. It uses a button-led system that is awkwardly placed and not the best designed. You'll also need to pay extra for the Fitbit Premium subscription which unlocks a host of advanced features.
Apple Watch Series 7
Best smartwatch for overall health (and for iPhone users)
MSRP: Check on Amazon
Uses a color touchscreen and buttons
Includes blood oxygen monitoring
Comes with Apple Music and Apple Pay
One of the most unique entries on our list is the Apple Watch Series 7, which is much more sleek and stylish compared to more sport-specific GPS smartwatches. Compatible with Strava, Apple Music, and Apple Pay, you can even use the Apple Watch as a phone, and text from your wrist.
It has an integrated heart rate monitor and can also track your blood oxygen levels. You can take readings at any time, which means that you can get heart rate and blood oxygen data from during exercise, after exercise, at rest, or any other time of day.
There's even an ECG app that shows you your heart rhythm, just like in a hospital. One of the most underrated features of the watch is its Always-On Retina display. It cranks up the brightness when outside. It's one of the best display screens we've ever seen on a smartwatch.
The biggest downsides are its limitations to the Apple world. You'll need an iPhone to use the Apple Watch, and the watch won't connect directly to external sensors, which makes it less appealing for serious cyclists.
The battery life is also significantly less than other GPS smartwatches, especially Garmin series watches.
Sigma Sport iD.TRI
Best budget smartwatch for more than just cycling
MSRP: Check on Amazon
Battery life of 12 hours
Supports power meter connection
Affordable and versatile
Designed for triathletes, the Sigma Sport iD.TRI watch is a fully-functional sports watch that works for more than just cycling.
One of the cheapest watches on our list, you might expect that the Sigma iD.TRI would be lacking in features. But the watch can do a lot, actually, including turn-by-turn GPS navigation using third-party apps like the route-planning app Komoot.
The Sigma iD.TRI has a relatively small screen at 128x144px and is controlled by buttons rather than a touch screen.
As expected, the user interface takes some getting used to; but remember that you can buy four Sigma iD.TRI watches for the family for the price of some of the other smartwatches on this list.
This watch also supports heart rate and power meter connections through its ANT+ and Bluetooth capabilities. There are even barometric calorimeters and a three-axis compass that can alert your emergency contacts in case of a crash or accident.
At well under $200, the Sigma Sport iD.TRI is one of our favorite watches on this list for more than its price alone.
Navigation
Smartwatches are known for having a much longer battery life than GPS head units. Especially when being used as a basic watch. However, some – but not all – smartwatches come with turn-by-turn navigation, which is included on nearly all GPS cycling computers.
And for those that do have turn-by-turn navigation, it can be incredibly difficult, and even dangerous, for cyclists to try and use the device while riding.
Especially in traffic or on a high-speed descent, the last thing you want to do is take your hand off the bar and your eyes off the road in order to see your next turn.
With that said, many smartwatches include live tracking and emergency contact features which enable the device to notify your contacts in case of a crash or accident.
Most also include an integrated heart rate monitor on the backside of the watch. It measures your heart rate during exercise, rest, and everything in between.
Things to Consider
The ability to monitor heart rate marks a major difference between GPS headunits and cycling smartwatches.
Instead of only tracking your heart rate during a ride using an external heart rate monitor, smartwatches have them built-in, which means that your heart rate will be measured constantly throughout the day.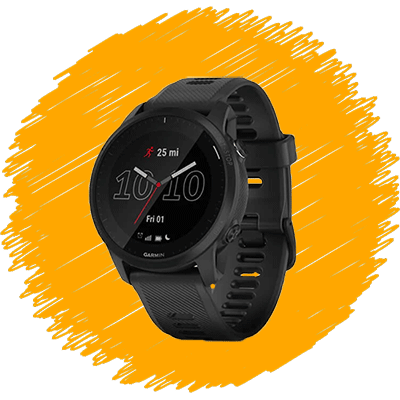 This gives the user a much better understanding and awareness of their heart rate, as they'll be able to compare their resting heart rate and their daily heart rate in addition to their exercise heart rate.
Smartwatches – most of them – have smart technology which enables the user to sift through emails and text notifications, as well as control music playlists from the watch itself.
These capabilities can be used at any time of day, as opposed to GPS headunits which can only access these features when they're turned on which is typically only during a bike ride.
GPS headunits have more wireless connectivity options than smartwatches, with the added ability to pair to sensors such as wireless or electronic shift levers, as well as being able to display your left/right power balance during a ride.
While smartwatches don't have these capabilities, there are a select few cyclists that will feel they're missing out.
Like cycling computers, smartwatches have a huge price range from under $200 to nearly $1,000.
The capabilities vary quite a lot between the low end and high end of the market, as well as the materials, usability, and durability of the watches.
FAQ