Known for its outstanding power accuracy and sterling ride feel, the Wahoo Kickr Snap is one of the best wheel-on smart trainers available for under $500. A high-tech flywheel and matte black design make the Kickr Snap both capable and stylish. Its wheel-on design makes it easy to set up right out of the box.
The Wahoo Kickr Snap Smart Trainer is one of the best wheel-on trainers on the market.
With unmatched power accuracy, maximum wattage of 1500w, and a maximum simulated gradient of +/-12%, there are plenty of reasons to love Wahoo.
At $500, the Wahoo Kickr Snap Smart Trainer is a bit more expensive than some other wheel-on smart trainers, but that's the price to pay to get the best in class from Wahoo.
With the ability to pair with the Kickr Climb Grade Simulator and Kickr Headwind Smart Fan, cyclists can get the full real-world experience, all from the relative comfort and ease of the Wahoo Kickr Snap Smart Trainer.
The convenient, easy-to-use KICKR SNAP is the perfect companion for an entry-level cyclist or weekend warrior.
Wahoo Kickr Snap Key Specifications
The Wahoo Kickr Snap is arguably the most capable wheel-on smart trainer on the market, and here's why:
Price: $500
Maximum Power Rating: 1500W
Maximum Simulated Gradient: +/-12%
Integration Capabilities: ANT+ FE-C and Bluetooth technology
Power Accuracy: ±3%
The Kickr Snap is made with a 10.5 lb. flywheel that is engineered to create a real-world ride feel. Compared to the Kickr Core's 12 lb. flywheel, and the Kickr's 16 lb. flywheel, the Kickr Snap is a bit of a downgrade, but one that is justified by a significant price slash.
Although it can't support three simultaneous Bluetooth connections like the Wahoo Kickr or Kickr Core, the Kickr Snap uses Bluetooth and ANT+ technology to seamlessly pair with a number of devices and apps, including Zwift, Wahoo SUF, Strava, TrainerRoad, FulGaz, and Rouvy.
KICKR SNAP Bike Trainer uses your smartphone, tablet, computer or GPS device to control resistance and provide a reliable power measurement so you can monitor and adjust your intensity.
As mentioned previously, the Kickr Snap is compatible with a wide variety of road, time trial, and mountain bikes. Unlike direct-drive trainers, Kickr Snap users won't have to worry about axle compatibility.
There are only a handful of bikes that are incompatible with the 2017 Wahoo Kickr Snap, and you can find them listed here.
The Easy Option from Wahoo
The Wahoo Kickr Snap Smart Trainer is the one and only wheel-on offering from Wahoo, but don't let that dissuade you.
Made with the highest quality and careful attention to detail, Wahoo put everything they had into the creation of the Kickr Snap, matching the build quality of the Wahoo Kickr, one of the most popular smart trainers in the world.
Designed for the casual indoor rider or a cyclist on a budget, the Kickr Snap is easy to set up and even easier to use, with the ability to connect to the Wahoo Fitness app in just a few easy steps.
As the only wheel-on option from Wahoo, the Kickr Snap is the cheapest of the lot, coming in at $500. You can find other wheel-on trainers for under $350, but they will be lacking in the quality and features offered by the Kickr Snap.
There's a reason why the Kickr Snap will take a chunk out of your checkbook – Hint: It's arguably the best wheel-on trainer available.
Wahoo Indoor Trainers — Something for Everyone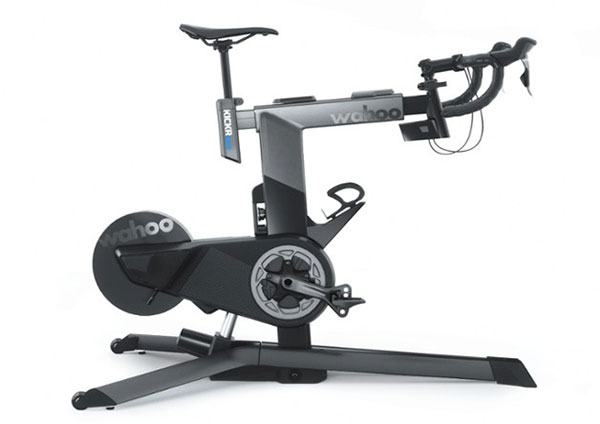 Wahoo currently offers four different indoor training options:
Two direct-drive smart trainers
One wheel-on smart trainer
One indoor smart bike
With only four options in total, it may seem like there's little to choose from at Wahoo. But that's because Wahoo doesn't offer any low-end models.
In fact, there isn't really an entry-level offering in their store (although Wahoo says that the Kickr Snap is perfect for the entry-level cyclist – I'd argue that starting at $500 for a trainer is a bit more advanced).
Instead, Wahoo is all about quality. Each offering – whether it's wheel-on (Kickr Snap), direct drive (Kickr or Kickr Core), or an indoor smart bike (Kickr Bike) – is built of the highest quality and made for serious indoor cyclists.
From the Wahoo Kickr Snap at $500 to the Wahoo Kickr Bike at $3,500, and everything in between, there should be something for everyone at Wahoo.
Related: Best Indoor Bike Trainers
The Differences between Wheel-on Trainers and Direct Drive Trainers
There are a number of differentiating factors between the four trainers on offer at Wahoo, but perhaps the biggest is the trainer's type: wheel-on, direct drive, or indoor smart bike.
Wheel-on trainers usually have lower power accuracy, being somewhere around +/-5%. Direct drive smart trainers, on the other hand, can typically achieve a power accuracy of +/-1% to +/-3%.
Related: How To Improve Your Cycling
In the Wahoo Kickr Snap, Wahoo has blown right past the expectations and achieved a wheel-on power accuracy of +/-3%. This is an incredible achievement, and one of the defining features of the Kickr Snap.
However, it is important to note that the Kickr Snap (and other wheel-on trainers) require calibration before each ride in order to be accurate. This is because each time you hop on the trainer, you need to tighten the drum to the rear tire. After a few minutes of warming up, riders can calibrate their trainer through the Wahoo Fitness app.
Like other wheel-on trainers, the Wahoo Kickr Snap is portable and easier to set up than direct drive trainers which require removal of the rear wheel.
With wheel-on trainers like the Kickr Snap, you don't need to remove or adjust anything on your bike – you simply lift the bike into the center of the trainer, tighten the clamps onto the rear skewer and the drum onto the rear tire, and you're ready to ride.
Comparisons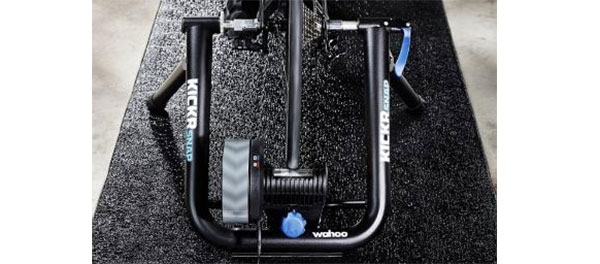 Wheel-on trainers are great because they are cheaper, lighter, and easier to set up than direct drive trainers. However, direct drive trainers are superior to wheel-on trainers in a number of ways.
Compared to Wheel-on Trainers, Direct Drive Trainers:
Are more stable
Are quieter
Offer a better ride feel
Have better power accuracy
Can simulate steeper gradients
Can measure a higher maximum power
Are self-calibrating (most models)
Now, when you compare the Kickr or Kickr Core (direct drive) to the Kickr Snap (wheel-on), these observations hold true. However, the Kickr Snap closes the gap between wheel-on and direct drive trainers better than almost any other smart trainer.
Kickr Snap
The Kickr Snap has an incredible power accuracy of +/-3%, better than just about any other wheel-on trainer in existence. It also has an impressive 1500w ceiling, which is higher than most other wheel-on trainers, and high enough that most riders would never find it to be an issue.
Conversely, wheel-on smart trainers are typically less than half the cost of a direct drive smart trainer, while the Kickr Snap comes in at $500.
Kickr Core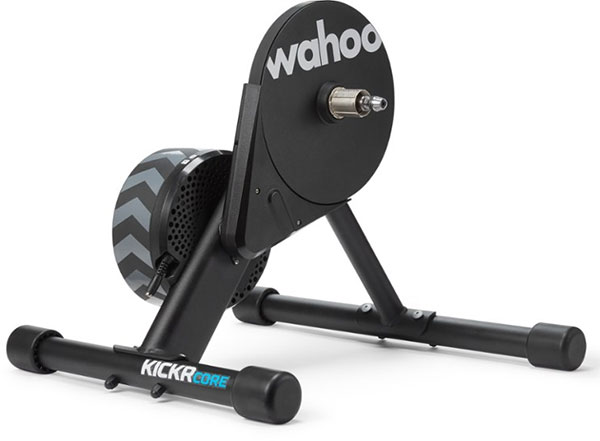 With the Kickr Core coming in at $900 and offering significantly better stability and ride feel, better power accuracy, and a nearly silent flywheel, many are willing to make the jump to Wahoo's mid-level direct drive option.
Serious indoor cyclists and dedicated e-Racers will be bothered by the Kickr Snap's power accuracy and +/-12% simulated gradient, a steep gradient that is surpassed in almost every world on Zwift.
Even if you don't break 1500w, the relative lack of stability in the Kickr Snap could be a bit worrying if you do yank back and forth on your handlebars during a sprint.
There are pros and cons to everything, and the Kickr Snap's lightweight and convenient design make it less than ideal for sprints on the indoor trainer.
Wahoo Kickr Snap – 2015 vs 2017
Released in 2017, the second generation Wahoo Kickr Snap featured a number of improvements including power accuracy and LED status indicators.
The power accuracy improved from +/-5% in the first generation to +/-3% in the second, and two new Bluetooth and ANT+ LEDs were added on top of the flywheel.
Wahoo Kickr Snap Considerations
Importantly, the first generation Kickr Snap is not compatible with the Kickr Climb, whereas the second generation Kickr Snap is. Since 2017, Wahoo also lowered the price of the second generation Kickr Snap from $600 to $500, making it even more competitive.
While the Wahoo Kickr Snap measures power accurate to +/-3%, it is important to remember that it requires calibration each and every ride, unlike direct-drive smart trainers. This can be an annoying process when repeated every day, and it can affect the trainer's power accuracy if you forget to calibrate.
Because of its wheel-on design, the Kickr Snap doesn't respond very smoothly to quick accelerations. As with any wheel-on trainer, there is the possibility of wheel slip (the tire slipping off the drum during a sharp acceleration), which can be worrying during a sprint.
The Kickr Snap is significantly louder than the highly-rated Kickr and Kickr Core, mostly due to its wheel-on nature.
After a little digging, we found that the Kickr Snap is just about as noisy as any other wheel-on smart trainer. Compared to the Wahoo Kickr, though, the Kickr Snap is a noisy neighbor.
Overall, the Wahoo Kickr Snap is a fantastic wheel-on smart trainer, with power accuracy and virtual capabilities that challenge the best on the market.
At a mid-level price point, and backed by Wahoo's known build quality, the Kickr Snap is a great option for indoor cyclists on a budget, and those opting for convenience over capability in their indoor smart trainer.
We have similar reviews on Stages SB20, Elite Suito, and Saris M2.
Other Wahoo Trainers
If you have a bit more to spend or simply looking for an indoor smart trainer, Wahoo has you covered. The Kickr or Kickr Core are direct drive options that won't break the bank and offer significant upgrades. For the ultimate indoor training experience, check out the Wahoo Kickr Bike.
Wahoo Kickr – With cassette included, the Kickr is an upgrade from the Kickr Core in almost every way. A bigger flywheel helps the Kickr achieve better power capabilities and improved ride feel versus the Kickr Core.
Wahoo Kickr Core – With an accuracy reading of +/-2%, the Kickr Core is one of the best indoor smart trainers.
Wahoo Kickr Bike – In Wahoo's own words, the Kickr Bike is, "The Ultimate Indoor Training Machine". For cyclists who are ready to splash some cash, there's nothing better than the clean, quiet, and sleek build.
There are no comments yet, add one below.