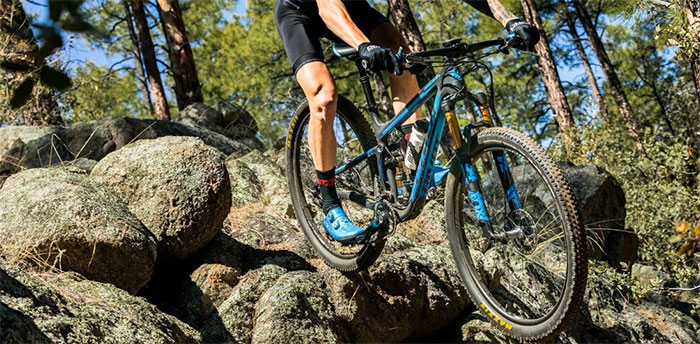 Pivot Cycles has been around since 2007, but it has already become synonymous with innovative and race-ready carbon mountain bikes. Here's all you need to know before buying a Pivot bike.
Part of Best Bike Brands
Pivot is one of the most desirable and authentic brands available on the mountain biking market.
It's a company led by engineers who are passionate about high performance, new technologies, and competition, all of which are important traits of Pivot Bikes.
Pivot Cycles began by making aluminum trail bikes but now all of their bicycles are made from carbon, with the exception of one steel model. The lineup consists of trail, all-mountain, DH, enduro, dirt jump, XC, fat, gravel, and even e-bikes.
If you want to see if they're the right choice for you, take a closer look at our overview of all the categories below.
Who are Pivot Cycles?
---
Pivot Cycles is a USA-based cycling brand established in 2007, in Phoenix, Arizona by Chris Cocalis. The reason why Pivot Cycles took off from the very beginning and achieved instant success was that Chris partnered with Dave Weagle and bought the rights to use the DW-Link suspension technology.
Pivot's first bike was called Mach 4, a model that survives to this day, and it was a surprisingly good full-suspension trail bike.
On top of that, Pivot's bikes were some of the first to incorporate other game-changing technologies, such as the Shimano Di2 shifting and Fox's Live Valve suspension.
Even though this is a young-ish brand, its founder has been in the cycling industry for decades. Namely, Chris Cocalis founded Titus Bikes in 1991, a successful brand that he sold in 2006 to start Pivot. Before that, he was also a BMX racer, bike-shop manager, and United States Cycling Federation certified mechanic.
Pivot Bikes Design
---
The one thing that defines Pivot bikes is their innovative design. It reflects the company's determination to take familiar, tried, and true frame and suspension technologies and improve them even further.
At first, Cocalis wanted to build bikes using aluminum, which was strong, cheap, and just as light as carbon at the time. However, as carbon improved, he recognized the superiority of this material. Nowadays, all Pivot bikes are made with carbon, except for one model that comes in steel.
Throughout its short but rich history, Pivot has partnered with several renowned brands to make bikes stiffer and improve their performance. For example, Cocalis designed the PF92 BB standard with Shimano and worked with FSA to develop the sturdy BB386 EVO.
Pivot also redesigned the 157mm rear-hub spacing, also known as the Super Boost Plus design, which it uses on its long-travel bikes and 29ers.
On top of that, Pivot introduced a brand-new shock clevis and linkage design on its Phoenix DH bike, which allowed it to use larger wheels without deteriorating handling.
Therefore, if you want modern and innovative bikes that push the limits and the standards of the industry, Pivot Cycles is the way to go.
Mach 4 SL
XC Bikes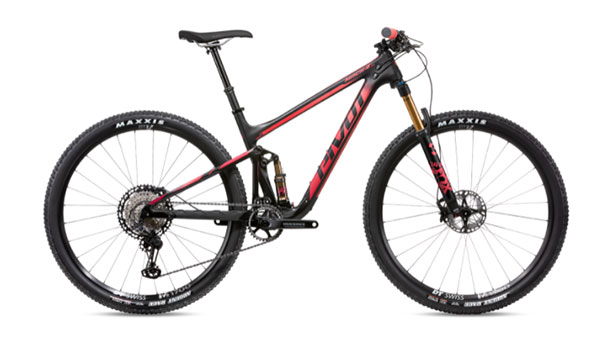 Pivot Cycles stands out from similar high-end brands because it builds some of the stiffest bikes with suspension that's renowned for pedaling efficiency thanks to the DW-Link's anti-squat properties.
These are all traits that are extremely important for XC racing, so it doesn't surprise that Pivot makes race-winning carbon XC bikes.
According to the company, these are some of the lightest and fastest bikes they've ever made, engineered with World Cup level athletes in mind.
The models they offer at the time of writing this review include:
Mach 4 SL
Pivot LES SL
LES Singlespeed
LES 27.5
As you can see, the lineup includes both full-suspension and hardtail bikes, as well as models with either 29″ or 27.5″ wheels.
For example, Mach 4 SL is one of Pivot's best-selling and most successful models ever made. It rolls on gnarly 29″ wheels and comes with 100mm of rear suspension built with the DW-Link technology. It's optimized for the best possible XC and trail performance.
The LES models are capable hardtail rigs with 100mm of fork travel and either 29″ or 27.5″ wheelsets. Two models feature premium 12-speed SRAM and Shimano drivetrains, whereas the third model has a simplified single-speed drivetrain.
What's also unique about Pivot bicycles, including the XC category, is that a lot of the parts are customizable. You can often choose different wheels, forks, groupsets, and so on. Therefore, you can customize your future Pivot bike and personalize it to fit your specific needs.
Trail 429
Trail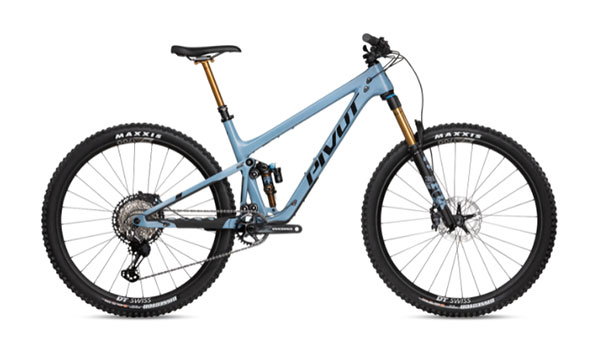 Pivot Cycles' trail bikes are quite unique as they are category defying. What this means is that they act as pure trail bikes when you really need them to—on descents and technical sections.
At the same time, they provide you with the pedaling and climbing efficiency that you can get from XC bikes. This is possible thanks to the DW-Link suspension technology.
This is progressive suspension with anti-squat properties. That means that the pedaling and braking forces won't affect the suspension at all.
At the moment, Pivot makes two full-suspension bikes that fall into this category – Trail 429 and Mach 5.5 Carbon.
The Trail 429 and Mach 5.5 are arguably the two most successful bikes ever made by this brand. They're both built with carbon, though the 429 rolls on 29″ wheels, whereas Mach 5.5 has 27.5″ wheels.
Pivot describes the 429 as a versatile bike with an all-mountain attitude that also has race bike reflexes. It features a flip-chip mechanism that you can use to alter the geometry only so slightly but achieve surprising results. In other words, the "shape-shifting" suspension allows the bike to feel super smooth and incredibly sharp at the same time.
Mach 5.5
Trail
On the other hand, Mach 5.5 can be described as the ultimate trail bike. It has 140mm of DW-Link rear travel and 160mm of travel on the Fox 36 fork so you definitely won't lack the squish no matter the descent. Of course, thanks to the unique suspension technology, the bike is able to climb like a mountain goat as well.
Get one of these if you want one bike that feels like 2 in 1 or even 3 in 1.
Mach 6
Enduro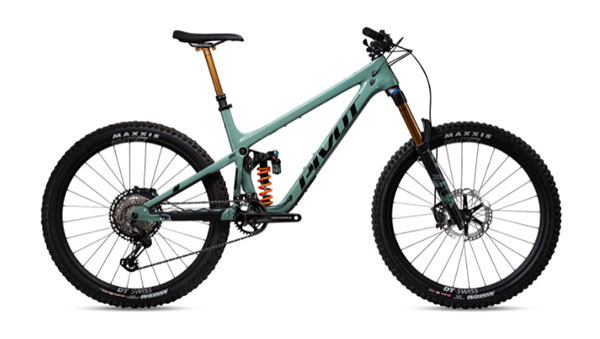 Pivot's enduro bikes are carbon beasts that combine modern, progressive geometry with the latest, most advanced suspension technology money can buy.
As a result, they excel on descents and in the uncharted backcountry while also feeling at home on bike park flow trails. When you finish a descent and it's time to go back up the hill, catching a shuttle will be completely unnecessary—the DW-Link suspension will let you get to the top with minimal effort.
There are three models that you can choose from the enduro category:
All three Pivot enduro bikes—Mach 6, Switchblade, and Firebird 29—are full-carbon rigs with varying amounts of travel and different wheel sizes. Therefore, it's easy to find a build that meets all of your needs.
Firebird 29 has the most rear travel (162mm), followed by Mach 6 (158mm), followed by Switchblade (142mm). As a result, Firebird is the most specialized, whereas the Switchblade is the most versatile model.
As is the case with all other categories and bikes, Pivot lets you customize your future ride before purchasing it. You have the freedom to go with the stock build or change the wheels, components, suspension, parts, etc.
All in all, these Pivot bikes are race-worthy machines suitable for professional riders and those who aspire to reach the highest level. They're fast, fun, and deliver predictable handling that will give any rider an edge over their past self.
Phoenix 29
Downhill bikes
Downhill bikes are by far the most capable and the most fun bikes around. Pivot's Phoenix 29 is a legendary DH beast that has recently received a complete makeover. It is now faster, slacker, and meaner than ever before.
The company took the development of this bike very seriously. Pivot's team of engineers partnered with the Fox Factory Racing team to come up with a bike that could approach DH riding from a completely different angle. Once they had something they thought would work, Phoenix 29 was put through its paces time and again in World Cup racing and was then improved afterward.
If you want a bike that's more than capable of winning a World Cup in the right hands or just provide you with the best time of your life with your friends on a local track, you'll like Phoenix 29.
To get more technical, this is a 29″ carbon rig with 190mm of rear travel and 203mm of front travel. All builds feature a Fox Factory Float 40 fork combined with a Fox Factory Float X2 rear shock. This is a combo that will infuse you with confidence to send the fastest line down the hill.
On top of that, Phoenix 29 also features Shimano Saint or Zee 4-piston disc brakes, so you can fine-tune your speed and time your descent.
Shuttle
E-MTB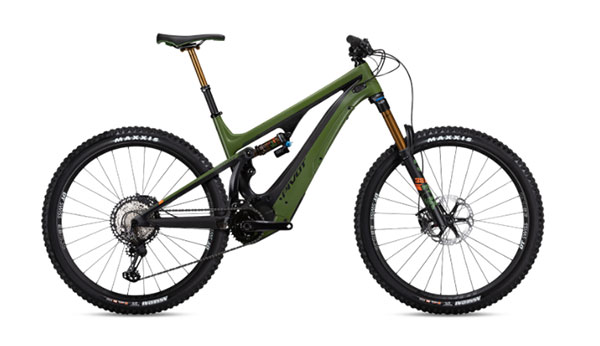 Riding an electric mountain bike does not mean that you're limiting yourself. It also does not mean that you're taking the easy way out of a hard workout. It actually means that you're unlocking new routes that might have seemed previously out of reach.
Pivot's e-bikes are no less capable than its non-electrified models. In terms of the components and the overall ride feel, they're just as good. On top of that, they'll give you a push up a steep climb and help you enjoy the experience of exploring new areas even more.
At this moment, Pivot Cycles offers two high-end e-bikes.
E-Vault
E-Road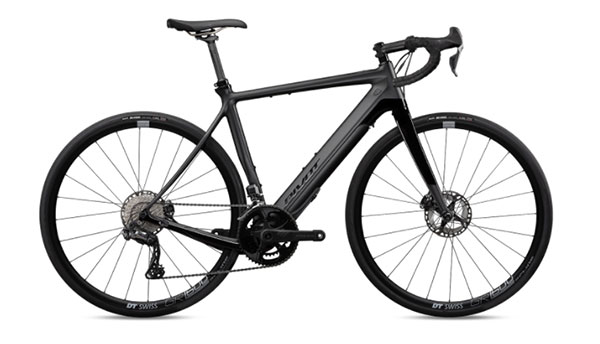 E-Vault is a carbon gravel bike with 700C wheels and Pivot's ISO-FLEX damping technology that makes the ride smoother. What you can't see at first (but it's there) is the integrated Fazua motor/battery unit that's built so cleanly into the chassis that it's almost invisible.
On the other hand, the Shuttle is a carbon full-suspension trail e-bike with 140mm of rear travel and gnarly 29″ wheels. It features a sophisticated Shimano EP8 drive unit and a humongous 726Wh battery. That's why it's called "Shuttle," because you don't need anyone else to pull you up a climb.
If you want to eliminate your physical limitations, explore more, and enjoy cycling on a completely different level, check out Pivot's e-bikes.
Point
Dirt Jump bikes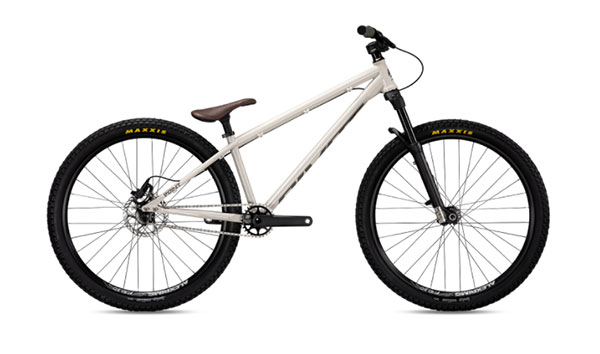 Pivot's Dirt Jump Bike category has a little surprise. It's the Point hardtail dirt bike made from Chromoly steel with 26″ wheels.
We're used to seeing only carbon in Pivot's lineup, but steel is the strongest material, and you need as much strength as possible to clear a proper pump track.
A dirt jump bike needs to be simple, but it also needs to be sophisticated enough to do what it's intended to do—make short work of obstacles and devour challenging courses.
Some of Point's highlights that could make your mouth water include adjustable rear dropouts, short chainstays, long reach, and a tapered head tube. These features come together to make the bike feel stable, snappy, and durable.
Point also comes with a 100mm Manitou Circus Expert 34 fork, a SRAM Level rear hydraulic disc brake, and a streamlined single-speed drivetrain. It's all you need to accelerate from one jump to another and clear it with the utmost precision.
One part of dirt bikes that takes the most beating is the wheelset. Pivot's Point comes with ALEX FR30 Double Wall rims wrapped with Maxxis Holy Roller 2.2″ wide tires. They'll take all the abuse you throw at them.
If you have $1,600 to spare on a bike for the pump track, you'll spend your money smartly if you get the Point.
Les Fat
Fat Bikes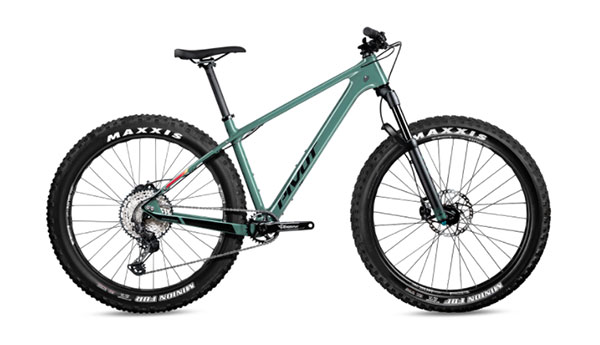 Fat bikes can go where no other bike dear tread. They can traverse snow, ice, sand, mud, and roll over sharp rocks like it's nobody's business.
Pivot Cycles dabbled in the fat bike territory with their signature LES Fat model. This is a full-carbon fat bike with oversized tires, compatible with 26″, 27.5″, and 29″ wheels. It's a four-season bike that can do it all.
You can get LES Fat with a rigid carbon fork or with a 100mm Manitou Mastodon Comp 34 fork, the choice is yours. Whichever version you choose, you'll get a Shimano XT 12-speed drivetrain to complement it, along with Shimano XT 2-piston hydraulic disc brakes.
On to the most important feature—the tires. LES Fat comes with beefy Maxxis Minion 27.5″ x 3.8″ front and rear tires that can make short work of any surface. As we've mentioned above, the frame is also compatible with 26″ and 29″ wheels. You can ride whatever suits you best. The stock wheels are SUNringlé Mulefüt 80SL which have great reviews.
Few cyclists like winter because it means time off the bike. Well, it's time to change that, and getting the LES Fat bike is a step in the right direction. Keep riding no matter the conditions and have more fun than ever before.
Vault
Gravel bikes
Gravel bikes are the latest trend that entered the cycling world. They give you the freedom to ride both paved and unpaved roads with almost the same efficiency—on one and the same bike.
Pivot designed its Vault model with that purpose in mind. This is a do-it-all, all-road bike that combines performance, comfort, and versatility in a good-looking package.
Even though some consider gravel riding to be relaxed and easy-going, there's no reason why you can't make it hard and competitive. The Vault gravel bike has been tested in both realms—casual gravel riding and highest-level gravel races.
The Vault is built around a carbon frame and comes with 700C wheels and all-surface 40mm Maxxis Rambler tires. It's the perfect combination to ride both hard-packed and loose gravel routes.
As is the case with all other Pivot bikes, you can customize the Vault to your liking. It's available with aluminum or carbon wheels. Moreover, you can get it with a SRAM GRX/Ultegra 2×11 or a SRAM Force AXS e-Tap 12-speed drivetrain.
To make bumpy gravel roads less taxing on your body, this bike has a Phoenix Pro ISO Flex carbon seat post that acts as a rudimentary form of rear suspension and dampens vibrations.
Don't hesitate to get the Vault if you want a bike that challenges the n+1 equation.
Pivot Bikes Sizing
---
Purchasing a bike that is the right size for you is the most important prerequisite to be able to use the full potential of your body and that bicycle.
Unfortunately, Pivot Cycles does not have a detailed size chart that would help you choose the best size. However, the company does state the minimum and maximum height ranges for each bike, which is something at least.
Check out the info below to see whether or not one of the Pivot bikes would fit your body:
Trail 429 — Fits riders between 4'10" and 6'7" with X-Small to X-Large size offerings.
Mach 6 — Fits riders between 4'10" and 6'2" with X-Small to Large size offerings.
Shuttle — Fits riders between 5'3″ and 6'7″ with Small to X-Large size offerings.
E-Vault — Sizes XS, S, M, L, XL for riders between 5' (152 cm) and 6'5" (196 cm).
Switchblade — Fits riders between 5' and 6'7″ with X-Small to X-Large size offerings.
Mach 4 SL — Available in sizes XS, S, M, L, XL for riders between 4'10" and 6'7″.
Firebird 29 — Fits riders between 5'4″ and 6'7″ with Small to X-Large size offerings.
Mach 5.5 Carbon — Fits nearly all riders (everyone between 4'11" and 6'7″+).
Vault — Sizes XS, S, M, L, XL for riders between 5′ (152cm) and 6'5″ (196cm)
LES Models — Fits riders between 4'10″ and 6'1″.
Phoenix 29 — Available in sizes S, M, L, XL for riders between 5'4″ and 6'7″.
Point — Available as a one-size-fits-most frame or complete bike.
To find out exactly which frame size to get based on your height and inseam measurements, you can take a closer look at the geometry charts available for each bike on Pivot's official website.
FAQ
---
Final Verdict
---
To conclude, Pivot Cycles is a boutique-like brand that makes expensive bikes not everyone can afford. However, those who are lucky enough to be able to spend that kind of money will be over the moon with their Pivot two-wheeler.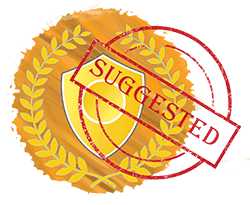 These are sophisticated machines designed by some of the best engineers in the cycling industry, with the utmost attention to detail. Some of it is just good marketing, but most of it is palpable performance that you can see and feel on the trails.
Therefore, if you're on the lookout for your next trail, enduro, XC, DH, gravel, or any other type of off-road bike, give Pivot Cycles a thought.
Do you own a Pivot bike? Let us know about your experiences in the comments below. If you don't, leave a comment to let us know if this review has helped you or not!