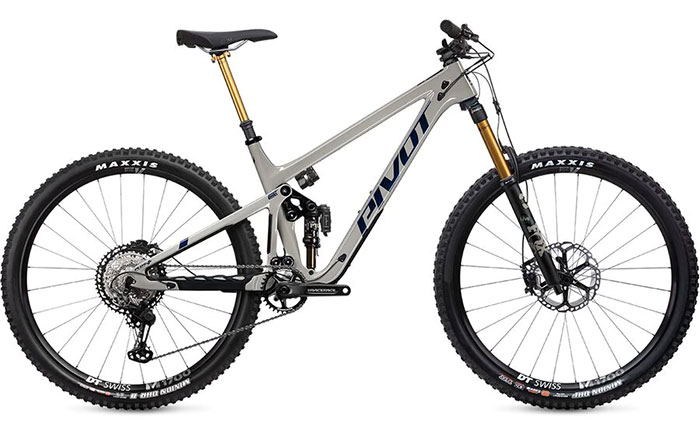 Pivot Switchblade looks like your average full-suspension mountain bike. But worry not – this bike is everything but boring. Since early 2016 when the Switchblade was first introduced into the market by Pivot Cycles, it has gone through some significant improvements like a clean design and stretched-out geometry.
If you are looking for a versatile MTB bike that can handle descents and climbs like a pro, this is the bike for you!
The Pivot Switchblade is a high-end long trail mountain bike with quality suspension performance, stylish design, and lightweight carbon frame.
Over 80% of riders prefer mountain biking because of the thrill and adrenalin rush they get from pushing their limits on the trail. With MTB terrain consisting of rocks and loose dirt, you need a durable machine like the Pivot Switchblade to enjoy your rides.
Want to know more about this bike? Let's get right into it!
Main Specifications
The Pivot Switchblade comes with excellent features for mountain bikers, although at a hefty price tag. Like the full-length internal cable routing on the carbon frame that is hassle-free and easy to service when necessary.
This bike is suitable for riders between 5′ and 6'7″, with four models available to suit your preferences when it comes to the type of wheels and shocks. From the adjustable geometry to the comfortable saddle, there are many high-end components the Switchblade has to offer.
You can enjoy a dynamic ride when going uphill and during descents from this trail bike with proper handling. It is suitable for speed lovers and fits tires of up to 29×2.6″ or 27.5×2.8″ wide, depending on your riding. Wider tires are great for trail riding because they offer less rolling resistance and better traction for a comfortable ride.
The Phoenix Team Low Rise Carbon handlebars allow for better handling of your bike with Phoenix Factory lock-on grips for added comfort and control of the Pivot Switchblade.
Suspension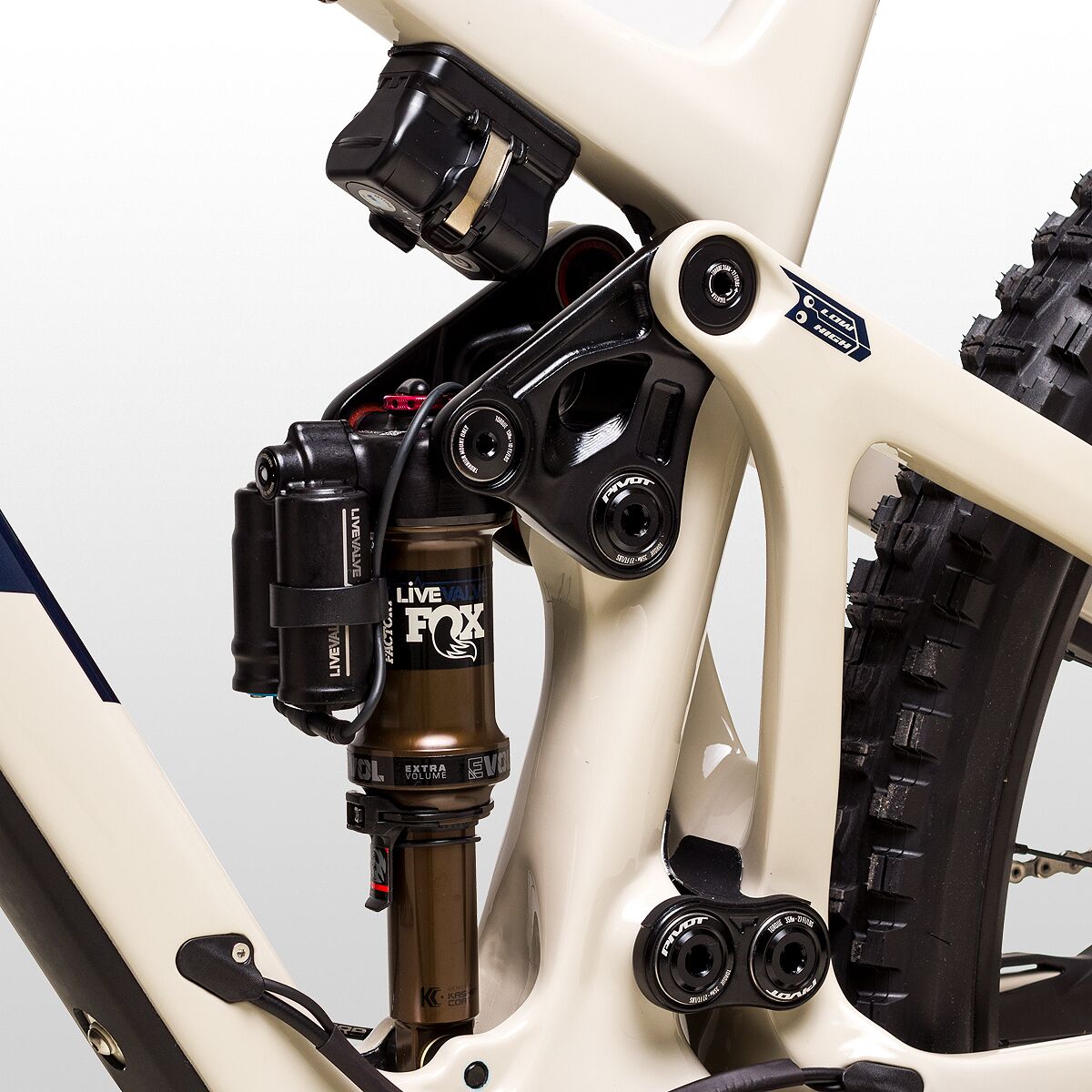 Pivot has been working on improving its bikes over the years. Some of the most notable improvements are in the suspension — on previous models, the rear shock was more horizontal, but Pivot decided to position it vertically this time. Thanks to these features, the bike is lighter and stiffer than ever.
One of the significant factors contributing to the superb ride quality on the Pivot Switchblade is the 142mm DW-Link Suspension. The DW-link suspension on the Pivot Switchblade uses an anti-squat design to make the suspension more active during low-speed impacts, which provide better traction on the trail.
This is one of the most well-balanced trail bikes you can find in the market today. You get a balance of acceleration, superior braking, and handling impacts on the terrain with ease.
You can either go for the ultra-adjustable Fox Float X2 or the Fox Float DPX2 rear shock options on the Pivot Switchblade models. Both these shocks are excellent but if you want an easy-to-set-up rear shock that is consistent and feels good, go for the Fox DPX2.
Riders who prefer trying out various setups and riding on heavy trails will appreciate all the adjustments available on the Float X2. With these high-quality rear suspensions, you can have fun on this bike without worrying about the harshness of the trail.
This trail bike also features a Pressfit BB92 bottom bracket with a standard 157mm rear hub spacing and a Race FAce Æffect R 32t crankset that offers a rowdy strength to weight ratio to get you to your destination while mountain biking. The Shimano XTR brakes will provide you with the much-needed power and a constant brake- feel to remain in control even when descending.
Other features on this trail slayer include the Shimano XT M8100 10-51t cassette, a Fox factory Transfer 125mm seat post in size extra small, and a Phoenix Team Enduro/Trail stem. The Pivot Switchblade is a trail bike that shines when cycling at high speeds.
Interested in more Pivot's mountain bikes? See our full review of the brand.
Frame and Geometry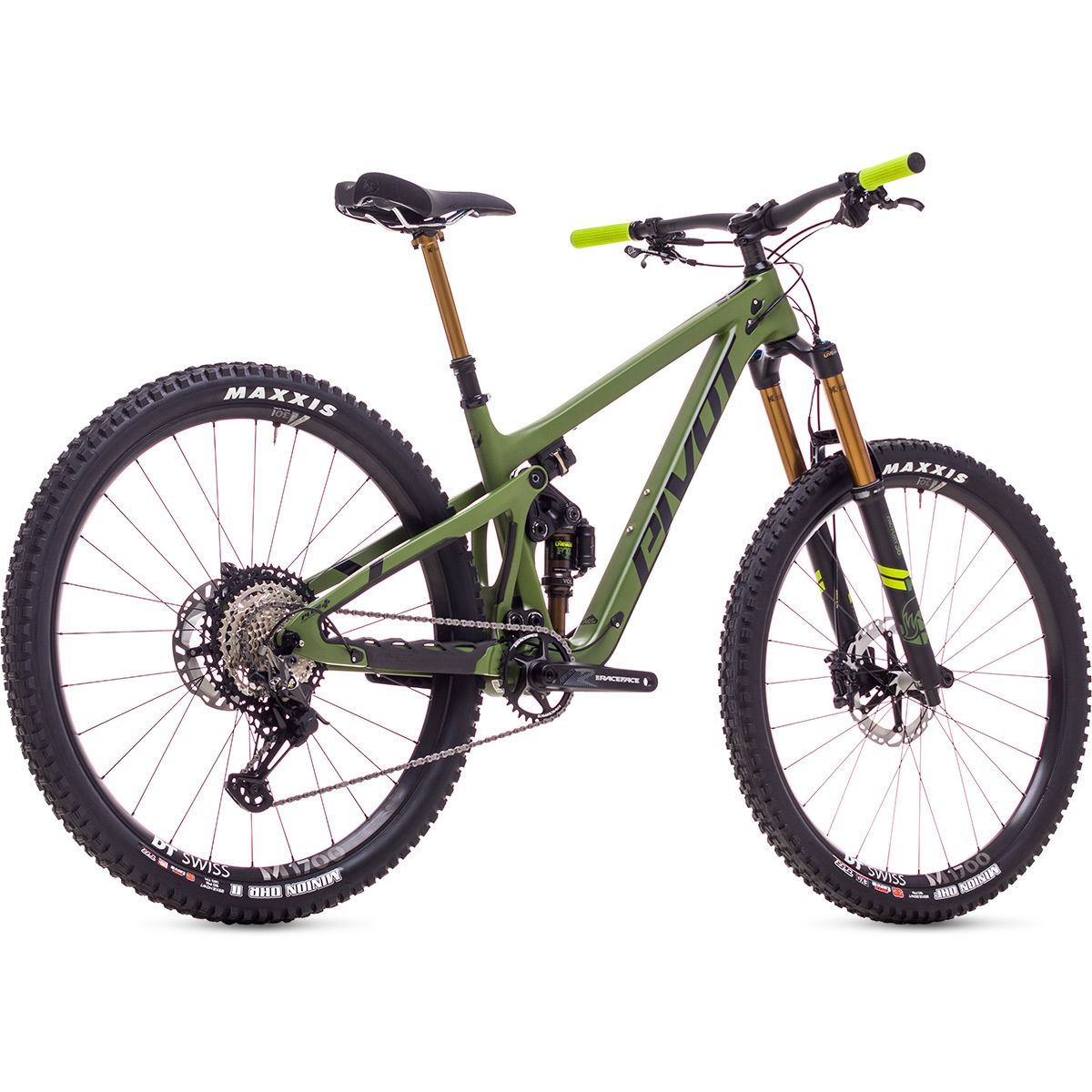 The Pivot Switchblade features a carbon frame available in three colors: Horizon Blue, Treeline Green, and Mojave. With a hollow-core, high compression carbon molding process and a combination of composite materials, Pivot made a lean and bomb-proof frame.
This frame weighs around 7 pounds with the strength and stiffness of a World Cup downhill bike. Although lightweight, the Pivot Carbon frame can take plenty of hits on the most challenging trails.
The Pivot Switchblade also upgrades with better versatility and a progressive geometry for enduro-style descents and technical climbs that might seem impossible.
The geometry features a steeper seat tube angle and slacker head tube angle. The flip-chip upper linkage mount on the Switchblade will enable you to adjust the geometry for various terrains in seconds.
When you purchase a Pivot Switchblade bike, it comes with the low BB setting on the flip-chip, perfect for cycling on steep terrain. The high BB setting raises the bottom bracket and is excellent when you need quicker handling with more rocks and roots on tight terrain.
The Pivot Switchblade combines some of the longest-reach measurements with a long front center, low center of gravity, and short chainstays for superior stability and handling when speeding on the trail.
Models
The Pivot Switchblade lineup features four high-end bikes. These include the Pro XT/XTR, the Pro XT/XTR with carbon wheels, the Pro XTR with Fox live Valve, and the Pro XTR with Carbon wheels and Fox Live Valve. Read on to find out more about these models and their features.
Consider also: Pivot Mach 4 SL or Pivot Firebird
Pro XT/XTR
The Pivot Switchblade Pro XT/XTR is a carbon frame trail bike with full suspension. It's also the most affordable bike in the Switchblade lineup.
This model is available in multiple sizes to allow more riders to enjoy the greatness of the Switchblade. You can customize the Switchblade whether you want to use 27.5″ X 2.8″ or 27.5″ X 2.8″ tires. Like all Pivot Switchblade models, this bike features a flip-chip with two settings so you can adjust the geometry to fit your terrain.
This bike's frame features down tube protection and is made of carbon to be light while stiff to handle different speeds on the trail. The Switchblade Pro XT/XTR features a 12-speed Shimano XT M8100 shifter with 4-piston Shimano XT M8120 brakes for superior braking power.
There are three sizes of Phoenix Team Low Rise carbon handlebars you can choose from extra small to extra large sizes.
Unlike other Switchblade models, the Pro XT/XTR has a Fox Factory Float DPX2 rear shock. With this rear shock, you get better traction when turning corners and control when climbing. The DPX2 offers minor bump sensitivity and mid-stroke support to get the performance you want out of this bike.
Other features of this bike include the Fox Factory Transfer Seatpost 125mm for extra-small bikes, 150mm for small bikes, and 175mm Seatpost for medium and extra-large bikes.
If comfort is what you are looking for, you will find it on the Phoenix WTB Pro saddle.
Pro XT/XTR with Carbon Wheels
The next model in the Pivot Switchblade lineup is the Pro XT/XTR with carbon wheels. The full suspension absorbs all the vibrations from the trail so you can ride faster and reduce fatigue on the track. This Switchblade model goes for $8,949 but is definitely worth the price with its high-end components.
Carbon wheels on a mountain bike are durable, easier to speed up, and lighter than other wheels. Like other Switchblade models, this bike comes with a stiff carbon frame and is compatible with 29″ carbon wheels. It also features a 1× 12 speed Shimano drivetrain and Shimano XT M8100 shifters for changing gears.
Like the Pro XT/XTR Switchblade model, this bike also contains a Fox Factory Float DPX2 rear shock. The Shimano XT M8120 4-piston hydraulic brakes are efficient and feature quality stopping power while riding downhill.
This bike has a Phoenix WTB Volt pro saddle for speed and comfort when riding in MTB trails. You can use Maxxis Dissector 29″ x 2.4″ tires on this bike with Reynolds Blacklabel rims.
Pro XT/XTR with Fox Live Valve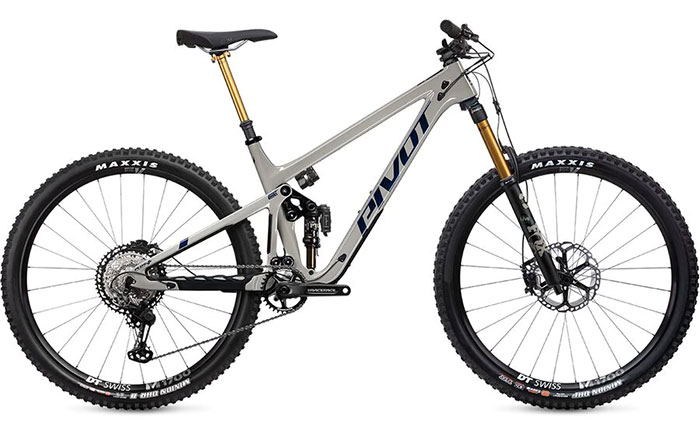 The Pro XT/XTR with Fox Live Valve is excellent for enduro and trail riding. This Switchblade model is available at Pivot Cycles for $9,865.
Although this is slightly higher than other mountain bikes, it features a durable carbon frame with a 160mm fork travel and a Race Face Æffect R 32t crankset. A feature that sets this model aside from the rest is the FOX Factory live valve.
The FOX live valve is an electronic suspension system that easily adapts to different terrains and thanks to its multiple components. The 185x55mm rear shocks allow you to adjust your suspension when riding flat terrain, descending, or climbing. It does this using sensor on the rear end and fork of the bike that checks for incoming impact.
To use it, you have to switch it on and choose from the five modes available on the controller. The Fox Live Valve delivers superior suspension performance for you to enjoy your ride.
This bike also features 12-speed Shimano XT shifters and Shimano XTR M9100 SGS rear derailleur. It is compatible with 27.5+ wheels. Larger wheels hold more speed and provide better traction because of the larger surface area in contact with the ground.
Pro XT/XTR with Fox Live Valve and Carbon Wheels
If you are looking for the best of both worlds, you can go for the Switchblade Pro XT/XTR with Fox Live Valve and carbon wheels. With both these features on a Switchblade model, the price is high, coming in at around $11,000.
It is available in various sizes, from XS to XL, for all types of riders. Like the Pro XT/XTR with FOX Live Valve models, this bike features a carbon frame with Fox Factory Live Valve suspension.
This full-suspension bike is compatible with 29″ carbon wheels and has Shimano XT M8120 4-piston hydraulic disc brakes to bring the bike to a stop. The drivetrain of this mountain bike includes a 12-speed Shimano XT chain, a Race Face 32t crankset, and Shimano XTR rear derailleur.
Other components include the Phoenix WTB Pro High Tail Trail saddle. This high-performance saddle is excellent for mountain biking due to its ergonomic shape to suit your speed and comfort needs.
With comfortable Phoenix Team Low Rise Carbon handlebars, it will be easy to maneuver this bike. The Phoenix Factory lock-on grips are firm yet squishy to keep your hands on the handlebars without any discomfort. With the electric suspension of this bike, you can take on even more challenging rides and trails.
Looking for more mountain bikes? See our list of the best mountain bike brands.
Sizes
Finding the correct size is always a bit difficult. Picking a bike based on your riding style, reach and stem length preferences is probably the best way to get your correct size.
Related: Mountain Bike Size Chart
Pivot Switchblade bikes come in sizes extra small to extra large to include as many riders as possible. The extra-small Switchblade bike is suitable for riders between 5′-5'4″.
In contrast, the size small fits riders between 5'4″ and 5'7″. For cyclists between 5'7″ and 5'11", the medium size Switchblade will be a better fit.
The large size Switchblade bike fits riders between 5'11" and 6'2″. Taller riders between 6'2″ and 6'7″ should go for the extra-large bike size.
You can always live chat with Pivot Cycles or drop by at your local Pivot dealer to ensure you are selecting the right bike size for your cycling needs.
FAQ
The starting price of a Pivot Switchblade Pro XT/XTR -29″ is $7,499, while the Switchblade Pro XT/XTR with carbon wheels-29″ goes for $8849. The Switchblade Pro XT/XTR with Fox Live valve-29″ for $9,599, and the Switchblade Pro XT/XTR with Fox Live valve and carbon wheels-29″ goes for $10,949.
When looking for the Switchblade on the Pivot website, you will find it under Enduro bikes. The Switchblade is a long-travel trail bike that delivers the power you need for descents and technical climbs. Although the Pivot Switchblade is more than an enduro bike, you can explore various rocky trails to amplify your skill on this bike.
The frame of the Pivot Switchblade weighs 5.7 pounds. Overall the bike weighs around 30 pounds, but it all depends on the size the user chooses.
Final Thoughts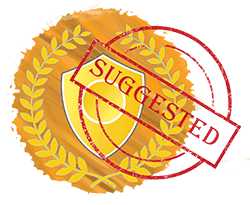 The Pivot Switchblade is a fantastic bike to ride with a lightweight carbon frame, compact design, and firm suspension.
You get a lot of control when riding the Swiitchbladee to climb hills or move downhill like a pro.
The Fox Live Valve electric suspension is a unique feature in the Switchblade models that allows you to focus on enjoying your ride. At the same time, it adjusts the geometry according to the terrain.
For experienced mountain bikers, this is an incredible all-mountain bike for long rides that performs well on any part of the trail.
There are no comments yet, add one below.