Zwift has truly taken over as the king of indoor cycling. The company is less than 10 years old, but already has over four million users and millions of current subscribers.
When a cyclist thinks of indoor training, they think of Zwift.
However, Zwift is not the only indoor training app in the world. Far from it.
TrainerRoad has a massive following, much in part to its successful TrainerRoad. Ask a Cycling Coach podcast that gets tens of thousands of weekly listeners.
Peloton is another big-name company that targets a different demographic in at-home cyclists and spin class enthusiasts. Rouvy is trying to break into the upper tier of virtual cycling popularity.
Wahoo's Sufferfest app, re-branded again as Wahoo SYSTM, just announced a major update to their platform, offering one of the best science-based approaches to indoor training.
There are many different options to choose from in the virtual cycling space, and in this article, we'll be comparing Zwift to Peloton, Rouvy, Sufferfest, and TrainerRoad.
Each offer their own unique benefits, while coupled with a few drawbacks that could be a deal-breaker. But first, let's start with the biggest of them all: Zwift.
What Is Zwift?
There are nine different virtual worlds in Zwift, including real-life locations such as Richmond and Yorkshire, as well as imaginary worlds such as Watopia and Makuri Islands.
One of the most popular features of Zwift is organized racing.
There are hundreds of daily group rides and races on Zwift, plus highly competitive league racing such as WTRL team time trials, and the Zwift Racing League whose Premier Division is broadcast live on Global Cycling Network (GCN).
Zwift is the most popular indoor cycling app in the world. It's designed for all levels of cyclists from the first-timer to the seasoned racer.
The size of Zwift's community is what separates itself from other indoor training platforms. You'll be able to jump on Zwift any day at any time and be surrounded by hundreds or even thousands of other riders.
You can even follow other users and give them 'Ride Ons' which is comparable to a 'Like' given on other social media platforms.
What's on Zwift?
Zwift has so much to offer for both the solo rider and groups, including workouts, training plans, racing, and exploration.
Included in the $14.99/month Zwift subscription is access to their massive library of 2171 workouts (yes, you read that right) and training plans designed for everyone from Gran Fondo riders to Tour de France hopefuls.
As a solo rider, you can chase experience points, route badges, and avatar upgrades when you level up.
You can customize your avatar in Zwift – everything from the face and helmet, to the sock and shoes. You can even purchase bikes using the 'Drops' that you accumulate by riding more kilometers.
Using the Zwift Companion app which is available on iOS and Android, Zwifters can connect with other users, search for group rides, races, and group workouts, send and receive messages, and give 'ride-ons' to others.
In the light of the ongoing war in Ukraine, riders on Zwift has been holding a "Global Solidarity Ride for Ukraine" every Thursday.
What Do You Need?
Three things are required to ride on Zwift: a trainer, a bike, and a device that supports Zwift.
Related: Best Indoor Bike Trainers
All the speed sensors, heart rate monitors, power meters, and smart trainers are fun upgrades, but not at all necessary to get started on Zwift.
The setup process is fairly easy, and Zwift has a few step-by-step guides for different trainer set-ups to get you rolling on Zwift. The most important connection is your bike and trainer to the Zwift app itself.
This is all done wirelessly, typically using Bluetooth or ANT+ technology, and sometimes a cadence sensor. With a smart trainer, the whole process is even simpler, and you should be able to find your trainer in a matter of seconds on Zwift's pairing screen.
Zwift has so much to offer, yet there are thousands of cyclists who choose other options. From Peloton to TrainerRoad, this is how Zwift compares to other indoor training apps.
Zwift Compared With Others
Peloton Vs Zwift
Peloton costs the same as Zwift at $14.99/month, but it reaches a far different user base of at-home cyclists. Focusing on aspects of overall fitness and instructor-led spin classes, Peloton is more geared towards general fitness users than dedicated cyclists.
You probably think of Peloton as both the app and the Peloton Bike; but you can actually use the app – called Peloton Digital – without the name-brand bike.
Peloton Digital offers spin classes, yoga classes, strength training, interval training workouts, stretching, running, and meditation sessions.
Related: Best Foam Rollers
So it's much more than just a cycling app. Zwift has running in addition to cycling, but none of the other features that Peloton offers.
As an all-around fitness app, Peloton is wildly popular and offers a much wider breadth of content than Zwift.
Although Peloton doesn't have the social connection of Zwift – there is no companion app that lets you follow other users – it does have the added motivational aspect of instructors to lead you through workouts.
Zwift is much more of a solo sufferfest (unrelated to Wahoo's Sufferfest), even in group rides and races. You have only the virtual world to look at, rather than Peloton which has a live instructor leading you.
Peloton is more focused on personal growth and improvement, as opposed to Zwift's more competitive nature. The live workout classes in Peloton are available every day, but if there's a time slot that doesn't fit your schedule, there are hundreds of archived classes to choose from.
Overall, Peloton has a much more holistic approach to indoor cycling and training, focused on personal achievement and human connection, as opposed to Zwift's number-focused and competitive nature.
Rouvy vs Zwift
The cheapest indoor training app on our list, Rouvy costs just $12/month and offers just as much or more than many other training apps.
Increasing in popularity over recent months, and hosting virtual pro events in Europe, Rouvy is an indoor training app that includes over 4000 structured workouts, a custom workout builder, real-life riding footage, and competitive racing.
Rouvy is a mix between the gamified world of Zwift and the real-life experience of apps like Peloton and Sufferfest.
Using real-life video footage taken from the exact roads, Rouvy has tons of different routes that put you right there on the road. This immersive user experience is a really cool feature of the app and one that competitors have struggled to recreate.
The virtual races on Rouvy are still a few steps behind Zwift, in that Rouvy is still figuring out their drafting algorithm, so every race turns into an individual time trial.
Although lacking in the gamified features of Zwift such as avatar customization, experience points, and in-game challenges, Rouvy has an augmented reality experience that is truly one to try.
Sufferfest vs Zwift
Rebranded as Wahoo SYSTM just a few weeks ago, the Sufferfest app is Wahoo's science-based training app that offers more than just indoor cycling workouts.
One of the most unique features of Sufferfest (or well, the Wahoo SYSTEM) is the patented 4DP test. It's an alternative to the traditional 20-minute power test, that measures your neuromuscular power, maximal aerobic power, functional threshold power (FTP), and anaerobic capacity – all in a single ride.
It's designed by Neal Henderson – coach of former World Time Trial Champion Rohan Dennis. Sufferfest has a unique format in its training app that is specific, efficient, and entertaining.
Many of the Sufferfest workouts include real-life pro cycling race videos and on-screen instructions that are as funny as they are as informative.
Like Peloton, Sufferfest also has plenty of off-the-bike videos such as yoga, meditation, strength training, and mental training sessions.
As opposed to Zwift, Sufferfest is all about you and you only. There is no social connection, no group rides or races, and no companion app to message or follow fellow Sufferfest-ers.
The race videos are text instructions are more entertaining and motivating than you might think. But still, at the end of the day, there isn't as much variety in Sufferfest as there is on Zwift.
If you want to get fit fast and maximize your training hours, Sufferfest is the perfect platform, especially if you utilize its full capabilities by starting with the 4DP test.
Read More: How to Improve Your Cycling
Sufferfest does have a 'gaming' feel like Zwift and is more about hitting your power numbers than anything else.
Zwift, on the other hand, is about riding with others, exploring the virtual worlds, and racking up experience points to buy that new virtual bike. Overall, Zwift is much more fun.
TrainerRoad vs Zwift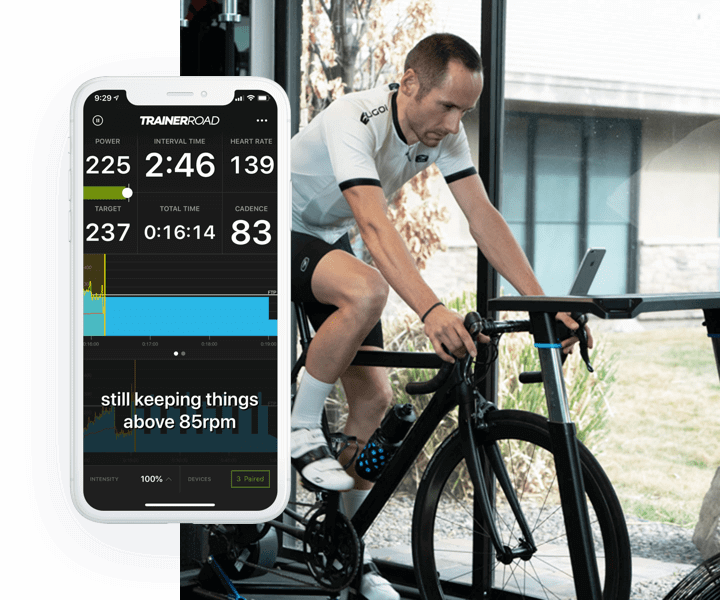 TrainerRoad has almost a cult-like following with tens of thousands of subscribers who boast about their FTP improvements and best-ever race results after a few weeks on the platform.
Indeed, TrainerRoad works for a lot of people, using a consistent training plan to help you reach your cycling goals.
The TrainerRoad app is incredibly simple: an ERG mode workout with a power graph and on-screen instructions.
With a few small exceptions, that's about it. And it costs more per month than Zwift at $19.99/month. But TrainerRoad is effective. Their training plans are broken up into Base, Build, and Specialty plans that you can choose based on your cycling goals, and a library of over 2000 workouts to choose from.
There is no social connection, virtual map, or background videos to keep you entertained. Most TrainerRoad users listen to music or watch television during workouts.
The new Adaptive Training by TrainerRoad supposedly uses AI technology to adjust your training plan and your next workout based on recent performances. It's a fascinating feature that other training apps, including Zwift, do not have.
Compared to Zwift's colorful virtual worlds, routes, climbs, group rides, and races, TrainerRoad is an incredibly boring indoor training app; but it's extremely effective.
Related: How To Choose Bike Trainers
Like Sufferfest, TrainerRoad is about getting fit fast, and getting the most out of every second you spend on the bike. Zwift may make indoor training fun, but you'll get fitter faster on an app like TrainerRoad.
Looking for more interesting cycling apps? Take a look at our list of the best indoor cycling apps.
If you prefer to feel the wind on your face, take a look at the 18 best cycling apps in our opinion.
You Might Also Ask
There are no comments yet, add one below.