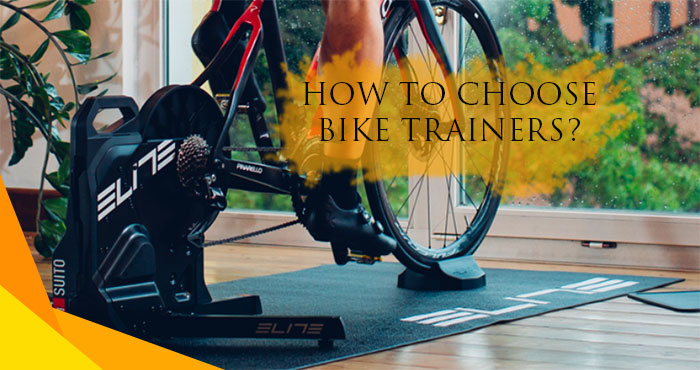 Trainer-buying can be a complicated process. With tens of different options from countless different companies around the world, where do you even start? There are trainers that cost $200 and trainers that cost $3,500, trainers that connect to your bike, and trainers that are your bike.
Indoor training went from a chore to a necessity in the past year, and for many of us, it is here to stay. So let's help you find the perfect indoor trainer.
Indoor training used to be a torturous experience. With a bad set-up and lack of entertainment, you might as well be staring at a wall while climbing a Stairmaster.
But indoor training doesn't have to be like that. In the past decade, indoor training has gone from a boring necessity to a serious racing platform and entertaining community of over one billion users.
Zwift is king in the indoor training space, with first-time riders and dedicated e-Racers logging thousands of miles each and every day.
The recent pandemic forced us to take another perspective on indoor training: with millions of people locked down around the world, the only way to ride our bikes was inside. Hundreds of thousands of cyclists bought indoor trainers… until they sold out. But now, already halfway through 2021, cyclists around the world are thinking about their winter pain cave set-up again.
Where to Start?
There are a few defining characteristics that separate one indoor trainer from another: cost, accuracy, capabilities, and type of trainer.
Cost: How much does the trainer cost?
Accuracy: How accurate is the trainer's power measurement? (Most are between +/-1% and +/-5%)
Capabilities: What is the trainer's maximum simulated gradient? Or it's maximum power measurement? Does it have smart capabilities?
First, let's talk about the four main types of indoor bike trainers: direct drive smart trainers, wheel-on trainers, rollers, and indoor smart bikes.
Direct Drive Trainers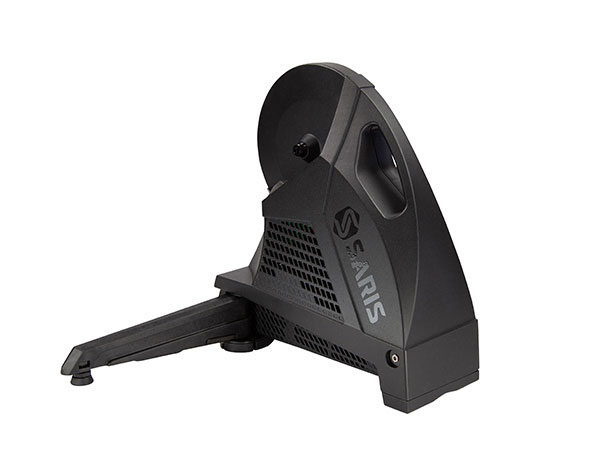 | | |
| --- | --- |
| Pros (+) | Cons (-) |
| Power accuracy | Cost |
| Quiet | Difficult to transport |
| Smart capabilities | Can de difficult to set up |
Direct drive trainers attach to the rear dropouts of a bicycle. To attach your bike to the trainer, you need to remove its rear wheel and slide the dropouts onto the trainer. Then, using a quick release or thru-axle, you tighten the bike to the trainer.
Using this fluid attachment system, direct drive trainers save your rear tire from getting chewed up by a roller, as happens on wheel-on trainers and rollers. Direct drive trainers are also incredibly quiet – often, the drivetrain (chain, derailleur) is louder than the trainer itself. You won't need to worry about waking up your neighbors.
Direct drive smart trainers automatically adjust their resistance to match the gradient of a virtual road, or the target power and cadence of, say, an ERG mode interval. When you're riding on Zwift, a direct drive trainer will increase its resistance as you move from a 2% grade to a 5% grade, just like you would feel in the real world.
You can also adjust the intensity of the trainer's resistance so that it doesn't create abrupt changes during a virtual ride or race. You can even turn the smart capabilities 'off', and just ride at your own pace without the automatic changes in resistance.
Most direct-drive smart trainers boast excellent power accuracy, ride feel, and overall capabilities. These are the biggest differences between low-end and high-end direct drive trainers, such as the Wahoo KICKR or Saris H3, or Tacx NEO 2T.
Accuracy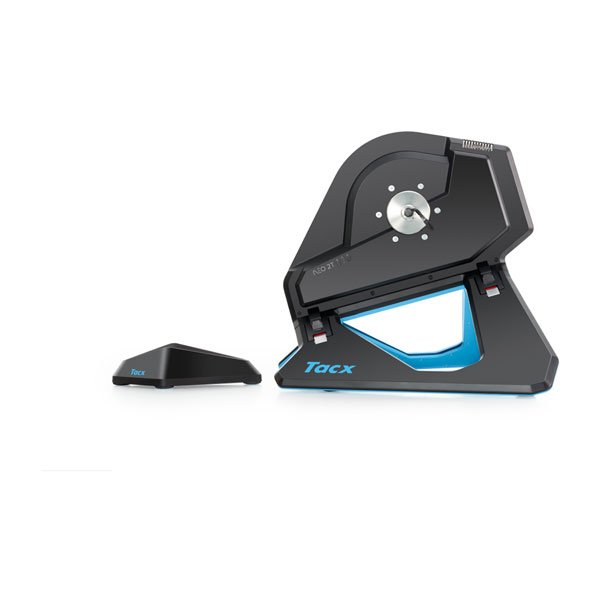 Ranging from $800 to $1,400, low-end direct drive trainers will measure power accurately to +/-3 to +/-4%, while high-end trainers will be accurate to +/-1 to +/-1.5%.
Casual fitness-focused cyclists won't mind a 3-4% power difference, while elite e-Racers will need something on the higher end that measures down to +/-2% accuracy.
Cheaper direct drive trainers may only simulate a +/-10 to +/-12% gradient, while the top-end NEO 2T ($1,399.99) can simulate a +/-25% gradient.
Few cyclists will feel the need to go up to 25%, as climbing such a hill is a workout in and of itself.
You might experience a vastly different ride feel on a low-end direct drive trainer versus a high-end one. In the most basic of terms, more expensive direct drive trainers tend to have larger flywheels, which, in turn, produce a better ride feel.
'Ride feel' refers to the feeling of momentum you get from the pedals – that feeling of inertia that you feel when pedaling outside. Cheap trainers – such as low-end wheel-on trainers – will feel clunky and slippery, whereas pedaling on a top-of-the-line direct drive trainer feels just like real life.
Direct Drive Trainer Recommendations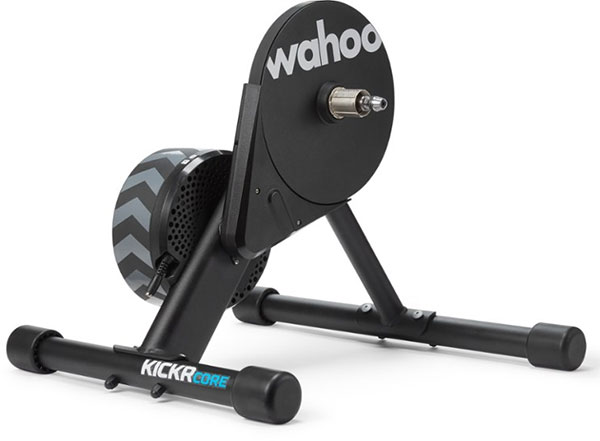 The most highly-rated direct drive trainer is the Wahoo KICKR ($1,199.99), which boasts a power accuracy of +/-1%, maximum wattage of 2000w, and an industry-leading ride feel.
The KICKR is also compatible with the KICKR Climb, Headwind, and Axis, which add flexion and movement to the indoor riding experience, making it as life-like as possible.
For the money, we recommend the Wahoo KICKR Core ($899.99), which is basically a lower-rated KICKR that doesn't come with a cassette.
However, with such a steep price drop-off, the KICKR Core offers nearly all the same features as the KICKR that satisfy most indoor cyclists' needs.
Related: How To Improve Your Cycling
Wheel-on Trainers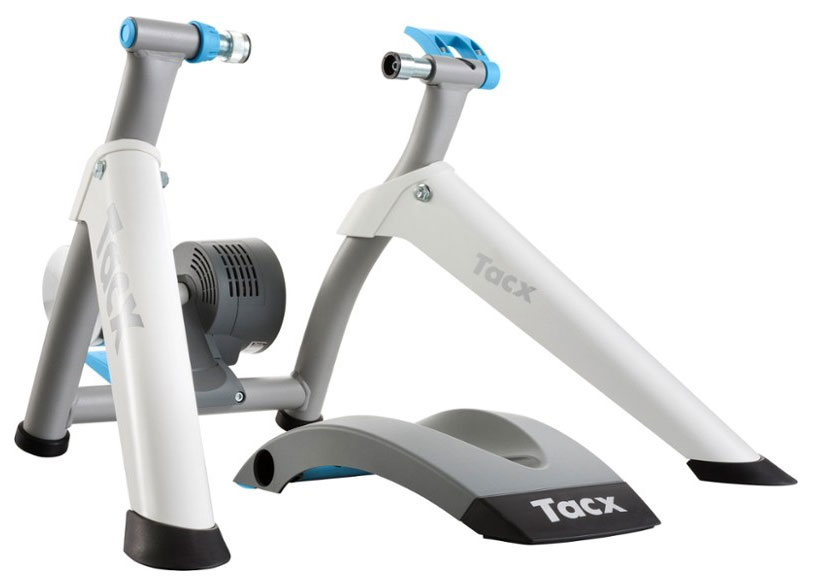 | | |
| --- | --- |
| Pros (+) | Cons (-) |
| Cost | Power accuracy |
| Portability | Noisy |
| Quick set-up | Tire wear and slippage |
Next up, we have wheel-on trainers, which come in both basic and smart options. Starting at under $100 (be careful, because trainers <$100 are really bad), wheel-on trainers are the affordable option for your indoor cycling needs. Most decent models cost around $200-300, with smart options costing about $400-500.
Wheel-on trainers are exactly as they sound – the rear wheel stays on the bike as you lower it into the trainer. You line up the rear axle with the trainer and tighten it down until the bike is snug. Next, you tighten the trainer's drum onto the rear tire – this is where the resistance comes from.
Because the drum is tightened directly onto the tire, users may experience serious tire wear. For this season, dedicated indoor cyclists with a wheel-on trainer will buy a tire that is specially designed for indoor riding only.
The convenient design of wheel-on trainers – many include foldable support legs. It means that they are light, compact, and easy to transport. In contrast, direct-drive trainers are typically heavy, bulky, and difficult to store. If you're planning on traveling with your trainer, frequently moving it, or packing it in the car for your pre-race warm-up, go with a wheel-on trainer (or rollers – more on that in a minute).
Downsides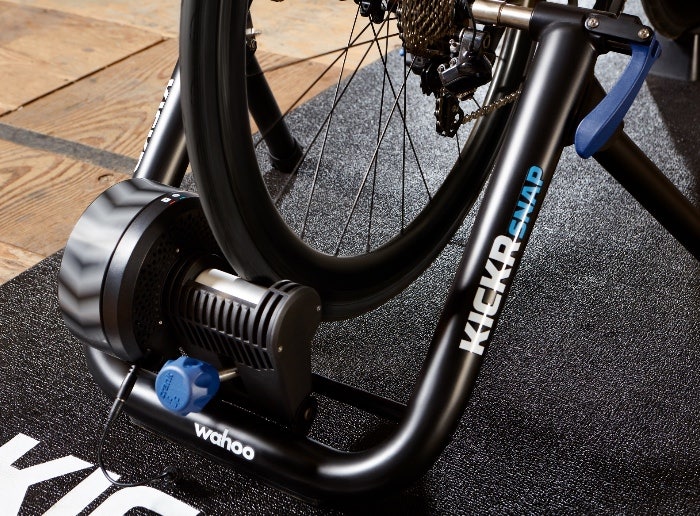 Of course, a reduced cost means lots of sacrifices; and compared to direct drive smart trainers, wheel-on trainers are noisy, unstable, and inaccurate. But, I'm not saying that all wheel-on trainers are bad.
Most wheel-on trainers are loud enough to cause a ruckus. They're not as loud as a stereo on full blast, many are loud enough to wake up a neighbor. If you try riding a wheel-on trainer in the same room as someone who's trying to focus, it won't be long before they ask you to leave.
However, if you have your own room/training space such as the garage or basement, as long as you keep the door shut, your wheel-on trainer won't wake up the whole house.
Wheel-on trainers are also less accurate than direct drive options, often by a couple of percentage points. The very best wheel-on trainers will have a power accuracy of +/-3%, while most will be in the range of +/-5 to +/-6%. For elite e-Racers, this is simply unacceptable. For dedicated cyclists, you'll just have to take the trainer's power readings with a grain of salt.
There are also a few different factors (temperature, tire pressure, etc.) that will change how the trainer's drum reacts with your rear tire, and thus, its power accuracy. You'll want to calibrate your wheel-on trainer every ride for the most accurate power data, but even then, you're losing out on the capabilities of direct drive options.
Wheel-on Trainer Recommendations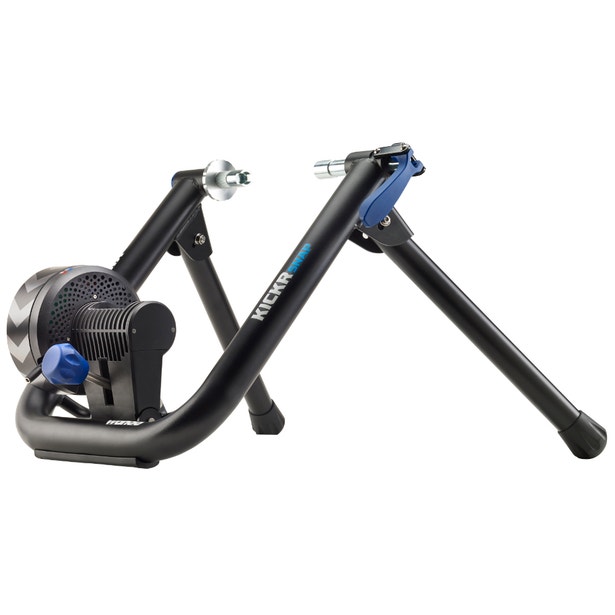 One of our favorite wheel-on trainers is the Wahoo KICKR Snap ($499), which boasts an incredible power accuracy of +/-3%.
Considering its price – just over half of the Wahoo KICKR Core – the KICKR Snap is an appealing option for all different types of riders. Users rate the KICKR Snap as having one of the best ride feels out of any wheel-on smart trainer; and with its ability to connect to the KICKR Climb and KICKR Headwind, the KICKR Snap is in a league of its own.
If you'd like more options, see our reviews of Saris M2 and Tacx Flux.
Rollers
| | |
| --- | --- |
| Pros (+) | Cons (-) |
| Cost | Power accuracy |
| Portability | Lack of smart capabilities |
| Super quick set-up | Low power ceiling |
While rollers aren't like other bike trainers, they are in very much the same wheelhouse (pun intended). Rollers consist of three spinning drums laid out in a frame about the length of your bike. Your front wheel sits on one roller, while your rear wheel balances between the two rear rollers.
You'll have to learn to balance because once you get going, there's nothing holding your bike in place – you're simply riding on top of the rollers.
Rollers require an extra level of balance and concentration – whereas, on other indoor trainers, you can completely zone out without any fear of falling over.
However, once you get used to riding on rollers, it feels very natural. In fact, it feels almost exactly like riding outside. With each pedal stroke, your arms and hips move side to side, your quads and hamstrings contract and extend, and your body bounces back and forth in a methodical trance.
Where there is art, there is also science, and when it comes to rollers, it's almost all about the art. Rollers tend to have extremely low power ceilings – some are under 250w – and incredibly inaccurate power. Thus, any data you gather from a rollers ride might as well be gibberish.
Light and easy to transport, rollers are a great warm-up tool. Because there is no actual connection to the frame of the bike, there is no set-up required apart from putting the rollers on the floor. Once they're there, just put your bike on top, and start pedaling.
Rollers Recommendations
The Elite Arion Mag ($349.99) is said to be 'the gold standard' for indoor smart rollers. Compatible with Zwift and other indoor training apps, these rollers have a power ceiling of 520w. Believe it or not, it's higher than almost any other pair of rollers. With a ride feel like no other, we recommend the Elite Arion Mag smart rollers.
Indoor Smart Bikes
| | |
| --- | --- |
| Pros (+) | Cons (-) |
| Power accuracy | Cost |
| Smart capabilities and integration | Almost impossible to transport |
| Wide range of adjustability | Limited to indoor use |
The last type of indoor trainer on our list is the ultimate indoor riding experience: purpose-built indoor smart bikes. A decade ago, no one would have thought about making one of these; but as the landscape has changed, indoor training is as popular as ever, and people want the very best equipment, no matter the cost.
Indoor smart bikes come with all the same capabilities as top-end direct drive trainers and more. Many include integrated shifters, adjustable handlebars and frames, tablet and phone holders, USB charging ports, and massive flywheels that offer the best ride feel of any indoor training option.
Starting at over $2,500, and sometimes up to $4,000, an indoor smart bike is a big investment. But if you're committed to indoor training for the long-term, it could certainly be worthwhile.
Dedicated indoor riders should consider buying an indoor smart bike – unlike direct-drive and wheel-on trainers, indoor smart bikes are much bigger, stronger, and more robust. They will last five, ten, maybe even 20 years with very little maintenance needed. Plus, there's no set-up required for the actual bike. Once you take it out of the box, there are just a few parts to connect, and then you're ready to ride. You'll never need to tighten down a skewer, or turn a resistance drum – the bike is all you need.
If you're into aesthetics, look no further than an indoor smart bike. These bikes are sleek, slim, and seamless, and will fit into the corner of any room like a modern art piece.
Indoor Smart Bike Recommendations
As we have already seen in this article, Wahoo makes some of the best equipment available, and the indoor smart bike market is no different. The Wahoo KICKR Bike ($3,499.99) is the best-looking indoor smart bike we've seen, with all the capabilities of the KICKR and more.
The KICKR Bike comes with the KICKR Climb to make the indoor riding experience as realistic as possible, with a range of capabilities that will fully immerse you in whichever virtual world you choose. If you can afford it, we recommend the Wahoo KICKR Bike for the ultimate indoor training experience.
Other great options are Stages SB20 and the Tacx NEO Bike. If you're not too serious about the cycling part but are looking for something to just burn the calories, Stages SC2 Plus might be the right choice for you.
How to Make the Final Decision
Buying an indoor trainer comes down to three crucial factors: cost, commitment, and structure.
Cost
How much can you afford to spend on an indoor trainer? If your answer is "under $500", then your choice is limited to wheel-on trainers and rollers. But if you can spend more than that, there are doors open in every direction.
Make sure you consider the inclusions and add-ons that you might want or need when you purchase an indoor trainer. Most direct-drive trainers do not come with a cassette, so make sure you factor that in. If you're going to buy the KICKR Climb or the Saris MP1 Nfinity Platform to make your indoor riding as life-like as possible, don't forget to include that in your budget.
Commitment
How much time are you going to be spending riding indoors? If your answer is only once or twice a week, you should consider a cheaper option such as a wheel-on trainer or rollers. It will be difficult to justify the cost of a $1,000-3,000 direct drive trainer or smart bike if you only ride it a few hours per month.
If you live in a cold climate, you could be spending four consecutive months training indoors over the winter. In that case, it makes a lot more sense to invest in a high-end direct-drive smart trainer.
Structure
Do you more often use indoor training for recovery sessions, or structured intervals, and virtual racing? If it's the latter, you're going to need something that is accurate, capable, and stable, such as a direct drive trainer or smart bike.
On the other hand, wheel-on trainers and rollers are ideal for an easy spin or quick recovery session. Compared to direct drive trainers, it's much easier to get on the trainer. You probably won't mind the power accuracy of gradient capabilities. And your wallet will thank you, too.
Summary
In the end, you shouldn't stress about finding the perfect indoor trainer. There are so many options out there, and using the three points above, you should be able to narrow down your search to one or two different types of trainers.
Once you're there, remember that, in general, higher cost means better quality. In all the hours I've spent riding and researching indoor trainers, there's a very strong correlation between cost and quality. As the price goes up, you're going to get increased power accuracy, better ride feel, less noise, and more capabilities across the board. There are very few – if any – "bad" trainers on the market, so it's hard to go wrong.