Affordability and quiet comfort are two things that probably don't come to mind when you think of a review on indoor bike trainers. But the Saris H3 direct-drive smart trainer offers both, plus a host of other features that make it one of the best trainers on the market. The Saris H3 can fit almost any bike. With a max power rating of 2000w and a maximum simulated gradient of 20%, it can fit just about any rider and course too.
Saris has truly stepped up their game in the last few years.
Once a written-off competitor to Wahoo and Tacx, indoor trainers from Saris are now fighting for the top spot.
With the same reliability and durability as early models, newer Saris smart trainers are now among the quietest on the market, with power accuracy and high-end components to match.
With a lower price point than many of its competitors, the Saris H3 direct-drive smart trainer is one of the most appealing options on the market, with few downsides that only really affect the top 1% of its buyers.
Direct drive design gives the Saris H3 the widest bike capability and eliminates wheel slip, making it a great option for a variety of riders and sizes.
Many Wahoo Kickr and Wahoo Kickr Core customers know of the incompatibility issues between these smart trainers and a number of Trek, Giant, and Canyon road bike models, but the H3 from Saris has no such issues.
In addition to the H3, there are a number of other trainers to choose from at Saris, including wheel-on trainers, rollers, and more basic options.
Saris Indoor Trainers — What Are Your Options?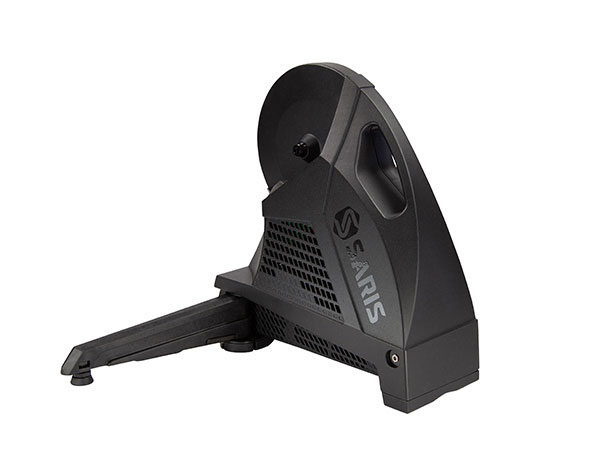 Saris currently offers six different indoor trainers:
One direct-drive smart trainer
Two wheel-on smart trainers
Three basic trainers
There is a massive difference between a direct drive trainer and a wheel-on trainer.
Wheel-on trainers are more affordable because they lack in quality compared to direct drive trainers. Riders must tighten a drum onto their rear wheel for each ride on a wheel-on trainer, and sacrifice power accuracy and tire wear. Wheel-on trainers do come with a few great upsides, as they are lighter and more portable than direct drive trainers, and usually less than half the price.
In contrast, direct-drive trainers are significantly more accurate than wheel-on trainers, They offer a much better ride feel along with improved efficiency and power transfer. Direct drive smart trainers such as the Saris H3 do not need to be calibrated very ride, as opposed to a wheel-on trainer that needs to be recalibrated every time the rider adjust the tightness of the drum.
Direct drive smart trainers are a better fit for serious indoor cyclists who smash out threshold intervals and all-out sprints on the trainer, and maybe the occasional Zwift race. Wheel-on trainers are likely to slip at high-power outputs, making them less than ideal for any high-powered effort.
Tested to withstand heavy training, the H3's internal cooling system will keep the electromagnetic resistance system working – and accurate – long after your legs have given out.
Saris M2 vs Saris H3
The M2 is Saris' best wheel-on smart trainer, which uses electromagnetic resistance to provide the ultimate control and the best power accuracy for this type of smart trainer.
Like the Saris H3, the M2 comes with integrated cadence, speed, and power data, as well as ANT+ FE-C and Bluetooth technology.
The biggest difference between the H3 and M2 – and other wheel-on smart trainers – lies in the power readings.
The H3 can handle 2000w and a 20% gradient with +/- 2% power accuracy.
On the other hand, the M2 handles 1500w and a 15% gradient, but with a steep drop-off down to +/- 5% power accuracy.
That's a lot if you're a seasoned indoor racer or a dedicated cyclist. That missing 3% could mean the difference between setting a power PR and thinking you might be ill.
It's not fun to second-guess yourself.
Saris H2 vs Saris H3
In 2019, Saris made a big move in upgrading their H2 direct-drive smart trainer to the H3 direct drive smart trainer.
With updated firmware and improved cooling systems, the H3 comes at an even better price point compared to its competitors, and a dramatic noise reduction that thousands of users were hoping for.
Saris says that the H3 is "5X quieter than the H2", putting to rest one of the biggest complaints about the previous generation's model.
A new drive mechanism adds to the allure of the H3, but it is truly the noise reduction that stands out.
Let's take a closer look at the Saris H3 Direct Drive Smart Trainer.
Saris H3 Key Specifications
The key specifications of the Saris H3 Direct Drive Smart Trainer show us that accuracy and noise suppression were the top priorities in every step of its design.
Sound Specification: 59 decibels at 20mph
Maximum Power Rating: 2000w
Maximum Simulated Gradient: 20%
Integration Capabilities: Dual ANT+ FE-C and Bluetooth FTMS standards
Power Accuracy: ± 2%
The Saris H3 is compatible with 130mm and 135mm quick-release axles, and 142cm and 148cm thru-axles. The trainer even comes with end caps that are compatible with a 142cm or 138cm thru-axle.
The freehub of the Saris H3 is compatible with all the usual suspects: SRAM, Shimano, and Campagnolo.
Overall, Saris went a long way to make sure their H3 is compatible with as many bike, gear, and axle combinations as possible.
Saris H3 vs The World (of Smart Trainers)
How do you know which trainer is right for you? Would you better with a wheel-on trainer or a direct drive trainer?
The time you spend inside and the importance of your indoor training are key factors that will help you determine your answer. The more seriously you take your indoor training, the more important it is that you have the best power ratings and accuracy.
In steps the Saris H3.
The Wahoo KICKR and Wahoo KICKR Core are two of the most popular direct drive trainers on the market.
Accurate to +/- 1% power, and with the ability to handle up to 2200w, the Wahoo KICKR is a step up from the H3 in terms of power quality and pure functionality.
Few riders even have the ability to push the H3's 2000w ceiling. Only elite-level racers will care about the 1% difference in power accuracy.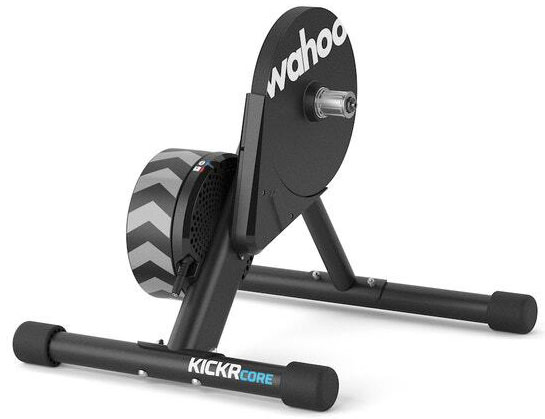 The KICKR Core is Wahoo's lower-level direct-drive smart trainer. At a cost of $900, KICK Core has a maximum power reading of 1800w, and a maximum gradient of 15%.
The KICKR Core is significantly louder than the KICKR, and doesn't include a cassette.
The Wahoo KICKR separates itself from the competition with its ability to accessorize. The Climb, Headwind, and Axis are (costly) add-ons that make the indoor riding experience as real as possible.
Saris has come back with their own custom riding platform, the MP1, which is compatible with almost every indoor trainer, not just Saris' own.
The Saris MP1 Nfinity Trainer Platform "adds multiple dimensions of movement to stationary cycling…Featuring fore/aft, as well as side-to-side movement," to bring the feeling of outdoor riding inside.
Saris H3 Considerations
The H3 from Saris is arguably the best all-round direct-drive smart trainer on the market.
Quiet and easy to use, the H3 has seamless integration, connecting to indoor cycling apps. Its specific direct drive design eliminates wheel slips and offers the widest bike compatibility of almost any smart trainer.
The sleek design of the Saris H3 makes it easy to set up and transport. It's a heavy machine, but Saris built in a carrying handle for this very reason.
The H3 itself measures speed, cadence, and power, meaning that no external sensors are required to get going on Zwift.
There are some downsides of the Saris H3, one of them being its integrated cadence sensor, which sometimes struggles to maintain accuracy during large changes in power.
You'll have to build cassette-buying into your smart trainer budget, as the H3 doesn't come with its own. As for the cons of the Saris H3, that's about it.
In the end, the Saris H3 is one of the best direct-drive smart trainers you'll ever ride.
Enjoy a pleasantly quiet ride in your pain cave, or sprint up the 17% grades on the UCI Richmond Worlds Course on Zwift.
The world is yours on the Saris H3 direct-drive smart trainer.
Other Saris Trainers
If the Saris H3 just isn't the right fit for you, Saris offers a number of other trainer options.
Starting at $189.99, Saris has a wide range of trainer options for riders of all ages and abilities.
Here are some of the other offerings from Saris in the indoor trainer space.
Saris CycleOps H2. A lower-generation Saris Trainer.
Saris M2 Smart Trainer. The M2 has the highest gradient simulation (+/- 15%) of any wheel-on trainer, and integrated cadence, speed, and power data.
Saris Fluid² Trainer. The best-selling trainer in the USA. This wheel-on trainer offers the widest resistance range and a road-like feel using a fluid resistance unit.
Saris Mag Trainer. The most affordable option from Saris, which uses a magnetic resistance unit that provides a quiet and frictionless ride.
Saris Aluminum Rollers. For the most real-world feel, practice your balance and riding technique on these rollers which are silent and smooth.
Didn't find what you were looking for? Read our guide on the Best Bike Trainers and Rollers For Training to learn more.
We have a reviews on Elite Suito and Wahoo KICKR Core too! For a bike trainer, see our review of Stages SB20.
There are no comments yet, add one below.