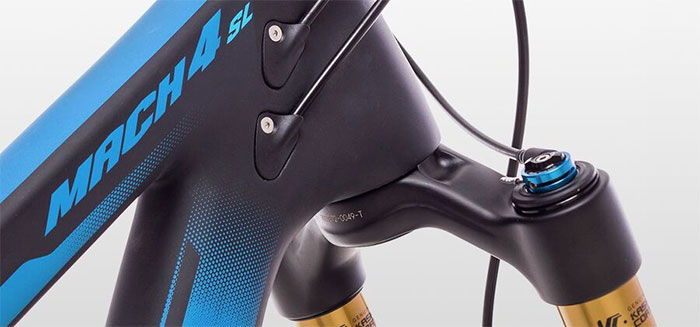 Pivot Mach 4 SL is renowned for its high quality and is built to enhance your mountain biking experience.
Founded in 2007 by Chris Cocalis in Phoenix, Pivot Cycles are suitable for cyclists who want a fast and playful bike while handling aggressive trails efficiently.
With the Pivot Mach 4SL, you can climb challenging trails while being fast on less demanding terrains.
Don't know which model is best for your next ride? Read further to find out why it is one of the lightest and fastest race bikes today.
Geometry
The Pivot Mach 4SL bike features World Cup-inspired geometry to get you through challenging race courses faster.
The Pivot Mach 4 SL geometry is unique no matter the size of the bike you choose. The available sizes range from extra small to extra large to fit riders of all heights.
It features progressive XC geometry to get you through demanding racecourses.
The geometry includes a more extended reach, shorter stays, and slacker head angle to give you confidence when descending quickly on technical courses.
It is now stable and responsive to help save on time and energy during your final sprints in the race. The geometry on the Pivot Mach 4 SL makes this bike fun and fast to ride.
Frame
Every gram counts when it comes to a race bike. Pivot Cycles manufacturers ensured that the Pivot Mach 4 SL would be ultra-light, weighing an impressive 1845 grams.
The compact frame design features carbon material that is lightweight and provides strength and comfort for riders.
The Pivot Mach 4 SL also cuts down on weight when it comes to the bearing system by having an integrated headset. This headset features lightweight alloy linkages with Enduro Max Cartridge bearings.
You don't need bearing cups, and this also gives the bike a smoother front-end look. Your bearings will also be protected from any road debris when cycling.
This design also makes servicing the bike much more straightforward.
The carbon frame is durable with plenty of swingarm protection. If you are riding in rough terrain or the woods, it would be ideal for keeping your swingarm safe from impact.
The frame of the Pivot Mach 4SL is also smooth and aesthetically pleasing to match your cycling gear or theme.
A large water bottle also fits inside all size frames if you want to stay hydrated during your bike trips.
Consider Also: Pivot Firebird
Models
If you have decided to go with the Pivot Mach 4SL for your next mountain biking trip, you can choose between the Pivot Mach 4 SL Carbon Pro X01 Eagle Mountain Bike and the Pivot Mach 4 SL Carbon Team XTR Mountain Bike.
Both of these are full-suspension mountain bikes from Pivot Cycles.
Pivot Mach 4 SL Carbon Pro X01 Eagle Mountain Bike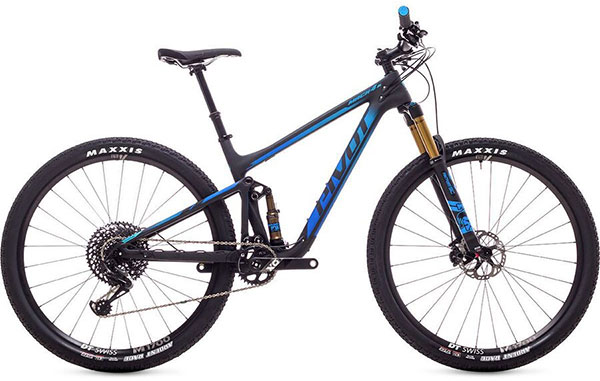 Pivot Mach 4 SL also features a carbon frame to give you more power and control when riding.
This lightweight mountain bike features a progressive cross-country set for riding at fast speeds with a steep seat tube angle and slacker angle for better stability during descents.
The vertical shock layout of this Carbon Pro X01 Mountain bike improves your standover height and offers better water bottle clearance.
This layout also keeps your tires glued to the trail to offer control as you soar climbs. It also has a carbon fiber frame design which is durable and lightweight.
This frame is also 300 grams less than the previous Pivot Mach 429 SL bike. You can take on chunky trails with this Pivot Mach 4 SL.
Related: Pivot Switchblade
Pivot Mach 4 SL Carbon Team XTR Mountain Bike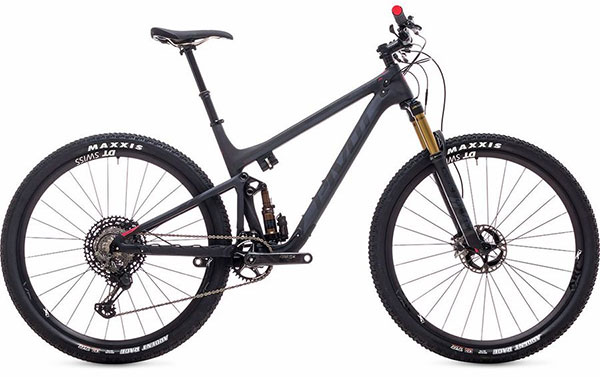 The Pivot Mach 4 SL Carbon team, XTR mountain bike, is similar to its sister bike with a durable carbon frame and vertical shock layout.
You get better control with the lightweight and stiff carbon frame on this bike. Although it is lightweight, it features steep geometry and 29-inch wheels to better fight climbs, soars downhill to get you to the top of the pack.
The steep seat tube keeps you in a perched position, ready to tackle the challenging terrains.
A unique feature of this Pivot Mach 4 SL model is that it has a live valve that switches from firm pedaling and open plushness within three milliseconds.
The live valve provides better suspension control which is not available in traditional bike designs.
This bike also has enough space to hold full-sized water bottles on all the bikes, from the extra small size to extra-large-sized bikes.
For more similar bikes, check out our overview of Pivot Cycles.
Sizing
To get the most out of every ride, you need to make sure to get the best fitting bike. With the Pivot Mach 4 SL, you can choose from a wide range of sizes to fit all genders.
The extra small size of the Pivot Mach 4SL fits riders from 4″10″ with an even lower standover height. On the other end, the extra-large bike size fits riders who are 6'7″ tall.
With the Pivot Mach 4SL, you are riding in a powerful position with a steeper seat angle and longer reach. The shorter stack also allows you to put in more power when riding through the terrain.
The carbon layups and shock tunes are also size-specific to ensure all riders get the robust performance promised by the Pivot Mach 4SL.
Bottom Line
The Pivot Mach 4SL bikes are top quality with durable and lightweight carbon frames to handle steep climbs and descents better when racing.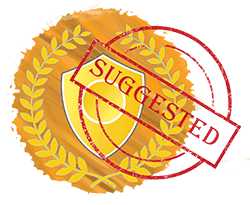 They come in different sizes for riders between 4'10" to 6'7″ tall. These 4SL bikes from Pivot Cycles give you enough space to hold large water bottles to quench your thirst during your ride.
With progressive geometry, the Pivot Mach 4SL bikes will be faster and offer superior rollover in technical terrain.
You can choose between their two models, the Pivot Mach 4SL Carbon Pro X01 Eagle Mountain bike and Pivot Mach 4SL Carbon Team XTR Live Valve Mountain bike.
Although the price tag is high, you will enjoy the fun and speed when riding this bike.
Didn't find what you were looking for? Take a look at our best mountain bike picks for 2021.
There are no comments yet, add one below.