Mountain bikes give you new possibilities where other types of bicycles start to limit you. They let you explore more and have more fun for the same price. Check out our choice of the best mountain bikes on the market right now.
What Makes One Mountain Bike Good?
What is it that defines a mountain bike and makes it either good or bad? They come in different sizes and shapes, but every mountain bike should have several recognizable features and meet certain standards.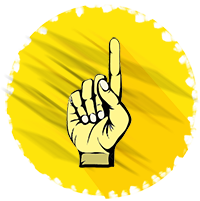 The frame of most mountain bikes is made of aluminum, and its geometry is more comfortable than that of road bikes. It allows the rider to sit in a more upright position and thus have more visibility, as well as experience less strain on the back. Compared to a hybrid bike, the position of the rider is lower.
A good mountain bike will have tires that are wider than those on road and hybrid bikes. They can be 2.1″ or wider and go up to 4.5″ on fat bikes. This gives the rider more comfort and stability and makes the bike more practical.
Another difference between mountain bikes and road bikes is that mountain bikes are usually more customizable. You can generally fit mudguards and racks on them, as well as carry several water bottles.
Many low-end mountain bikes already come with much of this additional equipment, so you don't have to worry about it.
However, high-end mountain bikes are usually not designed to carry bike racks, but you can fit mudguards on them.
Mountain bikes typically also have suspension. Based on suspension, we can distinguish between rigid, hardtail, and full suspension bikes. Rigid bikes have no suspension at all, hardtail bikes have only the front suspension, whereas full suspension bikes have suspension both on the front and on the back.
All three types can be equally good, depending on what kind of mountain biking you plan to do.
Finally, a good mountain bike needs to have robust and reliable brakes. Most mountain bikes today have disc brakes, which provide much more stopping power compared to V-brakes, which is essential when riding off the road. More expensive bikes have hydraulic disc brakes, whereas the cheaper ones have mechanical disc brakes.
Even though hydraulic disc brakes are better, the mechanical ones are a decent choice as well.
---
Co-op Cycles DRT 4.1
Best Value Fat Bike
MSRP: $1,299
DRT 4.1 is the newest addition to Co-op Cycles collection of affordable bikes intended for beginner and intermediate riders. They had some 27.5+ models, but this is the first proper fat bike they are offering.
Co-op Cycles DRT 4.1 is a full-aluminum fatty which makes it both weight and cost-efficient. The frame is painted bright orange, features internal cable routing, and comes with a large number of frame and fork eyelets.
You can easily fit the Co-op DRT 4.1 fat bike with racks and fenders and take it on a bikepacking adventure or you can ride it on local trails in winter.
When faced with challenges, DRT 4.1 performs well thanks to SRAM SX Eagle components. This bike is an excellent climber as it comes with a 1×12 drivetrain with a 10-50T cassette and a 32T crankset. Granny gears abound.
The Shimano hydraulic disc brakes provide constant and reliable stopping power both on and off road, even when you ride through deep puddles or muddy sections.
The biggest surprise on the DRT 4.1 are the 26×4.8″ Innova fat tires, which is almost as wide as you can get on the market. You'll feel like you'll riding on a cloud, even when you're rolling over rocks or roots.
Get this fat bike if huge tires, a 300 lbs. weight limit, and durable components sound like a good deal to you for $1,300.
Merax Finiss
Winner! Best Beginner's Mountain Bike
MSRP from $289.99
+ Cheap
+ Good price/quality balance
– Mechanical disc brakes
– 80mm fork travel
If you're looking for a way to enter the world of mountain biking but spend as little money as possible, Merax Finiss is the perfect bike for you.
Merax Finiss is a phenomenal choice for beginners who do not have high expectations but want a reliable bike that can safely take them places they've never been.
Merax Finiss has an aluminum frame with a relaxed geometry and comes with a suspended fork for added comfort. The fork has 80 mm of travel, so you can rest assured that it will absorb most of the bumps and imperfections on the road.
Shimano makes the drivetrain and the derailleurs, and you have 21 diverse speeds at your disposal. This number of gears is more than enough to tackle any hill out there, so you don't have to worry about it.
The absolute highlight on Merax Finiss are the mechanical disc brakes which you don't often see on a bike that is this cheap. This is just one of the things that make Merax Finiss a grand bargain.
All in all, even though Merax Finiss will not win any mountain biking championships, it is perfect for entry-level riders who ride recreationally and just want to have fun on the local trails. It's a great deal, worth checking out.
---
Related: Cheap Mountain Bikes section
---
Salsa Rangefinder Deore 29
Best Cheap 29er
MSRP $1,099
Salsa Rangefinder is an affordable mountain bike there is almost nothing to dislike about. We love the price, the design, and the components that you get for your money.
Salsa Rangefinder Deore 29 is a great choice if you want to ride longer distances on the trails and tackle some moderately demanding terrain on extra-large 29″ wheels.
Let's take a look at what you get if you buy this Salsa bike. First of all, it has a lightweight aluminum frame and an SR Suntour Air fork with 120 mm of travel, so it feels light and nimble while riding.
You also have 10 speeds to choose from depending on what terrain you're riding on. You can shift through them using a Shimano Deore rear derailleur. The shifting is smooth and precise if you adjust the shifters properly.
Finally, the most positive surprise for us was the Shimano hydraulic disc brakes which really make a change if you're riding in challenging conditions or you want to take your ride up a notch.
If you're looking to spend around $1,000 on a mountain bike that you can use for training, weight loss, and recreation, Salsa Rangefinder is a great buy.
---
Liv Intrigue 2
Best in Class! Best Women's FS Bike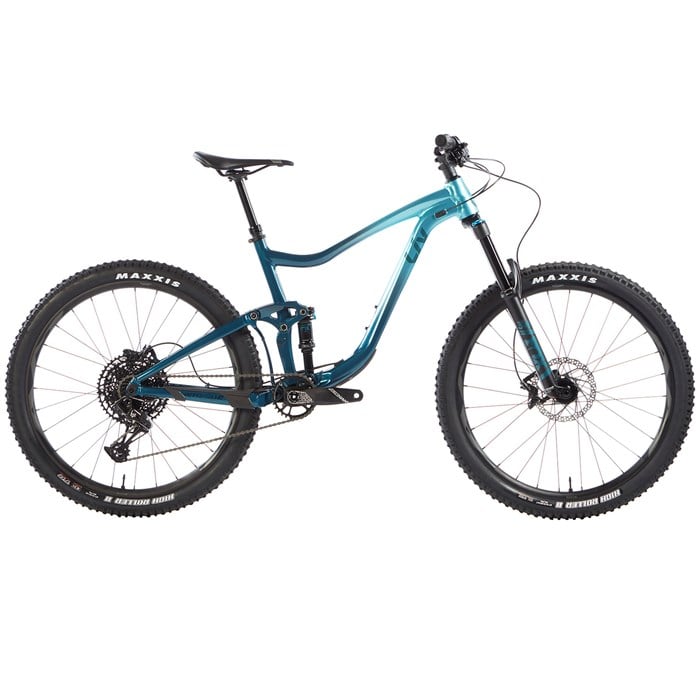 MSRP $2,900
Liv Intrigue 2 is an excellent full-suspension trail bike that will allow you to train on a higher level and get your fitness where it needs to be.
This model has a durable and lightweight ALUXX SL Aluminum frame and a Fox 34 Rhythm fork with 150 mm of smooth travel.
Rear suspension is provided by Fox Float DPS Performance and offers 140 mm of travel.
Liv Intrigue 2 is a mid-range women's bike with a tempting price, perfect for someone with a bit of experience on the trails, wanting to ride more seriously.
Intrigue 2 has a SRAM NX Eagle drivetrain that gives you 12 massive-range gears to choose from.
The wheels on the Intrigue 2 bike are 27.5″ in diameter and roll on 2.4″/2.5″ wide Maxxis High Roller 2 tires that provide lots of traction and puncture resilience. The brakes are hydraulic discs produced by Shimano, so you can fall back on them whenever you need to stop quickly.
If you're looking to spend a reasonable amount of money and get a women's bike that you can train hard on and improve your trail knowledge and off-road capabilities, Liv Intrigue is made for you.
Orbea Laufey H30 (2020)
Best 1x Trail Bike
MSRP $1,700
This model is being produced in three color combinations:
Blue-Orange
Black-Purple
Green-Orange
The frame has internal cable routing, which makes the lines smooth and improves the aerodynamics a bit. Mountain bikes with 29-inch wheels are becoming increasingly popular due to the fact they are capable of more on the trail and boost riders' confidence.
The even better news is that Orbea Laufey H30 is capable of fitting both 27.5 and 29-inch wheels. It's built around a 6061 aluminum frame and tackles imperfections on the trail with a RockShox Recon RL front suspension with 140 mm of travel.
Orbea Laufey H30 costs around $1,700, so it doesn't surprise that it comes with a Shimano SLX M7000 GS Shadow rear derailleur on a 1×11 drivetrain. The package also includes Shimano hydraulic disc brakes which fit the general image nicely.
Orbea Laufey H30 is a capable and well-equiped trail bicycle with plenty of fork travel and oversized wheels that boost riders' confidence and conquer trails.
Another positive aspect of the Laufey H30 is that the wheels are made in-house by Orbea, which ensures maximum compatibility and performance. The tires are Maxxis Rekon, 2.6″ wide, so you will have plenty of traction when cornering on loose terrain.
Our final verdict regarding the Orbea Laufey H30 is that it offers a lot more in terms of components than a lot of its competitors. If you want a powerful 27.5″ or a 29er trail bike to use for fitness and training and get the best value for money, we recommend the Laufey H30.
Salsa Beargrease Carbon SX Eagle Fat Bike
Best Fat Bike!
The first thing that you notice when you take a look at this massive bike, apart from the fantastic paint job, is its monster tires. The wheel size is 27.5 inches, whereas the 45NRTH Dillinger 4 tires are 3.8 inches wide.
Related: Best Fat Bikes You Can Get
Salsa Beargrease is a seriously mean-looking fat bike with a silver/orange/black paint job. It has a lightweight, rigid carbon frame with a comfortable geometry. Therefore, even though this is a fat bike, it weighs only 29 lbs. and 12 oz. in the M size. The L size weighs just 5 oz. more.
Salsa Beargrease Carbon SX Eagle is capable of permanently extending your riding season and allowing you to tackle snow, mud, and sand year-round.
The Salsa Beargrease is not made to go fast. On this bike, you're supposed to go slowly but reach great distances. With that in mind, it has a 1x drivetrain with 12 gears that you can shift through with a SRAM SX Eagle derailleur.
To stop this monster, you need good brakes as well, which is what you get with SRAM Level. Of course, they are hydraulic discs, so you will get maximum stopping power with little force exertion.
The best thing about Salsa Beargrease Carbon SX is that it weighs so little, which was always a problem when it comes to fat bikes. So, if you want to own a fat bike, but you stayed away because of the high weight, here's your chance!
---
Trek Fuel EX 8
Winner! Best Aluminum Race-Ready
MSRP $3,500
Are you an expert mountain bike rider or you're looking to become one? Trek has your back with their Fuel EX 8 model. This is a high-end mountain bike with an aluminum frame and full suspension. Its price is high as well, but it is worth the investment.
This Trek's sturdy aluminum frame is compatible with both 27.5-inch wheels and 29-inch wheels, depending on which frame size you get. It is also equipped with Fox front and rear suspension.
With 140 mm of travel on the fork, Trek Fuel EX 8 will really allow you to take your skills to the xtreme and break some records on the trail.
Other specs that need mentioning include SRAM GX Eagle components. The Fuel EX 8 has 12 speeds thanks to a 1×12 drivetrain, so you don't need to push uphill when reaching the start of your downhill session. Moreover, it has an integrated and remotely controlled seat dropper, which is a must on extreme rides.
Trek Fuel rolls on 2.60″ Bontrager XR4 Team Issue tires and Bontrager Line Comp 30 wheels that are durable and light. Finally, the brakes are Shimano Deore M6000, powered by hydraulics, for supreme braking properties.
You can ask for more than what Trek Fuel EX 8 offers on the trail, but you simply can't get it at this price range. It's the perfect bike for an expert rider who is planning to do MTB racing or just devote their life to MTB riding.
Orbea Alma M30
Highest Spec'd Model
MSRP $5,000
Orbea Alma M30 is the 29er hardtail bike you have always dreamed about. It is a trendsetter on the trails, light as a feather, and extremely stiff. Orbea Alma has a carbon frame with the so-called 4×4 technology which disperses weight and vibrations much better than the standard frame geometry. The performance of the frame is upgraded with the RockShox Reba RL fork, with 100 mm of travel.
The drivetrain is composed of SRAM NX Eagle parts that provide you with an efficient 1×12 gear setup. The wheelset is tubeless-ready, produced by Mach1, clad in performance-oriented Maxxis Ikon 2.20″ tires. Braking abilities are nothing to worry about because Orbea has already found a good solution. The Shimano hydraulic discs are a fail-proof choice.
Orbea Alma M30 is a bike that appears to have come out straight from a hardcore mountain biker's wet dream.
Other pleasant surprises on the Orbea Alma M30 include internal cable routing along the whole length of the cable. We also can't miss mentioning the Orbea Race Face cockpit which is hardy, comfortable and looks terrific. Finally, the Alma M30 weighs just 26 lbs, which is not much for a 29er.
All in all, if you're on the lookout for a fantastic XC bicycle that has a reasonable price and is built for expert riders, definitely considers the Orbea Alma. It'll let you abuse it on the trail and always perform at your finest.
Cannondale Jekyll AL 4 29
Best Full-Suspension Setup
MSRP $3,400
The best way to describe Cannondale Jekyll AL 4 is to call it a  competent aluminum full suspension bike. It's intended for experienced riders (or those who want to become experienced) in enduro racing and other mountain adventures.
The Cannondale Jekyll AL 4 is intended for both hustling and flowing around the trails with a suspension setup that can assume different roles and match a variety of riding styles.
The suspension system consists of a RockShox Lyrik Select fork with 150 mm of travel and a RockShox Deluxe Select Plus rear shock that's buttery smooth.
Jekyll AL 4 has 12 gears on a 1×12 drivetrain powered by SRAM NX Eagle parts. They have proven their worth on the trails in numerous competitive environments. The cassette is an 11-50t, so there's a good range of gears that you can choose from for any occasion.
This bike comes with Shimano hydraulic disc brakes with massive 180 mm rotors both on the front and on the rear. The rims are tubeless-ready, which is a popular choice these days among professional trail riders. The Maxxis Minion tires are also tubeless-ready, as well as puncture-resistant. They're 2.5″ wide, so you can easily go over obstacles instead of around.
Cannondale Jekyll AL 4 is perfect for enduro-oriented expert riders, but it does not limit your choices there. It behaves well in every corner of the trail, thanks to its quality suspension and the thoughtful design.
---
Santa Cruz Hightower A R
Best in Class! Best Value Unisex Trail Bike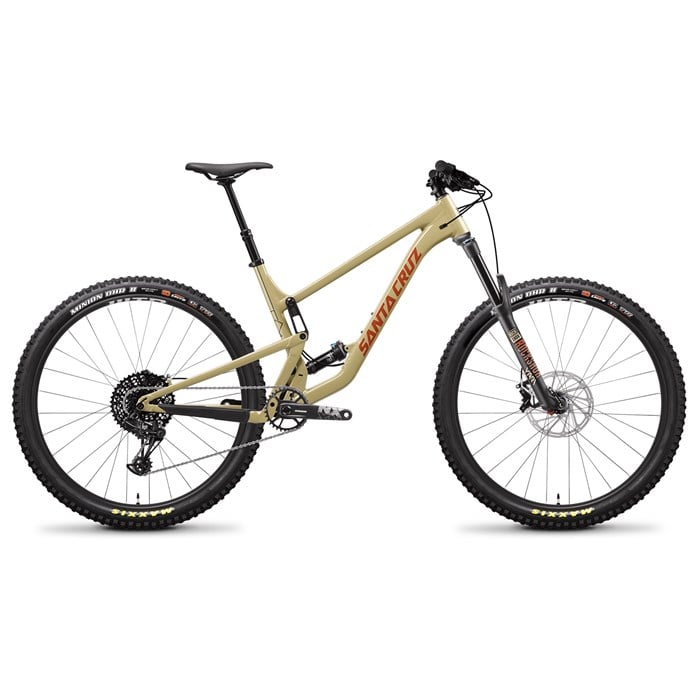 MSRP $3,499
Santa Cruz Hightower A R is a unisex mid-range mountain bike that is perfect for demanding trail rides. If you view cycling as a challenging activity that will test your physical limits, this bike will be perfect for you.
Riding bikes is mostly about having fun and feeling free! That is precisely what Santa Cruz Hightower can offer you for a price that is hard more than fair.
Santa Cruz Hightower A R is a competent full-suspension trail bike that can climb, descend, jump, race, drop, and do whatever comes to your mind.
First of all, Hightower has an aluminum frame which makes it really light, nimble, and springy. It's available in two attractive colors: desert and highland blue.
The RockShox Yari RC fork has 150 mm of travel which is more than enough to eliminate the most severe vibrations on the trails. The same can be said for the Fox Float Performance DPS rear shock with 140 mm of travel.
Moreover, Hightower A R has enough gearing to get you wherever you need to be! The SRAM NX Eagle drivetrain gives you 12 gears with an 11-50T cassette and a 30T crankset.
Finally, this bike has SRAM Guide R hydraulic disc brakes, which is the best you can get in terms of stopping power.
If you are just looking to buy a quality and fun bicycle that you can abuse for years you'll be quite content with this buy!
Co-op Cycles DRT 1.1
Best Unisex Trail Bike
MSRP $550
The Co-op Cycles DRT 1.1 is possibly the best deal you can get on a unisex mountain bike out there.
Considering what you pay for it and what you end up getting, we can say it's a real bargain. It has a comfortable geometry and low standover clearance so it's suitable for both genders. It's guaranteed to feel comfy even on longer rides.
If you take our advice and make the purchase, don't hesitate to take the DRT 1.1 on long rides, as this bike can handle it.
It has a 6061 aluminum frame with 100 mm of suspension travel, so it's built to be light and reliable on the trails. The frame has a comfortable geometry, and it features fender and rack mounts, so you can easily add accessories to it.
Co-op Cycles DRT 1.1 is a do-it-all trail workhorse that any outdoors-oriented rider can find exceptional value in and have years of fun on.
Even though the Co-op Cycles DRT 1.1 is cheap, there is no sign of no-label components on it. Instead, it comes with Shimano Tourney parts, which are great for what this bike is built for. Moreover, it has a 3×7 drivetrain with 21 total gears, so it's highly unlikely that you will ever run out of gears.
The absolute highlight on the DRT 1.1 is the Tektro hydraulic disc brakes which means that this bike can deliver serious stopping power when you need it the most! If you're planning to start mountain biking to lose weight, get fit, or stay fit, definitely consider the DRT 1.1.
Ghost Lanao FS 2.7 (2020)
Best Women's Full-Suspension Bike
MSRP $1,800
Ghost Lanao FS 2.7 has an aluminum frame with an attractive green and gray paint job. The aluminum makes the bike light and nimble but keeps the price reasonably low.
Lanao FS 2.7 is a full suspension model with perfectly smooth vibration absorption. There's 130 mm of travel on the fork and the rear shock, which makes it a capable trail machine. Ghost is a European bicycle company that is becoming more and more popular in the USA. They are trying to take over the mid-range mountain biking market with their Ghost Lanao FS 2.7 model.
Ghost Lanao FS 2.7 is intended for women who have fallen in love with mountain biking and are ready to invest a little bit more into their skills and hobby.
Ghost often uses SRAM components on their bikes, so Lanao FS 2.7 is equipped with a SRAM SX Eagle rear derailleur which provides 12 versatile and precise gears. The 1x drivetrain is a pleasant surprise which you don't often see for this money.
This Ghost model has 27.5″ wheels and Tektro hydraulic disc brakes with 180 mm rotos, which are both pretty standard on FS trail bikes. Finally, the tires are 2.35 inches wide, so you don't need to worry about traction on the trails.
Consider buying the Ghost Lanao FS 2.7 if you want a bike that is good for training and more serious mountain biking. This bike has everything that a mountain biking enthusiast needs.