$2,000 is a nice amount of money. We'll show you how you can spend (read: invest) it on a proper mountain bike!
Depending on your appetite and your budget, mountain biking can become a very expensive sport. You can easily spend more than $5,000 on a bicycle and still not be anywhere near the top of the price range. There are some mouth-watering models that cost close or above $10,000. However, for the majority of us mortals, that is much more than our budgets can handle.
Luckily, advanced cycling technology and higher-end components are now entering the under $2,000 market.  Therefore, there are many excellent mountain bicycles that you can get for less or around that number.
We're showing you our 10 best mountain bikes $2,000 below, including hardtail and full-suspension models!
#1 – Santa Cruz Chameleon A D
Best Hardtail for tall riders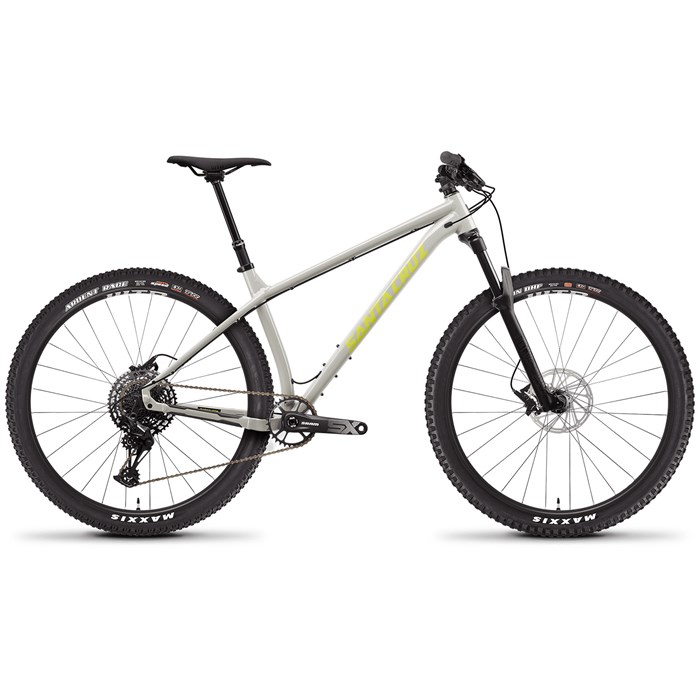 Santa Cruz Chameleon A D is a confidence-enhancing fun machine with modern geometry, wide tires, a front suspension setup and SRAM components. When Santa Cruz was making it, their main goal was to make a fun bike that will not break the bank. We believe they did it, and you can judge by yourself by taking a closer look below.
A quick glance:
Frame: Aluminum
Fork: RockShox Recon RL, 120 mm
Groupset: SRAM SX Eagle, 12-Speed
Tire dimension: 29″ x 2.3″(f) / 2.35″(r)
Brakes: SRAM Level, Hydraulic Disc
Santa Cruz Chameleon A D is an affordable rig with a light and nimble 6061 Aluminum Frame that features two bottle cage mounts, an integrated headset, a threaded BB, 148mm rear axle, and fits 27.5 and 29″ wheels. The result is a stable, fun, and durable machine.
A Fun and Affordable 27.5″/29″ Bike
Santa Cruz's frame sizes accommodate a crazy range of different heights. You can choose from four sizes — S, M, L, and XL. Therefore, this bike is suitable for both very short and very tall riders. Of course, everyone in between will easily find their size as well.
Once you choose the right size, you can start enjoying the efficiency of the RockShox Recon RL fork and the SDG Tellis dropper post. Together, they are a great combination for steep descents and rugged rolling flats.
The SRAM SX Eagle drivetrain puts 12 speeds at your disposal with a 1x drivetrain which is light, simple, and easy to take care of. The same can be said about the powerful SRAM Level hydraulic disc brakes as well.
If you're like us and you ride bikes because they're fun, you'll probably like Santa Cruz Chameleon A D as much as we do.
#2 – Salsa Timberjack Series
Best 27.5+ Bike Under $2,000
Lightweight, stiff, and efficient aluminum frames offer a fantastic balance between price and performance. The Salsa Timberjack series is living proof! These are the best aluminum bikes you can get for less than $2,000 if you want to ride trails, do bikepacking, or explore off-road.
Apart from the lightweight aluminum, there are other sweet features that will come in handy when you hit the trails on it. The entire series consists of 9 different builds, but here we'll be taking a closer look at the SLX 27.5+ model.
A quick glance:
Frame: Timberjack Aluminum
Fork: RockShox Recon RL
Groupset: Shimano SLX, 12-Speed
Tire dimension: 27.5 x 2.8″
Brakes: Shimano MT401, Hydraulic Discs
Salsa Timberjack has a lot to offer to a mountain biking enthusiast. It is an excellent choice for riding in extreme conditions, tackling rocky trails, or riding year-round. The massive tires can handle it all, along with the other competitive components.
27.5+ Tires and a RockShox Fork
Apart from the light aluminum frame, this Salsa model also offers the comfort of WTB Vigilante 27.5 x 2.8″ tubeless-ready tires. They roll over bumps, rocks, and roots much more efficiently, diminishing any chances of getting a flat.
The RockShox Recon RL fork enhances comfort and pedaling efficiency with 130mm of travel. Timberjack models also come with a dropper post, so you can get the saddle out of the way when descending.
One big advantage this bike also offers is the alternator dropouts. This feature allows you to shorten or lengthen the wheelbase and thus change the handling of the bike.
The drivetrain supplies you with 12 speeds and a Shimano SLX rear derailleur, which is a great mid-range option.
If you always wanted to own a fat bike with excellent components and enjoy its comfortable ride, Salsa Timberjack is your ticket to this world.
#3 – Co-op Cycles DRT 2.2
Best 27.5+ Hardtail for Backpacking
Co-op Cycles DRT 2.2 is our top pick in the hardtail backpacking category with 27.5+ wheels and tires. This is a bike with a pretty slack geometry that's excellent for descents, but it does really well when climbing as well, thanks to a steep seat tube angle. Plenty of travel on the front suspension give you the freedom to forget about the brakes and keep picking up speed over bumps.
A quick glance:
Frame: Aluminum
Fork: RockShox Recon RL, 120-140 mm
Groupset: SRAM NX Eagle, 12-spd
Tire dimension: 27.5 x 2.8
Brakes: Shimano MT500
Co-op Cycles DRT 2.2 does not have a carbon frame, as it is very hard to get both carbon and decent suspension in this price range. Instead, it has a durable and lightweight hydroformed aluminum frame, designed especially for this bike.
1×12 Drivetrain & 140 mm of Travel
DRT 2.2 is made for riders who love to climb and descend, as well as go on multi-day trips. It has a RockShox Recon RL front suspension, so it can tackle different obstacles on singletrack trails quite easily. Travel varies between 120 and 140mm, depending on the size of the frame.
It's capable of hitting ramps and jumps as well, making it an excellent training bike for someone who is looking to advance their skills.
The SRAM NX Eagle 12-spd drivetrain is excellent for climbing, whereas the Shimano hydraulic disc brakes are there when the time comes to go down. Use the X-Fusion Manic dropper post as well to get the saddle out of the way.
The WTB Ranger tires are 2.8″ wide, so you don't need to worry about traction on loose patches on the trails.
If you're on a limited budget and a hardtail bike that can do it all is a must for you, then we can safely recommend the Co-op Cycles DRT 2.2.
#4 – Kona Satori SE
Best 29″ Full Suspension Pick
Kona Satori SE has the best of both worlds — a Trail country geometry and 29″ wheels. It costs right around $2,000 and does not make too many compromises when it comes to the build and components, which is great. It's an excellent 29er full-suspension bike for any newly-made trail enthusiasts out there.
A quick glance:
Frame: 6061 Aluminum Butted
Fork: RockShox Recon RL Solo Air, 140mm Travel

Rear Shock: RockShox Deluxe RL DebonAir Trunnion, 130mm Travel
Groupset: Shimano Deore, 10-Speed
Tire dimension: 29 x 2.3″
Brakes: Shimano MT 401, Hydraulic
Kona Satori SE offers a smooth ride on the trails thanks to a combination of the front and rear RockShox suspension with 140/130mm of travel and the lightweight aluminum frame. The Suspension offers some basic adjustability, such as lockout and rebound, so you can dial it to your weight and preference fairly well.
Recommendable Quality Aluminum Build
Kona has made a name for itself for supplying all price ranges with excellent choices. The Satori SE model is intended for the average MTB enthusiast. It has Shimano's Deore groupset with 10 speeds, which is the cheapest entry ticket into the 1x team.
The bike rolls on WTB Vigilante 2.3″ front and rear tires and WTB ST i30 rims which are a good combination in this price range and will take plenty of beating on the trails. You can feel free to test them on descents with Shimano's MT401 hydraulic brakes in the back of your mind.
Another feature that will help you descend better is the TranzX dropper post that quickly lowers and raises the saddle.
Kona Satori SE has a balanced head tube angle of 68° and a steep seat tube angle of 78.4° so it's quite capable of both climbing and descending. If you need a bike that can do both, this is an affordable choice.
#5 – Co-op Cycles DRT 3.1
Best Full-Suspension 1x
Co-op Cycles is well-known for supplying the MTB market with surprisingly good entry-level and mid-range bikes. The Co-op DRT 3.1 is the best budget full-suspension bike with the benefit of a lightweight 1x drivetrain. This bike also sports 27.5+ tires (26″ on XS and S frames), RockShox suspension, and some other hidden gems.
A quick glance:
Frame: Aluminum
Fork: RockShox Sektor RL, 140mm
Rear Shock: RockShox Monarch R Solo Air
Groupset: Shimano Deore Shadow +
Tire dimension: 27.5 x 2.8
Brakes: Tektro Auriga hydraulic disc
All Best Full Suspension Mountain Bikes
One surprising feature on the DRT 3.1 is the X Fusion Manic dropper post with a remote. It has 100 mm of travel, so you can get it completely out of the way in a second. It comes with a bike that costs under $2,000, which is a really nice plus.
Extra Large Tires for Extra Large Bumps
One of the most recognizable features of this Co-op model is its 2.8″ wide WTB Ranger tires. They are 27.5″ in diameter, so they are quite nimble and responsive when cornering. Their width will give you all the confidence you need to choose more demanding lines than before.
The RockShox Sektor RL fork gives you either 120 mm or 140 mm of travel, depending on the size of the frame. Sizes XS-S come with 120 mm, whereas larger frames travel 140 mm. You get a lot of adjustability options with it as well.
The groupset on this bike is Shimano's reliable and affordable Deore Shadow + which is seen on many bikes in this price range. Tektro's Auriga brakes are not that common, but they are a dependable choice as well.
Budget riders on the lookout for 1x drivetrains shouldn't really have second thoughts about Co-op Cycles DRT 3.1.
Or read the full review of DRT series
#6 – Cannondale Trail Tango 2 Women's
Best Women's Entry-Level
Any list of the best mountain bikes, no matter the price tag, would not be complete without at least one model from Cannondale. In this case, we chose to include the Cannondale Trail Tango 2, which is the best women's MTB under $2,000 with versatile 27.5″ wheels. It's a playful bike that offers an equal amount of fun as a full-suspension two-wheeler.
A quick glance:
Frame: Aluminum
Fork: RockShox XC30 TK (100mm)
Groupset: Shimano Deore, 10 Speed
Tire dimension:  27.5 x 2.25 in.
Brakes: Shimano MT200 hydro disc
The Cannondale Trail Tango 2 is a unique bike on this list because it comes with women-specific geometry. This iteration sports 2.25″ wide WTB Ranger (My favorite tire btw!) tires, but you can fit wider tires here as well, as there is enough clearance. It's up to you to decide what your ride requires. But it's always nice to have a choice.
Quality Shimano Components All-Around
Trail Tango 2 has a 68° head tube angle, so it's not extremely slack. However, don't think that that will impair your descending skills. The RockShox front suspension with 100 mm of travel offers more than enough amortization. This geometry provides a nice and balanced ride for female riders with different styles.
Other components fitted on this capable trail bike are mostly sourced by Shimano. The drivetrain is a tried and true 10-speed Shimano Deore and the brakes are Shimano MT 200. Both are precise, reliable, and packed into a lightweight package. That's why they are such a frequent sight on the best mountain bikes under $2,000.
If you want the freedom of choice, dependable Cannondale build, and quality mid-range Shimano components, this Tango model is made for you.
#7 – Salsa Mukluk Deore Fat
Best Fat Bike for Trails
Let me introduce you to one of the best bikes on this list, especially for those riders who want a capable fat-tire setup at a very low price. Salsa Mukluk is at the top of its game, offering an aluminum frame, carbon fork, massive tires, and reliable components.
A quick glance:
Frame: Aluminum
Fork: Carbon
Groupset: Shimano Deore, 11 speeds
Tire dimension: 26 x 4.6″
Brakes: Tektro hydro disc
Salsa Mukluk is built around a compliant and light aluminum frame with a tapered head tube, Internal cable routing, and 26″ wheels. Therefore, it's compatible with most high-end components on the market at the moment, if you choose to upgrade in the future.
Relaxed Geometry and Efficient Components
Mukluk's frame has a 69-degree head tube angle, which is a good balance between steep and slack. Coupled with the 26″ wheels are awe-inspiring 4.6″ 45NRTH Dillinger 5 tires that give you some serious edge on the trails. Roots, rocks, and bumps are no match for this fat bike.
The Bearpaw carbon fork keeps the overall weight in check and makes riding a lot more comfortable. It comes with an aluminum steerer for added durability and a 15 x150mm thru-axle for added stiffness.
Just like most fat bikes at this price, Salsa Mukluk touts the Shimano Deore 1×11 drivetrain and Tektro hydraulic disc brakes, both of which are safe choices that get the job done.
By getting the Salsa Mukluk fat-tire bike, you'll save money in the bank, but you'll earn some profit on the trails.
#8 – Marin Pine Mountain 2
Best Designed 29″ Hardtail
Women need a bike they can use to show their skills on trails and XC routes as well. The one we chose is Marin Pine Mountain 2. It is the best hardtail bike with 29″ tires that you can get if you have just $2,000 to spare.
It offers a variety of sizes, modern and funky design, and top-notch components that you can get for this amount of money. It comes with a dropper post as well.
This is not a women-specific bike, but it's geometry and graphics are suitable for women as well as for men.
A quick glance:
Frame: Steel
Fork: RockShox FS 35, 120mm
Groupset: Shimano SLX, 12 Speed
Tire dimension: 29 x 2.6″
Brakes: Shimano MT520 Hydraulic Disc
Get More: Best Bikes For Women
Marin Pine Mountain 2 is the perfect bike for experienced trail riders who want to jump on a hardtail bike straight away or for mountain biking enthusiasts who want to get more suspension and better components.
It sports a Series 3 Double Butted CrMo frame with Boost 148x12mm spacing and a 73mm Threaded BB.
Entry Ticket Into the World of Trail riding
With its quality set of components, Pine Mountain 2 will give any rider the necessary boldness to take a riskier line and come out of it unscathed.
The RockShox FS 35 front suspension is a mid-range setup that offers 120 mm of travel. That's a good amount for all-day cross country rides and quick trail and single track loops.
The Shimano SLX 1×12 drivetrain can conquer any hill and Shimano hydraulic disc brakes can guarantee a safe descent from it.
The star of the show, of course, is the 29 x 2.6″ wide tires, so you're unlikely to lose traction no matter the terrain.
All in all, Marin Pine Mountain 2 is a versatile women's bike for different types of trail terrain.
#9 – Giant Revolt Advanced 3
Best Gravel Bike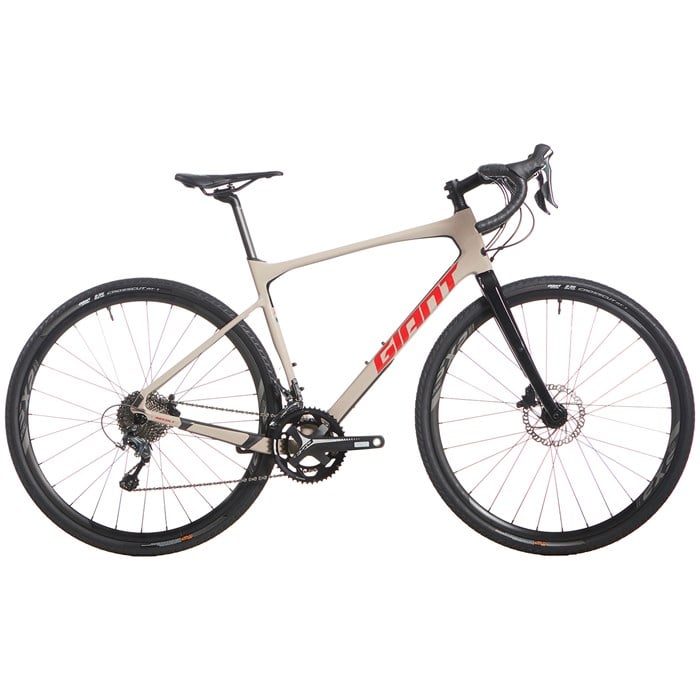 For aspiring all-mountain riders who want to do it all, things don't get much better than Giant Revolt Advanced 3 in this price category. This is a gravel bike, but we decided to include it on our list because it has wide tires and a Carbon frame that's capable of doing a lot of damage on rough roads. This is a versatile machine that's perfect for anyone.
A quick glance:
Frame: Carbon
Fork: Carbon
Groupset: Shimano Tiagra, 10-speed
Tire dimension: 700 x 38mm
Brakes: Shimano Tiagra hydraulic
Giant's Advanced Composite Technology carbon frames perform well and weigh very little, which translates to efficient gravel riding. The handling is strong, stable, and nimble, so you can explore your limits on different sections of the trails and unpaved roads.
Great Looks and Even Better Riding
Giant Revolt Advanced 3 has very clean and sleek lines, partly thanks to internal cable routing for the brakes and the derailleurs.
Revolt deals with vibrations and obstacles on the trails with its tapered carbon fork with mounts for a front rack. The Giant Crosscut AT 1 tires are 38mm wide, which enters the gravel category and gives you all the grip you need to corner, climb, and descend.
The drivetrain and brakes are Shimano's. Shimano Tiagra front and rear derailleurs change the 10 speeds and the Tiagra hydraulic discs provide you with stopping power.
What more can an off-road enthusiast ask for but giving Giant Revolt Advanced 3 a spin around their favorite gravel roads?
#10 – Specialized Chisel Comp
Best 1x Setup
Do you know why Specialized Chisel is called that way? Because it can chisel a line wherever you direct it. This bike leaves little to be desired from an XC trail bike in this price range as it delivers generously in most areas. It's a lightweight aluminum 29er with 12 speeds that meets the requirements of different types of riders.
A quick glance:
Frame: Specialized D'Aluisio Smartweld M5 Alloy
Fork: RockShox Judy Gold 29
Groupset: SRAM SX Eagle, 12 Speed
Tire dimension: 29 x 2.3″
Brakes: Shimano MT-501 Hydraulic Disc
The Specialized D'Aluisio frame is known to be stiff in the right places and compliant and comfortable everywhere else. Therefore, it feels comfortable when descending or going fast and responsive when you stomp the pedals to gain some speed. The 69.8° head tube angle makes the ride nimble and confident at the same time.
A 29er Hardtail with Specialized's Magic Touch
The RockShox Judy Gold 29 fork provides 100 mm of travel and comes complete with lockout and adjustable rebound damping. This travel is suitable for XC riding, but the geometry of the bike gives it some Trail elements as well.
The SRAM SX Eagle drivetrain supplies you with 12 speeds and Shimano MT-501 hydraulic disc brakes guarantee all the braking power you need, whenever you need it.
Once the Fast Trak 29 x 2.3″ tires gain momentum, they're hard to be hindered by any challenge you'll encounter on dirt roads and single tracks.
So if you want the best bike with a 1x setup with Specialized's logo on it and stellar components, Specialized Chisel Comp will put a smile on your face when you take it for a ride.
#11 – Co-op Cycles DRT 4.1
Best Introductory Fat Bike
Co-op Cycles finally decided to refresh their uber-popular DRT series. The newest addition to the lineup is the DRT 4.1 fat bike. 
This is an aluminum bike with super-big tires, hydraulic disc brakes, a 1×12 drivetrain, and a pretty low price. It's intended for bikepackers, mountain bikers, and anyone else who wants to have fun without breaking the bank.
A quick glance:
Frame: Co-op Cycles 6061 aluminum
Fork: Rigid, Aluminum
Groupset: SRAM SX Eagle, 12 Speed
Tire dimension: 26 x 4.8″
Brakes: Shimano Acera MT-400 Hydraulic
The entire DRT series is known for affordable bikes intended for beginner or intermediate cyclists. The DRT 4.1 is not an exception to that rule. It's packed with mid-range components that will satisfy the majority of riders out there, except for those who plan to race.
Gnarly 4.8″ Tires and SRAM SX Eagle Components
First things first, DRT 4.1 rolls on 26×4.8″ Innova tires. They're huge and feel super plush and comfortable when riding on any kind of terrain. If you deflate them a bit, you can tackle snow, sand, and mud with ease.
The groupset is SRAM SX Eagle which will give you 12 speeds on a super-wide drivetrain. The cassette has a 10-50T range and is combined with a 32T ring. You could climb a wall with these.
Shimano's hydraulic disc brakes offer some serious stopping power, even though they are not as precise as some more expensive choices.
Bikepackers and adventurers will like Co-op Cycles DRT 4.1 because of its numerous eyelets on the frame and fork. You can fit this bike with racks and fenders, water bottles, and other accessories.
Get this bike if you want the biggest possible tires for year-round fun riding.
Bottom line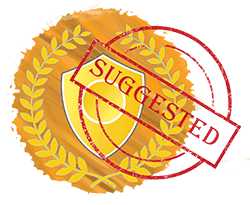 Don't get me wrong – all of these bikes are winners. Even though #10 is the last on the list, it is still a winner because it won its place after it was compared to hundreds of quality bikes.
Therefore, whichever model you end up choosing, you'll get a reliable and durable bike that can handle most XC routes and trails.
Let us know which one you like the most and share your experiences below! Happy riding!