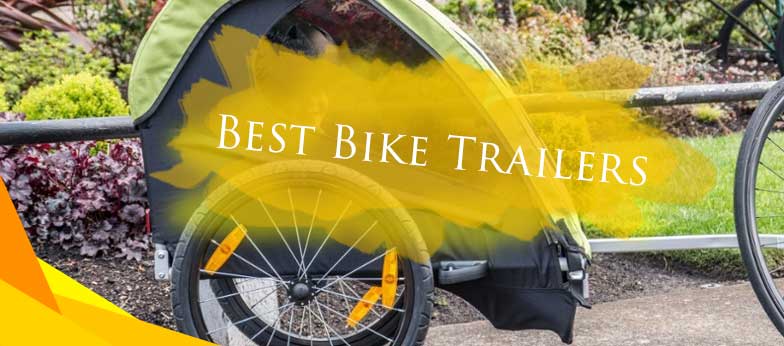 Are you on the lookout for the best bike trailer to take your kids or pets for a ride? You've probably done some research by now and realized that the choice out there is insane.
If you don't even know where to begin, you're at the right place because we'll help you narrow down the options and choose the right one.
For that purpose, we're sharing our favorite models organized in three price and quality categories.
We'll also tell you everything you need to know about bike trailers for kids, which will help you make the final choice.
So let's dive in!
---
Three Classes
Kids' trailers are actually quite minimalistic. Overall, they can be for kids, pets, or cargo. They can also be single or double. But instead of that, we'd like to divide best child bike trailers for kids into three classes:
Entry-Level – Up to $300
Mid-Range – $300 – $600
High-End– $600+
And two additional trailer types:
So, with this classification in mind, let's take a closer look at our top picks in each category!
---
Best Bike Trailers For Kids
---
—Entry-Level—
---
Entry-level trailers are the most affordable models you can get. They're intended for people who don't have extremely high expectations and just want to get their kids from point A to point B on a sunny day.
They are also excellent for parents on a budget who only want to pay for the necessary features. They usually offer fewer functionalities than the more expensive models, but generally don't skimp out on the quality of the build. So, here's one best child bike trailer you can get.
Schwinn Joyrider
Cheapest Entry-Level Bike Trailer for Kids
MSRP Check on Amazon
Seats: Single & Double
Kits: Stroller, Jogger
Schwinn Joyrider is the best entry-level kids' trailer for active parents out there. It is a 3 in 1 option that will allow you to take your kids not only for bike rides but for strolls and jogs as well.
Read more: How to Cycle With Kids
Joyrider features a wide handle that you can easily adjust to your liking and one wheel in front, mounted on the arm. The rear wheels are 16″ in diameter, made from molded metal so they're quite strong. They roll on sleek air-filled tires, ideal for urban rides and decently comfortable.
Depending on how many passengers you want to transport, you can go for a single or a double-seater. Both versions have the same 16″ wheels, but the price differs. The single fits one child of up to 40 lb., whereas the double fits two children of up to 40 lb. each.
Schwinn Joyrider quickly folds to small dimensions for easy storage or transport as the wheels have quick-release levers, so you can remove them in a jiffy.
It attaches to your bike by the rear axle with a universal coupler that fits almost any bike. You're required to install it just once, which makes your job easy in the future.
The canopy has a bug screen and a weather screen, so your kids will be shielded from anything that should not find its way inside the trailer.
Allen Sports Deluxe
Best Bike Trailer for Kids for Regular Use
MSRP Check on Amazon
This burly trailer comfortably seats two kids and has a 100 lb maximum payload, including both kids and storage. The construction is made from steel which makes it extremely strong but adds some weight to the trailer as well.
It rolls on metal 16″ wheels and air-filled tires. They are sufficiently wide to offer a comfy ride on paved streets and bike paths and feature grooves that improve their grip.
Allen Sports Deluxe is a go-to choice for parents who want a straightforward and easy to use bike trailer for their everyday trips.
One of the highlights on the Allen Sports Deluxe pull-behind trailer is its large side and front windows. They line almost the entire length of the trailer, making space inside feel bright and airy.
Even though this is an entry-level trailer, it has some great safety features. That's why it is one of the best bicycle trailers you can get. The cabin comes with a foot guard that protects passengers' feet, and there's also a five-point padded harness that will hold your children in place. You will easily be seen on the road thanks to a bright orange flag.
Unfortunately, Allen Sports Deluxe does not have any conversion kits, so it can only be used as a child bike trailer. Yet, that makes it a great choice for budget-minded parents who do not need those added functionalities.
Thule Cadence 2
Best for All Weather
MSRP $350 (REI)
Do you think that rain should not be an excuse for not going on a bike ride with your kids? Then Thule Cadence is the right bicycle trailer for you. It features a heavy-duty roll-down rain guard that will protect the passengers inside and keep them dry. It features a bug cover as well, which will also keep pebbles outside.
Cadence attaches to your bike via the rear axle, using Thule's patented ezHitch adapter. You can attach and remove the trailer in a matter of seconds.
Thule Cadence is an all-around excellent bike trailer for kids that allows you to go out and enjoy the outdoors no matter the weather and the season.
When you go for a ride, you can take two passengers with you, who will be snug and secure inside the trailer. A five-point harness makes sure that they are safe and comfortable when going for a ride. A high orange flag will make you visible from afar.
This Thule bike trailer has metal 20″ wheels with air-filled tires that are great for regular rides around the city or for longer adventures. They easily detach using quick-release levers and the trailer folds in two quick moves.
The maximum weight capacity of this trailer is 100 lb., so you can transport two kids and have plenty of room to spare for your necessary cargo.
---
— Mid-Range —
---
Mid-range bicycle trailers are high-quality all-rounders that can be used for different purposes. You can pull them by bike, push them, use them when jogging, and so on. They usually offer the most value for money and a decent amount of additional features.
However, compared to high-end models, you will be sacrificing a few fancy features that you might not even need. Most multi-sport-oriented families will be happy with these.
Thule Coaster XT
Best Entry-Level/Mid-Range
MSRP $430 (REI)
Seats: Double
Kits: Stroller
Thule Coaster XT is a high-quality entry-level to mid-range bicycle trailer for kids that will suit you well for more than one purpose. It comes with a bike stroller kit included, so you can easily go for a walk when you don't feel like riding anymore. The handle is adjustable, so you can set the right height to be more comfortable when pushing.
Coaster XT uses Thule's patented ezHitch mechanism to attach to your bike, which is seen on most of their trailers. It is fast, simple, and secure, and it fits most bikes out there.
No matter if you plan to cycle, ride or jog, Thule Coaster XT is a great bang for the buck in the mid-range price category.
The trailer comfortably seats two kids of up to 100 lb. with a shoulder room to spare. The seats are supported, so they will not sag and bounce all over the place. Before each ride, make sure to fasten the five-point harness for added safety.
This Thule bike trailer weighs 26 lb., which is pretty good at this price range and should not be a problem for any parent to lift out of the trunk.
This trailer rolls on extra-durable metal 16″ wheels that come with a parking brake as well, so you can securely lock them in place when you want to make a stop.
Burley Encore X
A Mid-Range Burley Bike Trailer
MSRP $600 (REI)
Seats: Double
Kits: Stroller, Jogger, Skiing, Sand, and Gravel
If you are an adventurous parent and you want to include your kids in your endeavors, the Burley Encore X bike trailer will do the job for you.
The highlight of this Burley bike trailer is the suspension which keeps kids comfortable by absorbing bumps and vibrations. So don't feel hesitant to take a short way home, off the beaten path.
Encore X serves as a bike stroller as well, thanks to the included one-wheel stroller kit. The handlebar is adjustable in height and doubles as an additional roll bar when folded while biking.
Burley Encore X is an affordable kids' trailer that is excellent for smooth rides on gravel and bumpy trails thanks to a list of handy features it has.
When it comes to protection, Burley Encore X has tinted side and rear windows and a sunshade that filter out harmful UV rays, so you can ride in the sun.
When you're not taking your kids for a ride, you can quickly remove the seats and transform it into a bike cargo trailer. The wheels are 20″ in diameter and the weight capacity is 100 lb, so Encore X can take a lot.
Burley Encore X is also compatible with sand and gravel riding, jogging, and skiing, but these kits are not included in the original package.
Qeridoo Kidgoo 2
Best Height Adjustable Seats
MSRP Check on Amazon
Seats: Double
Kits: Stroller/Jogger
If you don't plan to expand your family any time soon and you want to take two kids for a ride, then a double-seater bike trailer is all you need.
It ships with the additional bike stroller and jogger kits, so it's an ideal trailer for multi-sport-oriented parents. You can convert it in a matter of seconds and go for a walk or a run.
Qeridoo Kidgoo 2 is the roomiest double bike trailer in this price range with room to spare in the cockpit for your kids' favorite toys.
Your kids will be snug inside the trailer thanks to comfortable bucket seats that prevents leaning and a five-point harness system that will support the passenger throughout the ride.
The main safety features on Kidgoo include a robust internal frame with roll bars and bumpers, as well as a low center of gravity that improves stability in corners.
This trailer also includes a rear light and a parking brake to keep the trailer firmly fixed.
If you need to carry a lot of stuff on your rides, walks, or jogs, this model doubles as a bicycle cargo trailer due to a massive rear cargo area.
---
— High-End —
---
High-end models are the creme de la creme of the bike trailer world. They have all the features you can imagine but cost the most as well. Get them if you need adjustable suspension, locking mechanisms, versatile storage options, reclinable seats, adjustable sunshades, UV windows, and so on… you get the point.
In a nutshell, high-end best bike trailers for kids can do it all.
Hamax Outback
Best Multi-Sport Trailer
MSRP Check on Amazon
Seats: Single
Kits: Stroller (Jogger kit sold separately)
Full review: Hamax Outback
Hamax Outback is a versatile 3 in 1 bike trailer that is an excellent choice for parents who enjoy practicing more than one sport. This trailer comes with a third bike stroller wheel included in the package that mounts on the chassis, so it can be transformed in a matter of seconds. The jogger kit needs to be bought separately.
Hamax Outback is ideal for all types of terrain due to its adjustable suspension. If you wish to ride on gravel and dirt roads, nothing is stopping you. Your kids will have a smooth and comfy experience as well.
This trailer has an adjustable seat and a five-point safety harness system which gives kids plenty of room and a safe and secure ride.
Hamax Outback is a practical kids' trailer with a tempting price that's ideal for parents who don't want to stop and wish to be active whenever they get a chance.
The frame is made from aluminum, so it's pretty lightweight, and it features rollover bars which is a big plus. The trailer is easily visible from afar due to rear reflectors and reflective materials all around.
Hamax Outback offers plenty of protection from the elements as well. It has wide UV-protected windows, water-resistant fabric, sunshade, bug screen, and rain cover with a storage pocket.
It has all you need to head out on an adventure and bring your kids along.
Burley D'Lite X
Best for All-Terrain Trips
MSRP $850 (REI) (Single – $700)
Seats: Double
Kits: Stroller, Jogger, Ski, Sand, and Gravel
Full Review: Burley D'Lite
D'Lite X is one of the most comfortable best bike trailers out there with its premium seat pads, headrests, and independently reclining seats. That means that each of your kids can decide whether they want to sit upright or kick back and chill. This double trailer seats two kids with a maximum weight capacity of 100 lb.
The package comes with a one-wheel stroller kit included, but you can also equip this trailer for jogging, skiing, and sand and gravel riding. The rear wheels feature adjustable suspension, so the passengers will not feel the bumps.
Burley D'Lite X is a kids' trailer jam-packed with useful features that make it an excellent choice for all-terrain trips and families that like to explore and practice a variety of sports.
This Burley trailer has 20″ all-terrain wheels and tires and a hub parking brake. The trailer offers the utmost UV and weather protection with its numerous adjustable shades and screens.
Visibility is increased thanks to reflectors on the back and reflective materials all around. Other cyclists and drivers can easily spot you.
If you want your children to feel like royalty and be as comfortable as possible on a bike trailer ride, then Burley D'Lite X offers the most bang for the buck.
Burley Honey Bee Bike Trailer / Stroller
Lightweight Bike Carrier For Kids
MSRP $430 (REI)
Seats: Single
Kits: Stroller
Burley Honey Bee is one of the best and lightest kids' trailers around. It weighs just 25 lbs which is nothing considering all of the features included in the package.
This is a double-seater, so there's plenty of room for two kids to fully enjoy the ride. The weight capacity is 100 lb., meaning there's enough room for additional cargo as well, so this model can double as a bike cargo trailer.
What you'll like the most about the Burley Honey Bee is its build. This trailer is extremely sturdy and looks awesome as well. Inside, the kid is basically in a secure cocoon, fastened with a five-point harness, where nothing can happen to them.
Parents who want to include their kids on their adventures but don't want to sacrifice speed, weight, or comfort, will find exceptional value in Burley Honey Bee.
Honey Bee has hammock-style seats and sleek and smooth tires that will eliminate most vibrations and prevent your little one from jostling around when you hit a bump.
A stroller wheel is included in the package, and if you want additional functionalities, you can buy more kits and easily install them. It's the best stroller for active parents.
Burley Honey Bee also features a parking brake and adjustable handlebars, so parents can be more comfortable and have more control over the trailer.
All in all, this is a fantastic all-rounder for active parents seeking adventure and one of the best trailers money can buy.
---
Other Bike Trailer Types
Kids are not the only ones who enjoy a comfy ride in a bike trailer. Pets do too! I see a lot of people in my city taking their cats and dogs for a ride in bike trailers and they absolutely love it. Some bicycle trailers are only used to haul luggage — you can use them to travel or to commute.
Here are our top picks in these categories.
Burley Tail Wagon
Best pet trailer
MSRP $400 (REI)
Seats: Single
Kits: Stroller
Did you know that pets enjoy bike rides as well? You can now include your animal friends with the Burley Tail Wagon pull-behind trailer that easily doubles as a stroller for kids.
Tail Wagon is advertised for one animal with a maximum weight capacity of 75 lbs. However, if you have smaller puppers, I don't see why you wouldn't be able to fit two of them and take them on an adventure.
This Burley trailer has a flip-down tailgate that allows your pets to easily get in and out. The floor is suspended and removable, so you can easily take it out and clean it regularly, which is a very important feature for pet trailers.
Thanks to the Burley Tail Wagon bike trailer, there's no more reason for your furry friends to stay home alone while you go for a nice ride.
The rear wheels are 16″ in diameter and made from metal. They easily detach so you can quickly fold the trailer to store it or transport it.
Your pet will always be cool and cozy inside thanks to removable mesh windows and covers on all four sides that allow the air to circulate freely. There are also weatherproof covers that roll up and down to offer protection from wind, rain, snow, and other elements.
With a little bit of training, going for a ride in the Burley Tail Wagon is going to be your pet's favorite part of the week.
Burley Nomad Bicycle Cargo Trailer
Most Versatile Touring Carrier
MSRP $350 (REI)
Seats: None (Bike Cargo Trailer)
Kits: None
Are you planning a long adventure? Then you need a reliable way to carry all of your gear without overloading your bike. Might we recommend the Nomad Burley bike trailer? This is a touring cargo trailer that follows behind you on two 16″ wheels wrapped with a wide and capable air-filled tire.
This bicycle cargo trailer can carry all the gear you need for a long bike trip, as it has a maximum weight capacity of 100 lb (45 kg). With a pair of panniers in the front, you can easily go on a trip around the world and bring all the necessities.
Burley Nomad consists of a trailer and a waterproof cover. The waterproof cover is really 100% waterproof, so there is no chance any water will get it. It also features six tie-downs, so your stuff will remain in place even if the trailer tips while you're crossing a river.
Burley Nomad is a high-end bike cargo trailer capable of going on a tour around the world.
The trailer dimensions are 83 x 56 x 57 cm and the construction is made from aluminum, so it won't add too much weight to your rig.
Burley Nomad will also improve your visibility on the road — it comes with a safety flag and reflectors that will make you more easily seen.
All you need to do is choose what gear to bring along!
Thule Stroller Bike Trailer Kit
Easy Conversion Kit
MSRP $119.95 (REI)
Seats: Single
Kits: Bike trailer
Do you have a Thule Chariot stroller but you'd like a bike trailer as well? There's no need to buy a separate trailer and spend loads of money.
Instead, you can just get the Thule Stroller Bike Trailer Kit and convert your Thule Chariot Stroller for kids into a fully functional bike trailer.
This kit includes everything you need: a lightweight aluminum hitch arm, quick-release skewer, axle mount ezHitch to attach to bicycle, reflector kit and backup strap, hitch cup, and a safety flag.
The kit also features Thule's patented ezHitch system that makes it easy to attach the trailer to your bike.
If you like different types of activities and you want to save some money, then this is the best stroller and trailer combo you've been looking for!
---
Overview of the Most Popular Bike Trailer Manufacturers
Thule
Thule is one of the most popular companies in the world when it comes to
outdoor-related activities
. It was established in 1942 in Sweden and has not stopped improving their products ever since.
They describe themselves as a group of people with a mission to help active families and outdoor enthusiasts.
Thule produces a wide array of products that help you transport your stuff around, such as:
Trailers and bike bags
Bike racks and Car roof racks
Bicycle cargo trailers and baskets
Winter and water sport racks
Strollers for kids and bike seats
Luggage
…and so much more.
Thule goods are known to be made of high-quality materials that last for a long time. That's why most outdoor enthusiasts have high regard for their products.
If you want the best of the best, Thule is usually a foolproof choice.
Apart from bike-related products, Thule also makes rooftop tents and van accessories for those who enjoy the nomadic kind of life.
Burley
Burley is another one of the big players in the world of pull-behind trailers. This is a US-based company with headquarters in Eugene, Oregon.
They have been producing outdoor products since 1978, so they have more than enough experience and knowledge in this niche.
Burley's trailers are known for the following features:
Chemically tested materials
Low center of gravity build
Lightweight aluminum frames
Full roll cages
Reflective materials
Wheel guards
Burley is one of the first companies that came up with the idea of children's trailers and started selling them in the 1980s.
Today, Burley is almost synonymous with bicycle trailers for kids. Their products are known for setting the standard for durability, safety, and thoughtful design.
Some things that set them apart include a 3-5 year warranty period, personalized customer service, and a deep catalog of spare parts.
Apart from bike trailers, Burley also makes several kids' bicycles and numerous accessories and bags for your bike.
Croozer
Croozer is a
German company
whose products you can often see on the streets of European countries, but in other parts of the world as well. They specialize in making safe and practical best bicycle trailers for kids, pets, and for general luggage.
It was established in 1993 in the backyard of a young father who was a cycling enthusiast as well.
In the outdoor family circles, Croozer's bike trailers are liked and respected for their versatility and practicality.
A single model made by Croozer is easily transformable into three products:
Trailer kit
Stroller kit
Jogger kit
Croozer's most popular products are their baby bike trailers.
They are specially designed for infants aged 1 to 10 months, with safety being the biggest priority. However, babies should only be transported in these when walking and never when cycling.
All of their bicycle trailers meet strict legal requirements for chemical and mechanical safety, as well as the standards for UV radiation. Therefore, your kids and pets are 100% safe riding in their trailers.
Allen

Allen Sports has been a big player in the bicycle trailer market for almost 50 years.
The company was established by Dick Allen who began his career as an engineer working for the Apollo program. As a cycling enthusiast, he wanted to bring his knowledge, experience, and hobby together.
Today, Allen Sports is based in Portsmouth, New Hampshire, USA, and has an extensive network of dealers in 12 countries around the world.
They make trailers of all kinds and for all purposes, but other cycling-related products as well. Allen is popular for car racks used to carry bikes on road trips.
Allen Sports' main motto is manufacturing bike trailers and racks of the highest quality that are as easy to use as possible.
Their great service and long warranty periods are what sets them apart and earns customers' loyalty.
Allen's products are most popular among trailblazers who enjoy going off the beaten track.
Weehoo

3-wheeWeehoo is a known innovator in the bike trailer industry. The company was established by Stephen Rodgers in 2008, but sales didn't begin until 2010 when Weehoo trailers were perfected.
The name of the company originates from the expression kids make when they go for a ride in these trailers — "Weehoooo!"
A recognizable characteristic of Weehoo bike trailers is that kids are not just passengers. Instead, they can turn pedals as well and be active participants in the adventure.
Their assortment includes:
Single-seaters
Double-seaters
Joggers and strollers for kids
In addition, they also make some balance bikes and other cycling-related products and accessories.
Weehoo is most well-known for all-weather trailers that offer ultimate protection from the elements and narrow profile design, which makes them perfect even for off-road rides in forests and on some singletracks.
Therefore, they are an excellent choice for adventurous parents who want to take their children along.
Trailer Types
Bicycle trailers come in different shapes and styles. They can have between one and four wheels, room for one or more children/pets, additional functionalities for jogging, strolling, or skiing. and so on.

Not every type will be suitable for your needs, but there is certainly the perfect type of bike trailer out there that will make you happy. Here are some of the most popular ones:
3-wheeled: Three-wheeled trailers are one of the most common kinds. They usually have two wheels on the rear and one on the front. They are lightweight and can be used for strolling and jogging as well. Strolling wheels usually swivel, whereas jogging wheels are stationary and at least 10″ in diameter.
4-wheeled: Four-wheeled trailers are much sturdier compared to three-wheeled ones. They are heavier overall, but they can carry more weight as a result. They offer the most stability and distribute weight evenly on all four wheels. These trailers are usually used for strolling as they offer the most control and maneuverability.
Joggers: This type is versatile as it can be used for jogging when you're not going for a ride. Jogger trailers come with a jogging wheel attachment that makes it easy to move fast while pushing the trailer. The third wheel is usually made from metal and has pneumatic tires for more comfort.
Ski strollers: Multi-sport pull-behind trailers allow you to transform them into ski strollers. With the use of a conversion kit, you can add small skis under the wheels and easily push or ride your bicycle trailer for kids on snow and ice. These are ideal for parents who love cycling all year round and enjoy winter vacations.
Single vs Double
Do you plan to ride with two kids? Then it's best to go for a double-seat bike trailer. They can fit two children, as their name implies. Kids can be seated side by side or behind each other, depending on the model. These trailers are bigger, wider, and heavier, but kids are sometimes cramped and not as comfortable inside as when riding alone in a single-seater.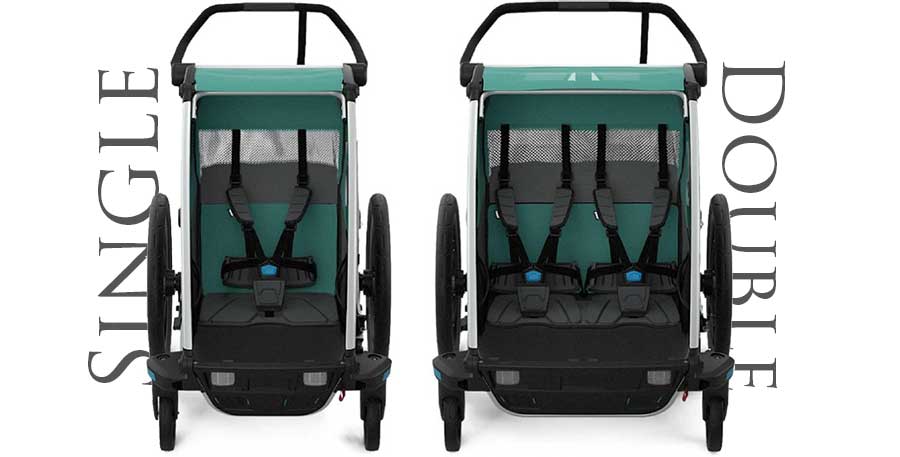 If you only have one kid and you don't plan to expand your family, then a single trailer is the best option. They are narrower and lighter than doubles, so they are easier to pull. They are also easier to store at home, which is something to consider if you live in a small house or an apartment.
Shoulder Space & Seat Width
Shoulder space and seat width are important factors to consider when choosing which bike trailer to get. Without enough shoulder space, your kids will feel cramped inside the trailer and hate the experience.
A few additional inches in seat width can make a huge difference when it comes to comfort. Therefore, before buying a trailer, try to measure how much room your kids require. Take into account the fact that they will keep growing as well, so go for a slightly bigger size to be able to use the trailer for longer.
Typically, the shoulder width of double strollers varies between 22″ and 25.5″.
Kids' Age, Height, and Weight
Kids' height and weight are important deciding factors when choosing which bike trailer to get. Some manufactures give age recommendations as well, but these are not as important. Two kids of the same age can significantly differ in height and weight.
The internal height of a trailer (measured from the seat to the top) varies between 23″ and 30″.
If the internal height is not large enough, your kids will not have enough headroom and they will have to bend their necks to ride.
Weight capacity differs greatly as well. Small, low-end trailers have a weight capacity of 80 lb. on average. If you are willing to pay more for a high-end model, the capacity can increase up to about 100 lb.
Wheels & Tires
Bicycle trailers for kids are available with 16″ and 20″ wheels, which can be either metal or plastic. Low-end trailers usually roll on 16″ wheels made from plastic, whereas more expensive models come with 20″ metal wheels.
Metal rims are a much better choice than plastic ones as they are sturdier, more durable, and more comfortable as well. Plastic rims can crack and break after some time, and they usually offer a bumpier ride.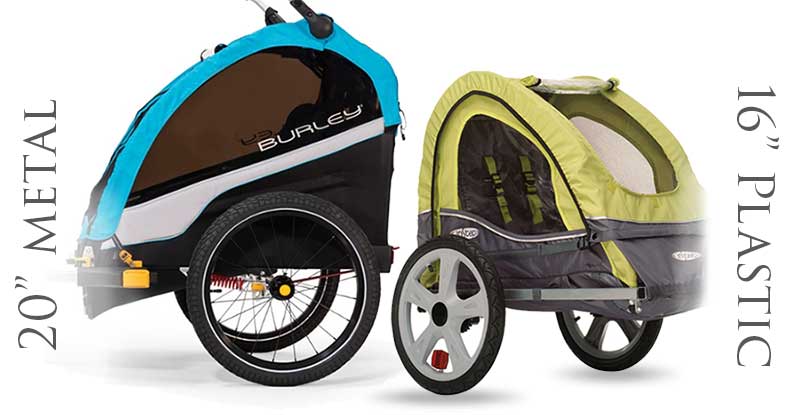 If speed matters to you, you should know that trailers with 16″ wheels usually have a speed limit of 10 mph. Those with 20″ wheels max out at 15 mph.
Pneumatic tires are important as well, as they allow you to lower or increase the pressure, depending on the surface you're riding on and the weight you're carrying. Always follow the recommended min/max air pressure specified on the tire.
Important: Helmet!
Don't forget to put a bike helmet on your kids' heads every time you go for a ride. Get one for yourself as well! Many bike trailers have roll cages that will protect the kids inside. However, these are not always enough to prevent head injuries.
Bicycle-Guider Tip: Go for kids' bike helmets with shorter rear ends that will allow your kids to lean their heads back completely.
Read how to choose helmets and why they are important
Folding
Almost all bicycle trailers for kids have folding mechanisms that allow for easy storage or easy transportation. However, not all folding mechanisms are the same and not all trailers fold to the same dimensions.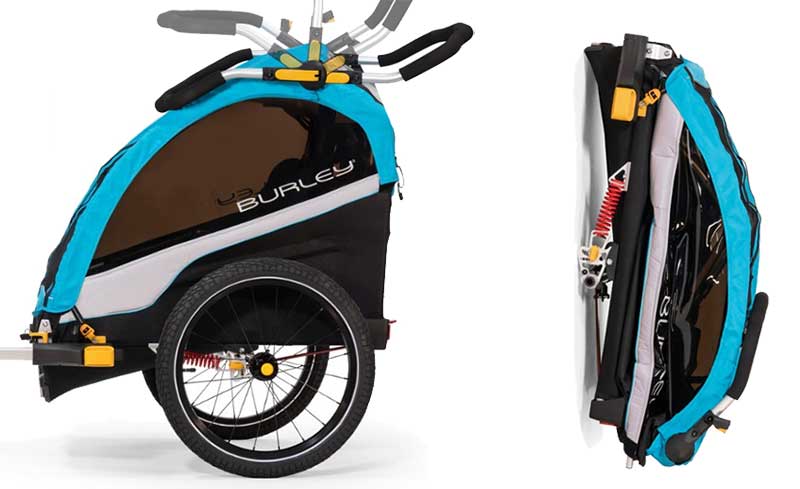 High-end trailers usually have more sophisticated mechanisms that are easier to use. They also fold to smaller dimensions, which is something to consider if you have limited storage room. If you plan to transport your trailer regularly, it's worth investing a bit more money in a more expensive model.
Entry-level trailers are not as easy to fold and they are usually on the heavier side, so frequently taking them in and out of the car could be a problem for some.
Quick-release wheels are an important feature as well if you plan to fold your trailer regularly.
Baby Inserts
Many high-end pull-behind trailers come with so-called baby inserts that allow you to take your baby for a stroll. The American Academy of Pediatrics does not recommend taking kids younger than the age of one on bike rides.
The jostling of the trailer is not good for their developing brains. Moreover, kids under the age of one cannot wear a bike helmet, so it's not recommended for them to be going for a ride. Thus, if your trailer has baby inserts, you should only use them when going for a walk.
Some trailers come standard with baby inserts, while others offer them as accessories that you need to buy in addition to the trailer.
Where Will You Ride?
Where do you plan to ride your bike trailer? If you'll only stick to tarmac and bike paths, then most trailers will do the trick. However, if you plan to go off-road and ride on the trails, you should consider some additional features like all-terrain tires and suspension.
All-terrain tires are 20″ in diameter and are usually wider with more grooves or knobs. The suspension on the rear wheels will make the ride more comfortable for the riders inside. The seats should also be bench-style instead of hammock-style to provide better support and prevent sagging.
Bike Types
Trailers can be hauled with any type of bike. No matter if you have a road, mountain, hybrid, city, or a touring bike, you can find a bike trailer that fits. Still, there are some things that you should keep in mind.
These trailers add a lot of weight to your ride, so even a small hill can be a challenge. Therefore, you should use a bike with sufficient gearing so you can keep pedaling uphill. Similarly, when going downhill, you will need good-quality brakes to have sufficient stopping power.
A touring bike is the best choice, as this type has a low center of gravity, so it's easier to pull the trailer and maintain stability. But other types work great as well.
Contrary to what many people believe, carbon bikes are compatible with bike trailers as well. However, since many high-end carbon bikes do not have rear rack mounts, you'd need to use a trailer that attaches to the rear axle.
Where To Ride and Where Not To?
Depending on what kind of bike trailer you have, it can either be suitable only for tarmac or for dirt and gravel roads as well. This depends on the suspension, the type of seat, the wheels and tires, the hitching mechanism, overall build, and so on.
Of course, it's not advisable to attach a pull-behind trailer to your full-suspension mountain bike and hit singletracks or downhills. Only take the bike trailer on roads that are relatively flat without huge bumps, rocks, or roots that could cause it to flip.
What to avoid?
Avoid sharp corners and big climbs and descents. Turning sharply in tight corners could cause the trailer to flip.
Avoid riding on streets with a lot of traffic.
Always fold the handle when going for a ride.
Don't remove the front wheels, they are foldable.
Never go for a ride without a helmet.
How to Hitch?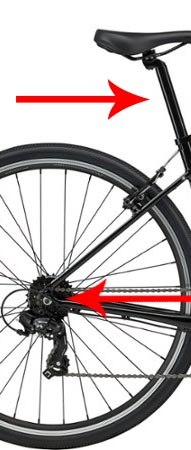 Bike trailers can be attached to the bike using a
variety of mechanisms,
but all of them hitch in one of these three places:
Seat post
Rear triangle
Rear axle
Some best bicycle trailers use special adapters that clamp directly to the rear axle of the bike. Others use a seat-post clamp with a quick-release lever that can easily be mounted and dismounted. This option often comes with shims (thin strips) that adjust the clearance so the rear wheel does not rub. Some also attach to the rack mounts found on the rear triangle.
The hitch and its arm are the most important parts. They need to have a backup mechanism, such as a strap, that will keep the trailer attached to the bike if the main mechanism fails.
High-end trailers also have hitching arms that are designed to keep the trailer upright in case the bike tips over. They also keep the trailer level when turning around tight corners.
Safety
Safety is a big concern for many parents when considering which bike trailer to get. More expensive bike trailers usually come with more safety features that will make you and your kids/pets safe.
Some of the most common safety features include:
Reflectors
Rear lights
A Flag
Harnesses
A Twisting/rotating hitch arm
A Roll cage
UV protection
Weather and Trail protection
Very few best bike trailers for kids will have all of these safety features. However, the more the merrier. Consider which ones are the most important for you depending on where you will ride and what type of riding you want to do.
Related: Best Bike Lights
Features
The amount of money you plan to spend on a pull-behind trailer will determine which features you will get and which you will have to do without. Basically, you get what you pay for.
Some features that you can expect to see out there include: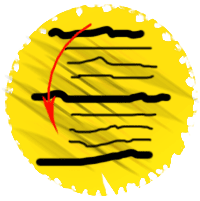 Lock. A mechanism that locks the front wheels and prevents them from swiveling, which makes the trailer stable when jogging.
Suspension. The suspension will make the ride more comfortable and the trailer more stable when turning.
Front wheels. If you plan to jog or walk with the trailer, consider getting a model with one or two front wheels.
Removable inner. This feature makes it easy to remove the inner parts to clean them or repurpose the trailer.
Do you plan to carry only kids or pets and camping gear? Then consider getting a trailer with plenty of room for cargo.
Reclinable seats
Baby inserts
Waterproof zippers
Rubber floor mats
…and the list goes on and on. Some of these features might be necessary for you, others might be overkill. Make a list of the ones you need before choosing which trailer to get to ensure you get the most bang for your buck.
FAQ
Where To Buy?