Hamax Outback is a versatile and spacious bike trailer that is a dream come true for active parents who are looking for maximum functionality but don't want to sacrifice style to get it. The Outback is comfortable, practical, and brimming over with safety features that protect both you and your littlest passengers.
Hamax Outback is part of our Best Bike Trailers review
If you're looking for an affordable yet thoroughly thought out bike trailer that will meet a variety of your daily needs, Hamax Outback should definitely be a serious consideration. It is one of the most spacious trailers on the market, available in both single and double iterations.
Hamax Outback can be used as a bike trailer, stroller, jogger, and for skiing. Therefore, it is an ideal purchase for parents who enjoy being active throughout the day, no matter the season.
Apart from being practical, the Outback is also sophisticated and extremely good-looking. A combination that is hard to come by on the bike trailer market.
Read the rest of our review to learn all the details!
Full Specs:
| Model | Weight | Brakes | Suspension | Max Capacity | Tires | Interior Dimensions | Included Accessories | UV windows |
| --- | --- | --- | --- | --- | --- | --- | --- | --- |
| Single | 43.9 lbs | Foot brake (Standard), Handbrake (Jogging Kit) | Yes (Adjustable) | 74,8 lbs | 20" | Height 25.6″, Width 13″ | 1-wheel strolling kit | Yes |
| Double | 51.1 lbs | Foot brake (Standard), Handbrake (Jogging Kit) | Yes (Adjustable) | 88 lbs | 20" | Height 25.6″, Width 23.6" | 1-wheel strolling kit | Yes |
Best Features: Adjustable suspension, sleek design, five-point harness, comfy seat pads, water-resistant, four conversion kits
Conversion Styles: Biking, Strolling, Jogging, Skiing
Included in the Box: Trailer, User's Manual, Tow Bar with Hitch, 1-Wheel Stroller Kit, 2 Wheels, Safety Flag
Who Is Hamax Outback Bike Trailer For?
---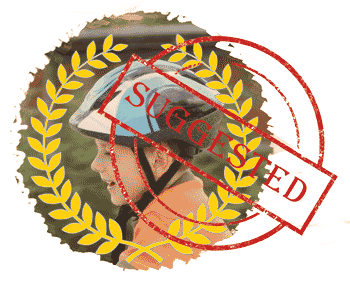 Hamax Outback is a bike trailer with layers upon layers of functionalities. It's
highly customizable
, which makes it suitable for almost all parents out there. If you are a parent who likes practicing different sports and you want to have your kids by your side, you'll definitely find lots of value in the Outback.
Hamax Outback is available as a single and a double trailer and fits kids as young as 6 months and as old as 5-6 years.
On the other hand, even if you just want to use this trailer when biking and taking occasional strolls, there are plenty of reasons to get it. It combines Scandinavian safety features with modern lines, quality materials, and an unmatched sleek look.
The features that we like the most and that you'll find the most value in include reclinable seats, adjustable handlebar and suspension, several different covers, plush seating, huge cockpit, and lots of useful upgrades.
Detailed Review of Hamax Outback Bike Trailer
---
If you like what you learned so far, but you still have some unanswered questions about the Hamax Outback bike trailer, keep reading our detailed review below. We'll tell you everything you need to know about all the individual features and teach you how to use them!
Wheels | Brakes | Suspension
---
Capable 20″ Wheels
Hamax Outback rolls on strong and durable 20″ wheels with extra thick Big Apple tires. The tires are sleek, which makes them excellent for paved surfaces and urban areas. However, since they are quite wide, this bike trailer can tackle some dirt roads as well.
Hamax Outback's wide Big Apple tires ensure a comfortable ride on paved surfaces, bike paths, cobblestones, and even dirt roads.
Outback's wheels come with a quick-release mechanism which makes them super-easy to remove. All you need to do is press the button in the center of the axle and they'll simply pop out. This is necessary to do when folding the trailer or installing the Ski Kit.
Parking Brake and Handbrake
When you come to a stop, a heavy-duty foot brake will lock the rear wheels in place and prevent the Hamax Outback bike trailer to move at all. It is engaged easily with your foot by pressing a lever located at the bottom of the trailer's rear end.
If you like jogging or speedwalking and you decide to upgrade to a Jogging Kit, you'll get a handbrake in the package as well. This is a feature that not many other trailers have. It is easily mounted on the handlebar and engages a powerful disc brake fitted on the jogging wheel. It literally stops the trailer on a dime.
Adjustable Suspension
Part of the reason why Hamax Outback is one of the most comfortable bike trailers on the market, in our opinion, is that it comes with plush and adjustable suspension. You can easily change the amount of tension is the spring with a handy mechanism located next to it.
The suspension does a great job of eliminating vibrations and smoothing out bumps in the road. It works exceptionally well especially when the trailer is packed to the brim with two kids and additional cargo.
Exterior and Covers
---
Modern, Aerodynamic Design
We developed a liking towards Hamax Outback from the first time we saw it due to its modern and even futuristic design. Its aerodynamic shape makes it fast and efficient on the road, but kids will love it as well as it resembles a superhero's vehicle.
The trailer is available in four attractive colors: grey, red, navy, and charcoal. We recommend letting your kids pick the color as that will make it a lot easier for you to negotiate a ride or a jog with them in the future.
Adjustable Handlebar
An adjustable handlebar is a crucial feature that makes Hamax Outback suitable for both very short and very tall parents. The handlebar has a wide range of positions and can be locked and unlocked with a simple switch of a lever. We also like that it is wrapped in thick padding, so you won't develop blisters or sore hands even if you go on long walks or jogs.
Roomy Mesh Door
The Outback is equipped with a pretty standard mesh door seen on all other bike trailers as well. It provides excellent protection against bugs, pebbles, and dirt, and kids can still fairly easily see through it.
It is opened and closed using a strong zipper and several Velcro straps. The mesh door can be taken off completely, which is excellent if you want to wash it after some time or use the trailer to transport cargo. If you don't want to take it off, you can simply roll it up when you're not using it.
Foldable Rain Cover
The rain cover is made of see-through plastic and zips on top of the mesh door. The zippers are waterproof as well, so there is no chance that any rain will enter the cockpit, no matter how hard it pours. When not in use, the rain cover can simply be folded up and put out of sight. If you wish, you can also remove it completely to wash it or replace it.
Sunscreen
The sunscreen can be used in conjunction with the mesh door or rain cover, depending on the weather conditions. It is attached to the front of the trailer with Velcro and is rolled up when not in use.
In most cases, Outback's sunscreen provides excellent protection against the strong sun. However, during strong winds, the Velcros can come undone and the sunscreen is not height adjustable — it only protects the upper half of the trailer.
Front and Rear Reflectors
One of Hamax Outback's main safety features is its front and rear reflectors. These significantly improve your visibility, especially if you are riding in foggy or cloudy weather, or at night. To be even more visible at all times, we recommend installing some front and rear lights or blinkers as well.
The Big Apple tires also feature reflective stripes on the sidewalls, which shine bright and make the trailer easy to spot when cars approach from the sides.
UV Windows
This bike trailer provides strong protection against the sun thanks to UV-protected top and side windows. The windows are really wide and provide excellent views for the kids who can enjoy the scenery along the way.
Hamax Outback provides excellent UV and rain protection which makes it suitable for all types of weather conditions.
Interior Space and Weight Capacity
---
Cockpit Dimensions
Hamax Outback is an excellent trailer for two bigger kids as it has one of the most spacious cockpits on the market. As we've mentioned, there are two versions — single and double, both of which are quite large.
Check out the detailed dimensions in the image below.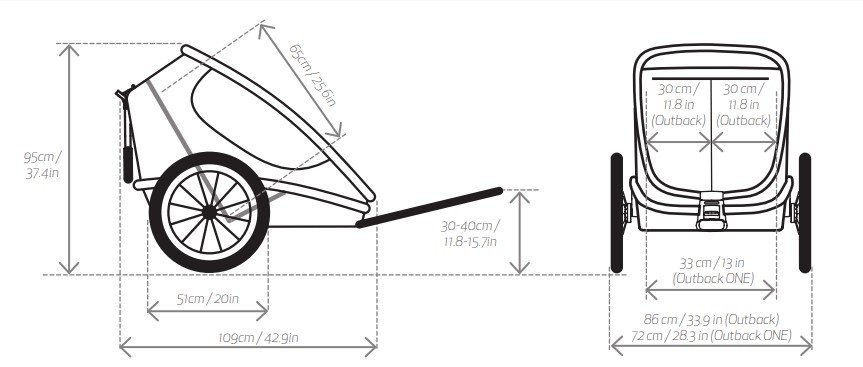 Both single and double versions of the Outback fit children that are no more than 3,83 ft (117 cm) tall. In practice, this means that you can ride children that are 5-6 years of age, sometimes even older depending on how tall they are.
Trailer Weight and Weight Capacity
Hamax Outback is a pretty lightweight bike trailer considering how big and bulky it is. It also has a decent maximum load capacity, which means that it can carry a lot of cargo along with the children.
Check out the table below to find out all the numbers and limits:
| | | |
| --- | --- | --- |
| | Hamax Outback Single | |
| Trailer Weight | 43.9 lbs | 51.1 lbs |
| Maximum Load Capacity | 34 kg / 74,8 lb | 40 kg / 88 lb |
| Maximum Child Weight | 22 kg / 48,5 lb | 22 kg / 48,5 lb (each) |
Large Cargo Area
Apart from the large passenger area, Hamax Outback also has an excellent cargo area that can haul a lot of stuff. It can be accessed from behind, by rolling up the top cover and unzipping the lower cover. This makes the opening quite large, so you can easily store bulky items.
Hamax Outback comes with a huge cargo area that can be used to carry basketballs, toys, shoes, helmets, backpacks, and even an entire kids' balance bike.
The top cover features a see-through plastic sheet that makes it possible to see into the cabin at all times. This way, you can communicate with your kids and be able to see what they are doing at all times. This can come in handy if your kids are mischievous.
Roomy and Open Cabin
As you could conclude by looking at the dimensions of the trailer above, Hamax Outback's cabin is quite roomy and provides a lot of shoulder space for the children inside. The cockpit is also open and well-ventilated so fresh air can freely pass through the trailer.
Due to this, kids will not feel cramped or contained inside and they'll be able to enjoy the ride a lot more.
Seats and Trailer Bottom
---
Bench-Style Reclinable Seats
Hamax Outback features bench-style seats, which is always a big plus. They have many advantages over hammock-style seats seen in some other bike trailers in a similar price range. These seats provide excellent support for kids and don't sag and bounce when you ride over bumps.
As of recently, the seats are reclinable, which was not possible with the older version of the trailer. Kids can sit upright and see everything that's happening around them, or they can kick back and take a nap.
Rubber Trailer Bottom
The rubber bottom is an extremely important feature for most parents as it makes it easy to keep the trailer clean. If your kids are anything like most others, they'll get the bottom of the trailer dirty pretty easily with snacks, dirty shoes, and spilled liquids. To clean it, just wipe it with a wet cloth and you're done.
5-Point Harness System
The adjustable 5-point harness system found in Hamax Outback is pretty much a standard feature nowadays. It provides phenomenal support for kids and keeps them safe in case of a crash or a rollover. The straps are padded with soft foam, so they feel very comfortable against the body.
Folding
---
Hamax Outback has a clever folding mechanism that takes some getting used to. You might find it a bit challenging at first, but you'll get used to it after a bit of practicing.
To fold the trailer, you first need to unlock the handlebar and drop it to the lowest position. After that, you need to press the two buttons next to the handlebar and pull on two straps right next to them at the same time. This can be a bit tricky, but you'll get better at it.
When the trailer structure collapses on itself, just take off the wheels and store the Outback somewhere in your room, garage, or the trunk.
Hitching
---
Hamax Outback hitches via your bike's rear axle. A special adapter is installed on the rear axle once and can remain there at all times. Then, you can quickly attach the tow arm to it with a safety pin and a backup safety strap. All of this takes very little time to do and is very easy to accomplish.
Conversion Kits
---
Strolling
Hamax Outback comes with a one-wheel strolling kit that transforms this bike trailer into a spacious stroller for your kids. To install the strolling wheel, just remove the tow arm with a simple quick-release mechanism and put the wheel in place.
The strolling kit works excellently, rotates 360 degrees, and has a decent diameter which makes it simple to push the Outback even when the terrain is not perfectly flat.
Jogging
The jogging kit is not included in the original packaging, but you can purchase it for $129. This wheel is fixed, which means that it cannot turn left or right. The diameter is 16″ and the tire is quite wide, so you can use it jogging on paved and unpaved surfaces.
Parents who enjoy jogging on the regular will love the wide a stable Hamax Outback's Jogger Wheel with a mechanical disc brake.
The jogger, as we've mentioned above, comes with a handbrake that attaches to the handlebar and operates a mechanical disc brake fitted on the jogger wheel.
Ski Kit
The Ski Kit costs $349, which seems steep, but it is worth the money if you live in an area with a lot of snow or you love going on winter vacations.
This kit consists of two skis that mount instead of the rear wheels, two tow bars, and a hip and shoulder strapping system. That's a plus, as many other Ski Kits attach only to the hips, which could be uncomfortable after prolonged use.
Why Getting Hamax Outback Is a Good Investment
---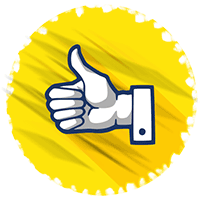 Hamax Outback offers
very good value for money
. It's far from the most expensive bike trailer on the market, and it still has all of the premium features you can think of. If you are an active parent with small children, you will be able to use it daily for different activities for years to come.
These are the main reasons why we recommend it:
Attractive Design. The designers working at Hamax have put a lot of thought into Outback's appearance. This bike trailer is modern, aerodynamic, and has really attractive colors.
Roomy Cockpit. Hamax Outback has one of the most spacious cockpits compared to other similar bike trailers you can buy. It fits one or two kids comfortably, along with plenty of additional cargo.
Footbrake and Handbrake. The standard version of the Outback comes with a footbrake that serves as a parking brake. If you purchase the Jogging Kit, you'll get a mechanical disc handbrake as well.
Adjustable Suspension. The adjustable suspension makes it possible to ride this bike trailer on unpaved roads and very bumpy terrain. The kids inside will not feel a thing.
Bench-Style Seats. Compared to hammock-style seats, bench-style seats provide much better support, are much more comfortable, and last for much longer.
Four Conversion Kits. Use Hamax Outback as a bike trailer, stroller, jogger, or when going on ski trips.
Lots of Safety Features. Most importantly, the Outback ensures safety for you and your kids. Some safety features include a 5-point harness system, roll bars, reflectors and reflective materials, parking brake, and more.
Recommendation for Upgrades
---
If you find that some functionalities are lacking on the Hamax Outback bike trailer, you can simply upgrade with one of the numerous available accessories. Here are the ones we recommend and think are the most useful.
Baby Insert
With Hamax's baby insert accessory, even children younger than the age of 1 can join the adventure. You can install it on top of the original seat in the outback in a few easy steps. Remember that kids younger than the age of 1 can only be taken on strolls or very slow jogs. The reason is that they can't wear helmets and their bodies are not sufficiently developed to endure bumpy bike rides.
Neck Cushion
A neck cushion is a fantastic accessory if your kid likes taking a lot of naps on your strolls, jogs, or rides. It wraps around their neck and prevents the head from dropping to the side. With this addition, they'll have a comfortable sleep while you run errands or finish a workout.
Bike Seat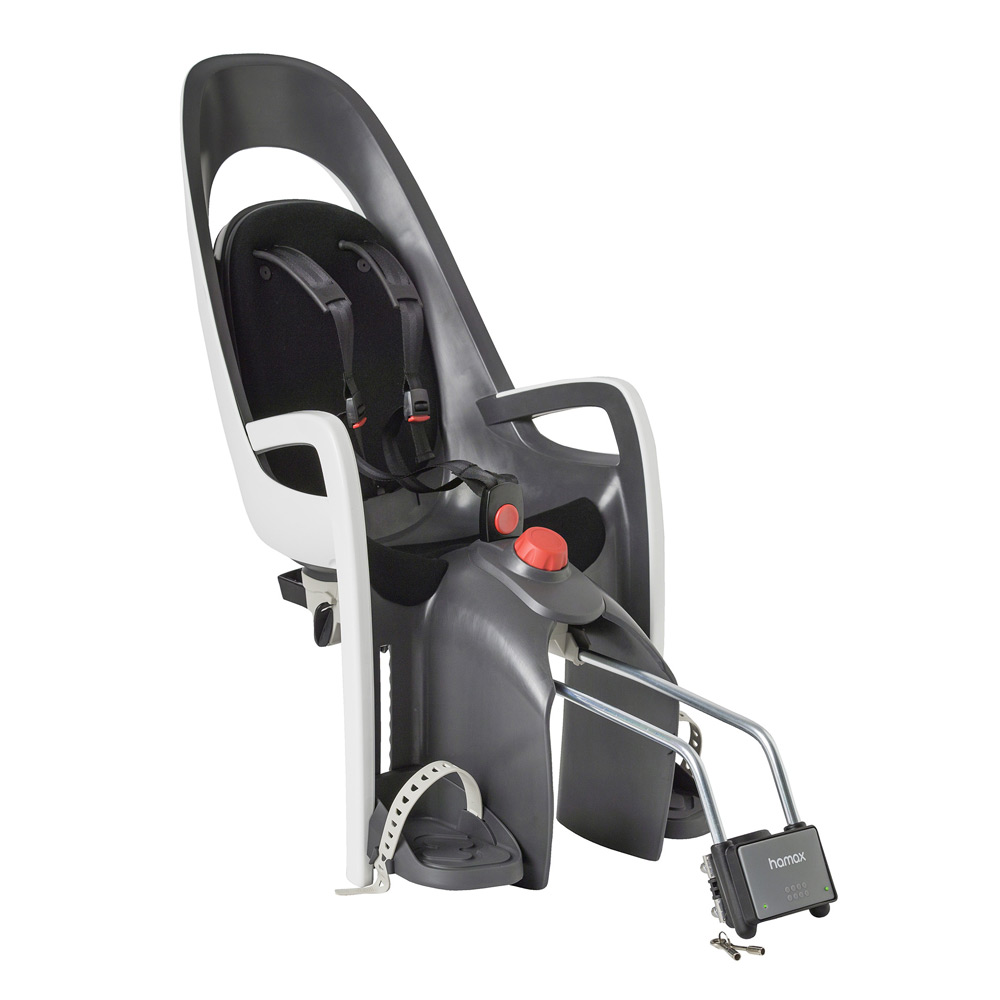 If you have more than two kids, then the Hamax Outback Double will not do it for you. In that case, we recommend investing in a bike seat that you can attach to your bike and take your third child on rides and adventures as well.
FAQ
---
Bottom Line
---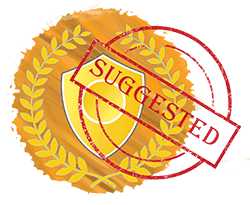 All in all, what's left to say is that we believe you will not be making a mistake if you get Hamax Outback for your family. It is a
long-term investment
as this bike trailer is suitable for kids between 6 months and 5-6 years of age. Even after that, you can use it to transport cargo or pets.
Hamax Outback is one of the roomiest bike trailers around, as well as one of the best-looking.
We appreciate all the functionalities it comes with, especially the adjustable suspension, parking brake, massive storage area, and thick wheels.
If you're on a quest to find a trailer to support your active life and follow you on bike trips, strolls, jogs, and skiing vacations, Hamax Outback should easily make the cut.