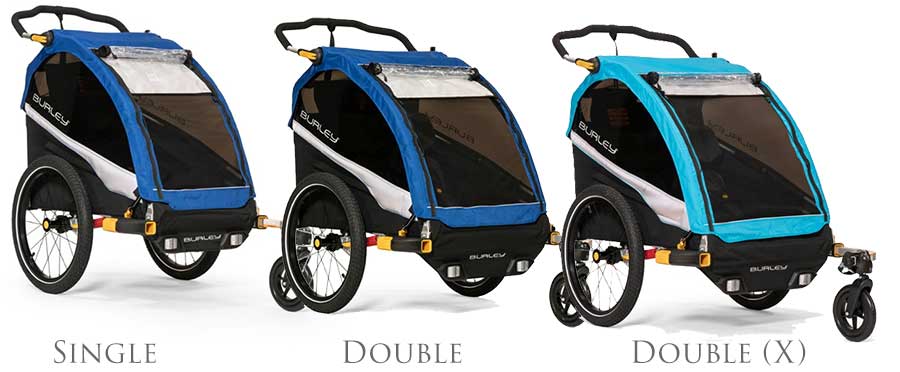 This trailer is part of our Best Bike Trailers roundup.
Burley D'Lite is a premium bike trailer that will provide your kids with a comfortable, smooth, and luxurious experience and enable you to cycle, walk, jog, and ski. The Burley D'Lite boasts reclining seats, adjustable suspension, high-quality materials, and a lot more features that make it a phenomenal buy.
Burley D'Lite is a line of single/double high-end bike trailers intended for active parents with one or two kids, who want the freedom to practice multiple sports and take their children along.
If you are not willing to give up on your adventurous side now that you are a parent, you should read our detailed review of Burley D'Lite Single, Double, and D'Lite X. We'll tell you all need to know and answer the question of whether or not this is a good buy for you.
Full Specs:
| Model | Weight | Brakes | Suspension | Max Capacity | Tires | Interior Dimensions | Included Accessories | UV windows |
| --- | --- | --- | --- | --- | --- | --- | --- | --- |
| Single | 27 lbs | Foot Brake | Yes | 75 lbs | 20" | 24" Height, 18.5" Width | 1-wheel strolling kit | Yes |
| Double | 29.3 lbs | Foot brake | Yes | 100 lbs | 20" | 24" Height, 22.5 Width | 1-wheel strolling kit | Yes |
| D'Lite X | 29.3 lbs | Foot brake | Yes | 100 lbs | 20" | 24" Height, 22.5 Width | 1-wheel strolling kit | Yes |
Best Features: 3-position recline seats, adjustable suspension, premium seat pads, roll cage, water-resistant, safety flag
Conversion Styles: Biking, Strolling, Jogging, Skiing
Included in the Box:
Trailer
User's Manual
Tow Bar with Hitch
1-Wheel Stroller Kit
2 Wheels
2 Quick Receivers
Safety Flag
Who Is Burley D'Lite Bike Trailer For?
---
Burley D'Lite is a bike trailer best suited for active parents who are willing to spend slightly more money to get a large number of premium features. If you are used to going for bike rides, long walks, jogs, and skiing trips in the snow, this bike trailer should be at the very top of your consideration list. It easily fits kids between the ages of 1 and 5, so it can be used for years to come.
Burley D'Lite does everything equally well because it was built with precision, quality, and performance in mind.
D'Lite performs seamlessly when attached to a bike — it's lightweight, pulls smoothly, and the adjustable suspension ensures a comfortable experience for the passengers. It works beautifully as a stroller and jogger as well, thanks to its 20″ wheels, adjustable handlebar, and easy-to-mount conversion kits.
Detailed Review of Burley D'Lite Bike Trailers
---
Below, we'll proceed to tell you everything there is to know about the three Burley D'Lite models:
Burley D'Lite Single
Burley D'Lite Double
and the Burley D'Lite X Double
We'll discuss the exterior, the interior, mechanics, dimensions, features, additional accessories, and much more. If you are in the market for the best bike trailer, make sure to spare 5 minutes and read until the end.
Burley D'Lite Double vs Burley D'Lite X
These two iterations of this bike trailer are pretty much the same. The only major difference is the individually reclining seats that you get with Burley D'Lite X. Burley D'Lite Single and Double also feature reclining seats, but they cannot be individually adjusted.
If you don't mind spending a bit more money, this is actually a great feature to have. It gives your kids the freedom of choice, which means you get some peace of mind of not having to make compromises and deal with consequential meltdowns.
This is also a great option to increase the shoulder room of the trailer and take two bigger kids for a ride, who would instead feel cramped if they were sitting at the same level.
Wheels | Brakes | Suspension
---
Wheels
All three D'Lite models feature strong and efficient 20″ wheels that roll on treaded air tires. The sides feature a reflective strip that significantly improves the trailer's visibility at night, especially when cars and other vehicles approach you from the side.
The tires are 2.125″ wide, which is wider than on most comparable trailers made by competition. That makes Burley D'Lite a decent performer on different types of terrain, including pavement, gravel, and dirt.
If you plan to stick to paved surfaces, then this is not such an important feature for you — any tire will do. However, if you plan to stray off the beaten path on the regular, you will benefit by upgrading to Burley's gravel-specific 16″+ fat tires.
Parking Brake
Burley D'Lite comes with a heavy-duty parking brake engaged with your foot. Its handle is located at the very bottom rear of the trailer and all you need to do is swipe it from left to right. The design is very practical and accessible, so you can do it easily and quickly.
D'Lite trailers have excellent rolling properties, so it's advisable to engage the parking brake whenever you leave the trailer unattended, even if the surface appears to be completely flat. From my experience, even a strong gust of wind can send D'Lite on the go.
Suspension
All Burley D'Lite bike trailers feature adjustable suspension attached to the rear wheels. It makes the ride so much more comfortable for the kids inside and makes your life easier since the trailer rolls more efficiently on uneven ground. The suspension has five different settings, which you can easily switch between using a yellow lever located right next to the spring.
Adjustable suspension on Burley D'Lite is a lifesaver if you frequently switch between one and two kids or often change the amount of cargo you carry along.
Exterior and Covers
---
Overall Design
Burley D'Lite features a round and roomy design that's very efficient. Compared to some other popular trailers, such as Thule Chariot, D'Lite does not seem as aerodynamic. However, that's not actually a big issue in the real world, as most parents usually don't ride too fast with their kids in the back.
The rounded design provides a spacious feel, so kids won't feel cramped. The only issue with it is that the bottom is quite high from the ground, so very small children might have a hard time climbing in on their own. That's nothing a tiny push from a parent can't solve.
Overall, we love the modern design and mellow blue colors.
Handlebar
Burley D'Lite is a pretty tall trailer, which is excellent when it comes to providing as much room as possible for the passengers inside. Luckily, the adjustable handlebar stops this from being a problem when using D'Lite with a strolling, jogging, or skiing kit. The handlebar can be lifted almost vertically to the trailer or dropped to the horizontal position, which means parents of all heights will have no problems finding a comfortable setup.
When in bike mode, you can roll the handlebar completely forward to keep it out of the way of branches and other obstacles along the way. This doubles up as an additional roll-bar in the event of a crash.
Reflections
Burley D'Lite has smartly positioned reflectors on the front and the rear of the trailer, which significantly improves visibility at night. Thoughtfully positioned reflective panels on the sides ensure visibility from all angles, along with the reflective strips found on the tires.
Exterior Covers
Burley D'Lite features a rich and practical exterior with several different covers that can be rolled up on down, depending on the weather conditions.
Mesh Door
The front of the trailer is a combination of mesh and canvas. The middle portion is mesh whereas the sides are made from heavy-duty canvas. The front door features a zipped which secures it safely in place and prevents any bugs, flies, or pebbles to end up in the cockpit.
When getting the kids in the trailer, you can lift the entire front of the trailer which makes your job easy. The front is also secured in place with two velcro connections at the top and small metal hooks at the bottom. There's no chance it will come undone unless you want it to.
Rain Cover
The rain cover on Burley D'Lite cannot be taken off and left at home. That's great since you will never forget it or end up surprised by a sudden downpour. When you're not using it, you can roll it and secure it at the top of the front door, where it will sit completely out of sight.
The rain cover comes with a waterproof zipper, so you may rest assured that no water will enter the cockpit. The rear portion of the trailer has a rain cover as well, so your cargo will remain dry at all times as well.
Sunshade
The Sunshade on D'Lite is also a permanent fixture. It cannot be removed, but it can be easily lifted up or down by pulling on strings found on the sides of the front door. The cover can be lowered anywhere along the front door, depending on the direction of the sun. The sunshade is not too wide, but it's wide enough to protect most of the cockpit if positioned properly.
UV Windows
In addition to the sunshade, Burley D'Lite also features tinted windows that provide UV protection. This is a huge plus if you plan to ride in the summer. On top of that, Burley's windows are quite wide and long, so they provide excellent views for the kids inside. They won't miss anything that's happening outside.
Interior Space and Weight Capacity
---
Dimensions
Burley D'Lite is one of the most spacious bike trailers on the market, no matter if we are talking about the Single or the Double model. One kid will feel like royalty in both the single and the double trailer, whereas two kids will feel snug but comfortable in the double version.
The dimensions are as follows:
| | | |
| --- | --- | --- |
| | | Burley D'Lite Double & D'Lite X |
| Interior Seated Height (in/cm): | 24 / 60.9 | 24 / 60.9 |
| Interior Seat Width (in/cm): | 18.5 / 47 | 22.5 / 57.2 |
| Interior Shoulder Width (in/cm): | 22 / 55.8 | 26 / 66.1 |
| Seated Leg Room (in/cm): | 21.5 / 54.61 | 21.5 / 54.61 |
One of the main benefits of Burley D'Lite trailers is that the sides are bowed out, which provides a lot of shoulder room, even for older children. Thanks to individually reclining seats, D'Lite X allows you to create even more room inside by reclining only one kid slightly.
The recommended maximum child's height is 41.25″ without a helmet, but some users report that they've had even slightly taller children ride without any issues. However, in these situations, legroom could become a problem.
Weight Capacity
The Single version of the D'Lite trailer has a 75 lb. maximum capacity, including both passengers and cargo. The child's maximum weight should be 40 lb. whereas the other 35 lb. can be used for cargo. However, experience shows that even 50 lb. children can ride safely and comfortably.
The Double version's maximum capacity is 100 lb. That means that two children of 40 lb. each can ride in the trailer, with 20 lb. remaining for cargo. However, according to Burley's customer support, you can do a 50/30 lb. split as well. In this case, place the heavier child on the right side of the trailer. The same goes if you ride just one child in a double trailer — always put them on the right.
Storage Compartment
Burley D'Lite's storage compartment is truly impressive. It has a flat bottom and large opening, so you'll easily access it and add or remove bulky items. It's suitable for carrying scooters, balls, helmets, food, clothes, and anything else you need.
The storage compartment has a mesh cover that provides good ventilation and protects the items inside. As we've already mentioned, it features a rain cover as well.
The storage compartment can also be accessed from the cockpit, around the side of the seat support. In practice, larger kids could throw their jackets or toys in the storage are if they want to.
Cup Holders
This might sound like an unimportant detail, but Burley D'Lite features mesh cup holders on either side of the cockpit. Your kid can use them to store a sippy cup at hand's reach, or you can put some snacks in there for them. You'll be happy that it's there if you need to negotiate with your kids to be patient for a bit more until the end of the ride.
Ventilation
Burley D'Lite provides excellent ventilation properties, so your children will be nice and cool inside even if it's very hot outside. The large mesh front door allows plenty of air to enter the trailer, which can then exit through the back, via the cargo opening. If you want to reduce ventilation, you can lower the rain cover on the front and back and keep your kids snug and warm.
Seats and Trailer Bottom
---
Bench-Style Padded Seats
All three Burley D'Lite trailers feature hammock-style seats with plenty of padding. They're incredibly comfortable and provide plenty of support mid-ride. These seats come with premium padding which provides super-cushioning. These cushions include a headrest as well and can be removed to be washed.
The headrest is really useful, but it can be a nuisance as well for kids that don't have flat-back helmets.
Independent Recline
D'Lite Double and Single models feature reclining seats that can be adjusted in three positions. Your kids can sit upright and watch what's happening or they can take a cozy nap.
The main reason why D'Lite X is more expensive than the standard model is that it comes with independently reclining seats. Meaning that you can recline one seat and leave the other upright, and vice versa. It's worth the additional small investment.
Harness System
---
Burley D'Lite has a 5-point harness system that is considered to be a standard in the industry. The buckles are heavy-duty, but they are cushioned so they feel quite comfortable.
Note that older kids can easily figure out how to unbuckle themselves, so make sure to talk to them about the importance of keeping the harness on before going for a ride.
Folding
---
The Burley D'Lite trailer folds down easily and compactly in two easy steps. All you need to do is unhook one of the two frame tubes from the pair of yellow release latches and let the trailer fold down on its own.
To fold the trailer completely, you also need to remove the wheels. This is done in a matter of seconds by pressing the yellow button in the middle of the axle. With a little bit of practice, you can fold the trailer and store it in much less than a minute.
The folded dimensions are:
| | | |
| --- | --- | --- |
| | | Burley D'Lite Double & D'Lite X |
| Length | 36″ | 37″ |
| Width | 27.5″ | 31.3″ |
| Height | 15″ | 14.3″ |
Hitching
---
This trailer hitches easily via the bike's rear axle. All you need to do is attach the special adapter to the rear axle once and then quickly attach/detach the tow arm to it.
Burley D'Lite attaches/detaches to and from your bike in a matter of seconds thanks to a smart and easy-to-use hitching mechanism.
You can do this by pushing a safety pin through a cylindrical joint and then secure it at the bottom of the socket with a retaining pin. For additional safety, there's an additional nylon strap that you can wrap around your frame and secure it to the tow arm.
Conversion Kits
---
1-Wheel Stroller
All three Burley D'Lite trailers come with a 1-Wheel Stroller wheel as a standard. It is permanently attached to the tow arm and cannot be removed. When you're in trailer mode and you don't want to use it, you can simply fold it up and out of the way. It takes about a second to do it.
The wheel is adjustable, so you can choose how far in front of the trailer you want it to be. This is a really handy feature. The trailer rolls beautifully smooth in 1-Wheel Stroller mode, so if you plan to go on frequent or even occasional walks with your kids, you'll find the experience to be really enjoyable.
2-Wheel Stroller
For an additional $100, you can upgrade your Burley D'Lite trailer to a 2-Wheel Stroller. Technically, it's a 4-Wheel Stroller, but you're paying to have two wheels at the front.
In this case, you'd have to remove the tow arm and insert the wheels into the quick receivers. The conversion is done in less than 30 seconds. When you're not using them, you can simply tuck them away in the rear storage compartment until you need them the next time.
Jogger
If you are an active type and you're willing to spare another $150, you can get the Jogger Kit. It consists of a single 16″ jogger wheel that attaches to the quick receivers at the front of the trailer. The wheel is quite wide, so you'll be capable of going for jogs in parks and on gravel and dirt roads.
The Jogger Kit is an excellent addition to expand the capabilities of your D'Lite trailer, be more active, and ultimately have more fun.
The newest version of the jogger wheel features tracking adjustment, which allows you to fine-tune the orientation of the front wheel. It's a great addition that greatly improves handling at high speeds.
Ski Kit
If you enjoy skiing and snow sports in general, you'll love Burley's Ski Kit. It consists of two skis that attach to the axles instead of the wheels and tow bars with a padded hip harness. The hip harness comes with multiple adjustment straps, so you can easily find the perfect fit.
The installation of the Ski Kit is a piece of cake. Check out the instructional video below.
Why Getting Burley D'Lite Is a Good Investment
---
Getting a premium bike trailer such as Burley D'Lite might seem like a pricey investment at first. However, this bike trailer proves to be worth every cent after you put its features to good use.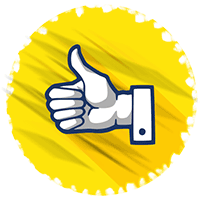 Here are some of the main reasons why we believe getting Burley D'Lite is a solid idea:
High-quality build: Burley D'Lite is made with premium materials made to last for much longer than you'll actually be using it. Even after years of regular use, you should not expect seams to come undone, parts to fall off, or canvases to rip in half.
Attractive design: This bike trailer looks very modern, which will matter to a lot of parents out there.
Smooth ride: D'Lite rides ridiculously smoothly no matter if you're in the trailer, stroller, or jogger mode. The wheels are wide and comfortable, the seats have plenty of thick padding, and the suspension does a fantastic job of eliminating vibrations and jittering.
Comfortable experience: Everything on this bike trailer is made with the intention of guaranteeing comfort for both parents and children.
Versatile: Burley D'Lite is an extremely versatile trailer. Thanks to several conversion kits, it serves the purpose of a bike trailer, jogger, stroller, ski trailer, and even a trailer for snow, sand, and gravel.
Easy to use: Even if you've never owned or seen a bike trailer before, you'll have no problems figuring how things work on Burley D'Lite. All the features are easy to use, and you're usually just a press of a button away from them.
Plenty of safety features: When it comes to cycling in any form, safety comes first. It's good to know that Burley D'Lite is jam-packed with numerous safety features, such as reflective materials, a five-point harness system, brakes, roll cage, and much more.
Recommendation for Upgrades
---
Burley D'Lite bike trailer is jam-packed with useful features and clever technological solutions. However, if you need additional specific functionality that the stock version does not come with, you can easily add it by purchasing an upgrade.
Here are the best ones we recommend.
16+ Wheel Kit
The 16+ Wheel Kit includes two 16 x 3″ wheels that make your Burley bike trailer ideal for snow, sand, and off-roading. These wide wheels offer a lot more stability and grip and are very easily installed on the trailer.
The wheels in this kit are quite knobby, so nothing can stop you from going out for a stroll, a jog, or a bike ride. If you own a fat bike, this is an ideal upgrade to have.
Baby Snuggler
The Baby Snuggler is a special seat designed to keep your youngest children safe and snug when going for strolls and jogs. It features thick side padding for support and comfort, and it's made from very soft and pleasant materials. Special lumbar support will protect your child's developing spine.
Baby Snuggler should only be used for strolling and jogging. Children younger than 12 months should not be towed behind the bicycle as they cannot wear a helmet. The approximate weight restriction is 15-21 lbs.
Light Kit
You can never be too visible when going for a stroll, jog, or bike ride with your youngest family members. Therefore, if you want to make sure everybody sees you, you can get Burley's light kit for an additional $20.
This is a water-resistant light that attaches to your trailer with a clip in a matter of seconds. It can be used in 4 modes (constant, flashing, chasing, random) and uses 2 AAA batteries which are included in the package.
Handlebar Console
Last but not least (and possibly our favorite) is the Handlebar Console accessory upgrade. This is a special bag that attaches to the handlebar that lets you carry additional stuff at hands reach. It's the perfect place to store your keys, smartphone, wallet, water bottle, coffee, and anything else you need to use frequently.
The Handlebar Console features two cup holders, a large center compartment, magnetic lid closure, and more. It attaches using two heavy-duty velcro scraps, and it's compatible with both double and single Burley D'Lite bike trailers.
FAQ
---
Bottom Line
---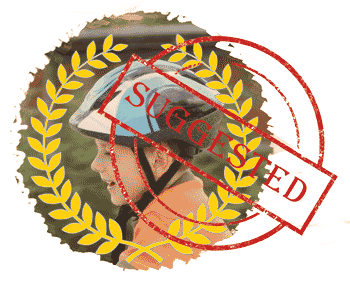 Burley D'Lite has everything you'd expect from a
high-end bicycle trailer
. This is a thoughtfully designed premium product that caters to most parents' daily transportation needs. Apart from meeting parents' needs, it also provides comfort, safety, and fun for the passengers inside thanks to the spacious cockpit, comfortable seating, rain and wind protection, lots of pockets, and plenty of safety features.
If you're willing to spend a bit more to get all the functionalities you'll ever need from a bike trailer, Burley D'Lite is an excellent purchase.
Moreover, it can be used as a bike trailer, stroller, jogger, and while skiing. The seats can be removed, so you can use it to transport cargo or pets even after your kids grow too big for it.
The attention to detail and small features is what really makes it stand out.
Pros
High-quality materials
Multi-sport compatible
Incredibly easy to use
Adjustable suspension and handlebar
Packed with safety features
Cons
Small kids might struggle to climb in on their own
The hitch does not rotate