Burley is one of the biggest bike trailer manufacturers with a mission to enable adventure and a vision to move people to pursue their passion for the outdoors. They make a budget and high-end trailers for parents and adventurers who are ready to brave the weather and explore more.
Burley
's strongest card is versatility.
No matter if you're a parent looking to take your child for a ride, a pet owner, a bike touring adventurer, or simply want to ride your car less, you'll find the right trailer in Burley's assortment.
Cyclists love Burley's bike trailers because the company follows numerous strict manufacturing standards that guarantee quality, reliability, and durability. Some of these include:
Chemical testing
Third-party testing
Full roll cage
Low center of gravity
Reflective materials
So what exactly does Burley have to offer and are Burley bike trailers worth the steep price? That's what we'll be discussing today, so spare a few minutes of your time to learn more below!
Burley Bike Trailers
Burley makes a wide assortment of bike trailers for different purposes and different types of cyclists. All of their products are organized into three main categories: Family, Cargo, and Pets, with numerous subcategories within those.
Depending on what you need and how high your budget is, you can get a bike trailer or a multi-sport trailer that can be used with a bicycle but that can also convert into a jogger or a stroller.
If you're not sure about the differences and can't decide exactly what you need, take a closer look at all the models below.
Minnow
MSRP: $280
Kits: Bike only
Seating: Single
Features: Five-point harness, 20″ wheels, spacious rear cargo, tinted side windows, helmet pockets, hammock seat…
The Burley Minnow bike trailer is the cheapest and the most basic trailer Burley makes. It is intended only for cycling and has one seat only, so it's a good option for parents with one child who only want to ride their bike.
Even though it is affordably priced, it lacks none of the essential safety and comfort features that are found on the more expensive models. It has a large cargo area, a full roll cage, it's water-resistant, and offers UV protection.
Even though you'll lack some more advanced features, such as reclining seats or suspension, it will get the job done and transport your little adventurer safely and comfortably anywhere.
Bee
MSRP: $330
Kits: Bike only
Seating: Double
Features: 20″ wheels, tinted side windows, hammock seats, internal pockets, recessed helmet pocket, water and UV protection…
The Burley Bee bike trailer is basically Minnow's big brother. These two bike trailers have many similarities, as both are only intended for cycling, feature affordable price tags, and have all the basic safety and comfort features.
However, the Burley Bee trailer is a double seater, so you can take one or two kids for a ride. The trailer rolls on wide 20″ wheels, so it can go on any terrain and offers excellent protection for the child inside and reasonable comfort with a hammock-style seat.
Honey Bee
MSRP: $430
Kits: Bike and stroll
Seating: Double
Features: 1-wheel stroller kit, adjustable ergonomic handlebar, 20″ wheels, parking brake, tinted side windows…
Burley Honey Bee bike trailer is the perfect solution for parents on a limited budget who want a 2 in 1 solution—a bike trailer that quickly converts into a stroller.
Honey Bee comes with a one-wheel stroller kit and an adjustable ergonomic handlebar which will make it easy to push the trailer around a park or off-road.
This Burley bike trailer has double seating for one or two kids and goes one step further in terms of safety as it comes with a hub-engaged parking brake.
Consider getting it if you don't limit yourself to only one activity but want to cycle and go for walks.
Encore
MSRP: $550
Kits: Biking, strolling, jogging, skiing
Seating: Double
Features: 20″ wheels, adjustable handlebar, rear window ventilation, parking brake, seat pads, sunshade, tinted side windows…
The Burley Encore bike trailer is neither the most expensive nor the cheapest model you can get. It sits right in the middle of the price range and offers an excellent balance between value and versatility.
The Encore kids bike trailer is designed for two kids and comes with a one-wheel stroller kit, so it can be used for biking or walking.
This trailer is reasonably priced, but it still comes with some advanced features, such as a height-adjustable handlebar that doubles as a roll bar, water-resistant covers and zippers, rear window ventilation, parking brake, and more.
Get it if you don't want to break the bank, but you want great value for your money and a bike trailer that gets the job done and lasts.
Encore X
MSRP: $600
Kits: Biking, Strolling, Jogging, Skiing
Seating: Double
Features: Suspension, parking brake, compatible with all conversion kits, 20″ wheels, water-resistant, detachable seats…
The Burley Encore X bike trailer is where your money starts buying you some proper comfort features. Encore X is the cheapest Burley's bike trailer with suspension, which will appeal to parents who like spending time off the beaten path.
The package includes a one-wheel strolling kit, but Encore X is compatible with all Burley's conversion kits, which makes it a multi-sport solution.
The seats inside are padded and detachable, meaning you can turn this bike trailer into a cargo trailer as well. Encore X also includes a water-resistant cover and zippers, rear window ventilation, a sunshade, and tinted windows, so kids are 100% safe from the elements while inside.
D'Lite
MSRP: $800
Kits: Biking, strolling, jogging, and skiing
Seating: Double
Features: Reclining seats, adjustable suspension, parking brake, premium seat pads, skid guard, bowed-out sides, detachable seats…
How important is your little passengers' comfort for you? If the answer is "very", then the Burley D'Lite bike trailer is the right choice for you. This is a pricey option, no doubt, but the steep price tag is justified with numerous advanced features.
The D'Lite bike trailer has 3-position reclining seats with premium seat pads and headrests that will keep sleepy riders comfy and supported even on long rides. It also has bowed-out sides for extra shoulder and elbow room.
Of course, this trailer also features adjustable suspension and a parking brake, alongside all other safety and comfort features found on all Burley trailers.
Burley D'Lite bike trailer is a double seater that can be used with all conversion kits, so it's a good choice for all-around active parents.
D'Lite (Single)
MSRP: $700
Kits: Biking, strolling, jogging, skiing
Seating: Single
Features: Adjustable suspension, reclining seats, parking brake, premium seat pads, full-length UV windows, detachable seats…
The Burley D'Lite Single bike trailer is essentially the same as the D'Lite trailer that we talked about above. The only difference is that this is a single-seater, ideal for parents with one child who don't plan on extending their family any time soon.
Other than that, Burley D'Lite Single is $100 cheaper than the double version but comes with all the safety and comfort features mentioned above. You'll get an adjustable suspension, reclining seats, premium pads, and all kit compatibility, to name a few.
Burley D'Lite Single bike trailer is a great choice if you want a compact single trailer that doubles as a cargo trailer in an instant.
D'Lite X
MSRP: $850
Kits: Biking, strolling, jogging, skiing
Seating: Double
Features: Independent reclining seats, adjustable suspension, premium 20″ wheels, parking brake, all kit compatibility, bowed-out sides…
Once again, the Burley D'Lite X bike trailer is almost the same as the basic D'Lite Double seater trailer. The reason it is $50 more expensive is that it comes with independently reclining seats. Think about how much drama that will prevent.
If your kids can't agree on whether they want to kick back and doze off or stay up and look around, then reclining seats come to the rescue.
Apart from that difference, all other features are the same ones you get with D'Lite Double and Single models.
Cub X
MSRP: $1,050
Kits: Biking, strolling, jogging, skiing
Seating: Double
Features: Independently reclining seats, adjustable suspension, hard plastic bottom for easy cleaning, premium seats, reflective panels…
The Burley Cub X bike trailer is the most expensive model Burley sells. It has ALL the bells and whistles you can imagine and wish for.
If your budget is high enough, the Cub X bike trailer will provide maximum practicality for you and maximum comfort for your kids.
It can be used will all conversion kits, as well as serve as a cargo trailer by detaching the seats. It comes with adjustable suspension, independently reclining seats, and premium seat pads.
The one feature you get here and nowhere else is the hard plastic bottom that provides added durability with drain holes for easy cleaning—especially handy if you have messy kids.
Cargo Trailers by Burley
---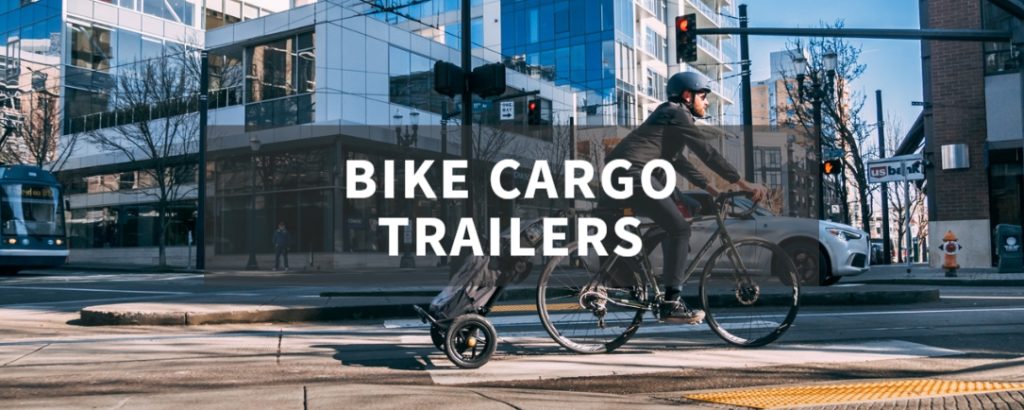 Apart from bicycle trailers for kids, you can also get Burley cargo trailers designed especially to haul weight behind the bike. They're made from durable quality materials and are built to perform and last.
Burley's cargo bike trailers are designed for everyday use or for touring. You can use them to haul groceries or your everyday necessities while running errands around town, or you can use them to travel around the world.
At the moment, the selection of the available models is not huge, but there's enough diversity to find exactly what you need.
For example, the Travoy trailer sits upright and attaches to the seat tube, and pulls up to 60 lbs that you can fit into special bags that you get with the trailer. On the other hand, the Flatbed model is horizontal, attaches to the rear axle, and pulls up to 100 lbs of any cargo you can fit on it.
In case you want to do bike touring, you should check out the Nomad (two wheels) or COHO XS (one wheel) trailers, which can haul all of your camping gear on and off the road. They also come with rain covers, so you won't be sleeping in a damp tent at the end of a long touring day.
Burley Balance Bike
Wheel size: 12″
Standover height: 12.5″
Seat height: 12.5″ – 15.5″
Recommended age: 2+ years
Weight capacity: Up to 50 lbs.
Burley bike trailers are an excellent way to take your kids along for the ride and include them in your adventures. However, if they're old enough and they want to participate more, the Burley MyKick balance bike is an even better solution.
MyKick is a balance bike with 12″ wheels intended for toddlers older than 2, with a standover height of at least 12.5″. The bike weighs just 11 lbs, so it is pretty light and has a maximum capacity of 50 lbs.
Balance bikes are the easiest and the most natural way for kids to learn how to ride a bike. Training wheels are a thing of the past.
Best of all, MyKick can grow with your child thanks to the adjustable seat post and handlebar that make it straightforward to find the right position. Plus, the bike is available in four bright colors, so let your kid make the pick!
Apart from being super-fun, balance bikes are the best way for kids to learn how to ride a bike. You'll see your tiny rider coast around by kicking and balancing, so they'll be ready to move on to a proper pedal bike when the time comes.
Child Bike Seats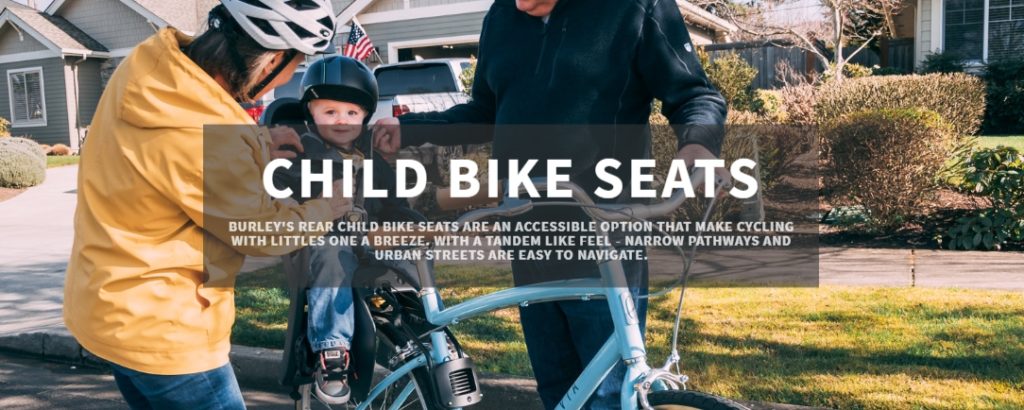 Child bike seats are a pretty good alternative to Burley bike trailers. You can attach them easily to most bikes and take your child around on your bike in a safe and practical way.
Burley basically makes three versions of one rear-mounted child seat that's called Dash. You can get it in the frame mount or rack mount versions, depending on which option is more suitable for your bike.
The regular dash is big, yet light, and offers plenty of space for your toddler. It features a removable and washable seat for ultimate comfort and a 5-point harness system for the best possible safety.
If your toddler likes to snooze on the job, consider paying $40 more for the Dash X model that comes with a reclining seat, but note that it is only available in the frame-mounted version.
Dash is also equipped with a small rear storage compartment, armrests, adjustable footrests, and an integrated rear reflector. Therefore, it has all the bits and pieces you need for everyday use.
Burley bike seats might not provide as much comfort and space compared to bike trailers. However, they are a practical alternative that keeps your child closer to you and makes for a more enjoyable ride as it lets you interact more with each other while cruising around.
Trailercycles

Burley Trailercycles is a phenomenal invention that lets kids safely tag along behind their parents. It helps them practice their balancing skills and participate in the ride at the same time.
At the moment, Burley offers two Trailercycles called Kazoo and Piccolo. Both are made from aluminum, roll on a 20″ wheel, and have a weight capacity of up to 85 lbs.
The Trailercycles consists of a frame that attaches to the bike via a special hitch mechanism, one wheel, a saddle, pedals, and a handlebar.
The difference between the two is that the Piccolo model comes with a rear derailleur that offers 7 gears for easier pedaling on all types of terrain.
To attach the Burley Trailercycles, you need Burley's special rear rack with a ball-bearing guided hitch that can turn in all directions and ensure a seamless ride.
The biggest selling point for Trailercycles is that they are incredibly fun for kids. They can go as fast as their parents and get a feel for real bike riding before they're ready to hop onto their own balance or pedal bikes.
Frequently Asked Questions
Burley bike trailers do fold down, which makes them easy to store and transport. 
Burley bike trailers are made in China, in effort to keep the product prices down. The company's headquarters is located in Eugene, Oregon.
Children under the age of 12 months should not be in bike trailers. The main reason for that is safety, as they can't wear helmets yet, and the ride can get pretty rough.
Final Takeaways of Burley Bike Trailers
As you can see, Burley has a huge lineup of bike trailers, bike seats, trailercycles, and even a balance bike. Their prices are pretty reasonable for what you get, even though some models are priced quite steep.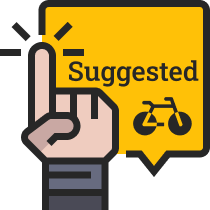 However, you should keep in mind that Burley makes some of the best bike trailers in the world. They do it with strong attention to detail and safety standards.
If you buy a Burley trailer or bike seat, you know it will last. You can use it for years and even pass it onto other family members or sell it as used.
If you have any additional questions about Burley bike trailers and other products, feel free to ask us in the comment section below.