There is a lot to know when it comes to choosing the best bike helmet for yourself. You need to understand what type of helmet you need, how the helmet should fit, different safety standards, and much more!
This article is here to guide you through every step of choosing a mountain bicycle helmet, as well as give you some additional information that is good to know. We hope that after reading this, you will be able to treat yourself to the perfect bike helmet!
---
Buying Guide & Info
What is a bike helmet made of?
To start off, we think it is important to provide some description of the different elements of a helmet. This knowledge will help you avoid looking at a helmet as a whole and dig deeper into the positives and negatives of a bike helmet.
Here are the main components of any helmet:
1. Shell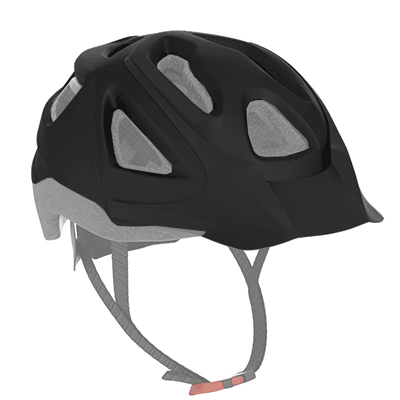 The shell of a bike helmet is the outside layer. It works hand in hand with the liner to provide cyclists with as much protection as possible from concussions and other head injuries. Not all shells are the same! There are those that you typically find in department stores that are made from cheap plastics such as stamped PET, and then there are high-quality ones made from materials such as polycarbonates or carbon fiber that are both lightweight and sturdy. Remember that the shell is the first thing to make contact with the road in a crash, so avoid helmets made with a cheap shell!
2. Liner: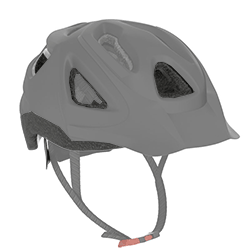 I like to think of the helmet liner as the most important part of a helmet.
Why? Because the liner is what absorbs the majority of the energy produced in a crash. Historically, most helmets have been fitted with EPS foam as the main liner. EPS foam can be made in different densities which makes using it for helmets pretty ideal. However, new designs are emerging and pushing the levels of helmet protection to new heights.
Technologies such as MIPS and 6D's or ODS (Omni-Directional Suspension) are protecting your brain more than we would have thought possible 10 years ago. Be sure to look into a helmet's liner before buying. Make sure it is high quality and will provide you with all of the protection you need. If there was ever a place to not be frugal, this would be it.
3. Internals: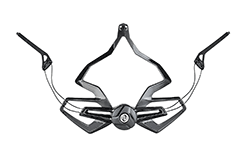 Consider the internals of a helmet as the finer details that help with getting the right fit. Some helmets have foam padding, whereas others feature fastening systems such as a BOA type mechanism (or other fit-adjustment systems). The internals of a helmet are important because they ultimately decide how your head will sit inside a helmet. A fancy shell and liner will not save you if the helmet is not held in the right place with the help of the internals. Choose what you find most comfortable and reliable as far as internals go.
4. Straps:
The straps of a helmet are the most overlooked part when buying a helmet. Remember though that there are important things to think about even when it comes to straps. You will want straps that adjust comfortably to fit your physique. You will also want a secure buckle that is easy to take on and off. Some cheap buckles are a pain to use and can come undone too easily for my liking. A good strap combined with proper internals will ensure the helmet does not fly off in the event of a crash. If you shake your head around and the helmet wiggles, it does not fit well enough!
Now you know what to look for in the components of a helmet, let's cover different types!
Types Of Bike Helmets
Not all bike helmets are the same. In fact, helmets vary not only regarding cycling disciplines but also regarding different styles of riding within a discipline. Here you can learn about what makes each different type of helmet unique.
Road Bike Helmets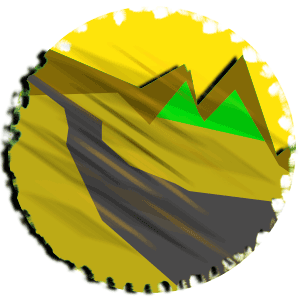 Road bike helmets are designed to be lightweight and aerodynamic. They typically do not feature a visor. This is for a few reasons; road cyclists often wear glasses, visors can limit vision in the road bike riding position, and helmets can be made more aerodynamic without a visor. Here are a few types of road helmets:
These helmets are designed to be worn by cyclists who care a lot about their aerodynamics. The shape is typically smooth with only a few vents. As a result, these can be warmer to wear than other road helmets so keep this in mind when purchasing. This may seem like a negative but it also makes aero helmets great for cold weather days.
A well-ventilated helmet will keep your head as cool as possible. These helmets are typically extremely lightweight as well since there are so many holes. I would highly recommend these for cyclists who aren't looking to break record times. They are a little less aerodynamic, but unless it is cold out, you'll be thankful for the ventilation. There is nothing worse than feeling like your head is overheating!
A time trial helmet is designed to flow with the shape of the rider's body while on a time trial bike. This allows for maximum aerodynamic efficiency. You will notice that most have a long rounded shape that narrows towards the rear end. This reduces drag as much as possible. They usually also have a built-in visor which follows the rounded shape of the helmet. Typically, if you are wearing a time trial helmet, you mean to set a fast time. These are not often worn as an everyday helmet.
Mountain Bike Helmets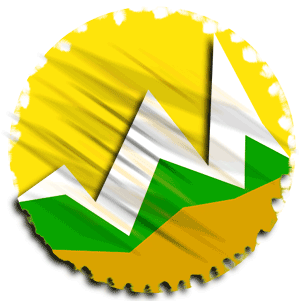 Mountain bike helmets typically offer more coverage than road bike helmets. The rear end tends to extend farther down which provides more protection. This is because you are much more likely to fall off a mountain bike compared to a road bike. Mountain bike helmets usually also feature a visor to help keep your eyes safe from the sun.
Trail helmets are the standard mountain bike helmet now. They come in many different variations. Some are extremely lightweight and well ventilated whereas others are more heavy-duty, but offer more protection. You will find a variety of protective liners as well that feature advanced technologies to keep you safe.
Enduro or crossover helmets bridge the gap between a trail helmet and a full-face helmet. This is because they can be used as both! Crossover helmets feature a removable chin bar.  So you can have a regular-looking trail helmet for traversing or climbing, and then attach the chin bar for when you get to some downhills or more dangerous terrain. I highly recommend these for riders who like to do it all!
Downhill/Full-face mountain bike helmets
A full-face downhill helmet is designed for extreme riding. These offer the most protection out of any mountain bike helmet. The downside, however, is that they are quite hot to ride in. If you spend most of your time in bike parks or on downhill courses, then you need one of these. If you only find the need for that kind of protection occasionally, get a cross-over helmet. Even a cross-over helmet with the chin bar installed will not offer the same protection as a full-out Downhill helmet, though, so keep this in mind.
Kids/Baby Bike Helmets
These helmets are probably the best investment you can make. Thankfully, they are also not too expensive. A child's helmet should be a scaled-down version of an adult's helmet. Do not cheap out just because it is small. Protecting the brain during developmental years is one of the most important things a parent or guardian can do.
Related: Best Helmets for Babies, Toddlers, and Kids
You will want lots of ventilation so the child does not get too hot. A helmet with lots of adjustment will allow for a bit of growing room while still fitting securely. I have seen too many children wearing helmets that are much too loose for them. Making them wear a loose helmet is not much better than them not wearing one altogether. Finally, be on the lookout for finer details such as reflective elements that can make them more visible to others.
Commuter Bike Helmets
A true commuter bike helmet is almost as much about style as it is about function. Sure, you can use a road bike helmet or even a trail helmet for commuting, but many don't want their helmet to scream "serious cyclist". Instead, many commuters go for a more restrained cycling look.
There are many different options here. Look for the same fit and safety features that you would look for in a road or mountain bike helmet. At the end of the day, the fact is you are choosing a helmet for safety, don't let style come first.
Skate Helmets
Skateboard helmets, or skate helmets for short, are typically used while riding BMX or dirt jump bikes. This is because they are designed around freestyle riding which consists of tricks performed both in the air and on the ground. These helmets do not feature the best ventilation but offer a lot of coverage which is important during high-risk trick riding. Skate helmets used to be very popular but the demand is slowly fading away.
Women's Bike Helmets?

There is a little confusion out there about how a women's bike helmet differs from a man's. I will quickly clear this up for you! A woman's helmet is identical as far as safety features are concerned, so do not worry about that. There are only two real differences between these types of helmets. They are: women's helmets are sized to be smaller and the art design is usually a bit different. Not all are flowery and pink though! Some men fit the smaller helmets better, this is perfectly okay and safe!
Bicycle Helmet Law
Talking about bicycle helmet law is relatively difficult because different parts of the world have different rules. One thing is certain though, and that is that as an adult in the United States of America, it is not mandatory for you to wear a helmet. As long as you are above 18, there is no state law that demands you wear a helmet. However, for anyone under 18, it is best to look the age up and see if you are required to wear one or not in your state.
We always recommend wearing a helmet as it can save your life. Hopefully, you are on this page because you want to find a good one!
If you are interested in more information, then we have an article about helmet laws.
Helmet Size Chart 
Most manufacturers will have a size chart to help you get the right fit when buying their helmets. However, the one below will be helpful if you can't find the specific chart that you need! There is some variance in helmet sizes so keep this in mind.
Bicycle Helmet Size Chart – ADULTS
| | | | | | | | |
| --- | --- | --- | --- | --- | --- | --- | --- |
| | XS | S | M | L | XL | MEN (One Size) | WOMEN (One Size) |
| Inches | <20″ | 20″ – 21.75″ | 21.75″ – 23.25″ | 23.25″ – 24.75″ | 24.75″+ | 21.25″ – 24″ | 19.75″ – 22.5″ |
| Centimeters | 51 cm | 51 – 55 cm | 55 – 59 cm | 59 – 63 cm | 63cm+ | 54cm – 61cm | 50 – 57cm |
Bicycle Helmet Size Chart – Kids
| | | | | |
| --- | --- | --- | --- | --- |
| | Toddler | S/M | M/L | One Size |
| Inches | 18.5″ – 20.5″ | 20.5″ – 22.5″ | 22.5″ – 23.75″ | 18″ – 22.5″ |
| Centimeters | 47 -52 cm | 52 – 57 cm | 57 – 60 cm | 46 – 57 cm |
FIT (How to Get the Proper Fit)
A lot of people want to know how to get a properly fitting helmet. This is actually much easier than you probably would have thought.
First off, use a helmet chart like the one above. Nothing is more accurate than using the actual measurements of your head to find the right fit based on manufacturers' recommendations.
Once the basic size has been determined, it is time to dial the helmet in. If the helmet has a tightening type mechanism, be sure to adjust until it is tight enough that the helmet does not move around on your head.
If the helmet comes with different pads, try different ones until you find the most comfortable and secure setup.
The next thing is the chin straps. Make sure that the buckle is resting just below your chin. If you open your mouth fully, you should feel the helmet be pulled down slightly. Make sure that your ears sit in the Y shape of the strap. The two sides of the Y should join just below your ear.
Finally, tighten it using the rotation wheel behind.
When it is all adjusted properly, there should be virtually no movement of the helmet on your head while shaking your head around. If the helmet is wiggling still, you probably need a smaller size.
Safety Standards in the USA

The hardest part about purchasing a bike helmet is understanding which is the safest, and usually, knowing the standards doesn't seem to help too much. Here is why. Standards are set to show minimum qualifications. So two helmets in the same store might have the same safety standard symbol because they both passed. However, we do not know which is actually safer because we can't see which did better in the tests. This is why it is important to do your research! This being said, any helmet that has passed the standards test is suitable for sale in America and deemed as safe.
To keep it simple, here are the basic standards that are good to understand:
CPSC (Consumer Product Safety Commission) is the American standard that must be met for a bicycle helmet to be sold in the USA. If a helmet doesn't have this, it isn't legally deemed a bicycle helmet.
Snell Foundation tests helmets more rigorously than other standards associations. Watch out for the Snell B-90 standard as this is equivalent to the CPSC, and you likely want more. The better standards are the B95 series. Here you will find advanced toddler, time trial, and regular adult standards for helmets.
When To Change a Bike Helmet?
Almost all bicycle helmets should be swapped out after one crash where you hit your head. This is because the inner EPS liner will likely get damaged. The foam is designed to compress under impact. Once it is compressed, the foam can no longer work like it is supposed to and the helmet should be thrown away.
There is one expectation, and that is multi-impact helmets. Yes, there are helmets out there that are designed so that they are not permanently damaged after one impact. These are great purchases but there are not too many available and they do tend to be more expensive.
How Much To Pay?
Telling you the price range of helmets is not very helpful, and well, that's because the range is so huge! A low-end helmet might cost $20 whereas a full out downhill helmet can cost upwards of $500.
Here is the thing, how much you are willing to spend on a helmet should be decided by how much head protection matters to you. A downhill rider knows they need a helmet because the likelihood of crashing is high. A road rider may never crash, but still knows it is worth wearing one anyway, so they pay about a quarter of the price. It is all a matter of opinion.
Just remember that as the price goes up, often safety and comfort does as well.
Where To Shop For Bike Helmets?
The easiest place to shop for bike helmets is, of course, online. Since manufacturers offer sizing charts, you don't have to worry too much about fit. There are, of course, other places where you can buy as well, such as bike shops. I do not recommend department store helmets as they are usually made quite cheaply.
One thing you should never do is buy a used bike helmet! Used helmets carry a huge risk as you never know what impacts they have been subjected to.
See the selection on REI, evo, JensonUSA, and Amazon
---
Best Bicycle Helmets
---
IXS Trigger AM
Best All-Mountain Helmet
The IXS Trigger AM helmet is aimed towards all-mountain bikers who are after the combination of the best possible protection and excellent looks.
It's built with double in-mold shell technology and designed to protect more of your head by extending down to your neck. Plus, it's packed with smartly positioned vents that will keep your head cool on scorching hot days.
Read our full review of IXS Trigger AM here.
Thanks to the ErgoFit UltraTM system for horizontal and vertical adjustment, you'll be able to find the perfect fit with ease and even dial it mid-ride. It's paired with a magnetic chin strap buckle that you can lock and unlock even with gloves.
Finally, IXS Trigger AM comes with a handy visor and a recessed ridge that will keep your goggles in place. It does not feature the MIPS technology and has no GoPro mount, but it is still a safe and modern helmet offering utmost protection at a reasonable price.
Bell Sixer MIPS
Best enduro-style cycling helmet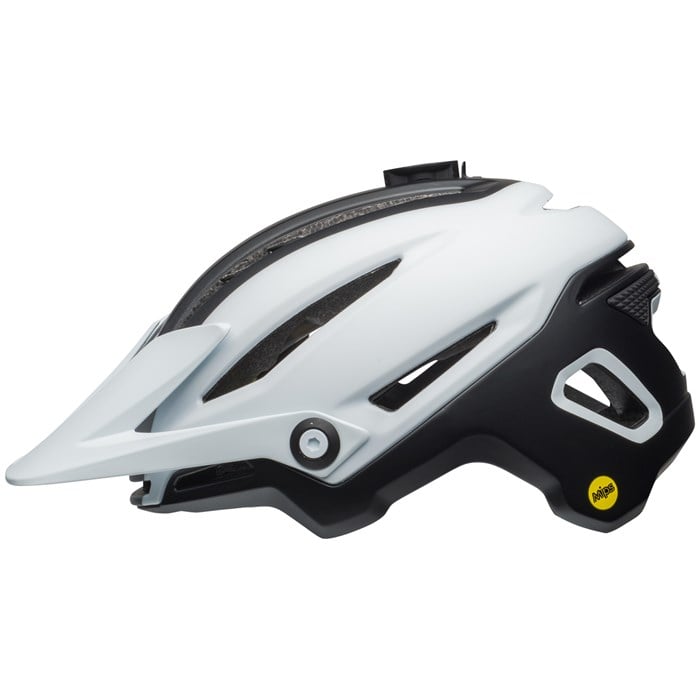 If you're riding trails and like kicking your ride up a notch, then this Bell Sixer helmet is the model you should be considering. It features the well-known MIPS technology, which stands for Multi-directional Impact Protection System. That means that your head and brain will be better protected in case of rotational impacts.
The Bell Sixer MIPS helmet provides a snug enduro-style fit, goggle-compatible design, and a strap gripper at the rear end of the helmet. This model also offers three-way adjustability (height, pad width, and tension), so you will easily find the right fit. It comes with as many as 26 vents, so it's ideal for warm and humid days.
Giro Tremor MIPS
Best bicycle helmet for young riders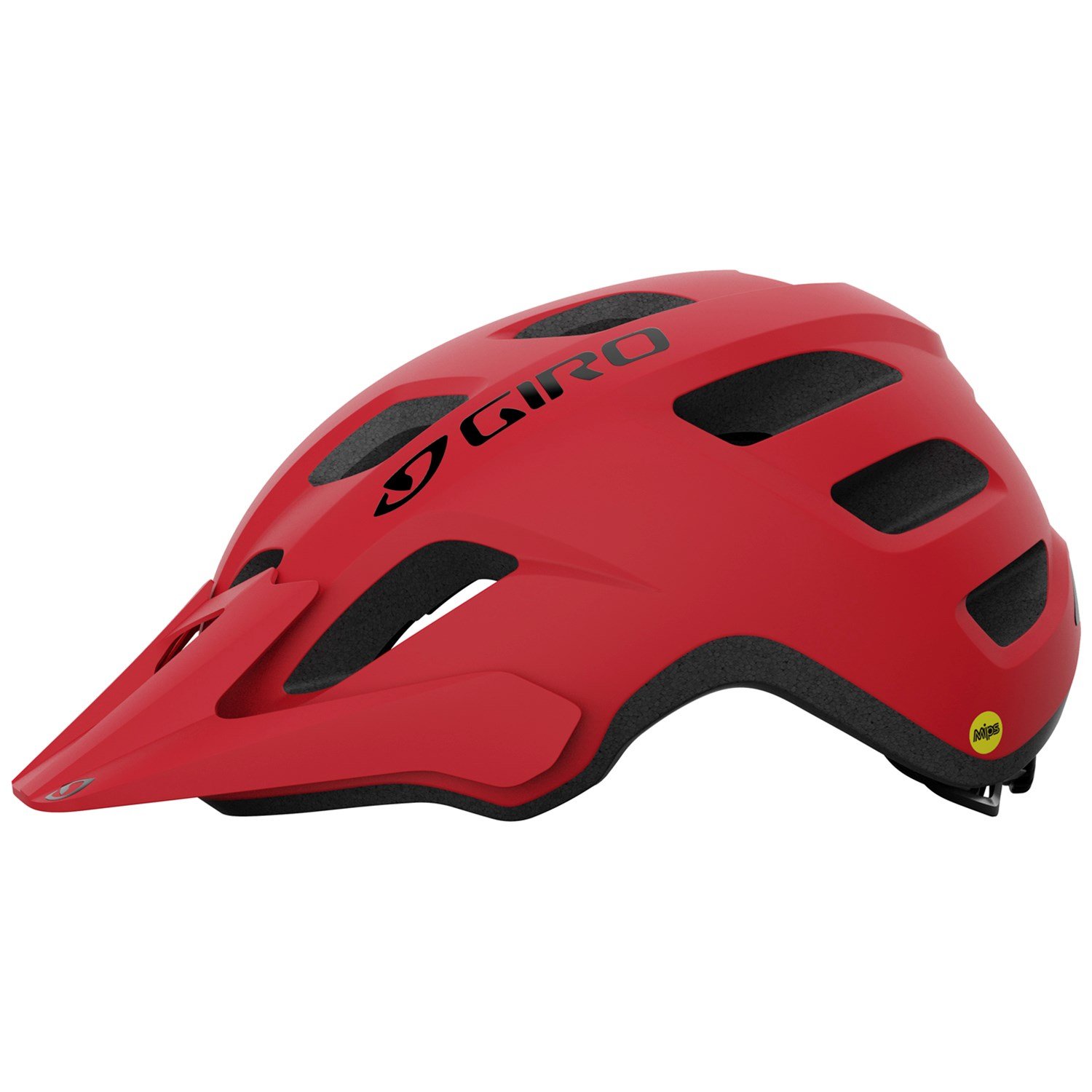 Kids deserve as much head protection as adults, if not even more. We write more about it below. That's why a kids' helmet should have all the technology and functionality of a helmet intended for adults.
The Giro Tremor MIPS kids' bike helmet is outfitted with MIPS technology and placed in an In-Mold Polycarbonate shell. Therefore, it offers plenty of protection from the severest of crashes, such as rotational impacts.
This bike helmet features a universal youth size (50-57 cm) which makes it suitable for kids of different ages. It comes in five colors — green, violet, red, turquoise, and blue.
Fox Speedframe Pro
Best half-shell trail helmet
The Fox Speedframe Pro helmet is the perfect choice for long and tiring trail rides. It is made with the Varizorb™ Dual-density Varizorb™ EPS technology, which is intended to lower the weight and increase the strength of a helmet by combining different types and densities of materials.
Other features worth mentioning that make this our top trail pick include anti-microbial pads, an adjustable visor, a 360 fit system, MIPS, and a 380g weight.
This helmet will keep your head cool with a large number of vents and prevent your neck from getting tired and sore during long cross-country rides.
Giro Women's Montara MIPS
Best MTB helmet for women
If you ask us, the Giro Montara MIPS is one of the best women's MTB helmets out there for a number of good reasons. First of all, its structure is made from a combination of in-mold polycarbonate and EPS foam which absorb and dissipate the majority of impact directed at your head in a crash.
Secondly, you can use the tried and true Roc Loc Air fit system to get the perfect fit and thus get the most protection. You also get a Breakaway camera mount that will break away upon impact to protect your camera, which also doubles as a light mount.
Finally, Giro Montara has as many as 16 vents that suck cold air from all sides, pass it through the helmet, and expel warm air through the rear end.
Thousand Heritage
Best helmet for urban commuting
One of the main reasons a lot of urban cyclists and commuters refuse to wear helmets is because they think it makes them look lame. Well, if that's the case with you, here's a helmet that will actually make you look cool!
The Thousand Heritage bike helmet has a minimalist design and comes in 8 modern and attractive colors. It also features 7 vents that will prevent you from sweating too much and make you look good even when you take the helmet off.
Most importantly, the Thousand Heritage bike helmet will keep you safe thanks to injection-molded construction and a dual-fastening system that will tighten the helmet snuggly on your head.
Smith Signal MIPS
Best unisex road bike helmet 
Here's something exciting for road cyclists as well. Smith Signal is an affordable road bike helmet that offers plenty of protection and style for that money. It's available in seven colors and comes with powerful MIPS technology.
Smith Signal fits comfortably on your head thanks to soft helmet pads that also wick moisture away from your eyes and face. To get the best fit, you can use the VaporFit fastening system, which can be operated with just one hand.
This helmet is also great for summer riding as it has a light construction and 21 vents that will keep your head cool even on scorching hot days.
Bontrager Starvos WaveCel
Light road bicycle helmet
If you're concerned about maximum aerodynamics or you want some added protection from falls, the Bontrager Starvos WaveCel bike helmet will easily meet those requirements.
It has 17 vents with interior circulation which will control your head temperature and improve your aerodynamics. It's ideal for road cyclists who are concerned about weight, style, and speed.
Bontrager Starvos features WaveCel technology that reduces the weight of the helmet but improves impact protection properties. It also reduces rotational motion, thus protecting you from brain damage during a fall.
You can get this helmet in three attractive colors — black, yellow, and white. It's suitable for road riders of all skill levels.
Bontrager Specter WaveCel
Best mix of breathability and protection
Bontrager Specter WaveCel is one of the most popular road bike helmets out there. This helmet features a beautiful and artistic design that perfectly matches the popular designs of road bikes. It offers more than enough in terms of impact protection as well thanks to being jam-packed with tried and true technologies.
It's a lightweight and sturdy helmet made with WaveCel technology that reduces the risk of injuries caused by multi-directional forces.
To get a precise fit, Giro outfitted the Saga with a Boa adjustment system which is simple to operate and keeps the helmet firmly on your head even during high-speed crashes. This helmet is ideal for the summer months thanks to its excellent breathability properties!
Giro Aerohead
Best Aero/TT helmet
Who doesn't like speed? We sure do! If you're on the same page with us and you're looking for a helmet that will make you faster and save you some precious watts, we recommend the Giro Aerohead helmet.
This Aero/TT helmet is made from an In-mold polycarbonate shell with an EPS liner that absorbs impact forces from all sides and keeps your melon safe and snug underneath.
It has 4 wind tunnel vents that facilitate aerodynamics while still preventing your brain from boiling. This helmet also comes with a visor that can be attached and detached in seconds thanks to a magnetic lens anchor attachment system.
---
Q&A Section
Is wearing a helmet mandatory?
Wearing a helmet is not mandatory in the US if you are 18 or over. Each state has its own laws for helmet use regarding people under the age of 18. Look into your own state laws for more specific answers.
Should I pay more for my helmet?
I always suggest not to cheap out on a helmet. This is not just from a safety standpoint, but also from a comfort standpoint. Higher-end helmets are just nicer to wear. This does not mean you should buy the most expensive helmet you see, just don't buy the cheapest one either.
What is the correct way to wear a bicycle helmet?
The correct way to wear a helmet is to have the visor or front piece facing forwards. The helmet should sit low on your head and the buckle securely fastened. For more information, reference our "Fit" section above.
Mountain bike helmets vs. road bike helmets
Mountain bike helmets and road bike helmets have a few differences. The main ones being that a road bike helmet will not feature a visor, or offer as much coverage as a mountain bike helmet. Both are considered to be safe.
How do you measure your head for a bike helmet?
To measure your head for a bike helmet you will need a flexible tape measure. Wrap the measure around the largest part of your head (about an inch above your eyebrows) and take note of the size. Now compare the measurement to a bicycle helmet sizing chart and you are done. It is that easy! If you don't have a flexible tape measure, use a piece of string and take note on how long it is around your head. Now measure that against a straight tape measure to get the length to compare to the chart.
Read Next