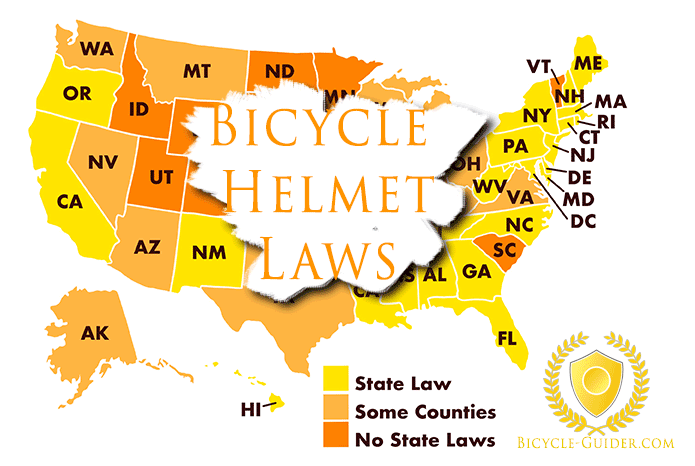 Bicycle helmets are an important piece of safety equipment that can prevent serious head injuries and potentially save lives. But what do the laws and research around the world say about it? Let's take an in-depth look. 
Some countries require everyone by law to wear a helmet while riding a bicycle whereas others make it mandatory only for children and youth. However, most countries have no laws in place and let you decide what's best for your noggin.
Who's in the right here?
We'll try to answer this question by taking a closer look at the available data and research, as well as provide you with a detailed guide to bicycle helmet laws around the world.
Bicycle Helmet Laws
There's no doubt that wearing a helmet significantly decreases your risk of serious head injury and thus has the potential to save your life.
However, countries that introduce mandatory bicycle helmet laws often see a large drop in the number of cyclists on the streets, which leads to increased morbidity that result from a sedentary lifestyle caused by reduced cycling.
Obviously, there's no clear right or wrong in this situation, which is why most countries take a different approach.
World
Depending on where you live on this Pale Blue Dot, you might be required to wear a helmet at all times or just in certain situations. You might also be required to wear a helmet depending on how old you are and if you're a passenger or a rider. Most commonly, though, you'll be left to decide what's best for yourself on your own.
Here's what the laws around the world have to say about bicycle helmet use.
It might be good to create a map of the world with different colors to depict where helmets are mandatory, not mandatory, mandatory for certain ages, or only in certain situations. 
Country

Legislation

Albania
Not mandatory
Argentina
Australia
Austria
Mandatory for U12
Belarus
Not mandatory
Belgium
Not mandatory
Brazil
Not mandatory
Bulgaria
Not mandatory
Canada

Mandatory: British Columbia, New Brunswick, Newfoundland and Labrador, Nova Scotia, and Prince Edward Island
Mandatory for U18: Alberta, Manitoba, and Ontario
Not mandatory: Northwest Territories, Nunavut, Quebec, Saskatchewan, and Yukon

Chile
Costa Rica
Mandatory
Croatia

Mandatory for U16 when riding on a road

Czech Republic
Mandatory for U18
China

Mandatory for e-bicycle riders

Cyprus
Not mandatory
Denmark
Not mandatory
Estonia

Mandatory for U16 when riding on a road

Finland

Not mandatory but recommended

France
Mandatory for U12
Germany
Not mandatory
Hong Kong
Not mandatory
Hungary
Not mandatory
Iceland
Mandatory for U15
India
Not mandatory
Ireland
Not mandatory
Israel

Mandatory for U18 and for adults only in city riding or in sport riding

Italy
Not mandatory
Japan
Mandatory for U13
Latvia
Mandatory for U13
Liechtenstein

Mandatory if riding faster than 20 kph

Lithuania
Mandatory for U16
Luxembourg
Not mandatory
Malta

Mandatory for U10 when riding as a passenger

Mexico
Not mandatory
Monaco
Not mandatory
Montenegro
Not mandatory
Namibia
Mandatory
New Zealand
Mandatory
Netherlands
Not mandatory
Not mandatory
Not mandatory
Poland
Not mandatory
Portugal

Not mandatory except for e-bikes

Romania
Not mandatory
Russia

Not mandatory except for e-bikes with more than 250W motors

Serbia
Not mandatory
Singapore
Mandatory
Slovakia
Mandatory for U15
Slovenia
Mandatory for U14
South Africa
Mandatory
South Korea
Not mandatory
Spain

Mandatory for U16 at all times and for all cyclists out of city centers

Sweden
Mandatory for U15
Switzerland

Mandatory on bikes and e-bikes going faster than 25 kph

UAE
Mandatory in Dubai
Ukraine
Not mandatory
United Kingdom
Not mandatory
Uruguay
Mandatory
USA
The United States of America is a federal republic that consists of 50 states, each of which has the right to pass its own laws regarding different issues.
As a result, the legislation related to bicycle helmet use differs from one state to another. In some states, all ages are required to wear a helmet, others make it mandatory only for certain ages, whereas some states don't bother making bicycle helmet use mandatory.
Here's a complete guide to bicycle helmet laws in the USA, so you know exactly what's expected from you when you cross state borders.
Recent Studies Related to Bicycle Helmet Use
Helmet Parts
In order to better understand how bicycle helmets work (and why they work), you should first learn about the different parts they are made of.
Essentially, every bike helmet has four main parts: Shell, liner, internals, and straps.
Let's take a closer look at what these are, what materials they are made with, and why they are important.
1. Shell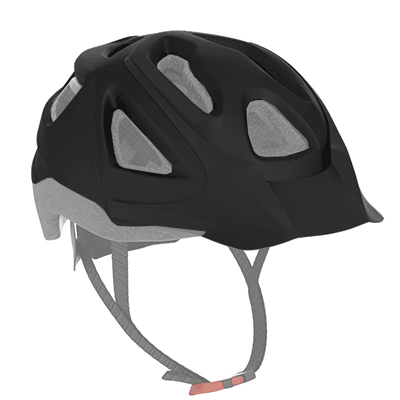 The shell of a bicycle helmet is a thin plastic outside layer. Even though the shell is thin, it serves an important role and provides you with plenty of protection.
A high-quality shell offers some puncture resistance and allows the helmet to slide on impact, which dissipates forces and protects your head and neck.
The shells on cheaper helmets are usually made from cheap plastics such as stamped PET, wheres more expensive helmets come with polycarbonate or even carbon fiber shells.
2. Liner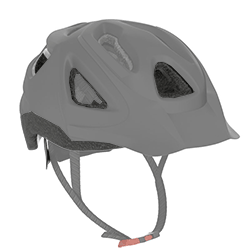 The liner is the most important part of the helmet, providing your head with the highest amount of protection. This is basically a thick layer of expanded polystyrene (EPS) foam (high-grade styrofoam) that dissipates impact forces and slowing down your head in a crash.
Since this is the most important part of the helmet, it's a good idea to do some research on what type of liner the helmet you intend to buy has. Do not cheap out as it can mean the difference between walking away from a crash and having a banged-up noggin.
3. Internals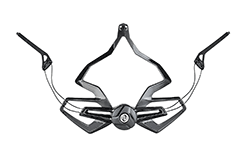 The internals are all the fine details that make a helmet feel comfortable and fit nicely. Some helmets come with foam pads that help you fit the helmet properly whereas others have BOA-type mechanisms or other fit adjustment systems.
The internals of the helmet are important because they determine how comfortable the helmet will feel and how snuggly the helmet will sit on your head.
4. Straps
The straps are also one of the most important parts of a helmet, but they are often overlooked and taken for granted.
Even the most expensive helmet is of no use if it falls off your head when you crash or it slides to the side exposing your head. That's what straps are supposed to prevent.
Well-designed straps allow you to easily adjust them and find the right fit. They also come with a quality buckle that's easy to use and stays attached no matter what.
5. MIPS, WaveCel, and SPIN (Additional)
Lastly, a lot of modern helmets come with additional technologies that aim to provide another layer of protection. The most popular one is MIPS (Multi-directional Impact Protection System) which protects your head from rotational forces, but a few others also include WaveCel and SPIN.
Helmets with these technologies are usually a bit more expensive but the extra cost is well worth it. Therefore, if you have the means, don't be frugal and get all the protection you can. Your head and brain will thank you later.
FAQ
Can I ride my bicycle without a helmet?
The correct question to ask is should you ride a bike without a helmet. The answer is no, you shouldn't. A helmet will protect your head and brain from serious injury in case of crash, which can happen at any time. Even if you are just cruising down a cycle path at low speeds, accidents can happen and you can end with serious consequences if your ride bareheaded.
Do bicycle helmets really work?
Yes, bicycle helmets really work. Studies upon studies have shown that bicycle helmets protect the head and the brain from serious injury in case of a crash. Just ask yourself would you prefer crashing with or without a helmet on your head and you'll have the answer.
Are bike helmets really necessary?
It depends on whom you ask. However, the majority of experts and studies have come to the conclusion that bike helmets are an important layer of protection in case of a crash. Therefore, even if some might argue that helmets are not necessary, it's a good idea to have one on your head in case you get into an accident.
Is it OK to bike without a helmet?
No, it is not OK to bike without a helmet. In most countries around the world, wearing a helmet is not mandatory and you won't be fined for cruising around bareheaded. However, cycling without a helmet is not a good idea as your head and brain can sustain serious injury if you fall.
Is it illegal to ride a bike without a helmet in Canada?
It depends on where you live/ride in Canada. Some provinces require all ages to wear a helmet, some make it mandatory only for U18, whereas others do not require anyone to wear a helmet by law.
Which states have no helmet laws?
Most states in the USA have helmet laws that require some ages or all ages to ride with a helmet at all times or in certain situations. For a more detailed look, take a look at the information we've provided above.
What is a bicycle helmet made of?
All bicycle helmets are made of four crucial parts: Shell, liner, internals, and straps. The shell is usually made of thin plastic whereas the liner is made from expanded polystyrene (EPS) foam. Depending on how much money you spend, you might also get some carbon fiber parts and additional technologies such as MIPS.
Are bike helmets actually safer?
Yes, it is a lot safer to ride with than without a bicycle helmet. If you crash and hit your head on a hard surface, a bike helmet will protect you from serious consequences such a concussion or skull fracture.
Why do bikers not wear helmets?
Some people refuse to wear a helmet either because they are misinformed on how effective helmets are at protecting the head and brain or because they think bicycle helmets are not cool. For some people, bicycle helmets seem like an expensive investment that they will likely never need as they've never crashed. All of these are wrong ways to think about bike helmets — wear one at all times!
Why should you not wear a helmet?
There are no reasons why you should not wear a helmet and plenty of reasons to wear one at all times. If you think a bike helmet will ruffle your haircut, think about what concrete will do to it.
Why are bike helmets so expensive?
Bike helmets are expensive because of the amount of time, research, and resources that go into their development. Bicycle helmets don't use expensive materials but they use advanced technologies that require a highly skilled workforce to develop. Each helmet must also pass extensive testing which again takes a lot of time and resources.
Do helmets prevent brain injury?
Yes, helmets prevent brain injury, there are numerous studies that prove it. Of course, head injury is still possible even if you wear a helmet, but it is much less likely to happen. If you wear a properly fitted helmet and you wear it correctly, you are much more likely to walk away from an accident with your head in one piece.
Do bike helmets expire?
Yes, bike helmets do expire. Most helmet manufacturers recommend that you replace a helmet after five years of use. The materials helmets are made of might change their properties because of UV radiation, weather elements, small impacts, and so on.
What is the lifespan of a bike helmet?
Most manufacturers recommend that you replace a helmet after five years. Also, if you get into a crash and your helmet sustains an impact, make sure to replace it. Even if the helmet looks OK, it might have small cracks that you can't see but that will greatly affect its performance and the level of protection it provides.
What is the safest bicycle helmet?
There isn't one definitive answer to this question. All bicycle helmets that are made according to safety standards and are worn properly on the head are safe. However, spending more money and getting a helmet with MIPS or other technologies will make a helmet even safer.
How important is MIPS in a bike helmet?
MIPS stands for Multi-directional Impact Protection System. It is an additional movable layer inside the helmet that protects your head from rotational forces upon impact. Research has shown that MIPS reduces brain injury and provides better protection compared to a helmet without MIPS.
Which color helmet is best?
There isn't one best helmet color that you should choose. However, it goes without saying that bright colors will make you more visible, so it's a good idea to go for white, yellow, or orange helmets if you want the best chance to be seen from afar.
Are white helmets cooler?
In theory, white helmets should be cooler than black ones. However, in practice, they're not. The reason is that the liner that sits between the shell and your head serves as an excellent insulator. What makes one helmet cooler than another is the number of vents it has and their positioning.
How tight should a helmet fit?
A helmet should be nor too tight nor too loose. It should sit snuggly on your head, but you should not feel that it's pressing your head. Also, you should be able to fit a finger between the straps and your chin, so the straps are not choking you, but they also shouldn't be dangling freely around.
How many people die from not wearing helmets?
According to NCS, 54% of cyclists killed in 2015 (42) were not wearing a helmet. The same is true for the year 2016 (424) as well.
What happens if you don't wear a helmet?
If you don't wear a helmet, you greatly increase your chances of suffering a brain injury if you crash. If your head hits the ground, even at low speeds, you're more likely to have a concussion, contusion, or fractured skull if you're not wearing a helmet.
How can I look cool on a bike?
If you ask me, one of the best ways to look cool on a bike is to wear a helmet. If I see you on the road with a helmet on your noggin, I'll give you a thumbs up and a nod of approval.
Resources:
http://servicios.infoleg.gob.ar/infolegInternet/anexos/0-4999/818/texact.htm
https://nt.gov.au/driving/safety/bicycle-safety
https://www.danube-cycle-path.com/bike-helmet-laws.html
https://www.fietsersbond.be/fietshelm
https://www.scielo.br/scielo.php?script=sci_arttext&pid=S1415-790X2013000400918#B23
http://www.cycle-helmets.com/canada_helmets.html
https://andesproperty.com/blog/2015/01/22/bicycling-laws-santiago-chile/
https://nuevaleydetransito.com/articulo/119/Obligaciones-de-los-ciclistas
https://narodne-novine.nn.hr/clanci/sluzbeni/2011_07_74_1575.html
https://news.expats.cz/weekly-czech-news/pragues-police-cycle-team-will-give-advice-not-fines-to-bikers-this-summer/
https://www.donkey.bike/denmark-cycling-rules/
https://www.sciencedirect.com/science/article/abs/pii/S1369847818300810
https://www.legifrance.gouv.fr/affichCodeArticle.do?cidTexte=LEGITEXT000006074228&idArticle=LEGIARTI000033667568&dateTexte=&categorieLien=cid
https://www.thelocal.de/20161207/should-germans-be-made-to-wear-bike-helmets-cycling-germany-australia
https://www.scmp.com/news/hong-kong/law-crime/article/2139681/if-youre-riding-bike-next-week-hong-kong-police-will-be
https://www.globaltimes.cn/content/1187557.shtml
https://dailynewshungary.com/tips-and-tricks-for-riding-a-bike-in-budapest/
http://www.islandia.is/lhm/english.htm
https://www.citizensinformation.ie/en/travel_and_recreation/cycling/cycling_offences.html
http://www.israelishortcut.org/Services.aspx?l=2&c=3&id=1126
https://www.welovecycling.com/wide/2015/04/04/stay-well-equipped-across-europe/
https://okinawa.stripes.com/community-news/hey-bikers-you-really-need-pay-attention-japan-seriously
https://www.maltatoday.com.mt/news/national/83873/bicycle_helmet_use_to_become_optional_under_new_legislation
https://www.eltis.org/discover/news/mexico-city-abolishes-bike-helmet-law-mexico-0
http://www.nampol.gov.na/documents/139923/140403/NATIONAL+FINE+LIST.pdf/7fea7eea-8d1c-4938-986a-8f64b60463f1
https://injuryprevention.bmj.com/content/8/4/317
https://www.holland-cycling.com/index.php/tips-and-info/safety/traffic-rules-and-regulations-for-cyclists
https://polandonbike.com/safety-in-poland/
https://road.cc/content/news/221700-portugal-bins-compulsory-helmet-law-plan-face-public-reaction
https://www.todayonline.com/singapore/new-rules-cyclists-personal-mobility-device-users-and-motorists-kick-feb-1
https://www.sloveniaestates.com/life-in-slovenia/cycling-in-slovenia
https://www.arrivealive.co.za/Cycling-Helmets-and-Cycling-Safety
https://www.koreatimes.co.kr/www/nation/2018/10/281_256283.html
https://blog.abacoadvisers.com/cycle-helmet-laws-in-spain/
https://www.donkey.bike/sweden-cycling-rules/
https://www.publibike.ch/en/publibike/how-it-works/security/
https://www.edarabia.com/7-common-cycling-rules-in-the-uae/
http://www.cycle-helmets.com/england_helmets.html
https://www.who.int/violence_injury_prevention/road_safety_status/2009/laws/helmet_uruguay_en.pdf
https://www.uio.no/english/about/jobs/ismo/while-in-oslo/getting-around/bicycle-rules.html
https://trip.studentnews.eu/s/4086/77078-Safety-helmet-in-Europe.htm?c1_1=27359
https://www.easst.co.uk/pre-school-children-minsk-practice-safe-cycling/
https://trip.studentnews.eu/s/4086/77078-Safety-helmet-in-Europe.htm?c1_1=27334
https://luxtimes.lu/archives/6368-8-things-a-bike-should-have-in-luxembourg
https://www.idealo.co.uk/magazine/2016/09/25/i-wear-bike-helmet/
https://trip.studentnews.eu/s/4086/77078-Safety-helmet-in-Europe.htm?c1_1=27351
https://monabike.mc/en/faq
https://nacto.org/wp-content/uploads/2015/07/2012_de-Jong_Health-Impacts-of-Mandatory-Bicycle-Helmet-Laws.pdf
https://www.nsc.org/safety-first-blog/bicycle-safety-statistics-may-surprise-you