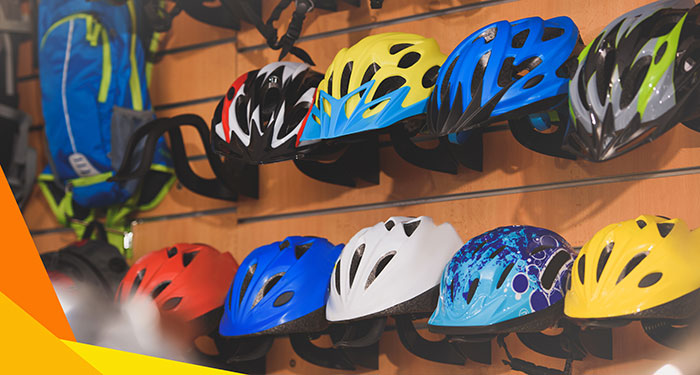 Best bike helmets for road cyclists, mountain bikers, and commuters. Protect yourself and enjoy cycling more with one of the options from our buyers' guide below.
Riding a bike is a fun way to stay fit, improve your health, and commute in a more sustainable and eco-friendly way. Unfortunately, it comes with certain risks, such as injuries to the head caused by crashes and cycling accidents.
This is why wearing a helmet whenever you get on a bike is non-negotiable. But putting just any old helmet on your noggin will not cut it—you need the best bike helmet for the type of riding you do.
We designed our helpful guide below to assist you in making that choice.
We've also compiled a list of our preferred and expert-approved models in different categories to help you navigate through hundreds of options available on the market.
What to Keep in Mind When Choosing the Best Bike Helmet
To get the best bike helmet for your needs, you need to consider several important factors and features such as helmet type, sizing, safety technologies, ventilation, and so on. Here are some of the basics explained.
Type of Riding You Do
The first thing to consider is the type of riding you do. Bike helmets differ in terms of their intended use.
Roughly, helmets for cycling can be divided into three main categories:
Road bike helmets
Mountain bike helmets
Helmets for commuters
Road bike helmets are usually lightweight and offer plenty of ventilation. They also often have aerodynamic features that are designed to reduce air drag and improve speed.
Mountain bike helmets are heavier because they cover a larger surface of the head, such as the back of the head. There are also full-face MTB helmets with chin guards and visors that offer both head and face protection for trail, enduro, and downhill riding.
Bike helmets for commuting offer a mix of features that meet the needs of most people. These include cycling helmets and skate-style helmets that are suitable for other sports, apart from cycling.
Sizing and Fit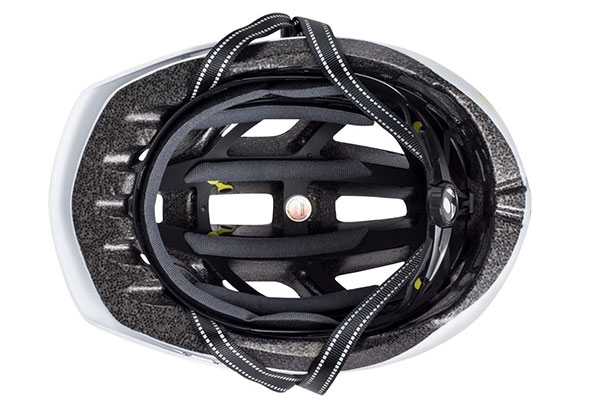 Buying the most expensive bike helmet with the best features will do little for your safety if the fit is not right. Therefore, you need to purchase the right size helmet for your head.
Bike helmets are sized based on the riders' head circumference, which is very easy to measure. All you need is a measuring tape and a few seconds.
Moreover, you also need to adjust the fit properly, by utilizing the straps and retention systems available on the helmet. The helmet should sit snuggly on the head and the straps should go below the ears and under the chin, with room for a finger or two to fit between the chin and the buckle.
A helmet that fits well should not be too tight, but it should also not move around when you shake your head.
Materials & Technologies
Most bicycle helmets are made from expanded polystyrene (EPS) foam and a hard polycarbonate shell. The EPS foam provides impact absorption, whereas the polycarbonate shell protects the foam and improves the aesthetics. These materials have been in use for decades, as they have been tried and tested time and again.
However, helmet manufacturers are occasionally introducing new technologies intended to improve protection. Recently, the most notable ones have been MIPS, Specialized ANGi, Bontrager WaveCel, and so on.
What is MIPS and do you need it?
Multi-directional Impact Protection System (MIPS) is a technology that uses a movable liner placed inside the helmet that's intended to reduce rotational forces on the brain that occur in case of a crash.
MIPS is actually an independent brand that partners with helmet manufacturers who wish to include this feature in their products. MIPS helmets are usually more expensive than standard helmets, but the added protection they offer is worth the slight increase in price.
If you can stretch your budget enough, we definitely advise purchasing a helmet with MIPS or a similar technology.
Safety Standards
All helmets in the EU and the UK must meet the EN 1078 European Standard. Those that do, come with an EN 1078 sticker on the inside. In the US, helmets must meet the Consumer Product Safety Commission (CPSC) standard.
Depending on where you live, make sure that the helmet you're buying has one of these two stickers. This tells you that it meets the minimum safety requirements. All helmets on our list meet these standards, which was one of the main requirements that we considered when choosing which models to include.
Ventilation
Do you ride your bike in warm weather only or do you also go for a spin when it gets chilly outside? This is where ventilation comes into play.
For example, road bike helmets usually come with up to 20+ vents and channels that dissipate heat by allowing cool air to flow around your head. The same goes for MTB helmets designed for summer use.
So if you're someone who rides hard and sweats a lot, ventilation is key. Well-ventilated helmets are also lighter because of the material that is removed to make the openings.
Helmets for enduro and downhill riding prioritize safety and robustness, so they typically have fewer vents so as not to compromise the structural integrity of the helmet.
If you're still looking to get a clearer idea about how to choose, take a look at our guide to choosing helmets.
---
Best Bike Helmets
---
IXS Trigger AM
Best Bike Helmet for All-Mountain Riding
The IXS Trigger AM helmet is aimed towards all-mountain bikers who are after the combination of the best possible protection and excellent looks.
It's built with double in-mold shell technology and designed to protect more of your head by extending down to your neck. Plus, it's packed with smartly positioned vents that will keep your head cool on scorching hot days.
Read our full review of IXS Trigger AM here.
Thanks to the ErgoFit UltraTM system for horizontal and vertical adjustment, you'll be able to find the perfect fit with ease and even dial it mid-ride. It's paired with a magnetic chin strap buckle that you can lock and unlock even with gloves.
Finally, IXS Trigger AM comes with a handy visor and a recessed ridge that will keep your goggles in place. It does not feature the MIPS technology and has no GoPro mount, but it is still a safe and modern helmet offering utmost protection at a reasonable price. It's the best mountain bike helmet in terms of value.
Bell Sixer MIPS
Best Bike Helmet for Enduro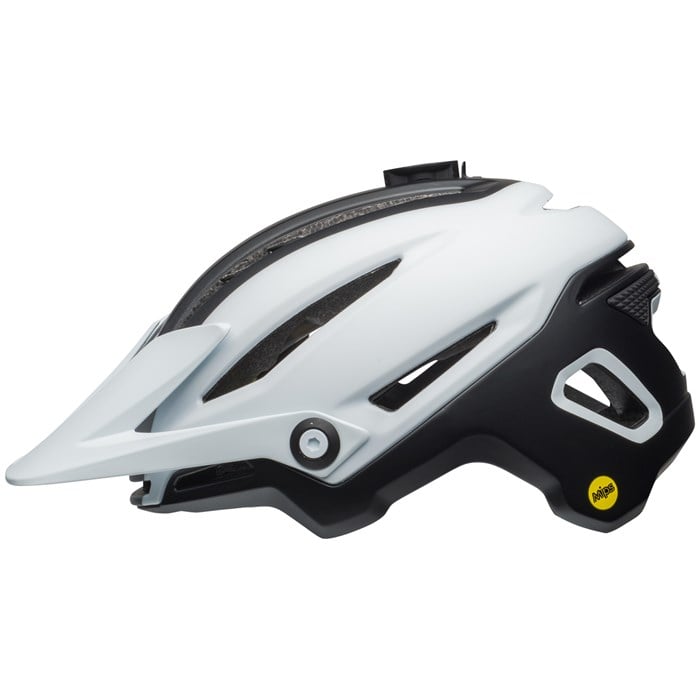 If you're riding trails and like kicking your ride up a notch, then this Bell Sixer helmet is the model you should be considering. It features the well-known MIPS technology, which stands for Multi-directional Impact Protection System. That means that your head and brain will be better protected in case of rotational impacts.
The Bell Sixer MIPS helmet provides a snug enduro-style fit, goggle-compatible design, and a strap gripper at the rear end of the helmet. This model also offers three-way adjustability (height, pad width, and tension), so you will easily find the right fit. It comes with as many as 26 vents, making it the best bike helmet for warm and humid days.
Giro Tremor MIPS
Best bicycle helmet for young riders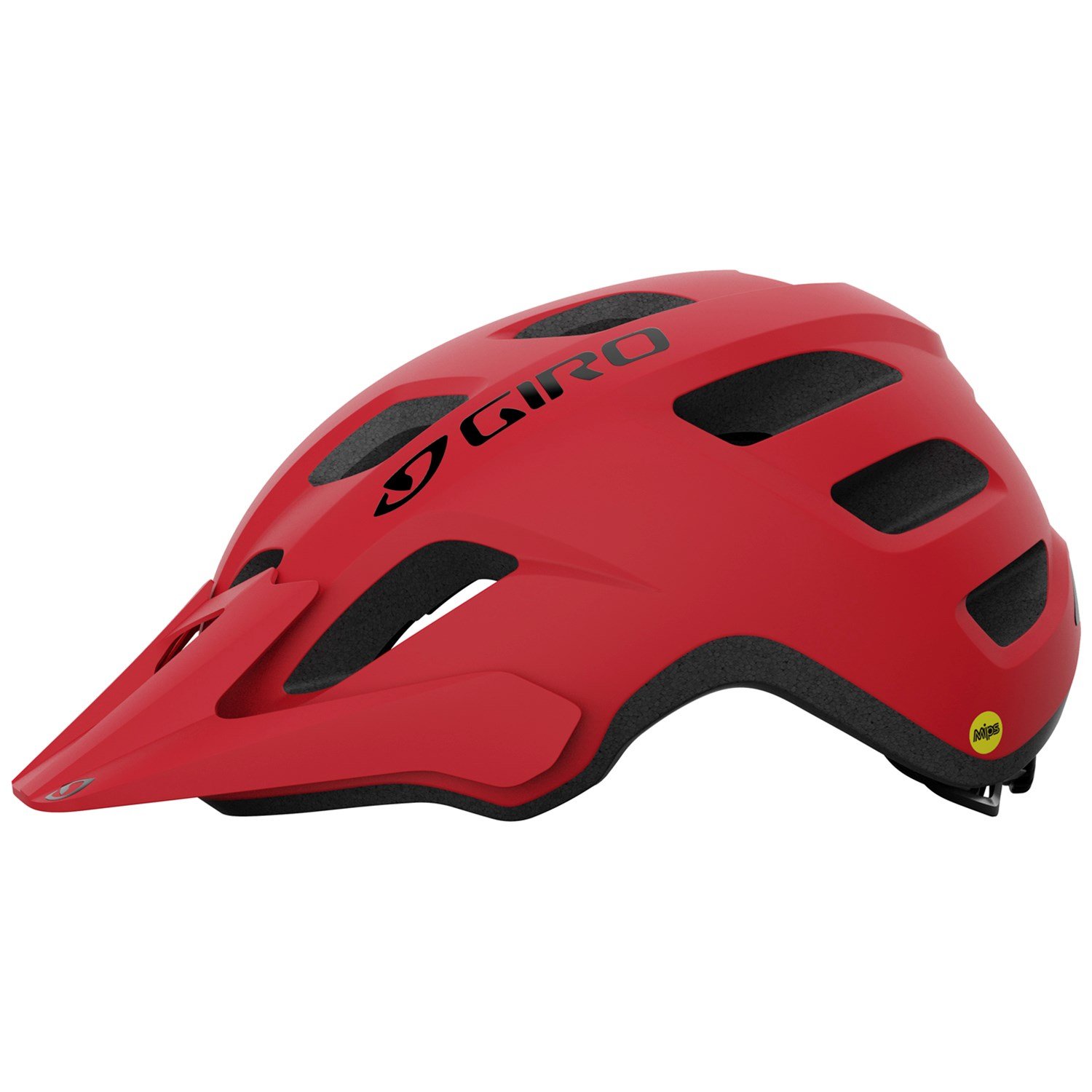 Kids deserve as much head protection as adults, if not even more. We write more about it below. That's why the best mountain bike helmet for kids should have all the technology and functionality of a helmet intended for adults.
The Giro Tremor MIPS kids' bike helmet is outfitted with MIPS technology and placed in an In-Mold Polycarbonate shell. Therefore, it offers plenty of protection from the severest of crashes, such as rotational impacts.
This Giro bike helmet features a universal youth size (50-57 cm) which makes it suitable for kids of different ages. It comes in five colors — green, violet, red, turquoise, and blue.
Fox Speedframe Pro
Best half-shell trail helmet
The Fox Speedframe Pro is the best bike helmet for long and tiring trail rides. It is made with the Varizorb™ Dual-density Varizorb™ EPS technology, which is intended to lower the weight and increase the strength of a helmet by combining different types and densities of materials.
Other features worth mentioning that make this our top trail pick include anti-microbial pads, an adjustable visor, a 360 fit system, MIPS, and a 380g weight.
This is one of the best mountain bike helmets that will keep your head cool with a large number of vents and prevent your neck from getting tired and sore during long cross-country rides.
Giro Women's Montara MIPS
Best women's bike helmet for MTB
If you ask us, the Giro Montara MIPS is one of the best women's bike helmets out there for a number of good reasons. First of all, its structure is made from a combination of in-mold polycarbonate and EPS foam which absorb and dissipate the majority of impact directed at your head in a crash.
Secondly, you can use the tried and true Roc Loc Air fit system to get the perfect fit and thus get the most protection. You also get a Breakaway camera mount that will break away upon impact to protect your camera, which also doubles as a light mount.
Finally, this Giro bike helmet has as many as 16 vents that suck cold air from all sides, pass it through the helmet, and expel warm air through the rear end.
It has all the features found on the best men's bike helmets from Giro.
Thousand Heritage
Best bike helmet for urban commuting
One of the main reasons a lot of urban cyclists and commuters refuse to wear helmets is because they think it makes them look lame. Well, if that's the case with you, here's a Thousand bike helmet that will actually make you look cool!
The Thousand Heritage bike helmet has a minimalist design and comes in 8 modern and attractive colors. It also features 7 vents that will prevent you from sweating too much and make you look good even when you take the helmet off.
Most importantly, this Thousand bike helmet will keep you safe thanks to injection-molded construction and a dual-fastening system that will tighten the helmet snuggly on your head. Thanks to its design, it's the best commuter bike helmet and one of the best-looking bike helmets around.
Full Thousand Bike Helmet review
Smith Signal MIPS
Best road bike helmet overall
Here's something exciting for road cyclists as well. Smith Signal is an affordable road bike helmet that offers plenty of protection and style for that money. It's available in seven colors and comes with powerful MIPS technology.
This Smith bike helmet will fit comfortably on your head thanks to soft helmet pads that also wick moisture away from your eyes and face. To get the best fit, you can use the VaporFit fastening system, which can be operated with just one hand.
This is the best road bike helmet for summer riding as it has a light construction and 21 vents that will keep your head cool even on scorching hot days.
Bontrager Starvos WaveCel
Light road bicycle helmet
If you're concerned about maximum aerodynamics or you want some added protection from falls, the Bontrager Starvos WaveCel bike helmet will easily meet those requirements.
It has 17 vents with interior circulation which will control your head temperature and improve your aerodynamics. That makes it the best bike helmet for road cyclists who are concerned about weight, style, and speed.
Bontrager Starvos features WaveCel technology that reduces the weight of the helmet but improves impact protection properties. It also reduces rotational motion, thus protecting you from brain damage during a fall. That makes it one of the best road bike helmets in terms of modern technology.
You can get this helmet in three attractive colors — black, yellow, and white. It's suitable for road riders of all skill levels. It's one of the best men's bike helmets that women can use as well thanks to attractive colorways.
Bontrager Specter WaveCel
Best mix of breathability and protection
Bontrager Specter WaveCel is one of the most popular road bike helmets out there. This helmet features a beautiful and artistic design that perfectly matches the popular designs of road bikes. It offers more than enough in terms of impact protection as well thanks to being jam-packed with tried and true technologies.
It's a lightweight and sturdy helmet made with WaveCel technology that reduces the risk of injuries caused by multi-directional forces.
To get a precise fit, Giro outfitted the Saga with a Boa adjustment system which is simple to operate and keeps the helmet firmly on your head even during high-speed crashes. This is the best road bike helmet for the summer months thanks to its excellent breathability properties!
Giro Aerohead
Best Aero/TT helmet
Who doesn't like speed? We sure do! If you're on the same page with us and you're looking for a helmet that will make you faster and save you some precious watts, we recommend the Giro Aerohead helmet.
This Giro bike helmet is made from an In-mold polycarbonate shell with an EPS liner that absorbs impact forces from all sides and keeps your melon safe and snug underneath.
It has 4 wind tunnel vents that facilitate aerodynamics while still preventing your brain from boiling. This helmet also comes with a visor that can be attached and detached in seconds. All thanks to a magnetic lens anchor attachment system.
It's by far the best road bike helmet in terms of aerodynamics! In our opinion, it's also the best-looking bike helmet—just look at it!
Helmet Parts
In order to better understand how bicycle helmets work (and why they work), you should first learn about the different parts they are made of.
Essentially, every bike helmet has four main parts: Shell, liner, internals, and straps.
Let's take a closer look at what these are, what materials they are made with, and why they are important.
1. Shell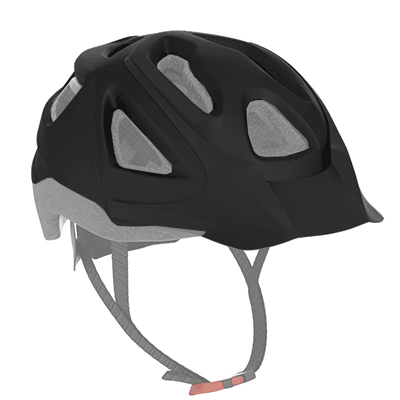 The shell of a bicycle helmet is a thin plastic outside layer. Even though the shell is thin, it serves an important role and provides you with plenty of protection.
A high-quality shell offers some puncture resistance and allows the helmet to slide on impact, which dissipates forces and protects your head and neck.
The shells on cheaper helmets are usually made from cheap plastics such as stamped PET, whereas more expensive helmets come with polycarbonate or even carbon fiber shells.
2. Liner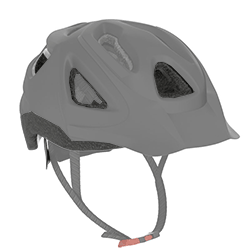 The liner is the most important part of the helmet, providing your head with the highest amount of protection. This is basically a thick layer of expanded polystyrene (EPS) foam (high-grade styrofoam) that dissipates impact forces and slowing down your head in a crash.
Since this is the most important part of the helmet, it's a good idea to do some research on what type of liner the helmet you intend to buy has. Do not cheap out as it can mean the difference between walking away from a crash and having a banged-up noggin.
3. Internals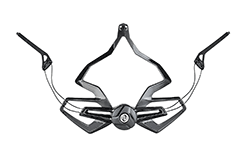 The internals are all the fine details that make a helmet feel comfortable and fit nicely. Some helmets come with foam pads that help you fit the helmet properly whereas others have BOA-type mechanisms or other fit adjustment systems.
The internals of the helmet are important because they determine how comfortable the helmet will feel and how snuggly the helmet will sit on your head.
4. Straps
The straps are also one of the most important parts of a helmet, but they are often overlooked and taken for granted.
Even the most expensive helmet is of no use if it falls off your head when you crash or it slides to the side exposing your head. That's what straps are supposed to prevent.
Well-designed straps allow you to easily adjust them and find the right fit. They also come with a quality buckle that's easy to use and stays attached no matter what.
5. MIPS, WaveCel, and SPIN (Additional)
Lastly, a lot of modern helmets come with additional technologies that aim to provide another layer of protection. The most popular one is MIPS (Multi-directional Impact Protection System) which protects your head from rotational forces, but a few others also include WaveCel and SPIN.
Helmets with these technologies are usually a bit more expensive but the extra cost is well worth it. Therefore, if you have the means, don't be frugal and get all the protection you can. Your head and brain will thank you later.
Q&A Section
Read Next