Wearing a helmet whenever going for a bike ride is a crucial safety precaution that both kids and adults should stick to. The sooner you teach your child to wear a baby bike helmet, the better.
Wearing a helmet has NO disadvantages, so there's no reason to avoid using one. They protect the head from more serious injuries which can happen even at low speeds and on short rides. This is especially important for kids, as kids' heads and brains are still developing.
When looking for the ideal baby helmet for your child, you should consider safety, comfort, and looks. The helmet needs to be safe, but your child won't wear it if it's not comfortable or it doesn't look good. Finding a middle ground is crucial!
If they see their parents wearing a helmet, they'll want one as well.
The article below includes our recommendation of the 14 best kids' bike helmets that check all of these boxes!
How To Get the Right Helmet Size For Kids?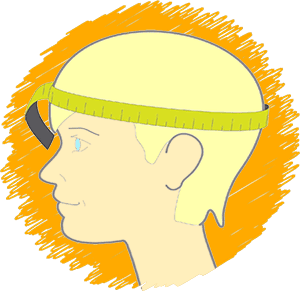 The helmet must fit a child's head perfectly in order to provide the best possible protection!
That's why choosing the right helmet size for your kid is of utmost importance.
Helmet sizes refer to the circumference of your child's head. To get your child's circumference, you should use a tape measure and measure just above the eyebrows, around the temples.
However, child bike helmets also come in different shapes. Some are narrow and long, others are wide and short. If your child has a narrow head and you get them a wide helmet, it might not fit well.
If you're not sure what shape your child's head is, getting a skate-style helmet is a safe way to go, as they have a round shape that fits most kids.
There are also boys' and girls' bike helmets, though the majority of models fit both genders.
---
— Bike Helmets for Toddlers & Babies—
---
Nutcase Helmets
Best Kids' Bike Helmet! Best Design and Price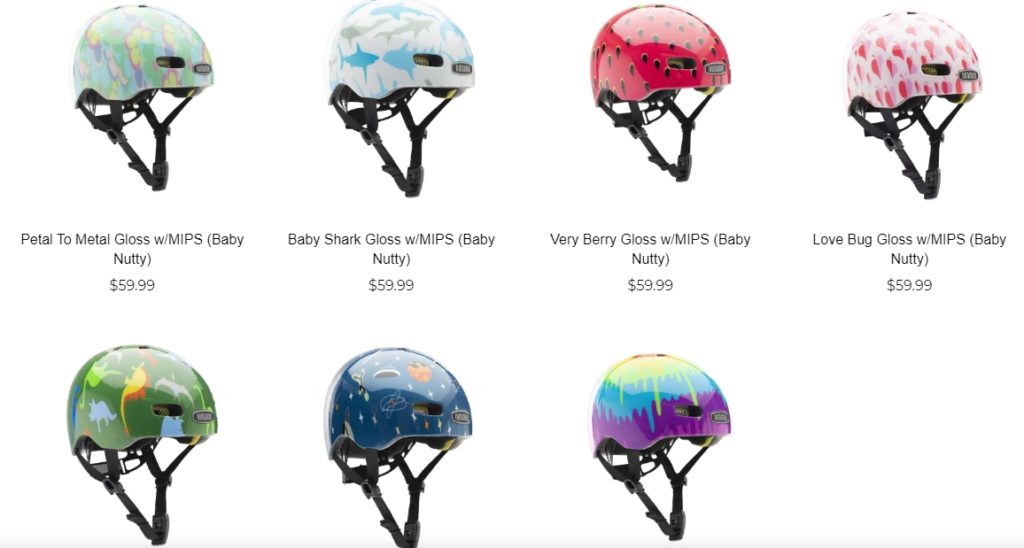 MSRP: $60 – $75 (REI.com)
SIZE: Infant; Toddler: 18.88″ – 20.5″ (48 – 52cm); Youth: 20.5 – 22″ (52 – 56cm)
Colors: 20+
Features: Dial fit adjustability, numerous air vents, funky designs, magnetic buckle, MIPS, EPS foam
Nutcase makes nutty helmets that any kid will ASK to wear. The most recognizable feature of these helmets are fun and colorful designs which make wearing a helmet seem appealing. That's why they are our top pick.
The Baby Nutty (infants) and Little Nutty (toddlers and youth) series offer more than 20 unique designs to choose from.
However, Nutcase helmets have more to offer than good looks. They're equipped with the MIPS technology that protects the head from rotational forces which are very common when falling from a bike.
The interior of the helmet is made from compliant EPS foam that offers excellent protection and soaks up impact in case of a crash.
Parents will also like the magnetic buckle on the straps that is unlikely to pinch the child's neck and cause chaos to ensue (trust me, I've been there). A dial fit is incorporated as well on the back of the helmet, so finding the perfect position is a breeze.
So if you want a helmet that offers phenomenal protection and that your child will actually WANT to wear, get one of the Nutcase models.
— or see the Little Nutty Youth and Toddler helmets —
Schwinn Helmets
Best Toddler Helmets

MSRP: Check on Amazon
SIZE: Infant: 17.50 – 19.75″ (44 – 50cm); Toddler: 18.88 – 20.5 (48 – 52cm)
Colors: Five
Features: Dial fit offers excellent adjustability, plenty of air vents, lower molded shell improves durability, fun designs
Convincing a child to wear a bike helmet is not always that easy, but it shouldn't be a problem doing it with one of these Schwinn kids' bike helmets. What kid wouldn't like to wear a panda, bear, firefighter, or a police bike helmet? Choose among boys' and girls' bike helmets.
Related: Kids Bike Accessories
Apart from being fun, funky, and bright, these Schwinn cool bike helmets are also characterized by excellent durability and great protection. The lower molded shell of the helmet provides protection where it is most necessary, which is what matters the most.
These cycle helmets are available in two sizes — Infant and Toddler and together fit a range of head circumferences between 44cm and 52cm.
Finding the right size will not be an issue, especially thanks to the dial fit mechanism that allows you to adjust the size precisely for small or large heads.
Giro Scamp MIPS
Best Kids' Bike Helmet with MIPS
MSRP: Check on Amazon
SIZE: XS (45 – 49 cm), S (49 – 53 cm)
Colors: Eight colors
Features: Multi-Directional Impact Protection System, easily adjustable vertical position and tension, 8 large vents, in-mold construction
Giro Scamp is by far one of the best toddler bike helmets for the money. It has everything you can ask in terms of protection, comfort, style, and ease of use, but it does not break your bank.
It comes in 8 different colors and designs, so you can let your child pick the one they like the most. That way, they will gladly wear it every time!
Giro Scamp comes with MIPS technology that offers additional protection and an in-mold polycarbonate shell that's super strong.
Thanks to the Roc Loc Jr. fit system with a pinch-guard buckle, you can easily find the perfect fit. This children's helmet is also ponytail compatible and comes with a built-in visor, both of which greatly improve comfort.
Giro Scamp is also pretty lightweight, so kids will absolutely love it!
Giro Scamp
Ponytail Compatible
MSRP: $45
Size: Small/Medium: 18 – 19.75″ (46-50 cm); Medium/Large: 19.75 – 21.50 (50-54.5 cm)
Colors: Two
Features: Durable in-mold construction, built-in visor protects against the sun, pinch-guard buckle prevents painful accidents, 8 vents that cool down the head in warm weather
This is a cheaper and more basic version of the Giro Scamp kids' bike helmet without the MIPS technology. Therefore, it offers slightly less protection against rotational impact, but it's just as safe in cases of direct impact during a crash.
If you have a limited budget, this is a decent choice made by a reputable manufacturer. Even though it's affordable, it does not mean it is not jam-packed with fantastic safety and comfort features.
For example, the Roc Loc Jr. fit system has a pinch-guard buckle that eliminates the risk of pinching your kid's chin while fitting the helmet.
This Giro kids' helmet is built with an in-mold polycarbonate shell with an EPS Liner. That's the same composition seen in Giro's adult bike helmets, but just in a smaller package.
That makes Scamp an excellent youth bike helmet!
Schwinn Infant
Most Colorful Design
MSRP: Check on Amazon
SIZE: One Size 17.3″ – 19.3″ (44 – 50 cm)
Colors: Three
Features: Adjustable dial fit, lower molded shell for extra protection, lightweight and vented design, universal fit, fun design
Schwinn Infant is one of the cheapest and the funkiest baby safety helmets on this list. It's intended for kids up to three years old, with a head circumference between 44 and 50 cm.
It comes in three fun colors that improve its visibility. The selection includes both boys' and girls' bike helmets. Getting the right fit is pretty easy thanks to an adjustable dial fit that provides 360-degree adjustability.
The front of the helmet has several large vents that offer excellent ventilation on hot summer days, plus it is very lightweight, so it feels comfortable on the head.
Schwinn Polkadot has a flat rear end, which also makes it suitable for stroller and bike trailer rides!
If you want the best toddler helmet that looks great and has excellent safety features, this Schwinn helmet is a win-win.
Nutcase Baby Nutty
Best Skate-Style Kids' Bike Helmet
MSRP: $60 (REI.com)
SIZE: 18.5″ – 19.7″ (47 – 50cm)
Colors: Four colors with fun designs
Features: MIPS technology, Crumple Zone EPS foam, in-mold construction, 11 vents, Fidlock® snap-and-go magnetic buckle
The Nutcase Baby Nutty is a fun-looking and technology-packed baby helmet for the tiniest of riders. It's intended for infants and toddlers and is the perfect choice for balance biking or bike trailer riding.
It's available in four exciting design patterns in different colors, with prints of sharks, dinosaurs, hearts, and flowers. Any child will love it.
When it comes to safety, Nutcase Baby Nutty features MIPS technology which offers protection from rotational motion. The inside is fitted with Crumple Zone EPS foam that offers soft and reliable impact protection.
The updated Fidlock® snap-and-go magnetic buckle system will make life easier for both parents and kids — a super-easy mechanism that eliminates pinches.
Baby Nutty bike helmet is great for warm days as it comes with 11 large vents that cool down the baby's head!
Triple Eight
Best Multi-Sport Children's Helmet
MSRP: Check on Amazon
SIZE: XS/S fits 18.9 – 21.25 in (48 – 54 cm), S/M fits 21.5 – 22.75 in (55 – 58 cm), L/XL fits 23.25 – 24 in (59 – 61 cm)
Colors: Six colors
Features: ABS shell and impact-absorbing EPS foam liner, comfortable skate-style fit, two sets of Sweatsaver Fit Pads, lots of colors and designs
Do you have a hyperactive child that simply does not stop? In that case, a multi-purpose and multi-sport helmet such as this Triple Eight model is a smart choice. This is a skate-style cool kids' helmet that can be used for biking, skateboarding, scooters, BMX, roller derby, and commuting. It's certified for all of these purposes.
Triple Eight is characterized by a strong ABS shell lined with compliant protective EPS foam that absorbs impact forces if a crash occurs.
This kids' bike helmet is available in six colors which are not too bright, so they are excellent for kids who want to be more serious — like adults.
The fit is easily adjusted using straps or replaceable fit pads that can be washed. They also wick moisture and ensure a more enjoyable ride in hot and humid weather.
If you want the best toddler helmet that can do it all, Triple Eight is an excellent and affordable option!
---
— Bike Helmets for Kids —
---
Bontrager Jet WaveCel
Best Kids' Bike Helmet w/ WaveCel Technology
MSRP: $90
FITS: Heads 18.9 to 20.5 in. in circumference
Colors: Three colors
Features: Good ventilation, magnetic buckle, WaveCel structure, ABS shell
Bontrager Jet WaveCel is an affordable skate-style bike helmet characterized by durability, good-looking design, and excellent safety features.
It's available in three bright colors that kids will fall in love with easily. The colors are more suitable for boys, but the helmet can certainly fit and protect girls as well.
The proprietary WaveCel construction uses a collapsible cellular structure that reduces rotational forces. To ensure the best possible fit, the Fidlock magnetic buckle fastens quickly for a quick, secure, kid-friendly fit.
When it comes to comfort, Bontrager Jet WaveCel has soft and thick helmet pads that can be removed and washed regularly.
All of this makes Bontrager Jet WaveCel one of the best bang for the buck in this category!
Bell Spark Jr
Best Enduro-Style Kids' Bike Helmet
MSRP: $59.73
FIT: 19.7 – 22.4″ (50 – 56.9 cm)
Colors: Four colors
Features: MIPS technology, Ergo Fit system, No-Twist Tri-Glides straps, Sweat Guide padding, huge ventilation vents
The Spark Jr. is one of Bell's most popular kids' bike helmets to date. It is an enduro-style helmet, but it can be used for all types of riding.
Bell Spark Jr. comes standard with MIPS technology that protects the head from rotational impact, along with other comfort and safety features.
One of these is the improved Ergo Fit system that helps you adjust the fit of the helmet more precisely for better comfort and protection.
Moreover, the no-twist straps system ensures they are always flat against the head and the sweat guide wicks sweat away from the eyes.
If you need an enduro-style helmet for trail or park riding, Bell Spark Jr. is an excellent budget option.
Most Visible Design
MSRP: $90
SIZE: XS: 18.9-20.5″ (48 – 52 cm) S: 20.1-22″ (51 – 56 cm)
Colors: Three colors
Features: SPIN technology reduces rotational motion and impact, 360° fit system ensures a precise fit, EPS foam liner for utmost protection, adult-helmet-inspired ventilation
The POC POCito Omne bike helmet is one of the best you can get, as far as technology is concerned. This helmet is inspired by POC's adult helmets, but it is made to meet the needs of kids.
First of all, POCito features SPIN technology which protects against rotational impact during crashes. It is very similar to the MIPS technology, by allowing pads inside the helmet to move in all directions and redirect impact forces.
The lightweight in-mold construction comes with an EPS liner that ensures the best possible protection in case of direct head impact.
POCito Omne is suitable summer use thanks to large vents that suck air up from and direct it towards the rear, thus maximizing airflow.
The helmet is available in three highly visible fluorescent colors with reflective details that further improve visibility.
It's a safe choice!
Smith Zip Jr. Mips
Best for Off-Road Riding
MSRP: $75
SIZE: 18.9-20.5 inches
Colors: Four colors
Features: MIPS rotational impact protection, lightweight polycarbonate shell, durable in-mold construction, 21 vents
The Smith Zip Jr. is a proper all-mountain kids' bike helmet! It's intended for tiny riders and weighs just 9.5 ounces. Apart from very cool design and colors, this Smith helmet is packed with other useful and desirable features.
First of all, it comes standard with MIPS technology which protects against rotational impact, in addition to protecting against direct impact.
The helmet sits low on the kids' head, extending down the sides and the back of the head, thus offering even more protection than standard helmets.
This Smith helmet has a total of 21 vents that cool down the head and lower the weight of the entire construction. The fit is also easy to adjust thanks to the VaporFit system.
If you need a proper XC/All-mountain helmet for the youngest rider in your family, the Smith Zip Jr. will get the job done.
Bern Bandito
Best Ventilation System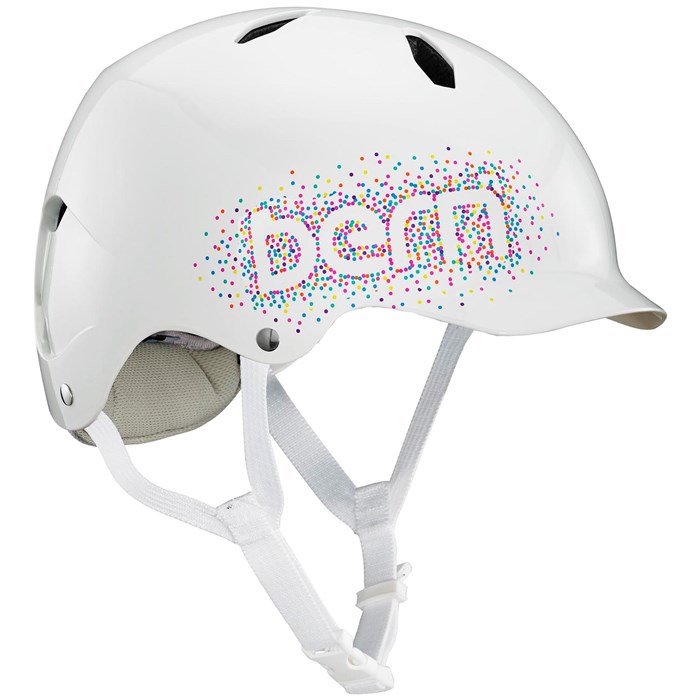 MSRP: $49.99
SIZE: S-M: 20.3″ 21.5″ (51.5 – 54.5 cm) M-L 21.5″ – 22.5″ (54.5 – 57 cm)
Colors: Two colors (white and blue)
Features: Thin shell with dependable EPS foam, Crank FIT adjustment system, Bike light compatible design, 10 vents for the best possible airflow
Bern Bandito is a seriously cool-looking bike helmet any kid will love to wear on every single bike ride. It comes in two colors — white and blue — which makes it suitable for boys and girls alike.
The Bandito is available in two sizes — S-M and M-L — so it fits kids of different ages. That also means you can use this helmet for a long time before the child grows out of it.
When it comes to the construction and the protection, a thin ABS shell makes the outer structure, with soft EPS foam protecting the head inside.
The Crank FIT and Sink FIT designs ensure a proper fit on every child's head and keep the helmet firmly in place in case of a crash.
All in all, Bern Bandito has an excellent value for money and a great cool factor!
Bell Sidetrack
Best Comfort and Adjustability
MSRP: $70
SIZE: Child 18.5-21.3″ (47-54cm), Youth 19.7-22.4″ (50-57cm)
Colors: Four colors
Features: Integrated MIPS system reduces rotational forces, Ergo fit for easy adjustments, No-twist tri-glides straps, four youthful designs
No matter what kind of riding your kid does, they need to wear a high-quality helmet! Bell Sidetrack is a versatile helmet suitable for rides in the backyard, around the park, or down some proper trails.
Bell Sidetrack combines fun looks, comfort, and protection in an affordable package. It's available in two sizes — Child and Youth — so finding the right fit is easy.
This helmet is characterized by the integrated MIPS technology and a fusion in-mold polycarbonate shell. This type of shell is pioneered by Bell and results in stronger and lighter helmet construction.
Apart from that, Bell Sidetrack features no-twist straps and an Ergo-Fit mechanism that lets you position the helmet firmly on the head.
Your kid will love this helmet especially if you let them choose their favorite design out of the four available ones — blue/pink, white, matte black, yellow/red.
Fly Racing Default
Best Full-Face Helmet for DH
MSRP: $110
SIZE: S 21.25-22″ (55-56cm) M 22-23″ (57-58cm) L 23 – 23.75″ (59-60cm)
Colors: One – Red/Black
Features: Full-face protection, EPS foam liner for impact absorption, multiple vents, removable and washable liners and pads, easy D-ring closure, multi-purpose intended use
Fly Racing Default is a full-face kids' bike helmet intended for extreme sports on two wheels. If you have a fearless boy or girl and you want to protect them while they're doing BMX or trail tricks, this helmet is made for that.
Fly Racing can also be used for Freerides and Downhills, but it's certified for Jet Skiing as well.
Protection is guaranteed by an EPS foam liner that encircles both the head and the face. The pads inside the helmet are removable and washable, so you can maintain the helmet clean.
Other selling points include plenty of vents, aluminum visor screws, a padded chin strap with a D-ring closure, and so much more. However, the best selling point is definitely the design — the red/black paint job looks mean!
Krash! Youth
Unique and Fun Design
MSRP: Check on Amazon
SIZE: One Size 21.25-22.8″ (54-58cm)
Colors: Seven colors
Features: Fun and unique bendable rubber 3D Mohawk, moto-inspired design, adjustable fit, cooling vents, universal fit design
Krash! is the most unique and the most fun looking kids' helmet we've seen thus far! If you or your little rider are Mad Max fans, you'll love this helmet.
It features a moto-inspired design and paint job with a bendable rubber 3D mohawk. I don't think there's a kid out there that won't think this Krash! helmet is cool and that would refuse to wear it.
Apart from the design, the Krash! helmet delivers in terms of comfort and protection as well. It's fitted with shock-absorbing EPS shell with soft pads that improve comfort.
A system of cooling vents promote airflow and the adjustable strap fit system ensures finding the proper fit.
Overall, Krash! has everything necessary to be called one of the best youth helmets out there!
How To Get Proper Fit on Kids Bike Helmet?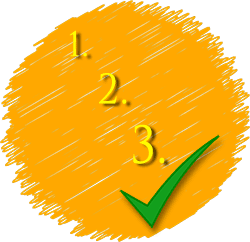 To ensure the maximum possible protection that a bike helmet can provide, you have to get the best possible fit. To do this, you can simply follow these five simple steps below.
Position the helmet low on the forehead, with one or two fingers above the eyebrows.
Adjust the locking flap where the two straps on one size meet so it sits just under the ear. Do not lock it yet!
Adjust the length of the straps so that the locking buckle sits in the middle of the chin and one finger fits between the buckle and the chin.
Lock the locking flap under the helmet
Give it a test. It should sit firmly on the head but should not be too tight.
F.A.Q
Things To Keep In Mind!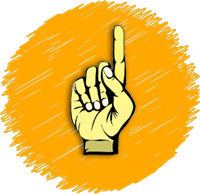 Make sure that your child always wears a helmet. Accidents happen when you least expect them!
Ask your kid to look up and tilt their head back when locking or unlocking the buckle. It is easy to pinch them when doing it, which always ends in tears.
After locking the buckle, tighten the occipital cradle on the rear of the helmet to get the best fit.
Check the fit regularly. When necessary, tighten or loosen the straps.
Replace the helmet every 5 years or when you notice any cracks or dents.
Related: Best Kids Bikes
Safety first, from a very early age!