Interested in making your first electrified steps? Go ahead, but I must warn you that there's no coming back. E-bikes are just so stunning! And this is where you can actually find the budget electric bikes out there!
Over are the days when electric bicycles were described as heavy, low-range, and uncomfortable. Today, e-bikes stand for reliability and speed, which comes at a good price.
By that, we mean to say that you can certainly get a high-quality bike for a high price, but on the other hand, you can easily find budget electric bikes that will last just as long.
In this article, we wish to show you 12 (+1 bonus) inexpensive electric bikes you can get and enjoy for thousands of miles.
Looking for eMTBs? Check out our Best Electric Mountain Bikes selection
Why Trust Us on This Topic?
When writing this review, we contacted the manufacturers for additional information, whenever it was necessary. We put these e-bikes side-by-side and, using our experience, put ourselves in the shoes of the buyers.
These are the bikes which we would trust to buy and are happy to suggest to others. If you have any questions, let us know and we'll answer them as soon as we're back from our ride!
So, let's start…
---
Best Budget Electric Bikes
---
---
Vvolt Alpha
---
Maintenance-free drive belt!
MSRP: $1,399
Specs: Step-over and step-through frame, 350W motor, single-speed drivetrain, hydraulic disc brakes
---
Related: Full Vvolt Bikes Overview
Vvolt Alpha is one of the best budget electric bikes around. It provides unmatched value for the money reflected in the electronics, range, and components. Great looks are a big plus as well.
First of all, this e-bike is built around a lightweight aluminum frame available in step-over and step-through versions. The design is modern and attractive, with integrated cables and battery.
The rear hub Acer 350W motor will help you reach 20 MPH with five PAS levels, whereas the 375 Wh battery secures a 60-mile range. There's also a Walk Mode to help you push the bike up ramps more easily.
If you love cycling but hate cleaning and lubricating the drivetrain, you'll quickly fall in love with the belt drive that replaces the traditional chain. It powers a single-speed drivetrain and requires zero maintenance.
Other notable features include powerful hydraulic disc brakes and clearance for up to 2.4″ wide tires, so you can feel free to take this bike on light trails and gravel roads. Though it's just as fast on paved roads and when used for daily commutes.
Consider Also: Vvolt Sirius
Considering the $1,399 price tag, there are few other budget electric bikes out there that provide the same amount of value compared to Vvolt Alpha.
Engwe Engine Pro
---
Has a 750W beast e-motor!
MSRP: $1,800
Specs: Foldable frame, 750W motor, full suspension, mechanical disc brakes
---
Related: How To Choose An Electric Bike
The Engwe Engine Pro electric folding bike has a lot to boast about, apart from the budget price.
As a basis for this model, the company used a folding alloy frame that's easy to collapse and store or carry around. Moreover, it has a powerful electric motor that puts out 750W of raw power. Thanks to the upright riding position and the low-positioned 615Wh li-ion battery, this electric folding bike is exceptionally stable on any terrain. You can expect a 50+ mile range with 5 pedal-assist levels.
Engwe Engine Pro is an excellent choice for any rider out there who wants a versatile foldable e-bike for city commutes and off-road weekend adventures.
You can use it to tackle any hill that you thought was unconquerable before. Other components that will help you do that include a 7-speed drivetrain, and 20″ x 4″ tires. When you head back down an adrenaline-inducing descent, you can control your speed with a pair of mechanical discs.
This bike also boasts front and rear suspension, which is a rarity on folding bicycles. You'll get all the comfort you can ask for, even if you take a bumpy shortcut to get home earlier.
Engwe Engine Pro looks good and will help you ride longer without any pains and aches. It's time to break the stereotype that e-bikes are expensive and not fun!
See More: Full Review of Engwe Bikes
Aventon Aventure
Best Off-Road E-Bike
---
Unstoppable 27.5″ tires!
MSRP: $1,999
Specs: 750W motor, 28 mph top speed, 45 miles range
Full Review of Aventon Bikes
---
Aventon Aventure
is possibly one of the most amazing-looking e-bikes we have seen so far. It's a mountain bike with
27.5″ tires
equipped with a powerful
750W motor
. Just imagine what it can do in the right setting. When the assist from the motor kicks in, there's almost no need to watch where you're going, just maintain the direction!
As you know, mountain bikes are not made to go fast, they are made to go anywhere. That's why Aventon Aventure has a top assisted speed of  28 mph, which is going to seem much faster with such wide tires.
The motor has five riding modes, which makes it versatile and suitable for different riders and situations. You can use it in manual mode, pedal-assist mode, and fully electric mode. It's up to you how much power you want at a given moment.
For the affordable price you pay for it, you'll get hydraulic disc brakes, double-walled rims, an 8-speed groupset, and an 80mm suspension fork.
If you're up for an adventure and you want an e-bike that can tackle snow, sand, rocks, mud, roots, and anything else, then Aventon Aventure is for you! It's the best electric mountain bike if you're looking for a budget option!
---
Best Electric Bikes (City / Cruiser / Urban)
---
Charge Comfort 2 Step-Thru
Best for Short People
---
MSRP: $1,899
Specs: Comfortable cruiser frame, step-through, aluminum, 7-speed drivetrain, 20 MPH max speed
---
Charge Comfort 2 is one of the best-selling electric bikes out there. It's available with a step-through cruiser-style frame, so it's suitable for men and for women.
The 6061 aluminum frame is light and good-looking, whereas the high-tensile aluminum fork is incredibly strong and comfortable.
The heart of Comfort 2 is its Bafang 250W hub motor. It can support you up to 20 mph, which is more than enough for fast and efficient city riding.
The 418Wh Li-Ion battery provides a range of 50 miles, depending on how you ride. When you run out of juice, you can charge it fully in around 6.5 hours. That's pretty fast for a budget electric bike. It also comes with lighting and a strong rear rack to carry anything you might need on your travels.
Other than electric parts, Charge Comfort 2 is also equipped with a 7-speed drivetrain and mechanical disc brakes. Therefore, you can get a good ride even without electronics.
Charge Comfort 2 is also a phenomenal choice because of a one-size-fits-all frame and Flat Foot Technology that improves stability and control! It's a no-brainer budget electric bike for short people.
Co-op Cycles Generation e1.1
Excellent Accessories On-Board
---
MSRP: $1,499
Specs: 20 mph max speed, hydraulic disc brakes, 7-speed drivetrain, 417Wh lithium-ion battery
---
Co-op Cycles Generation e1.1 is one of the cheapest value-packed electric bicycles on this list. However, it is one of the best you can get if your goal is to commute on a regular.
Learn more: Co-op Cycles Generation e Series
This e-commuter comes already equipped with handy accessories for everyday riding, such as a rear rack and lights. All you need is some bike bags to carry the necessities and ride to work every day.
Co-op Cycles Generation e1.1 is made with aluminum frame and suspension fork to make the ride as comfortable as possible while riding your bike.
It's powered by a Bafang 350W motor and a 418Wh Li-ion battery, which are high-quality electric parts. The max range is around 40 miles, whereas the maximum depends on how much assistance you use.
If you run out of power, just keep pedaling with a 7-speed Shimano drivetrain that can get you over most hills.
Another feature that's useful for regular commuting is Schwalbe Super-Moto-X tires with puncture protection. Urban roads are notorious for sharp debris that can ruin your day.
All in all, if you want a quality electric bike and you can afford to spend a few extra bucks, Co-op Cycles' Generation e1.1 is a long-lasting choice.
Vvolt Sirius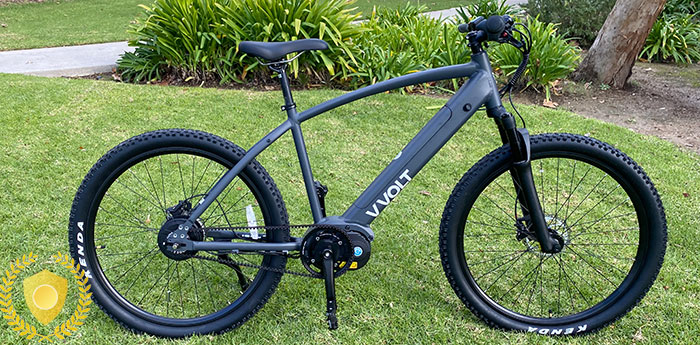 ---
A clean-looking e-bike that shifts silky smooth!
MSRP: $2,799
Specs: Lightweight aluminum frame, Enviolo rear hub, large battery, hydraulic discs…
---
Vvolt loves making affordable e-bikes, and we love reviewing them and riding them. Vvolt Sirius is one of our favorite models by this company, and it will soon be clear to you why. This is a well-balanced all-around commuter that strives to make e-bikes affordable, approachable, and likable.
First of all, the design is fantastic, it has a very clean and simple look to it and unlike many other e-bikes isn't too out there. The gearing is hidden in the rear hub and shifts super smoothly.
Vvolt Sirius comes with a lightweight frame (aluminum), a internal gear hub system, and 2.4″ tires
The Sirius is also equipped with 160mm hydraulic disc brakes, so you'll be able to stop on a dime easily. All of this makes it one of the best value electric bikes.
Vvolt Sirius can go 20-40 miles on a single charge that only take 5.5 hours. That's more than enough to complete your daily commute or finish errands without cutting corners or getting out of breath.
That's why this is one of Vvolt's best budget electric bikes!
Schwinn Marshall
---
MSRP: $1,600
Specs: 20 mph top speed, 35-mile range, 7 speeds, LCD power display…
---
The Schwinn Marshall e-bike is a one-of-a-kind deal that you should definitely check out. Pay attention so you don't miss anything because this e-bike comes with a lot of features that make it the best affordable electric bike.
First of all, the Marshall hybrid bike comes with suspension. 100m of travel would usually put it under the mountain bike category, but this bike is great for both commuting and lighter trails. The step-through frame makes it ideal for both men and women.
The 250W geared hub motor will get you up every mountain, and the range of 35 miles is great for commuting.
Now, this model doesn't come with a rear rack but Schwinn offers plenty of gear to add to your ride.
Schwinn Marshall the best budget electric bike for city commuters who like taking things easy and riding daily.
---
Budget Electric Road Bikes
---
Before I lead you in, I want you to breathe deeply. Road bikes are expensive. Electric bikes are expensive. You can't find a decent road bike with an electrical motor for an affordable price.
So, be prepared, the prices here are slightly higher than you're used of.
However, we'll keep our eyes on budget electric road bikes and if any cheaper options appear, we will update the list.
Cannondale Topstone Neo SL 2
---
Beautiful design and powerful electronic parts!
MSRP: $3,600
Specs: 250W Mahle motor, fully charged battery in 4h, Shimano hydraulic discs, high-end Shimano components…
---
If you want a Cannondale electronic bike and you want to get the best of the best, then you should go for the Topstone Neo SL 2. This is one of the best budget e-bikes built by Cannondale, and it comes with a mouth-watering list of components that ensure a quality ride.
This gravel grinder and commuter will get you anywhere you need to be in the shortest amount of time. The powerful 250W Mahle motor works in three modes. Depending on which mode you use, one battery charge can last you up to 47 miles. The maximum speed you can reach on this bike with the pedal assist on is 20 mph.
Cannondale Topstone Neo SL 2 is a fantastic commuter if you live in a particularly hilly area and you want to get to work through the busy city streets.
You can also enter group gravel rides or go on a long ride yourself. When you're riding on flats, you will have a 20-speed Shimano GRX 400 drivetrain to propel you, but you can still get some help from the motor.
In our opinion, Cannondale Topstone Neo SL 2 is one of the best budget electric road bicycles out there that does not cost a fortune.
It can handle some serious off-road action as well, thanks to the 42c tires and reliable hydraulic disc brakes. But, it will also feel at home in an urban setting, ridden by a person who wants to cut their morning and evening commute.
Diamondback Current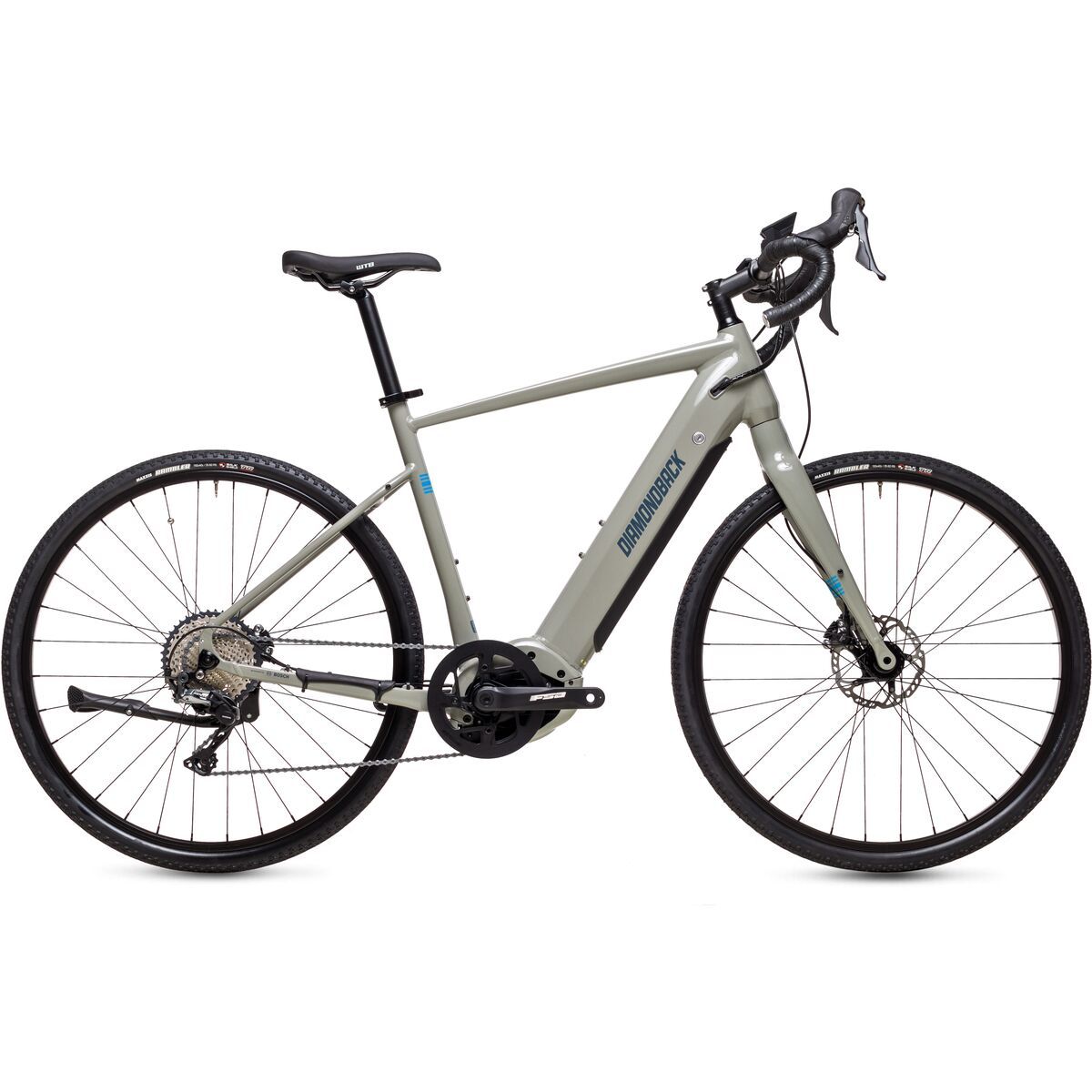 ---
Stealth look that does not give it away!
MSRP: $4,100
Specs: Frame-integrated battery, aluminum frame and fork, Shimano GRX groupset, 350W motor…
---
Do you consider a $4,100 bike to be a budget option?
Hell no!
But wait for a second, do not make rapid conclusions.
This amount of money is, without a doubt, substantial, but let's look closer. This can still be considered one of the best cheap fast electric bikes.
A gravel bike with Shimano components? Frame integrated battery? Not to mention the stealth look. This setup is quite expensive.
If we compare the components and the price tag, then Diamondback Current is definitely a budget all-road bike, in our opinion. And at the same time, not cheaply made as it has a very strong build. It's a beast! Electrical stealth beast!
However, that's still not all that you'll get for this amount of money. Diamondback Current has Shimano GRX 400 hydraulic disc brakes and versatile 700 x 40 mm tires, so you can ride it on gravel as well.
This bike is powered by a 350W Bosch mid-drive motor, so it boasts a 28 mph top speed. That makes it a class 3 e-bike. It's a fantastic purchase for someone who does not want to attract attention on the road but wants a versatile budget electric bike that can do a lot.
---
Budget Electric Folding Bikes
---
Buzz Cerana
---
Modular design that's easy to customize!
MSRP: $1,499
Specs: LED lights, disc brakes, a long-range, 350W motor, puncture-resistant tires
---
Electric bicycles are the ultimate example of practicality, versatility, and ease of use. Buzz Cerana is no different.
See More: Full Review of Buzz Bikes
It's a tiny utilitarian and cheap electric bicycle that can be used to fit your specific needs.
The attention to detail on this bike is incredible. The Buzz Cerana not only looks great but it is incredibly practical and could replace a car for you.
This tiny package also includes integrated LED lights with brake light, power cut-off while braking, and even a basket to carry your shopping.
Its motor develops 350W of raw power, supplied by a large battery that can ride you for up to 40 pedal assist miles per charge.
Buzz Cerana has small 24″ wheels with incredibly large 3″ tires. This bike is not only going to handle any terrain but it will do it keeping you very comfortable while doing it.
Buy it if you want a cheap electric bike that is small and rides long! That's one of the best budget electric bikes you can get.
Lectric XP 3.0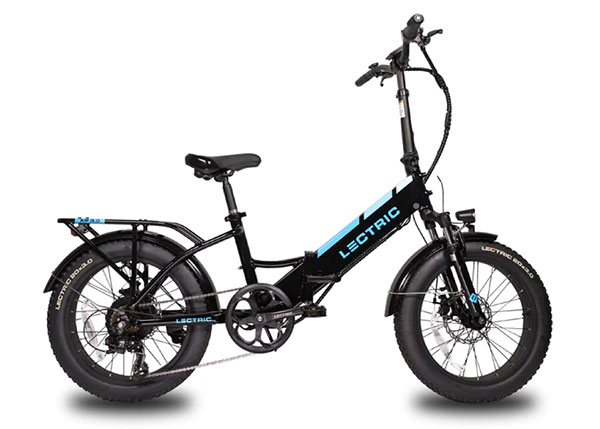 ---
Small, but packs a big punch!
MSRP: $999
Specs: Foldable, 7 speeds, 28 mph top speed, 500W motor, 120″ wheels, five riding modes…
---
Affordable e-bikes come in many shapes. One of these is folding electric bikes, which are gaining more and more traction in urban areas. They are extremely practical as they can be carried on the train, airplane, or bus. Did you know that some people even use them to travel the world on them?
If you buy the Lectric XP 3.0, there's no need to take it to such extremes. It will show you everything it's capable of during your local city or country commute. When you wish to carry it, you can fold it in 10 seconds, so you will lose no valuable time.
Lectric XP 3.0 packs a powerful 500W motor, so you can go 28 mph with no effort. How cool is that? You don't even need to stick to urban areas, thanks to wide 20″ tires that can go on gravel and dirt without any hiccups.
The range of this tiny folding electric bike is estimated at around 45 miles. You can see the lithium battery level on the handlebar-mounted LCD screen all the time, along with the speed and the distance.
Lectric XP 3.0 is ideal if you want to combine an off-road, road, and public transport commute all in one for a bargain price.
Choose this one if you're looking for the best cheap folding electric bike.
SwagCycle EB-5 Pro
---
Arrives 99% assembled!
MSRP: Check on Amazon
Specs: Simple folding mechanism, 250W motor, up to 15 mile range, 14″ wheels, 4-5h charging time…
---
Many people are intimidated by folding bikes because they think they are difficult to fold and carry around. That can't be further from the truth, and we have the SwagCycle EB-5 Pro to prove it.
The folding and unfolding process takes less than 10 seconds each and every time, so you easily get it in your trunk, suitcase, or on the train. SwagCycle is an affordable electric bike that's easy to use.
When you're not transporting it, you'll be riding around on a sturdy and light frame made from aluminum that can support riders of up to 264 lbs. Even if you lose your way and stray off the beaten track, the wide 14″ tires will keep the ride comfortable and smooth.
This bike comes with a 250W rear hub motor and a 36V lithium battery, which means the electronics are bulletproof.
For added safety, the Ride Scoozy VeeGo comes with integrated headlights, taillights, and brake lights, as well as V-Brakes that disengages the motor when you press them.
This folding electric bike is a foolproof choice if you love riding on and off the road, and you frequently need to transport your bike around. It's probably the best budget electric bike with folding mechanism money can buy.
Bonus:
Hiboy MAX3
Did you read through all of the reviews of these affordable e-bikes and then thought that a bike is overkill? All the extra weight to carry around does not sound, right?
No worries, we found one electric scooter for you instead.
---
Inexpensive and packed with high tech!
MSRP: Check on Amazon
Specs: 19 mph top speed, 17 miles range (Li-ion battery), easy fold and carry design, lightweight.
---
People in cities all around the world are getting crazy about these tiny but handy electric scooters. We understand them completely as they are incredibly practical and extremely fun to ride!
If you need a way to get from one part of the city to another, but a bike does not seem like the best solution, we encourage you to give this Hiboy MAX3 electric scooter a try. It will get you back to childhood and anywhere else you need to be. That's the main reason why we included this in our best budget electric bikes overview!
Don't think it's a toy either. It can develop speeds of around 19 mph and can be ridden by people of all ages. It even features a strong braking system that stops you quickly.
The Hiboy MAX3 scooter is also foldable which makes it easy to store it at home when not in use or carry it into your office before you head back home
What Are Watts?
The shortest answer would be — A Watt is a unit of power.
In the context of e-bikes, we use Watts to measure the instantaneous power output the motor can produce. The wattage of a bicycle is determined by multiplying the voltage of the battery by the peak current limit (in amps) of the controller.
So, the more watts an e-bike has, the more power it can produce. Now you might be asking how much power do you actually need.
If you're not a very heavy rider and you don't plan to ride many hills, a 250W motor will suffice. However, if you're heavy and you live in a hilly area, you should aim for more — 500W and upward.
But, bear in mind that not all manufacturers label their bikes the same when it comes to wattage. The reasons for this are numerous: law, regulations, marketing, etc.
Therefore, it's best to contact the manufacturer to find out the true wattage of your bike or use the abovementioned formula to calculate it yourself.
How Fast Can Budget Electric Bikes Go?
The maximum speed e-bikes can develop is restricted by the law in most countries around the world. In the US, e-bikes can assist you up to 32 mph (51 kph), whereas in Europe the limit is 28 mph (45 kph).
You can still go faster than that, but you will need to use the pedals and the power of your legs.
All e-bikes belong to three classes based on their top speed and the mode of assistance they offer:
Class 1 — Pedal-assist bikes that help you out with additional power only when you are pedaling. They're limited to 20 mph (32 kph).
Class 2 — E-bikes that have both pedal-assist and throttle modes. They can propel you with or without pedaling. These bikes are also limited to 20 mph (32 kph).
Class 3 — These bikes provide assistance only when the rider is pedaling, but they can assist you up to 32 mph (US) or 28 mph (Europe).
Of course, regardless of how fast your e-bike can go, make sure to stay within the speed limits and keep yourself and others safe!
That's it, folks!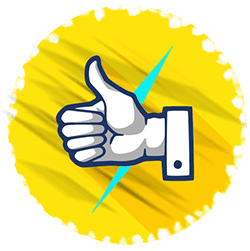 I hope you realized that there are best budget electric bikes out there that don't cost a fortune.
Sadly, you can't get a good electric road bike for $500, because such bikes cost more even without electrical components.
The bikes we showed you above, however, are just great!
Related: Things to consider when choosing an electric bicycle
Every component has its price and you don't want to cut corners on some important parts.
If you have questions regarding which of these budget electric bikes to choose from, feel free to ask below.
Did we miss some of the best budget electric bikes? Let us know in the comments!