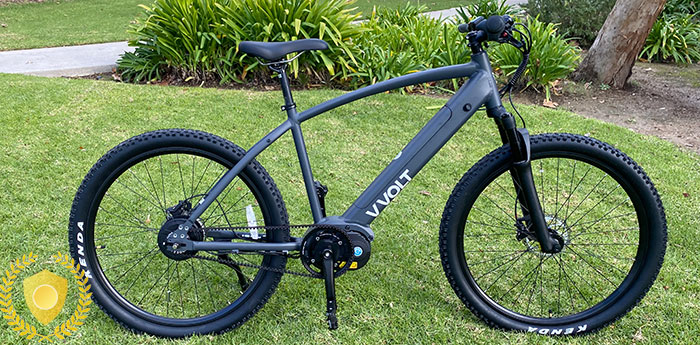 Vvolt Sirius is a capable and quality designed mid-drive, hardtail, belt drive mountain bike for street and light off-road.
Some e-bikes are thumb-throttle first and pedal assistance second. With no thumb throttle to push, the Vvolt Sirius is all about pedal assistance.
A smooth belt drive motor provides seamless, silent shifting between gears, no greasy sprockets to clean or worry about, and ideal gear ratios for hill climbing and high-speed flat riding.
But what else does the Vvolt Sirius offer? Time to find out!
Quick Assessment
If you're looking for a high-quality, moderately affordable – yet capable – electric mountain bike with all the features you'll need, then the Vvolt Sirius might be the e-bike for you.
We love its sleek, integrated battery design, matte finish, and all its advanced capabilities. If you took all the electric bikes offered today, only about 5% feature a mid-drive motor, and less than 2% feature a belt drive with an internally geared drivetrain. This e-bike has all that, and more.
You can easily take this bike to work, to the store, on long paths, or even light offroad dirt trails. Its front suspension forks and cushiony seat provide ample comfort over modest bumps and dirt terrain.
Key Specs
Motor: 250W (500W peak power) MPF mid-drive motor with 80Nm of torque (pretty good torque for such a small motor – comparable to many 750W-1000W hub motors)
Battery: 375wh Celxpert battery with LC cells (on the smaller end of battery capacity but with high-quality cells)
Frame: Lightweight alloy
Fork: Air sprung suspension with 100mm of travel (pretty standard amount of fork travel when it compresses and then releases)
Front derailleur: N/A (internal gear hub drivetrain eliminates the need)
Rear Derailleur: N/A (internal gear hub drivetrain eliminates the need)
Number of gears: 4
Brakes: Hydraulic with 160mm rotors (typical is 180mm, but stopping power is still pretty good)
Tires: 27.5" x 2.7"
Weight: 54-46 pounds
The Build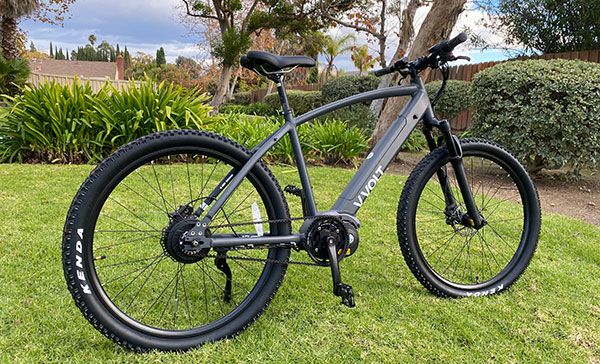 The first thing you'll notice when you see the Vvolt Sirius is its sleek design. To most passersby, this might not even look like an electric bicycle. Its built-in battery seamlessly and anonymously integrates right into the down tube, and the mid-drive motor is easily hidden under the frame.
Built with lightweight alloy, the Vvolt Sirius weighs just 54 pounds, which is light enough to load into a truck, up on a rack, or to hang from a hook in your garage or shed.
To fit all riders, the Sirius comes in two sizes – the small/medium (79" stand-over height and a 44" seat tube) and the medium/large (83" stand-over height and a 48" seat tube).
Both offer plenty of seat height adjustability and you can even roll the handlebars forward or back to your liking with a quick bolt adjustment.
With a standard mountain bike design and raised handlebars, the seating position is upright and quite comfortable with minimal leaning forward even with the seat post moderately extended.
Motor
The Vvolt Sirius offers 250W (500W peak power) MPF mid-drive motor with 80Nm of torque.
First off, mid-drive motors typically offer much more power than their hub motor counterparts.
Although 250W sounds low, it is the same size as most high-end Trek and Specialized electric mountain bikes that cost upwards of $8,000-$10,000.
The motor is powerful enough to do whatever you need to do – go up steep hills or ride up to 26-28 MPH while still being able to pedal.
Listed at 80-newton meters of torque, this motor peaks at 500W or more and is plenty powerful, comparable to many 750-1,000W rear hub motors. The Himiway Cruiser, for example, has a 750W rear hub motor and offers 80Nm of torque as well.
This electric bike is not meant for climbing extreme steep grades, but it should pull you up just about any hill you throw at it.
For most, the motor won't leave you asking for more. You will likely be more than satisfied.
Battery
Its 375Wh, 10.4Ah 36V Celxpert battery (with LG lithium-ion 18650 cells) is on the lighter side of capacity, and most e-bikes in this price range have much larger 48V or even 52V batteries. We would expect similarly priced electric bikes to offer at least 600Wh or more.
While rated by Vvolt as providing up to 60 miles of riding on a single charge, our tests have shown about half that range. Lighter riders might be able to pull out a bit more, but not much.
Heavier riders (over 220 pounds) might only get 20-25 miles out of a single charge. In our experience, you need a 48V, 52V, or even 72V battery of at least 1,000Wh (20+Ah) to achieve 60 miles of range.
The Biktrix Juggernaut electric bike, which is similar in size and design, features a 52V, 17.5Ah battery which easily offers 40-50 miles of range, regardless of rider weight. This is the size battery we wish the Sirius came with. What's more, the Juggernaut also integrates the battery into the downtube.
The digital display provides three bars to express the amount of charge left in the battery. The battery itself also has a button and green and red indicator lights to also provide the capacity indication. Vvolt says it takes 5.5 hours to achieve a full charge – which is on the longer side.
All in all, we wish Vvolt included a larger battery.
Suspension
The Sirius offers a front air-sprung suspension fork with 100mm of travel. This is pretty standard and nice to see on an e-bike with dual-sport capability like this.
With adjustments for pre-load (ability to adjust how easily the forks depress) and lockout (keeps the suspension rigid and won't depress at all), this electric bike offers pretty good comfort over light off-road terrain and street potholes.
The Sirius can handle light trails like a breeze. If you wanted added suspension without breaking the bank, you could easily add an inexpensive suspension seat post for under $50. This would provide far greater comfort, especially when going in dirt or on bumpy roads.
Drivetrain
Almost all electric bicycles under $10,000 offer simple sprocket/derailleur setups. Very few offer higher-end internal hub geared drivetrains like the Sirius. This, along with its belt drive (instead of chain-drive) really sets this bike apart.
See more: Best Belt Drive Electric Bikes
Instead of having various sized sprockets and a chain shifter to switch between them, the Sirius takes care of all that internally in a small hub casing placed in the rear wheel.
This means you won't have to get your gearing adjusted every few months as the derailleur slips out of place.
You can also shift gears while the bike is under heavy load (stopping in the middle of a steep hill) or even while the bike is stationary. This provides substantial flexibility over chain-driven models. The bike's internally geared system gives a lot to the riding experience too.
The Vvolt Sirius offers hydraulic disc brakes (much better stopping-power than mechanical disc brakes), which is a welcome sight.
Although, we wish it offered 180mm rotors, rather than the 160mm ones that are included. It does make a difference, but overall, the stopping power is quite sufficient and smooth.
A simple two-finger pull of the front or rear brake lever easily brings the bike to a stop. Unless you are an electric bike aficionado, you likely won't notice the difference in braking performance. It will be just right for your liking.
Torque Sensor
The Vvolt Sirius includes a torque sensor that moderates how much pedal assistance is doled out to the rider depending upon how much force they put onto the pedals.
If you are riding in pedal assist level 5 (highest level), then you have tremendous power at your disposal, but the torque sensor won't dole all of it out if you are pedaling moderately.
Once you pedal hard/quickly, the sensor will provide you with full power. This is a nice feature to have on an electric bike, and many similar models at this price point don't offer this capability.
The Sirius model is Vvolt's high-end design. Vvolt offers two other models – the Alpha, which features a small rear hub motor and likely does not offer the torque and power of the Sirius, and the Proxima, which is identical to the Sirius but has no front suspension fork.
This design will not feel nearly as comfortable as the Sirius, especially when riding on bumpy or dirt roads/paths.
Final Verdict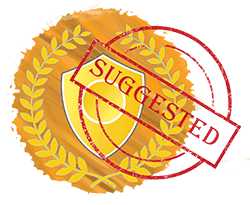 The Vvolt Sirius offers sleek styling, a mid-drive motor, an internally geared hub drive system, front suspension, and so much more.
All that makes the Vvolt Sirius a great electric bike for a beginning or intermediate rider who is looking for an easier way to get around than a standard bicycle.
Owners of this bike will enjoy its comfort, power, and wide pedal assistance gear range.
Available in three matte-finish colors (white, green and dark gray), we do recommend the Vvolt Sirius.
You won't be disappointed, the Vvolt Sirius will last you for years to come.
There are no comments yet, add one below.