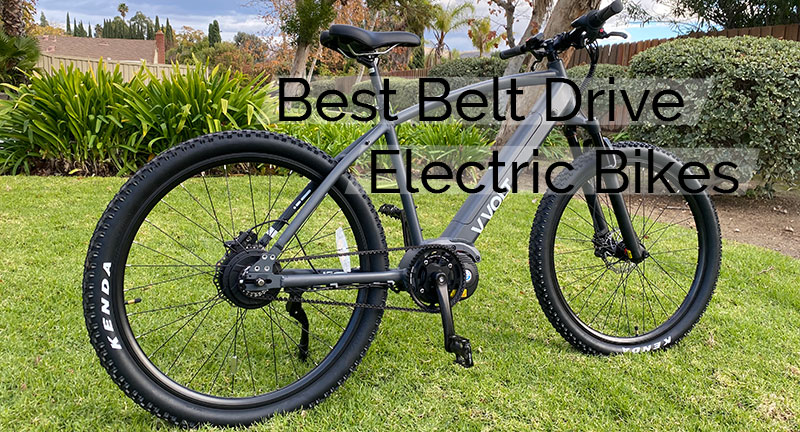 Belt drive e-bikes are the best low-maintenance electric bikes available. Smoother, quieter, and easier to use compared to chain-driven e-bikes, belt-drive e-bikes have exploded in popularity in the last decade. Here, we've put together a list of the best belt-drive e-bikes. 
Electric bikes have changed the landscape of the cycling industry, and every year, we see innovation after innovation. The belt drive is one of the latest, offering a piece of technology that some people believe is the future of cycling.
Belt drive e-bikes get rid of the chain as part of the drivetrain, replacing it with a notched belt that connects the front chainring to the rear cog.
In this article, we're going to tell you a bit more about belt drive bicycles, as well as highlight the best belt drive e-bikes of 2023.
After we've run through the best belt drive e-bikes, we'll tell you how to choose between one belt driven e-bike and the other.
Benefits of a Belt Drive On Bicycles
Belt drive on bicycles refers to the belt that is used to power the drivetrain. Instead of a chain that is made up of small metal links, a belt is a one-piece, silky smooth apparatus typically made of carbon fiber-reinforced rubber.
A belt drive will look almost smooth on the top – perhaps containing some small grooves – while having deeper notches on its inside. These notches line up with the teeth on the front chainring and rear cog, just as a chain would fit into the teeth of two chainrings.
Cyclists love belt driven e-bikes because they are simple and low maintenance. You'll need to keep a chain clean and dry, wipe off excess grease and grime, and check to make sure it hasn't been worn or stretched.
Belt drives require no such maintenance. The only time you'll need to clean a belt drive is if you ride through deep-sectioned mud – even then, all the belt drive needs is a little rinse off.
In fact, the best belt drives claim to last for up to 50,000 miles. Even if you averaged 20 miles of riding a day, it would take you nearly seven years to wear out a belt drive.
You'll never have to worry about dropping your chain on a belt drive e-bike either. Not only because there isn't a chain, but also because the belt drive never moves from side to side. There are no gears or derailleurs on a belt drive e-bike.
Instead, the gears are shifted internally, inside the rear hub, allowing you to adjust the resistance without physically shifting the belt drive. Not all belt drive e-bikes have an internally geared hub, but most do include this feature.
---
Best Belt Drive e-Bikes
---
1. Vvolt Sirius
Best Belt-Driven E-Bike for Adventures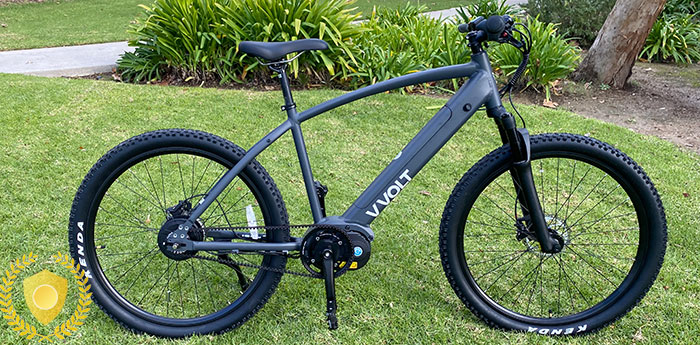 MSRP: $2,799
250W (peak 500W) mid-drive motor
Expected range: 20-40 miles
Vvolt Sirius is the only belt drive mountain e-bike that we've included on this list, but that's because it is one of the very best.
The Sirius is available as either a Class 1 or Class 3 e-bike. When fully unlocked, the Sirius has a maximum speed of 28mph which is very impressive for an electric mountain bike. This is all made possible by the 250W MPF mid-drive motor with 80Nm torque.
With big tires and quality front suspension, Vvolt Sirius is designed for backcountry trails and single-speed tracks, all without having to worry about your chain-driven setup.
The Sirius' battery is the 375Wh Celxpert which offers a 20-40 mile range on a single charge. There is even a torque sensor that automatically adjusts the motor assistance based on how hard you pedal. Stepless shifting in the Enviolo rear hub offers a 380% gear range which goes through the Gates CDX belt drive to put power in the pedals.
As you'd expect on a mountain bike, the Sirius has hydraulic disc brakes with 160mm rotors and clearance for 2.4" tires. Front and rear lights are included, as well as an onboard computer.
From the computer's display, you can view the four levels of assistance plus walk mode, or use the Bluetooth capabilities to pair your Vvolt Sirius with the phone app.
---
2. Gazelle Ultimate C380+
Most Versatile Belt Drive Electric Bike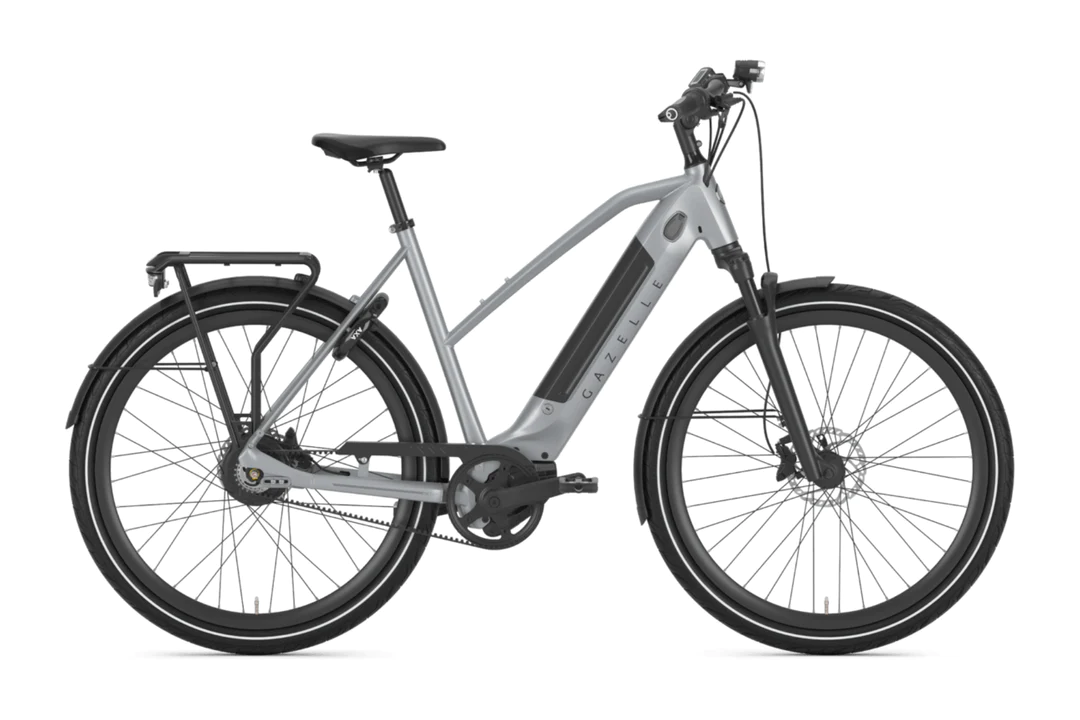 MSRP: $5,000
250W (peak 600W) mid-drive motor
Expected range: up to 55 miles
Gazelle brands their Ultimate C380+ as "equal parts sporty urban bike and comfortable touring bike." Keep that in mind as we run through the features, including a front suspension fork, lightweight but powerful motor, and wide Schwalbe tires.
Starting with the Enviolo 380 trekking internal gear hub, the Ultimate C380+ comes with a Gates Carbon Drive CDX belt that we'll see is common on the best belt drive electric bikes.
Built with a Bosch Performance Line Speed Gen 4 motor, the Ultimate C380+ has a maximum speed of 28mph. The Bosch motor offers a mammoth 75Nm of torque, which makes the acceleration on the Ultimate C380+ better than almost any other e-bike.
Integrated into the downtube is the Bosch PowerTube 500Wh 36V battery which has a range of up to 55 miles.
One of the most unique features of the Ultimate C380+ is the front suspension fork. The SR Suntour 45 spring suspension has 80mm travel, lockout adjustment, and preload adjustment. Overall, the front suspension is a great touch which will make the overall ride on the Ultimate C380+ much smoother compared to other belt-driven e-bikes.
The 6061 aluminum alloy frame comes with its own lock, and adjustable aluminum handlebars. Axa Blueline 50 LED light is integrated into the front of the frame which also includes Ergon Ergonomic grips.
The tires are Schwalbe's Energizer Plus, 47-622 tires which are capable of handling light off-road terrain and any kind of commute.
---
3. Ride1UP Roadster V2
Most Affordable Belt Drive E-Bike
MSRP: $1,095
350W geared hub motor
Expected range: 20-30 miles
Full Review of Ride1UP
Ride1UP Roadster V2 is one of the cheapest belt drive e-bikes available, and you could hardly notice by looking at the frame. The Roadster V2 looks like a stylish single-speed rather than a powerful e-bike – but perhaps it is both.
The 36V 7.0ah battery is concealed in the frame, offering a 20-30 mile range depending on rider weight, terrain, incline, and pedal assist. Powered by a 350W geared hub motor with 40Nm torque, the Roadster V2 can assist your ride up to 15+mph.
Belt drive is a single-speed Gates Belt Drive – the single-speed is what makes the Roadster so much cheaper than comparable belt drive e-bikes which typically offer multiple gears.
You can put the motor at any one of its five levels of assistance using the LCD display, and the ride is made even smoother by an ultra-sensitive bottom bracket cadence sensor.
Instead of disc brakes, the Roadster V2 has Tektro R315 Dual Pivot brakes which offer slightly less stopping power. But of course, they still work very well.
You can choose from two different tires on the Roadster V2: Kenda Kwest 700Cx28 for the road, or Continental Terra Trail 700Cx40 tires for gravel.
---
4. Priority E-Coast
Premium Quality Belt Drive E-Bike
MSRP: $2,000
500W rear-hub motor
Expected range: up to 60 miles
One of the more attractive belt drive electric bicycles on our list is the Priority E-Coast. With a 500W rear hub motor with a 28 mph top speed, the E-Coast is powerful and long-lasting. The bike offers 5 levels of pedal assist and throttle, so you can choose how much assistance you want to get.
Related: Full Overview of Stromer Bikes
The 576 Wh battery has a range of up to 60 miles, which is a solid range for a cruiser electric bike, and the battery can be easily removed to be charged off the bike or for replacement.
The belt drive is made completely of carbon, and it connects to the single-speed rear cog which requires practically zero maintenance.
The entire frame uses a partially integrated design that hides the cables and incorporates components into the silhouette of the bike.
Priority E-Coast is perfect for cruising along the beach or on bike paths thanks to its 26" balloon tires which are perfect comfort.
The E-coast even comes with fenders and a rear rack, as well as with front and rear lights and a dual-spring saddle.
So if you want a super comfortable belt drive ebike that doesn't cost much, the Priority E-Coast is a great choice.
---
5. Priority Current
Smoothest Riding Experience
MSRP: $3,299
500W mid-drive motor
Expected range: 20-50 miles based on pedal assist mode
Priority Current is a Class 1 belt-drive electric bike claiming to be more powerful and comfortable than its competitors. To back such a bold claim, Priority has equipped the Current with a 500W mid-drive torque-sensing motor that has 140 Nm of torque. This class-leading torque gives the Current a fantastic ride feel, one of the smoothest of any belt-drive e-bike.
The 500Wh 48V battery is integrated into the frame, offering a range of 20-50 miles based on pedal assist mode. Speaking of, there are five pedal assist modes that power the Priority Current up to its maximum speed of 28mph.
The belt drive itself is a Gates Carbon Drive CDX belt, and there are dual piston hydraulic disc brakes that provide tons of stopping power. With a low-step 6061 aluminum frame, the Priority Current is comfortable for riders of all sizes and abilities. The rear hub is an e-bike-specific Shimano Inter-5 internal hub which is high-quality for any electric bike.
Along with the electronics, there are a few more features that make the Priority Current stand out – and make it more expensive than comparable belt drive electric bicycles.
The Priority Current has automatic front and rear lights, plus a digital visual display that includes a speedometer, bicycle settings, and more. Composite fenders and braze-ons are included, as well as reflectors on the front and back of the frame, plus the pedals and wheels.
---
6. Vvolt Alpha S
Sleekest Belt Drive E-Bike
MSRP: $1,399
350W rear hub motor
20-40 miles
Vvolt Alpha S is a top-tier belt drive hybrid with ride tires and many more features. Vvolt's goal with this e-bike was to build a comfortable, simple, and durable ride. Thus, you won't see many overpowering specs such as a large motor or long-lasting battery.
There are five assistance levels to choose from on the Vvolt Alpha S, and a lightweight battery with a 20-40 mile range.
The belt drive system is sleek and simple, requiring no maintenance. Specifically, it is a quiet Gates CDN belt drive that powers the one-gear drive system.
The 375Wh battery takes five and a half hours to charge, but it is lightweight and fits right into the downtube of the low-step frame. There is even an onboard computer that is Bluetooth-compatible and can be paired with the Vvolt phone app. Another special feature is a U outlet which taps into the battery to charge your devices on the go.
At this price point, it is a nice surprise to have hydraulic disc brakes with 160mm rotors. There is clearance for 2.4" tires and 2" fenders, which leaves plenty of room for off-road adventures if you desire.
How to Choose a Belt Drive e-Bike
---
When choosing a belt drive bicycle, you want to be on the lookout for a few key metrics and features.
First, think about where you want to ride your new belt drive bicycle. If you are going to be using your bike for commutes on city streets, then a belt drive road bike or hybrid could be the perfect fit.
But if you want to do some off-road riding or exploring on your new belt drive e-bike, take a closer look at electric mountain bikes such as the Vvolt Sirius. You can also look for hybrids that offer large tire clearance.
Of course, the cost will be a major factor for all bicycle buyers. The size of the motor and battery is directly related to cost. Larger, more powerful motors and batteries are generally more expensive, and that's why the cheapest e-bikes have the shortest ranges.
If you're only riding to and from work, then a short-range belt drive e-bike will fit your needs. But if you're looking at longer routes or having an adventure on your belt drive electric bike, then you should look at e-bikes with bigger batteries such as the Stromer ST 2.
Lastly, take a close look at the shape of a bike's frame and its adjustability before making your final purchase.
Some belt drive e-bikes offer tons of sizes to choose from, others are limited to just the frame size. The type of bike also makes a big difference, with casual hybrids offering the most relaxed riding positions.
In contrast, a belt drive electric mountain bike will have a mountain bike-specific position which may not be comfortable for commutes or running errands.
Possible Downsides
Overall, belt drive bicycles offer a smoother and quieter ride compared to other e-bikes. You'll hardly be able to hear the motor above the breeze on a belt drive e-bike, and you'll never have to hear the clunking of the chain or derailleurs when switching gears.
Of course, belt drive electric bikes aren't perfect – if they were, then everyone would have one!
First of all, belt drive e-bikes are typically more expensive than chain-driven e-bikes. Simply put, you won't be able to find a belt-drive e-bike for under $500.
Second, your gearing and components are very limited on a belt-driven e-bike, since everything needs to be run through the (often proprietary) belt-driven system. That means you won't be able to customize your belt drive e-bike with different gears, chainrings, or other components.
Third, belt drive e-bikes are technically less efficient than chain-driven e-bikes. That means that it requires a little bit more force to turn the pedals, though this shouldn't be too big of a deal on an e-bike. In fact, the difference in efficiency is basically negligible since you can use the bike's motor assistance at any time.
Keep those points in the back of your mind as we run through the best belt-drive electric bikes of 2023.
Frequently Asked Questions