Aventon Sinch is truly a one-of-a-kind. This fat tire folding e-bike is one of the most unique bikes you've ever seen. These are features that you hardly ever find in the same bike: 40-mile battery range, 4" fat tires, and a folding frame.
Aventon Sinch is foldable, storable, and portable. It's perfect for commuting and all-weather riding. You can even take the Sinch off-road and still be comfortable thanks to its 4" fat tires and front fork suspension.
In this Aventon Sinch review, we're going to take a closer look at the fat tire folding e-bike from Aventon.
Main Specifications
Aventon Sinch electric bike is a folding bike with 4" fat tires, a powerful motor, and a long-lasting battery.
Related: Full Review of Aventon Bikes
Here is the full list of Aventon Sinch e-bike specs, plus a rundown of Aventon Sinch accessories:
Motor: 750W (peak) 500W (sustained) 48V Brushless Motor
Battery: 48V, 14Ah (672 Wh)
Range: 40 miles average
Charge time: 4–5 hours
Top speed: 20 mph (can be modified to reach 24 mph using pedal assist)
Weight capacity: 300 lbs
Bike weight: 68 lbs
Drivetrain: 7-speed freewheel
Brakes: mechanical disc brakes with 180mm rotors
Tires: 20" x 4" with puncture resistance
Accessories: cadence and speed sensors, IPX4 water-resistant standard, LCD Smart Easy Read Display, throttle on demand
The Frame
Aventon Sinch is special because of its folding frame. And not only is the frame foldable, but so are the pedals and handlebars. Unfolded, the Aventon Sinch has dimensions of 67″/23″/46″. Folded, the Aventon Sinch is as small as 41″/23″/31″. This is small enough to fit into a car trunk, or onto a train or bus.
However, the Aventon Sinch is quite heavy for a folding bike.
In total, the Aventon Sinch weight is 68 lbs, which may make it difficult for some cyclists to lift, or carry the Sinch up a flight of stairs.
The Aventon Sinch is made of a 6061 Double-Butted Folding Aluminum Alloy frame, and the battery is internal to the frame. There is also a front suspension fork on the Aventon Sinch, providing 45 mm travel and lockout.
Aventon Sinch comes in a single frame size which fits more adults from 5'0″ to 6'3".
Components
Aventon Sinch comes with an impressive array of components, including a basic 7-speed drivetrain.
With a 170mm, 52T crankset, you will be able to pedal comfortably up to 20–24 mph.
The bike also comes with a throttle on demand. This means that you can use the throttle from a complete stop. Aventon Sinch unlock can be done using the Aventon app, which allows you to modify the bike's speed limit to go up to 4 mph above the factory-set maximum speed.
While the Aventon Sinch doesn't include a huge amount of accessories (besides a kickstand), the Sinch is compatible with the Aventon rear rack, headlight V10–500, and Aventon Sinch Fender set.
Aventon Sinch does include a BC280 LCD Smart Easy Read Display and colorful screen that pairs seamlessly with the Aventon app.
Pedals are included and come in the form of 9/16" alloy plastic. One of the most unique features of the Aventon Sinch is its folding frame, and the pedals fold with it, too.
Motor and Battery
A 500W motor (peak 750W) is quite powerful for a folding e-bike. You'll be able to do more than zip around the city on the all-terrain Aventon Sinch which is designed for all kinds of riding.
The Sinch has a maximum speed of 20 mph out of the box, but you can increase its top speed to 24 mph using the Aventon app.
Pedal assist and throttle can be used in the Aventon Sinch's default settings, but you can only use pedal assist if you modify the Sinch's top speed so that it goes faster than 20 mph.
With the throttle, the Aventon Sinch has a top speed of 20 mph and can cover up to 30 miles without even pedaling.
For the furthest range, the lowest level of pedal assistance on the Aventon Sinch offers pedal assist at 10 mph and a massive range of 71 miles.
Aventon Sinch battery is a removable Lithium-ion 48V, 14Ah (672 Wh) battery that powers 40 miles on average. This is impressive for a folding electric bike.
Step-Through Model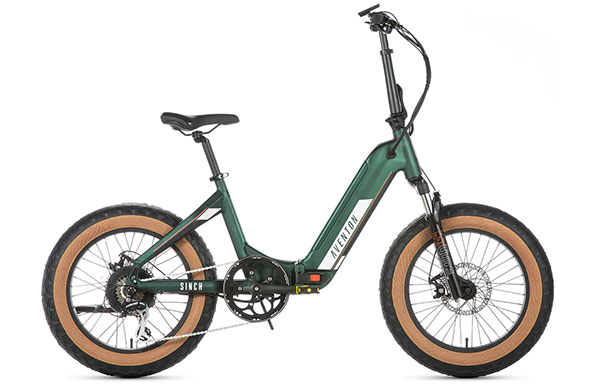 Aventon Sinch step-through model is available for the same price as the Sinch. These bikes share every component from the electronics and the frame material, to the drivetrain and more.
The only difference is the Aventon Sinch step-thru frame that allows for easy mounts and dismounts. Aventon Sinch step through e-bike is perfect for riders with limited mobility and flexibility.
The step-through frame allows the bike to fold down to the dimensions of 46″/28″/30″.
FAQ
Final Verdict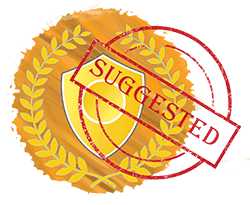 In this Aventon Sinch review, we've taken a closer look at one of the most unique bike designs you've probably ever seen.
With its fat tires, the Sinch offers a versatile form of transportation. You can take the Sinch through the city, around the trails, or through the rain.
You'll be able to cover an average of 40 miles on a single battery charge, and then you can fold up the frame for easy transport and storage.
When it comes to the Aventon Sinch e-bike, there's hardly anything else like it.
There are no comments yet, add one below.