Royal Dutch Gazelle is the biggest and most popular Dutch bicycle manufacturer, established almost 130 years ago. It makes durable and reliable city, comfort, fitness, and e-bikes trusted by millions of riders worldwide.
Part of Best Bike Brands
Royal Dutch Gazelle has been making high-quality bicycles since 1892 in its factory in Dieren, the Netherlands. The company boasts modern and well-equipped analog and electric bikes intended for commuting, casual riding, and exercising.
The Dutch, being a cycling nation, don't take their bikes lightly, but Gazelle has survived all these years thanks to unique quality and appearance, technical innovation, and the smart Dutch design.
If you want a bike that prioritizes comfort, ease-of-use, and comes with top-tier Bosch and Shimano components, you should keep reading to learn more about Royal Dutch Gazelle below.
Overview Of The Company

Royal Dutch Gazelle was established back in 1892, which makes it one of the oldest bicycle manufacturers in the world.
The company was actually called Gazelle Bicycles until 1992 when it received the "Royal" title from the Netherlands' Princess Margriet in honor of its 100th anniversary.
Gazelle rolls 250,000 bicycles off of its production lines every year, which means it has produced more than 16 million bikes so far. In 2005, the brand included the first e-bikes in their lineup as well, which are now a big part of their business.
Royal Dutch Gazelle is still going strong today, making innovative and good-looking bicycles that set the standard for comfort and the Dutch lifestyle riding.
Unique Features That Set Gazelle Bikes Apart
A company that stays in business for almost 130 years has to be doing a lot of things right in order to survive for so long.
Though at first glance Gazelle bikes don't look much different from other similar city and e-bikes, there are a few unique features that set them apart.
For example, as of 1996, Gazelle's production process was certified to the ISO-9001 standard. That guarantees a continuously high degree of quality when it comes to the parts and manufacturing processes.
Other important selling points include the "Made in The Netherlands" stamp, a 10-year warranty, quality components, and a comfortable build.
Made in The Netherlands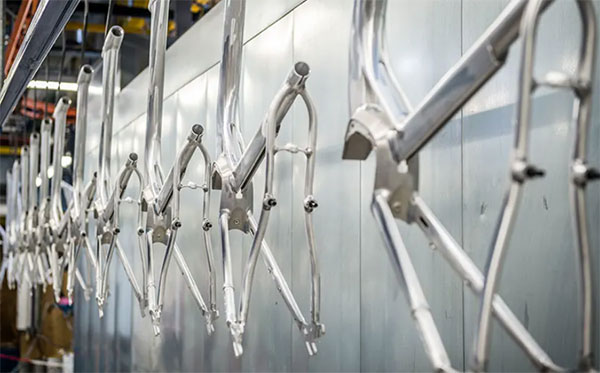 Royal Dutch Gazelle is one of the rare bicycle manufacturers that haven't moved their production overseas to China and other Asian countries.
Instead, all of its bicycles are made in Dieren, the Netherlands, where the company was established back in 1892. That allows Gazelle's staff to overlook and control the entire manufacturing process and guarantee high quality.
Gazelle's factory includes an Innovation & Production Center and a 7000m2 assembly shop. The assembly shop houses a paint shop, pre-assembly lines, wheel assembly lines, and final assembly facilities.
Of course, Gazelle also has its own test lab where each bicycle is put through 129 different tests before it's given a green light and gets shipped to its future owner.
10-Year Warranty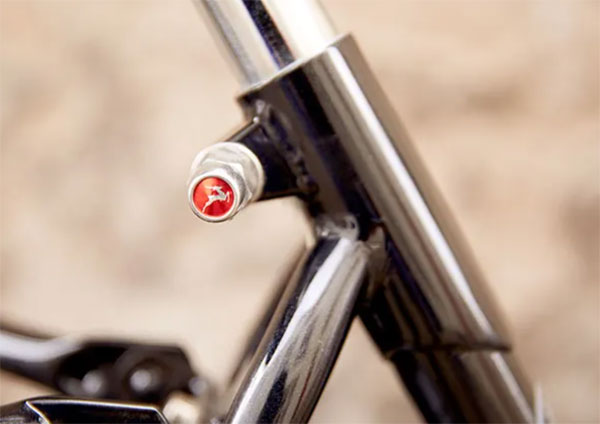 Gazelle stands behind its products by offering a 10-year warranty on materials and manufacturing defects on the frame and non-suspension front forks covering normal treatment, use, and maintenance. Even though it's not a lifetime warranty, it's still much more than most other brands offer.
Related: Ride1UP Electric bikes
The company also offers a 5-year warranty on front suspension forks and paintwork on the entire frameset. All other parts come with a 2-year warranty, including electric and mechanical components.
Powerful Bosch and Shimano Electronics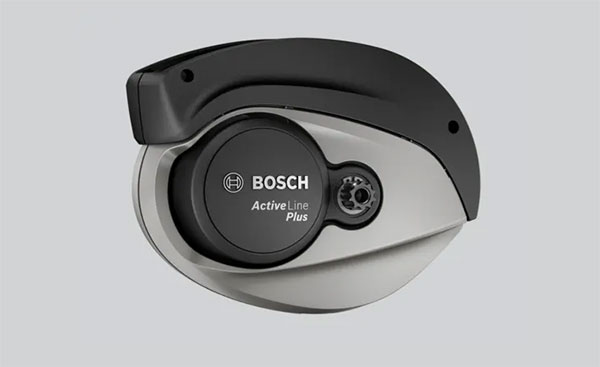 Gazelle manufactures a large number of e-bikes as they are becoming increasingly popular among the city-riding folks in Europe and other parts of the world.
Its e-bikes offer smooth, powerful, and predictable performance thanks to tried and tested Bosch and Shimano motors and batteries.
All Gazelle e-bikes boast mid-drive motors, such as Bosch Active Line Plus, Performance Line, and Shimano STEPS.
Most batteries are integrated into the frame and offer 400–500Wh of capacity and up to 100 miles of range. That's perfect for a few days of commuting, casual riding, or exercising.
Comfortable Riding Position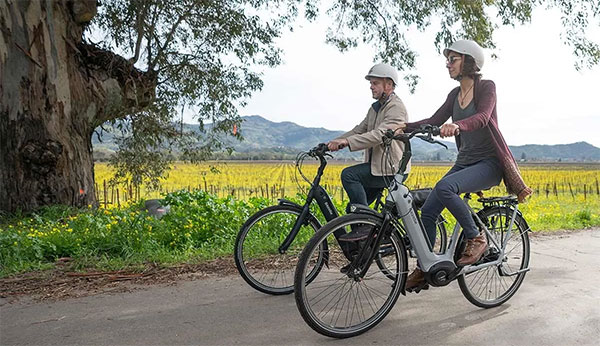 Royal Dutch Gazelle manufactures a large number of different types of bicycles for various purposes. However, you should keep in mind that these are not performance bikes.
The company puts an emphasis on comfort over speed, so the majority of models have relaxed geometry that puts the rider in an upright riding position.
These bikes also boast comfortable saddles, ergonomic grips, and many models have step-through and low-step frames that make it easy to mount and dismount.
Therefore, if comfort is your main priority, one of these bikes will make you a very happy rider.
Gazelle Bikes Range: Easy, Active, Sportive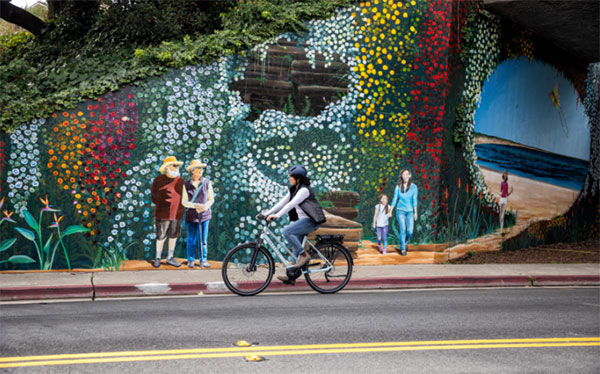 At the moment, Gazelle makes just eight models of bicycles, seven of which are electric and one is analog. While this is not a large lineup, it tells us that the company focuses on quality rather than on quantity.
Gazelle has a pretty smart way of categorizing its bicycles into three groups that mainly differ in geometry, performance, and ride feel:
The "Easy" models have an upright geometry, relaxed riding experience, and low-step frames. They're ideal for riders who want unrivaled comfort and cycle in order to run errands, take their kids to school, have fun, or carry heavier loads.
The "Active" models are perfect for daily commutes and longer trips thanks to a more dynamic ride feel and slightly more forward geometry. These bikes also have more powerful motors, a variety of frame designs, and more versatile gearing.
Related: Rad Power Bikes
Finally, the "Sportive" models have the most forward-leaning posture and the most aggressive geometry. They are great for fitness riders as they feature higher gearing ratios, powerful motors with 28 mph top speeds, suspension forks, and powerful disc brakes.
Let's take a closer look at some of the best-selling Gazelle bikes below.
Ultimate C380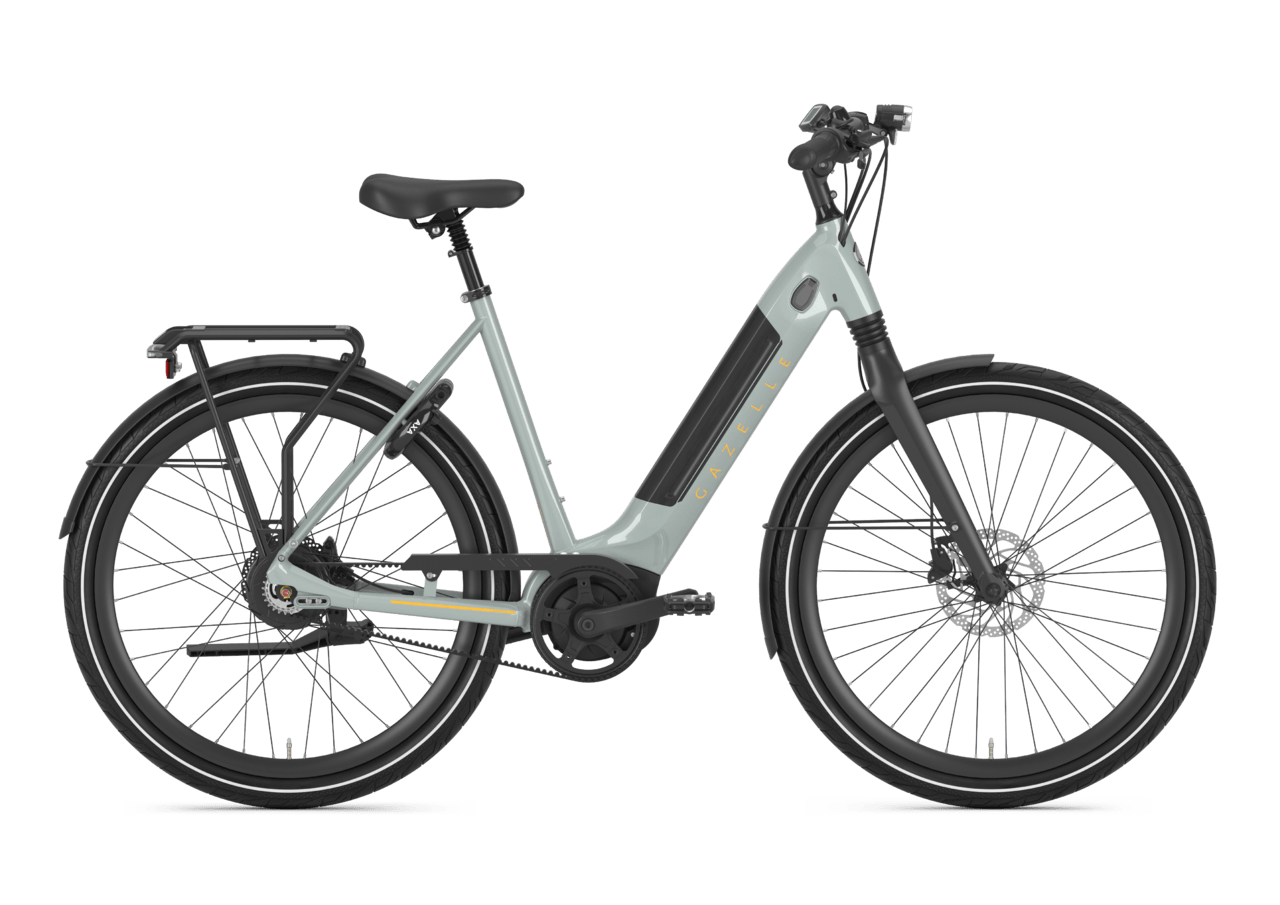 The Ultimate C380 is one of Gazelle's best-equipped models. It features an attractive low-step aluminum frame with a relaxed geometry that's ideal for a wide variety of tasks. It also has a front suspension fork with 40mm of travel.
The price tag might seem high to some at first, but at closer inspection, you realize that you get a lot for that money.
First of all, Ultimate C380 is a Class 2 e-bike powered by a Bosch Performance Line motor that boasts 65Nm of torque and a 20 mph maximum assisted speed. This mid-drive motor is paired with a 500Wh battery that provides up to 70 miles of assisted riding.
Even with minimal assistance, this bike is easy to ride thanks to the brilliant Enviolo trekking hub that provides stepless shifting. With Enviolo, you simply turn the shifter to select your preferred resistance, even when fully stopped. There's also a carbon belt drive that requires minimal maintenance.
See more: Best Belt Drive Electric Bikes
Ultimate C380 also boasts Shimano Deore 4-piston hydraulic disc brakes, wide multi-surface tires, front and rear fenders, a kickstand, lights, and a rear rack. You also get a ring lock to protect your bike during quick stops.
Get it if you commute regularly, carry heavy loads, or just want the best package Gazelle offers.
If you are interested in similar designs, see our overview of Buzz Bikes.
Medeo T10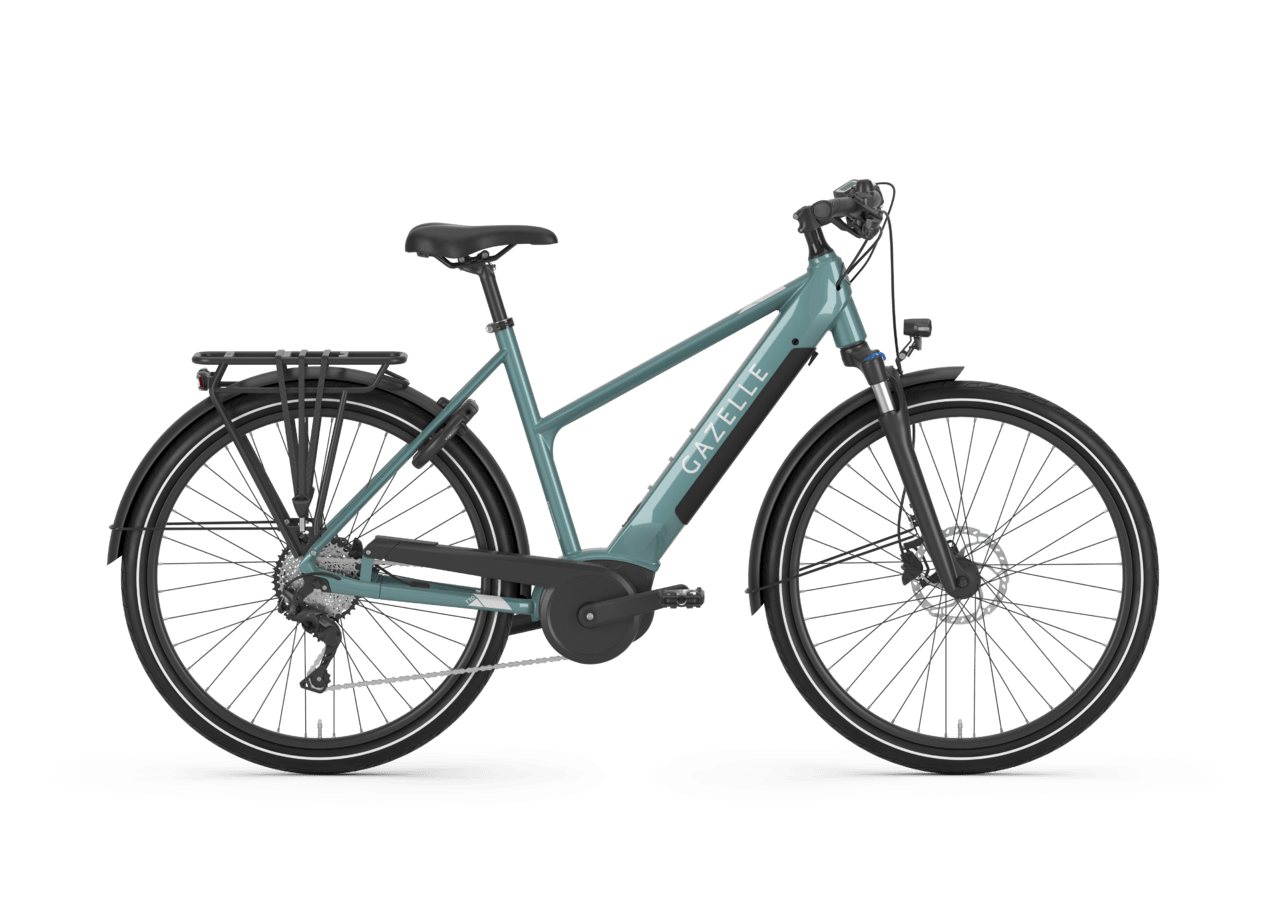 Riders who are looking for a more sporty and dynamic experience should check out this model. Medeo T10 has an aluminum frame with a forward-leaning geometry that will enable you to ride faster with less effort. You can get it in a step-over and a step-thru version.
This bike is primarily built for paved roads and city streets, but it can handle some unpaved roads as well. It has wide tires and a 30mm front suspension fork, so poor road surfaces are no big deal for it.
As a class 2 e-bike, it will assist you up to 20 mph for up to 70 miles. That's possible thanks to a Bosch Performance Line motor and an integrated 500Wh battery placed inside the down tube.
Medeo T10 has traditional gearing provided by a Shimano Deore 10-speed rear derailleur. It also boasts Deore 4-piston hydraulic disc brakes that will stop you on a dime even when carrying heavy loads.
Like many other Gazelle bicycles, this model comes with a long list of accessories. You'll get a rear rack, fenders, lights, a kickstand, chain guard, and even a ring lock on the rear wheel.
If you love riding fast and you often commute in a rush, this bike will suit you like a glove.
Medeo T9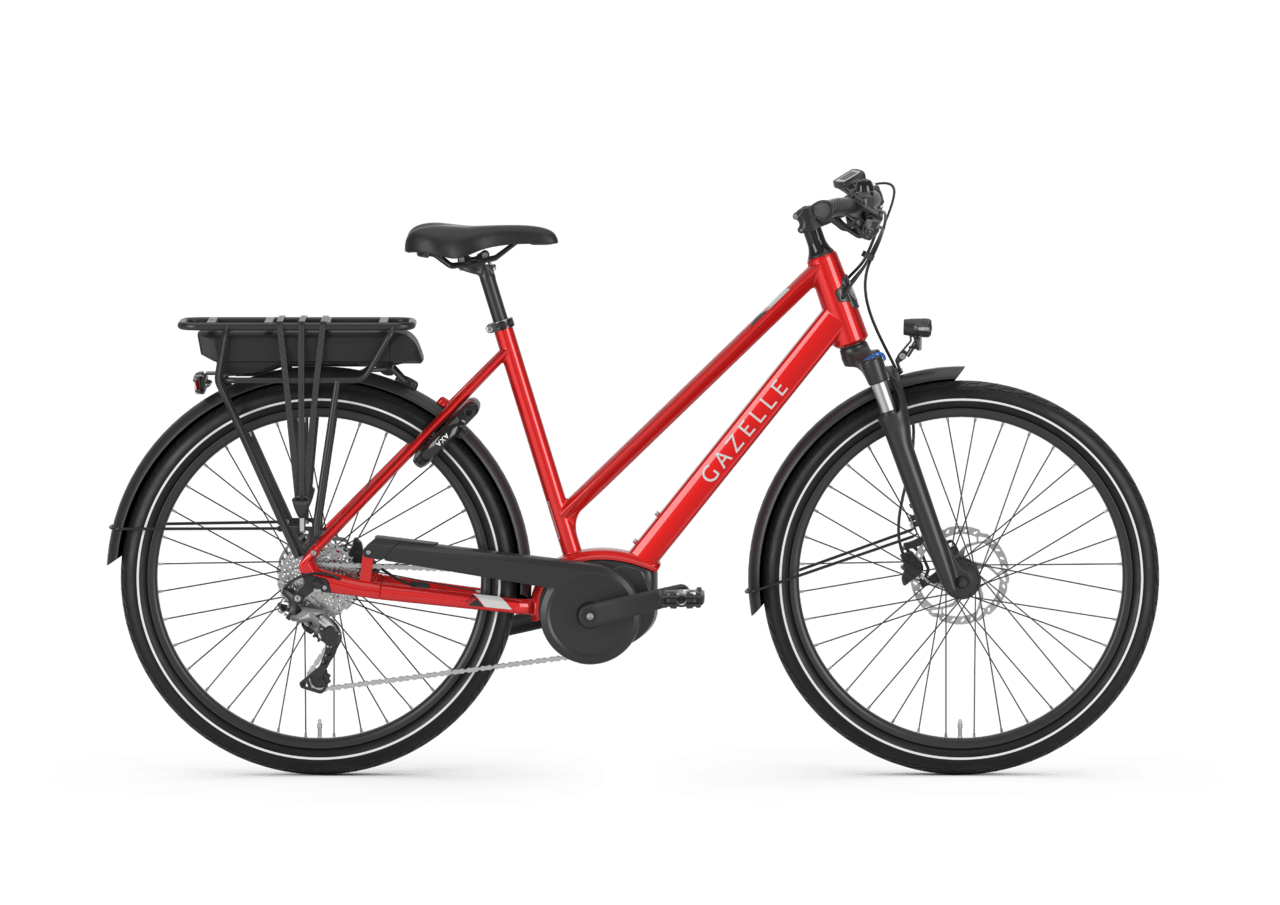 Medeo T9 is one of the least expensive Gazelle models which makes it ideal for riders on a tighter budget. Its aluminum frame is available in a step-over and step-thru design and comes complete with a front suspension fork.
This e-bike is powered by a Bosch Active Line Plus mid-drive motor that delivers up to 50 Nm of torque. It will assist you up to 20 mph, which means this is also a Class 2 bike.
The 400 Wh battery provides up to 60 miles of range in Eco mode, which is not bad. However, keep in mind that it is not integrated into the frame but sits atop the rear rack. This is not an ideal solution, but the bike is still pretty stable.
When it comes to the mechanical components, Medeo T9 has a Shimano Alivio 9-speed rear derailleur and Shimano 2-piston hydraulic disc brakes. This is an excellent setup for city riding and commuting.
Of course, accessories abound, so you'll get fenders, a rear rack, lights, chainguard, kickstand, and a ring lock. You can also feel free to ride this bike on dirt roads and light trails. It can handle it due to wide tires and a 50mm suspension fork.
For more similar bikes, see our top electric commuter picks.
Sizing
When it comes to sizing, Gazelle will not leave you in two minds, wondering which frame size to get and questioning your choice.
To find your ideal frame size for any model, all you need to do is enter your height into the frame size calculator. The algorithm will then do its magic and recommend you a specific size.
In some cases, if your height is in between two sizes, you'll need to make a choice between the two. In most cases, going a size up will give you more comfort, whereas going a size down will put you in a more aerodynamic position.
However, if you're unsure, we recommend contacting a Gazelle bikes dealer and trying the bike out before purchasing, if possible.
FAQ
Final Verdict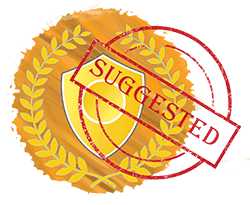 Gazelle bikes are a solid choice for commuters and urban riders who prioritize comfort over everything else when it comes to cycling.
These are modern, powerful, reliable, and good-looking e-bikes that can serve a variety of purposes. You can use them to get to work, take your kids to school, exercise, carry weight, or just go for an easy weekend spin.
What sets these bikes apart from the competition is the fact that they are made in Europe, come with a 10-year warranty, and boast Bosch and Shimano motors and batteries.
If you want a tried and tested e-bike made by a company with 130 years of history, Gazelle will check all of your most important boxes.