Juliana is Santa Cruz's sister company that manufactures premium mountain bikes built and tuned specifically for women. Its mission is to encourage more women to experience the best of mountain biking.
Women-specific bicycles are not uncommon nowadays, many brands make spinoffs of their popular men's models to make them more suitable for female riders.
However, Juliana is much more than that.
Instead of just "shrinking and pinking" its bikes, Juliana makes bicycles with geometry that is optimized for the female anatomy.
Moreover, the suspension is fine-tuned for best performance under lighter loads, as women weigh 30 pounds less than men on average.
Juliana makes high-performance, race-ready carbon mountain bikes that have been tested time and again in top-level races, by some of the best female riders in the world.
We generally advocate that most bikes are unisex, but Juliana is different. Keep reading to learn why.
About Juliana Bicycles
Juliana's story began back in 1999 as a brainchild of Juliana "Juli" Furtado, one of the best mountain bikers of all time.
In the 1980s and 1990s, during the "golden years of mountain biking," bicycles were generally built for and marketed towards men. Juli's initiative changed that by designing the first mountain bike aimed specifically at female riders in collaboration with Santa Cruz.
Related: Men's vs Women's Bikes
Later on, in 2013, Juliana became fully integrated with Santa Cruz as a sister company. Both brands are now located in Santa Cruz, California, and share the same R&D facilities, as well as the same manufacturing facilities abroad.
Even though most Juliana models mirror Santa Cruz's lineup, the Juliana versions differ in terms of sizing, suspension tuning, grips, saddles, and colors.
The "Juli" female bikes also borrow advanced technologies from Santa Cruz, so you'll see them boasting premium carbon materials, VPP (Virtual Pivot Point) suspension, and lightweight carbon rims.
Juliana also does an important job when it comes to empowering the female MTB community by sponsoring ambassadors, athletes, adventurers, and world-class racing teams. Some prominent names include Rachael Walker, Anka Martin, Aneela McKenna, Brooklyn Bell, and others.
Juliana Bicycles Lineup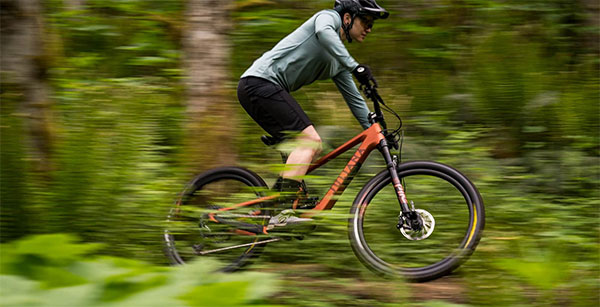 Similar to its big brother Santa Cruz, Juliana focuses solely on producing high-end bikes for off-road riding. Therefore, its lineup is rather small and consists of XC, trail, and enduro full-suspension mountain bikes, as well as one gravel/CX model with 700c/650b wheels.
At the moment, Juliana has a total of six models on offer:
Furtado (27.5″)
Roubion (Mullet)
Wilder (29″)
Joplin (29″)
Maverick (29″)
Quincy (700c/650b)
These are all lightweight carbon bicycles (some models feature aluminum frames as well) equipped with mid-range or high-end Shimano and SRAM components, optimized for performance.
All full-suspension models feature Santa Cruz's proprietary VPP (Virtual Pivot Point) suspension design that has been in use since 2001—because it works. It's optimized to offer the right balance between pedaling efficiency and trail-crushing prowess. Special pivot points eliminate power loss during pedaling and the system works with most standard shocks.
Juliana also backs up its bikes and bearings with a lifetime warranty, which includes free bearing replacements whenever you need them.
The only potential deal-breaker is that these bikes are not very budget-friendly, with price tags that go up to around $10,000, depending on the build you choose.
Wilder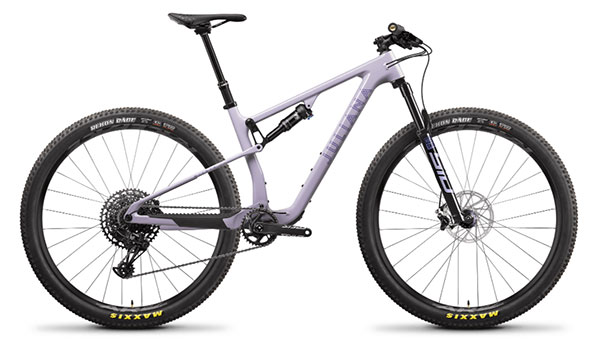 Juliana Wilder is a super-lightweight carbon XC race bike available in Carbon C and Carbon CC versions. This is a bike that's ideal for professional cross country racers or for avid riders looking to excel in their hobby.
However, Wilder also incorporates some trail versatility into its design that's reflected in its geometry. It has a 67.1° head tube angle and lengthy 431–436mm chainstays, which gives it a balanced XC-Trail performance.
Wilder features massive 29″ wheels with burly 2.4″ tires that make it obliterate obstacles when descending. However, the most important elements are probably the fork and the rear shock.
Namely, this bike features a 120mm fork that's paired with a 115mm shock. Moreover, you get premium RockShox and Fox forks and shocks, depending on the build.
At the moment, Juliana Wilder is available in five complete builds spanning in price from $4,599 to $9,449:
R TR
S TR
XT TR
X01 TR
X01 AXS TR RSV
These models are equipped with Shimano and SRAM's mid-tier to top-tier groupsets, including NX and GX Eagle, XT, X01, and X01 AXS. Therefore, you get good value for your money.
Interested in more female-orientated bikes? See our review of Liv Bikes.
Joplin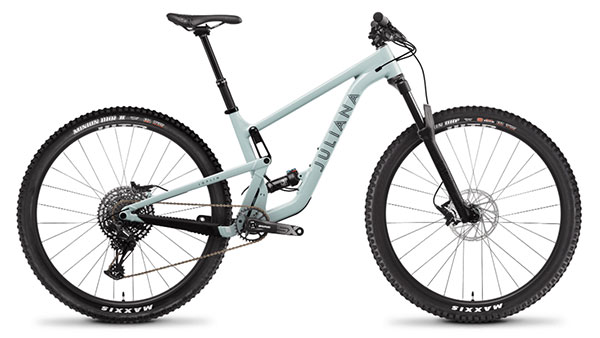 Juliana Joplin is a capable XC racer with a wild side that's hard to contain. This is a light 29er with 130mm/120mm of travel that you can use to climb, descend, and pedal all day long.
Joplin's suspension is built around the VPP design that makes long days in the saddle possible. It makes your pedaling and climbing a lot more efficient, transferring all of your power to the drivetrain and the wheels.
In terms of geometry, this bike has a slack 65.7° angle paired with a balanced 76.8-6° seat tube angle. The chainstays are 430mm across all three sizes, but the reach varies between 400mm and 450mm.
Interestingly, Joplin is the only Juliana's bike that's available in both aluminum and carbon. You can choose between two aluminum builds, two carbon C builds, and one Carbon CC build. Prices start at $3,099 and go up to $7,699.
Depending on how much you're willing to spend, you can get Joplin with a range of SRAM components. These include SX Eagle, NX Eagle, GX Eagle, and X01 Eagle. You can even get the Reserve 27 carbon rims with the Carbon CC build, which bumps the price to $9,049.
Related: Liv Tempt
If you're predominantly riding XC routes with a sprinkle of some rough trail action here and there, Juliana Joplin will fit you like a glove.
Furtado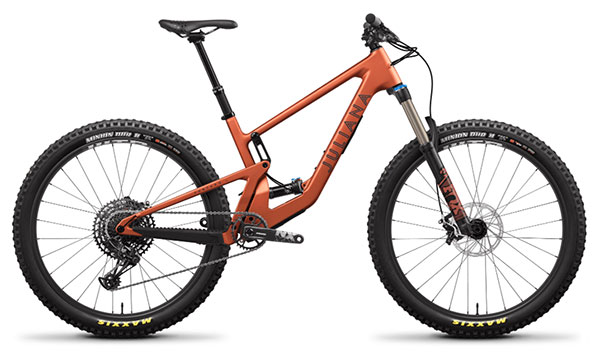 Juliana Furtado is one of the most iconic bikes Juliana has ever made. This is a versatile trail bike that excels when faced against curvy singletracks, rock gardens, and rowdy descents that demand technical prowess.
Furtado is unique as it is the only 27.5″ bike Juliana makes, with the exception of Roubion, which is a mixed breed. These wheels are fitted with knobby 2.4″ tires that grip the ground as if they're lined with velcro straps.
You can get this bike in one of four available complete builds, with a Carbon C or Carbon CC frame:
R / Carbon C
S / Carbon C
XT / Carbon C
X01 / Carbon CC
The only difference between Carbon C and Carbon CC frames is in the weight. They are completely the same structurally, so you can expect the same stiffness and equal performance in the real world.
So if low weight and better specs are important to you, you can splurge $7,599 ($8,949 with Reserve 30 Carbon wheels) on the X01 build.
Furtado also has a well-balanced lower-link suspension with 140mm and 130mm of travel front and back. The geometry reflects its versatility with a 65.7° head tube angle, variable chainstay lengths, and a 400-450mm reach.
Get it if you're a fan of 27.5er wheels and love all types of trails.
Read the full review of Juliana Furtado.
Quincy
Juliana Quincy is the type of bike you'd choose when you're not really sure what type is the best choice. It's a do it all gravel grinder that lets you explore paved and unpaved dirt and gravel roads, as well as test your skills on singletracks.
Quincy is a full-carbon machine available in the higher-end Carbon CC variation only. The stock version comes with capable 700C wheels and 40mm tires, but you're far from limited to those. The frame and fork have clearance for up to 700C x 45mm or 650b x 2.1″, so you can get pretty rowdy with your setup.
Unlike other Juliana bikes, this one is available in just two complete builds:
SRAM Rival 1×11 ($3,849)
Shimano GRX 2×11 ($4,649)
Both builds also come with hydraulic disc brakes (from the same groupsets) paired with 160mm rotors. Therefore, you can control your speed no matter the weather or the surface.
Spending the entire day in the saddle and doing loads of climbing (which is what this bike is made for) will be slightly easier as Quincy is pretty lightweight—8.5kg to 8.8kg depending on the build and frame size.
In short, Quincy is the right choice if you want to explore, race gravel, or go on long bikepacking adventures.
FAQ
Final Verdict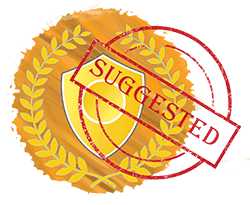 Juliana is a pioneering brand established on an idea that was revolutionary back in 1999 — empower female riders and provide them with the right bikes and gear to achieve their full trail-riding potential.
Today, Juliana still resonates with that philosophy. Its bikes are the most logical choice for women who want to compete in MTB and gravel disciplines or amateurs who are really passionate about their hobby and want to excel at it.
If you don't mind the higher price ranges and dream about Juliana's Carbon CC frames, VPP suspension, and breathtaking designs—we say go for it!