Cannondale is one of the oldest and most well-known bicycle brands in the world. They create innovative bikes for the road and the mountain, pioneer cycling technology, and support talented athletes. Let's take a look through their range. 
Cannondale has been in the high ranks of the cycling industry for so long that the name of the brand has become a synonym for high-quality bikes and accolade-winning World Tour teams.
One of the secrets to Cannondale's long-lasting success is that they design and manufacture excellent bicycles in all price ranges, for all types of riders and riding purposes.
This American brand has had both good and bad days during its 50-year long history but has now firmly established itself as one of the leaders of cycling progress.
Jump to specific models:
A Short History of the Cannondale Brand
Similar to all other major cycling brands, Cannondale started small and didn't kick-off as a bicycle manufacturer. The brand was established in 1970 as a manufacturer of precast concrete housing, totally unrelated to bicycles.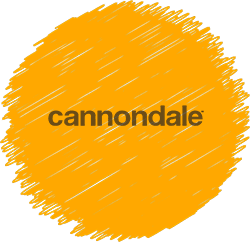 Its first cycling-related product was a bike trailer named 'Bugger', followed by a host of other products aimed towards cyclists.
Cannondale manufactured their first bicycle in 1983. It was an aluminum touring bike with a traditional track frame design that was moderately successful.
After that, the brand flourished, appearing as one of the main sponsors of the Grand Tours throughout the 1990s, until it hit rock-bottom in 2003, when it declared bankruptcy. Luckily, the company was salvaged by Dorel Industries which bought Cannondale in 2008.
As it's clearly evident, Cannondale hasn't stopped growing and expanding its influence ever since. Today, it is one of the biggest and most influential names in the cycling industry.
Bike Tech Pioneered by Cannondale
All successful bike brands have a long list of in-house technologies they invented and implemented on their bikes. But Cannondale's might be the longest.
Cannondale is also one of the most innovative companies in the cycling industry, having pioneered dozens of ground-breaking bike technologies. These are usually implemented on their high-end bikes, but often trickle down to mid-range and entry-level models as well, so everyone can benefit from them.
Here are some of the most popular innovations you can expect your Cannondale bike to come with:
Lefty Fork
Cannondale's Lefty Oliver fork is probably one of the most unusual bike inventions ever. This is a suspension fork that offers 30 mm of travel, with only one leg. Both the coil and the damper are fitted in the left leg. The result — a lighter and stiffer fork ideal for cross-country and gravel applications.
Kingpin Suspension System
The Kingpin rear suspension is one of Cannondale's latest innovations, first introduced on the Topstone carbon gravel bikes. This system uses a thru-axle pivot that connects the seat stays to the seat tube and allows the entire rear end to flex up to 30 mm. It adds almost zero weight but greatly improves comfort and performance.
CAAD Aluminum Frames
CAAD stands for Cannondale Advanced Aluminum Design, which is a series of aluminum frames first introduced in 1996. These are advanced racing aluminum frames that are light, stiff, and comfortable. These frames are heat-treated, hydroformed, butted, and often tapered. They are still present in Cannondale's CAAD series of bikes and other aluminum models.
HollowGram Si Cranks
HollowGram System Integration cranks are stiff, light, and modular, featuring one-piece direct mount chainrings. These are still used on many Cannondale bikes because they offer unprecedented performance compared to the competition.
SAVE Micro-Suspension
SAVE is short for Synapse Active Vibration Eliminator and represents a micro-suspension technology, included on the majority of Cannondale's models. It implements flexing points into the fork, seat post, and rear triangle to eliminate vibrations and absorb shock.
BallisTec Carbon Frames
BallisTec is Cannondale's in-house carbon technology that makes their carbon frames remarkably light and stiff. It got its name from military-grade base fibers used for ballistic armoring. These frames come in several levels, the best of which is BallisTec Hi-Mod, found on high-end Cannondale builds.
SmartForm Frames
SmartForm is Cannondale's hydroforming process that accommodates wall thickness and tube shape. It also incorporates Cannondale's post-weld heat treatment and double-weld techniques.
BB30 and BB30A
Before Cannondale pioneered the BB30 and BB30A bottom bracket standards, bottom brackets were incredibly confusing. They still are, but they used to be even worse. It consists of an oversized shell, a 30 mm aluminum spindle, and a wave-taper crank interface. They released it as a free design, so the entire cycling industry was quick to accept it.
Cannondale App and Sensor

Cannondale has recently teamed up with Garmin to produce an integrated wheel sensor that connects to Cannondale's proprietary app.
The wheel sensor is now available on the majority of Cannondale's bikes and provides both ride metrics and service information.
Once you connect the wheel sensor to the bike, you will get access to information such as service history, the service that needs to be done on the bike, and even your carbon offset while riding the bike.
The sensor and app show you important ride data such as your speed, distance, time, and calories. The app will create an activity log, showing you how much you've ridden during one day, week, month, or a year, much like a cycling computer would.
Best Cannondale Models
Cannondale makes an extraordinary range of bikes that fall under different categories, such as road, MTB, hybrid, gravel, cyclocross, adventure, fitness, urban, electric, and so much more.
Moreover, all of these bikes are available at different price points, aimed towards beginners, enthusiasts, and pros, equipped with entry-level, mid-range, or high-end components.
Showing you all bikes that Cannondale makes would require too much time and would prove to be quite difficult considering that the brand frequently updates its lineup by retiring outdated models and introducing brand-new ones.
According to search volumes, the bikes you see below are the most popular Cannondale models. Take this info with a grain of salt because Cannondale makes numerous other excellent bikes, all of which are good for the right audience.
Cannondale Synapse
Type: Endurance Road Bikes
Frame: Aluminum and Carbon
Brakes: Rim and Disc Brakes
Features: Asymmetric design, SAVE, SmartForm, BallisTec, Di2 ready
We have an in-depth review of Cannondale Synapse 105, check it out!
The Synapse series is one of the most popular series of this American brand. These are endurance Cannondale road bikes available with carbon and aluminum frames, designed to be good both for racing and long rides.
Related: Best Road Bike Brands
Talking about the Cannondale Synapse range in a short format is really difficult as this line consists of almost 60 unique bikes. This includes entry-level and high-end models, as well as men's and women's models.
Cannondale Synapse line is known for being jam-packed with most advanced technologies developed by Cannondale. The aluminum frames feature SAVE and SmartForm technologies that make them light, stiff, and compliant at the same time.
The Synapse carbon frames are made from Cannondale's BallisTec carbon, including the Hi-Mod iteration on the more expensive models. This makes them very light, stiff, and efficient.
When it comes to the components, you can get Cannondale Synapse with any Shimano or SRAM groupset you can think of. The cheapest models come with Sora, whereas the most expensive ones sport Force eTap and Dura-Ace Di2. You can choose between rim and disc brake models.
If you're a fan of gravel riding, the Synapse line contains a few Cannondale gravel bikes as well, such as the mouth-watering GRX Di2 model.
One of these models is ideal for riders who want one bike that can rule them all. If you want to sprint fast, climb efficiently, race, and do long centuries (and even double centuries), Cannondale Synapse will not disappoint you one bit.
Cannondale Topstone
Type: Cannondale Gravel Bikes
Frame: Aluminum and Carbon
Brakes: Disc Brakes
Features: Balanced riding position, multiple bottle mounts, wide clearance (42mm), Kingpin suspension, Lefty Oliver
FULL REVIEW: Cannondale Topstone
Cannondale was one of the first manufacturers to jump on the gravel bandwagon a few years ago with the Slate model. Today, fans of dust and dirt can enjoy long gravel roads on aluminum and carbon Cannondale Topstone models.
This line offers around 20 bikes in total — aluminum and carbon. These come with different SRAM and Shimano groupsets, disc brakes, and proportional response technology that provides loads of traction and an ultra-smooth ride. Topstone NEO Cannondale e-bikes are available as well.
However, the Cannondale Topstone carbon series is most well-known for its Kingpin suspension. This is a brand-new technology developed by Cannondale and implemented on these bikes for the first time. It offers 30 mm of travel without adding any weight. It's pretty revolutionary.
A few carbon Topstone models are also fitted with Lefty Oliver forks that deliver 30 mm of travel in the front. Therefore, Topstone has a good basis to become one of the best Cannondale gravel bikes ever.
In terms of components, budget models feature Shimano Sora and SRAM Apex 1 groupsets, whereas high-end models have Force eTap AXS and SRAM X01 Eagle eTap AXS groupsets. Both men's and women's models are available as well. Therefore, anyone can find a Topstone build that suits their needs.
Cannondale Topstone models are designed for riders who want to race on gravel or just complete long gravel events at their own pace. However, they're excellent all-around bikes that are fast on paved roads as well.
Cannondale Quick
Type: Fitness Bikes
Frame: Aluminum/Carbon
Brakes: Rim and Disc Brakes
Features: Integrated wheel sensor, SAVE micro-suspension, SmartForm Aluminum, 360° reflectivity
FULL REVIEW: Cannondale Quick series
Cannondale Quick is a collection of super-fun and sporty bikes that feel fast, swift, and nimble no matter where you take them.
This is a line of around 30 entry-level and mid-range aluminum bikes, some of which come with lightweight carbon forks that improve stiffness and comfort.
Cannondale Quick bikes are available in Quick CX (with front suspension) and NEO (electric) versions as well, so the offer is surprisingly versatile and practical.
One recognizable aspect of this Cannondale hybrid bike is bright colors. Many of these bikes are available in fun paint jobs with reflective details that make them visible from all sides. This is especially true for Cannondale women's bikes.
Top models, such as Quick 1, come with Shimano 105 groupset, whereas budget models, like Quick 6, feature Shimano Tourney components.
Cannondale Quick is designed to give you a good workout, help you lose weight or improve your fitness, commute through the city, or just cruise around with your friends.
The target audience for these bikes is not necessarily hardcore cyclists. They're most suitable for urban dwellers who want to commute, work out, hang out with friends and family, or leave their car in the garage more often.
All Cannondale Quick bikes are also fitted with an integrated speed sensor that measures ride metrics, which fitness riders will especially like.
Don't hesitate to get one of these bikes if you don't want to pay through the nose, but you want a bike that will last for years and allow you to do anything on it.
Cannondale Bad Boy
Type: Urban Bikes
Frame: Aluminum
Brakes: Disc Brakes
Features: SmartForm aluminum, LED Lightstrip, Urban Armor Bumper, sliding dropout, Lefty rigid, Gates Carbon Drive belt
FULL REVIEW: Bad Boy 1
The Cannondale Bad Boy Urban bikes have been around for 25 years, which makes them one of the most successful models produced by this American brand.
These frames are made using the OPI (One-Piece Integrated) technology which means the head tube and down tube are 3D-forged from a single piece of aluminum. That makes the frame a lot stronger than usual. Top tube Urban Armor Bumpers are included as well, protecting your paint job when you lean the bike on hard surfaces.
Whereas before only high-end Bad Boy models came with a Lefty fork, now all models are one-legged, but these Lefties are rigid. Moreover, they feature an integrated LED stripe to improve visibility, cleverly named the LightPipe Lefty.
The newest iteration of this attractive and unique bike has some nice surprises and improvements, including some high-tech solutions. The series consists of three models, all of which are made with SmartForm aluminum frames.
USB rechargeable LED lights are integrated into the seat post as well, which will help make you seen, considering Bad Boys have an all-black design.
Component-wise, Bad Boy 1 has a Shimano Alfine 8-speed gearbox with a carbon drive belt, whereas the other two models have Acera, Altus, and Tourney groupsets. Disc brakes are included on all models, as well as 650b x 40c urban tires.
If you want an attractive-looking urban bike to commute, run errands, and just be outside more, Cannondale Bad Boy is the most authentic choice you can make.
Cannondale Catalyst
Type: Hardtail XC Bikes
Frame: Aluminum
Brakes: Disc Brakes
Features: SmartForm aluminum frames, SR Suntour front suspension, 27.5″ wheels, rack and fender mounts
Cannondale Catalyst is the type of bike most people will get as their first mountain bike and then fall in love with cycling irreparably.
These are cheap, entry-level Cannondale mountain bikes with aluminum frames and front suspension. The SR Suntour front suspension will not get you in a DH world championship, but it will make your rides more enjoyable.
At the moment, Cannondale offers three Catalyst models named 1, 2, and 3. All three roll on the same WTB aluminum rims and 27.5 x 2.25″ tires with decent grip. As you can see, they are wide but not too wide, so they feel nimble enough on paved roads as well.
Cannondale Catalyst bikes are neither light, nor very fast, but they are pretty fun to ride.
Depending on the model, you'll get 75 to 100 mm of front travel, along with Shimano Altus/Acera/Tourney components. None of this sounds impressive, but it's a great deal at this price, and it's more than enough for beginner riders.
Cannondale Catalyst bikes do not have internal cable routing or tapered head tubes, but they do have fender and rack mounts, as well as two bottle cage mounts, so you can ride them in all conditions.
Basically, anyone who's on a tight budget and looking for their first mountain bike to ride EVERYWHERE should consider starting their cycling journey on a Cannondale Catalyst.
Cannondale Trail Series
Type: Hardtail Trail Bikes
Frame: Aluminum
Brakes: Disc Brakes
Features: SmartForm Aluminum, SAVE micro-suspension, BOOST spacing, tapered head tube, internal routing, 100 mm front travel
All our Trail series overviews: 1 – 2 – 3 – 4 – 5 – 6– 7– 8
Consider also: Trail SL Series
Cannondale Trail bikes sell like crazy because they are cheap, modern, good-looking, and capable of both hitting the trails and sticking to the pavement.
This is one of the most successful series ever made by Cannondale, consisting of a large number of models, including men's and women's versions, as well as Trail NEO Cannondale e-bikes.
All Trail bikes are made from Aluminum, using Cannondale's advanced technologies such as SmartForm, SAVE, and BOOST. Cannondale women's bikes have a dropped top tube that makes mounting and dismounting very easy.
As you can guess from the name, Cannondale Trail bikes are made for the trails. This can be seen in the short chainstays, slack head angle, wide bars, and a short stem, the combination of which will give you stability, agility, and traction.
They feature RockShox and SR Suntour front suspension, depending on the model, with 100 mm of travel. Therefore, they are efficient off-road.
The size-specific wheels mean that smaller sizes come with 27.5″ wheels and large sizes come with 29″ wheels, which improves fit for all heights.
Again, depending on how much money you spend, you may expect 1x or 2x drivetrains, with entry-level or mid-range Shimano and SRAM groupsets. Cannondale's integrated speed sensor is available on all models.
So if you want one of the best Cannondale mountain bikes that you can use to commute and rip trails on the weekend, Cannondale Trail will definitely ignite your passion for cycling.
Cannondale CAAD series
Type: Road Race Bikes
Frame: Aluminum
Brakes: Rim and Disc Brakes
Features: CAAD frames, racing geometry, SAVE micro-suspension, carbon fork, tapered head tube
The first Cannondale CAAD bike was made back in 1996, with one of the most revolutionary aluminum frames ever. Today, more than 25 years later, these are still modern racing aluminum machines that feel light, stiff, fast, and nimble.
The secret behind the CAAD series is that it offers the lightness and performance of carbon at an aluminum price. These frames are lighter and stiffer than many competitors' carbon frames.
Cannondale actually makes three types of CAAD bicycles:
Full review of CAAD12 & CAAD13
CAAD Optimo are introductory models with mid-range and entry-level groupsets and rim brakes. CAAD13 are the best aluminum racing bikes Cannondale makes, with Ultegra and 105 groups. Finally, CAADX are versatile cyclocross machines.
Even though these are aluminum race bikes, they feature full-carbon forks made from Cannondale's BallisTec carbon. CAAD13 models also have thru-axles and clearance for up to 30 mm tires. If you fit wider tires on a CAAD bike, it becomes a versatile two-wheeler that can flourish in different settings.
CAAD13 is the successor of the ultra-popular CAAD12 Cannondale road bike. Cannondale kept the lively spirit of the 12 and made 13 even faster and more refined.
On the other hand, Cannondale CAADX models are born to race off-road, commute, or go on long all-road adventures.
If you prefer aluminum to carbon or you don't want to spend thousands of dollars on a high-performance race bike, get one of the CAAD models, and don't be fooled by their price — they are considered to be the best Cannondale road bikes around.
Cannondale E-Bike Selection
In addition to the popular models that we've reviewed above, Cannondale also manufactures a large number of electric bicycles. The brand has e-bikes in all categories, such as road, mountain, fitness, urban, and touring.
When it comes to the components, Cannondale uses Mahle, Bosch, Ebikemotion, and Shimano electric motors and batteries. The selection includes both mid-drive and rear hub motors and the batteries are seamlessly integrated on all models. Cannondale sticks to making Class 1 and Class 3 e-bikes with pedal assistance only and no throttle.
When it comes to pricing, the cheapest models cost around $2,500, which is not too bad for a Cannondale e-bike. The most advanced models will cost you around $10,000, which mostly includes e-road bikes. On average, be prepared to pay around $4,000 for a mid-range e-bike in any category.
E-Road
Cannondale's e-road bikes are proper performance machines. These are not heavy and clunky two-wheelers that you'd struggle to get moving if the battery runs out. They are lightweight, streamlined race bikes that will help you go faster and ride longer, but you'll still be doing the brunt of the work.
The models in this category include:
SuperSix EVO Neo
Synapse Neo
Topstone Neo
Topstone Neo SL
Cannondale's e-road bikes are powered by either ebikemotion rear-hub motors or Bosch mid-drive motors. Most models boast a very high range of 60–80 miles, and some even promise up to 140 miles per charge.
If you want a high-performance e-bike that makes riding even more fun than before, you should consider one of these.
E-Fitness
The e-fitness models are the most affordable e-bikes Cannondale makes. These are mostly zippy hybrid bicycles intended for road fitness riding, commuting, or casual city riding.
The most popular models include:
Quick Neo
Quick Neo SL
Treadwell Neo
Cannondale's e-fitness bikes typically come with ebikemotion or Mahle Class 1 rear hub motors and integrated batteries that provide a range of up to 50 miles.
If you're looking for an e-bike with relaxed geometry and budget-friendly pricing, you're likely to find it here.
E-Mountain
If you're a mountain biking enthusiast, the bad news is that Cannondale does not make a large number of e-mountain bikes. However, the good news is that these are capable trail machines on par with their "analog" cousins.
Related: Cannondale Habit Series
All three models on offer are full-suspension MTBs intended for trail riding, rough singletracks, and enduro. The models on offer are:
Habit Neo
Moterra Neo
Trail Neo
The list above includes carbon and aluminum models, with RockShox and SR Suntour suspension. The electronics are provided by Bosch and Shimano and promise a range of 60+ miles per charge, which will enable you to explore a lot more than before.
The bottom point is that these bikes can do everything that "normal" mountain bikes can do, and then some.
E-Urban
Cannondale's e-urban bicycles are made for urban-dwellers who realize that bicycles are the best mode of transport in a big city.
The selection here includes step-over and step-through hybrid and city bikes with comfortable geometry and wide tires. Some models we recommend include:
Adventure Neo
Canvas Neo
Mavaro Neo
Tesoro Neo X Speed
Cannondale equips most e-urban bikes with handy accessories, such as lights, fenders, and racks. Therefore, they are extremely practical for commuting, running errands, going on picnics, or just pedaling around casually.
All models have Bosch motors and high-capacity batteries that ensure a range of between 50 and 85 miles, depending on the model.
E-Touring
These are versatile e-bikes that are looking forward for heavy loads and long rides. Most models have wide multi-surface tires, so you can comfortably ride on paved and unpaved roads. You can explore the road less traveled and go farther than ever before with one of these models:
Cannondale Tesoro Neo
Tesoro Neo X
Tesoro Neo X Speed
All models in this range have dependable and responsive Bosch mid-drive motors, high-capacity integrated batteries, and front suspension. Each model also packs lights, fenders, and a rear rack for maximum practicality.
Depending on the model you choose, you'll get between 80 and 105 miles of maximum pedal-assist range. That's more than enough for the longest adventure of your life.
Do Used Cannondale Bikes Have Good Resale Value?
Buying a Cannondale bike can be a pricey investment, depending on what kind of bike you want to get and what you plan to use it for.
Related: How Much Should I Pay For A Bike?
The good news is that Cannondale bikes have pretty good resale value, so you'll be able to get a decent percent of your initial investment back.
The name 'Cannondale' is associated with reliability, durability, and advanced tech that does not get outdated quickly, which are all features that people are looking for when buying used.
If your Cannondale bike has some of the popular technologies this brand implements, such as Lefty and Kingpin suspension, CAAD or BallisTec frames, SmartForm aluminum, etc., you can expect the bike to retain more value as time goes by.
Related: All Bike Brands
FAQ
Where are Cannondale bikes made?
Cannondale has headquarters in Wilton, Connecticut, but its manufacturing and assembly facilities are located in Taiwan.
Are Cannondale bikes good?
Yes, Cannondale bikes are very good. No matter how much money you spend, you will get a carefully assembled bicycle that's built to last. Of course, more money will get you better specs, but even entry-level Cannondale models perform well if used by their target audience.
Are Cannondale mountain bikes good?
Yes, Cannondale mountain bikes are a good choice. They are made from aluminum or carbon and equipped with reliable components from brands such as Shimano, SRAM, RockShox, Fox, Maxxis, WTB, and so on. Cannondale keeps developing its MTB line, so it's not uncommon to see some pioneering technologies on the newest models.
Are Cannondale Bikes made in the USA?
No, Cannondale bikes have not been made in the USA since 2010 when Cannondale finally moved their manufacturing operation to Taiwan to cut costs.
Who makes Cannondale bikes?
Cannondale is an American division of the Canadian conglomerate Dorel Industries, which is one of the biggest names in the cycling industries. Cannondale bikes are designed in-house, but they're manufactured in Taiwan.
Who sells Cannondale bikes near me?
Cannondale bikes are sold both online and in physical stores all around the world. To find official Cannondale dealers near your location, you can use the Find a Dealer service on the official website. Also, check out REI.com which has some of the biggest selection of Cannondale bikes in the USA, if you wish to shop online.
Why are Cannondale bikes so expensive?
Cannondale bikes tend to be more expensive compared to other brands because they are packed with unique technologies that Cannondale develops in-house. These technologies take a lot of time and skilled manpower to design and manufacture, which is why you have to pay more to buy a Cannondale bike, but you also get more value for your money.
Are Cannondale bikes worth the money?
Yes, Cannondale bikes are worth the money, even though they tend to be priced higher compared to other popular brands. The models from this brand usually feature high-tech solutions such as CAAD and BallisTec frames, Lefty and Kingpin suspension systems, SmartForm aluminum, SAVE micro-suspension, and more. Moreover, Cannondale bicycles are always equipped with quality components sourced from brands like SRAM and Shimano, which also makes them worth the money.
How much are Cannondale bikes worth?
Cannondale bikes are priced differently depending on the frame material and the components they come with. Some entry-level models can be bought for as little as $500, whereas top-priced models cost more than $10,000. The good news is that they retain good resale value for a long time.
Is Cannondale Synapse a Good bike?
The Synapse is one of Cannondale's most popular endurance road bikes for a good reason. The Synapse is a very good bike that comes with carbon or aluminum frames and is available in almost 60 unique builds! It's a bike that can be ridden by both amateurs and professionals.
When did Cannondale stop making bikes in the USA?
Cannondale stopped making bikes in the USA in 2010. The last bike made in the USA was the Scalpel Team Replica. All Cannondale bikes have been manufactured in Taiwan since then.
Where can I buy a Cannondale bike?
You can buy a Cannondale bike from one of Cannondale's official deals available around the world, that you can explore here. You can also check out the selection of Cannondale's bikes on REI.com, which is an online retailer with one of the biggest lineup of models from this brand.