Folding electric bikes are the epitome of urban practicality, making multi-modal commutes not only possible but also very practical.
There's an important reason why the number of folding electric bikes is on the rise on city streets—they work. A folding bike is functional as it gives you all the capabilities of a regular bicycle but makes transportation and storage a lot less of a hassle. Add a motor and a battery to it, and it becomes accessible to a lot of people out there who are looking for more efficient ways to commute.
So whether you're interested in folding electric bicycles as a way to commute or you're looking to save space in your home, we've found and reviewed the best folding electric bikes on the market.
But before that, here's some important information on what to look out for when searching for a foldable electric bike to meet all of your needs.
Are Folding Electric Bikes Any Good?
Contrary to popular belief, folding electric bikes are fast, nimble, and practical. They can go as fast as regular bikes, squeeze through traffic jams, and they're easy to store and transport. Plus, thanks to the motor, you can travel longer distances, without getting too tired.
What to Keep in Mind About Motors?
For practical purposes, most folding e-bikes come with hub motors. However, there are some exceptions, including a few models on our list, that have mid-drive motors.
The reason why hub motors are the go-to choice for electric mini bikes compared to other types is the lack of space. Folding electric bicycles are small, compact, and need to remain that way to fold small. If you add a mid-drive motor, folding will not be impossible, but it takes more engineering to develop an efficient folding mechanism.
Hub motors can be placed in the front or in the rear wheel. But in most cases, you'll see hub motors in the rear wheel, as this is a much better solution.
Front-wheel hub motors are cheaper to install, but they have a few disadvantages. Namely, they affect the bike's handling and don't offer as much traction.
When riding a bike, most of the rider's weight is on the rear wheel, so the tire has plenty of grip and won't skid if you apply a lot of torque. On the other hand, the front wheel might spin out if the motor is too powerful and there's not enough weight keeping the tire in contact with the ground.
Of all the available options, mid-drive motors are usually the most powerful and offer the best riding experience. They provide assistance directly through the pedals, so you have a good feel of how much of your own power you need to apply.
But in addition to the motor placement, you also need to think about power—watts and torque.
Watts—Is There Such a Thing as Enough?
If we assume that Watts=Power is correct, we can conclude that the more Watts your foldable electric bike has, the better. But that's not completely true for a folding electric bike. Due to smaller wheels, you don't need that much power to feel like you're getting somewhere. Too much power can even be dangerous as the small-diameter wheels are not as stable as larger ones.
The majority of bikes on our list have either 250W or 750W motors, but there are a few 500W models as well. The wattage depends on the amount of assistance you require, but it also depends on your country's e-bike laws. For example, in the UK, e-bikes are allowed to have 250W; in the EU, e-bikes can have up to 500W motors; in the US, e-bikes are limited to 750W.
But wattage is not the only metric you should be worried about. You should also consider the torque. A 500W motor with 40Nm or 80Nm of torque is not the same. More torque means that the motor will have more immediate power, climb better, and offer faster acceleration.
Keep in mind that more Watts and more torque does not translate to a higher maximum assisted speed. Most folding e-bikes are Class 1 and Class 2 e-bikes and are thus limited to between 15–20 MPH. The only exception is Class 3 e-bikes or speed-pedelecs, which can go up to 28 MPH. But these are rare in the folding world.
As a rule of thumb, if you are a heavier individual or you live somewhere hilly, you should look for a motor with more power. A 250W motor with little torque might struggle to pull you up a steep hill.
Which Wheel Size Is the Best?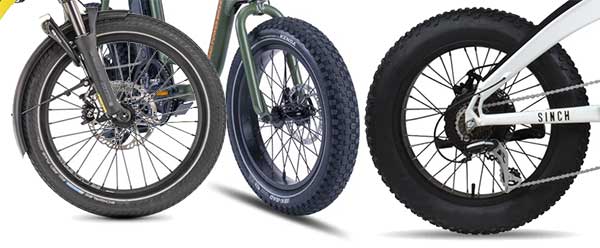 Wheel size is one of the main considerations when choosing the best folding electric bike for you. The smaller the wheel, the more compact the bike will be when folded. However, small wheels come with some limitations, especially when it comes to the terrain they can conquer.
Most electric mini bikes have 20″ wheels, including the models on our list. This wheel size offers a good compromise between practicality, stability, and rolling efficiency.
If you want, you can go even smaller and choose 16″ wheels, but keep in mind that you're limiting yourself to the choice of terrain you can ride on. Such small wheels won't feel stable on pretty much anything but completely smooth city streets. Also, they don't roll over bumps and rocks as easily, so comfort is affected as well.
Small wheels mean that you will have to pedal a bit more to reach a certain speed. But that is not a big problem considering you'll be getting assistance from the motor.
Those who don't want to compromise on speed and pedaling efficiency can choose a folding bike with full-size, 700C wheels. But keep in mind that such bikes don't fold down as small as models with smaller wheels. Thus, storage and mobility become bigger challenges.
To sum, if you're uncertain, go for 20″ wheels. They're the gold standard when it comes to folding electric bicycles, as they combine the best of both worlds.
Why We Selected These Foldable Electric Bikes?
To put it in simple terms, we chose to include these bikes on our list because they provide the most value for the money.
We've thoroughly analyzed each of the bikes you see below and compared them to dozens of other choices to find the best buys.
While doing our research and compiling the list, we focused on the most important features, such as power, range, folded size, build quality, weight, and appearance.
The result is a list of the seven best folding electric bikes that should fit the needs of most types of cyclists out there.
Check out the list below, choose the one you like the most, and enjoy!
---
Podium
---
RadMini 4
Winner! Best Overall Budget-Friendly Package 
MSRP: $1,499
Wheels: 20″ x 3″
Features: Fenders, a kickstand, lights, 750W motor, 672Wh battery, disc brakes, front suspension
FULL REVIEW of Rad Power Bikes
Rad Power's RadMini is a versatile folding fat-tire electric bike with a suspension fork, that can conquer different types of terrain. You can use it equally well for city commutes as well as for off-road gravel and dirt detours.
It folds down quickly and in a few steps—its folded dimensions are 41″ x 22″ x 28″. However, it also comes with a 67 lbs. weight, so it takes some effort to carry it up a flight of stairs.
RadMini is equipped with a 750W geared rear hub motor that delivers 80Nm of torque. Therefore, power will not be a problem. The range shouldn't be either, considering the massive 48V, 14Ah (672Wh) battery with Samsung cells. According to Rad, you can expect up to 45+ miles on one charge.
RadMini is a Class 2 electric mini bike so it has both pedal-assistance and throttle. Its maximum assisted speed is limited to 20 MPH, which is more than enough for an efficient commute.
When it comes to the mechanical parts, this folding electric bike has a 7-speed Shimano drivetrain to make pedaling more efficient. It also comes with an SR Suntour 60mm suspension fork that will improve comfort and stability.
The package also includes fenders, a kickstand, battery-powered lights, puncture-resistant tires, and a few other perks.
| | |
| --- | --- |
| Pros | Cons |
| Powerful motor and a high-capacity battery | Quite heavy at 67 lbs.  |
| Numerous useful accessories | Comes with an entry-level Shimano drivetrain |
| Pedal-assistance and throttle | |
| Suspension fork and fat tires improve comfort | |
| Folds easily into a small bundle | |
Tern GSD S10
Second-best! Family-Favorite Foldable Cargo E-Bike
MSRP: $5,099
Wheels: 20″
Features: Smart and simple folding design, dual-leg kickstand, 400Wh battery, 85Nm mid-drive motor, large cargo area
Tern GSD S10 is a one-of-a-kind cargo folding electric bike. This is the ultimate utility vehicle for parents with kids or big families that make huge grocery hauls. If you want to drive your car less, this Class 1 foldable electric bike is the way to go.
The thing that excites us the most about this folding electric bike is the integrated cargo area. It can easily carry two kids or a week's worth of groceries. The total weight limit including the rider is 440 lbs., which is a lot considering the size of the bike.
GSD S10 comes with a high-end Bosch Performance Line 85Nm mid-drive motor coupled with a 400Wh Bosch battery. This is a reliable setup that ensures a 20 MPH maximum speed and 26 – 53 miles of range.
Tern built the GSD S10 around a durable 6061 aluminum frame and also equipped it with a Shimano Deore 1×10 drivetrain, hydraulic disc brakes, fenders, and a dual kickstand.
It's important to note that this bike does not fold fully. It allows you to lower the saddle all the way down and fold the handlebar, so you can store it more easily. But the frame itself does not fold.
All in all, Tern GSD S10 is the best cargo folding electric bike a family can dream of having. It solves the mobility puzzle, saves money in the long run, and adds a layer of fun.
| | |
| --- | --- |
| Pros | Cons |
| Big cargo area and 440 lbs. weight limit | Doesn't fold completely |
| Quality Bosch electric components | Pricy |
| Hydraulic brakes and Shimano drivetrain | |
| Excellent design | |
| Enough space for two child seats | |
Aventon Sinch
Third Place! Affordable Fat-Tire Foldable E-Bike with Suspension
MSRP: $1,499
Wheels: 20″ x 4″
Features: Wide tires, easy folding mechanism, disc brakes, powerful motor, wide and thin display, suspension
Aventon Sinch is one of the most affordable choices on our list. But don't let that fool you, this folding e-bike hides some nice surprises that you'll like when you take it for a ride.
Aventon Sinch is propelled by a 500W rear hub motor that's powered by a huge 672Wh battery. You can control these electronics with a big backlit LCD display that resembles a smartphone in design and size.
This is a Class 2 e-bike with pedal-assistance, throttle, and a 20 MPH maximum assisted speed. It combines 4″ tires with a suspension fork to let you make off-road detours without second thoughts.
You also get a 7-speed Shimano drivetrain and mechanical disc brakes, so Sinch is ready to ride up steep hills and descend even steeper hills.
This bike offers five levels of assist, plus a throttle. If you use them smartly, you can get up to 40 miles of range out of the battery.
Though Aventon Sinch folds quickly and completely, the folded dimensions are not super compact because of the wide 4″ wheels—41″ L / 23″ W / 31″ H. Plus, the bike is not ultra-light at 68 lbs.
However, if you're fine with the higher weight and larger dimensions, Sinch will save you money and do all the things more expensive folding e-bikes do.
| | |
| --- | --- |
| Pros | Cons |
| Powerful motor and large battery | Pretty heavy |
| Throttle and pedal-assist | Folded dimensions are not super-small |
| Fat 4″ tires and a suspension fork | |
| Simple folding mechanism | |
| Large backlit information-rich display | |
---
Good performers
---
Tern Vektron D8
MSRP: $2,199
Wheels: 20″
Features: Mid-drive motor, 400Wh battery, fenders, hydraulic disc brakes, lights, aluminum frame
Tern Vektron D8 is one of the most popular mid-tier folding electric bikes out there. It delivers good value for money, has powerful electronics, and looks really good as well.
As a Class 1 foldable e-bike, Vektron D8 offers pedal-assistance with a mid-drive Bafang 250W motor and a 400Wh battery. The maximum assisted speed is 20 MPH and the expected range is 25–56 miles. This is enough power and enough range for everyday commutes and urban outings.
Tern Vektron D8 is a folding electric bicycle that's ideal for commuting year-round. It has fenders, lights, a rear rack, and hydraulic disc brakes, so you can ride it day and night, come rain or shine.
Tern is also equipped with a 1×8 Shimano Claris drivetrain that provides quick and precise gear shifting, which will make riding uphill even easier for you.
This folding e-bike rolls on 20″ wheels and 50mm tires that are ideal for city streets. It folds down quickly in a matter of seconds into a small package that weighs just 49 lbs. Therefore, carrying it should not be an issue for most riders.
Related: Overview of Tern Bikes
Unfortunately, only one color is available, but the bike looks modern and attractive nonetheless. If you commute regularly and want a bike that you can transport or store easily, Tern Vektron D8 is a fool-proof choice.
| | |
| --- | --- |
| Pros | Cons |
| Simple folding mechanism | Entry-level Shimano components |
| Mid-drive motor and decent range | One color available |
| Hydraulic disc brakes | |
| Great accessories | |
| Lightweight design | |
Sondors Fold X
MSRP: $1,199
Wheels: 20″ x 4″
Features: 500W motor, throttle, fat tires, 7-speeds, aluminum frame, 300 lbs. load capacity
Sondors Fold X is an elegant folding fat-tire electric bike with capabilities for off-road detouring thanks to its massive 20″ x 4″ fat tires. This folding electric bike looks good, performs even better, and costs just $1,199, which is the cheapest on this list.
Fold X boasts a 500W geared rear hub motor with an integrated 672Wh battery. The battery is hidden inside the frame, so it's hard to tell this is a foldable e-bike until you see it speed across the city.
Sondors is a budget bike, so it does come with some entry-level parts, like the basic 7-speed drivetrain, and weighs 66 lbs. According to the company, it provides a range of up to 60 miles, which is pretty good.
Sondors Fold X has a throttle, but you should use it as little as possible if you want to get a good range. Instead, rely on pedal-assistance for help.
Sondors doesn't have any accessories, but its aluminum frame has a 300 lbs. payload capacity, so if you put a rear rack on it, it can carry a decent amount of cargo.
All in all, this is a good-looking e-bike that folds quickly into a 39" x 18" x 29" package, so we recommend it to budget-conscious riders with limited storage resources.
| | |
| --- | --- |
| Pros | Cons |
| Inexpensive | Some entry-level parts |
| Powerful motor and battery | Heavyish |
| Pedal-assistance and throttle | |
| 20″ x 4″ fat tires | |
| Integrated battery | |
Brompton Electric
MSRP: From $3,499
Wheels: 16″
Features: Unique folding mechanism, 2 or 6 speeds, lights, steel frame, 300Wh battery
Brompton is one of the most renowned manufacturers of electric mini bikes in the world. This authentic British company now makes folding electric bicycles as well, with a smart design and 16″ wheels.
The tiny wheels on Brompton Electric limit your choice of terrain, but they allow you to fold this e-bike really small, to just 22.2″ x 23″ x 10.6″. The entire bike weighs between 36.6–38.3 lbs., which is by far the lightest on this list. Anyone can carry it.
When it comes to electronics, Brompton Electric features a sleek in-house designed front hub motor and a 300Wh battery.
This bike offers 20-45 miles of range and has a 15.5 mph top speed, which are not impressive numbers, but they're ideal for daily commutes. The battery charges fully in just 2 hours, so you can recharge it while making a coffee stop.
Depending on your needs, Brompton Electric is available with a 2-speed or a 6-speed internal gear hub. The 2-speed version is lighter and cheaper, but if you live somewhere hilly, we recommend the 6-speed model.
We recommend Brompton Electric to city folks who combine different means of transportation during their commute and need a folding electric bike that's light, compact, and easy to carry around.
| | |
| --- | --- |
| Pros | Cons |
| Low total weight | 15.5 MPH maximum speed |
| Unique folding design | Small wheels limit the choice of terrain |
| Two-gear and six-gear models | |
| Compact 16″ wheels | |
| Charges fully in just two hours | |
e-JOE Epik Carbon
MSRP: $1,799
Wheels: 20" x 2.25"
Features: Magnesium wheels, 500W motor, 528Wh battery, suspension fork, throttle, folds neatly
Don't let the name of this bike fool you. Even though it's called "Carbon", there's no carbon anywhere on it. This is an aluminum folding electric bike with a modern, streamlined design and excellent electronics.
Though Epik Carbon does not include carbon, it does have magnesium wheels. They look very attractive and weigh little, so it's definitely a feature that sets this bike apart from the competition.
E-Joe Epic Carbon has pedal-assistance and throttle, enabled by a 500W geared rear hub motor and a 528Wh integrated battery. The maximum speed is 20 MPH and you can get up to 40 miles of range if you use a low pedal-assist level.
This foldable e-bike does not have too many accessories, which is both good and bad. If you want to ride at night or in the rain, you should add fenders and lights. However, this way, the design is sleek and the weight is low—around 55 lbs.
Epic Carbon also boasts mechanical disc brakes and a 7-speed Shimano Tourney drivetrain. Though these are entry-level features, they perform well in the real world and give this bike an added layer of practicality.
| | |
| --- | --- |
| Pros | Cons |
| Rare magnesium wheels | No carbon despite the name |
| Pedal-assist and throttle enabled | Few accessories |
| 7-speed Shimano drivetrain | |
| Mechanical disc brakes | |
| Attractive design | |
What Should I Look For in a Folding Electric Bike?
You might have experience with buying bicycles, but purchasing a folding electric bike is a bit more challenging. In addition to all the standard features you need to consider, you should also think about the electric components and the folding mechanism.
The folded dimensions should be small enough to fit your car's trunk or the storage space in your apartment. Most models nowadays have easy-to-use folding mechanisms, so that shouldn't be an issue.
A good folding electric bike should be compact, light, practical, and easy to fold.
Next, you should think about the motor and the battery. If you live somewhere hilly or windy, you should get a more powerful motor and a bigger battery. Also, choose between a hub and a mid-drive motor. The former is cheaper, but the latter is more stable because of better weight distribution.
If it often rains in your area, consider better-quality hydraulic disc brakes as well.
Related: Best Folding Bikes
We'd also recommend paying attention to the wheels and tires. Big wheels are more stable, but they increase the bike's folded dimensions. If you plan to ride off-road, choose a folding fat-tire electric bike, such as RadMini or Aventon Sinch.
In the end, look for a bike that you will find practical to use every day and that will thus significantly improve the quality of your life.
Looking for different kinds of electric bikes? Take a look at our list of best electric bikes.
FAQ
Check out some of the most frequently asked questions about folding electric bikes below.
What is the best folding electric bike?
The best folding electric bike is the one that meets your needs the best. If you need a model with fat tires, Rad Power RadMini is a good choice. If you want the lightest and the smallest folding e-bike, Brompton Electric is the logical choice. When choosing, make sure to consider their features and your needs.
What is the lightest folding electric bike?
Brompton Electric is one of the lightest folding electric bikes on the market. With the battery included, the 2-speed model weighs just 36.6 lbs. Without the battery, Brompton Electric weighs just 30 lbs. The 6-speed model is approximately 2 lbs. heavier, which is still very light.
Are folding e-bikes fast?
Most folding e-bikes are Class 1 and Class 2 e-bikes, which means their maximum assisted speed is 20 mph. You can go faster than that by pedaling on your own, but electric mini bikes are not as fast as regular bikes due to small-diameter wheels. Still, they are far from slow and you can easily achieve a ~17 mph average speed.
Are folding e-bike worth it?
If you live in a big city or in a small house or apartment, a folding electric bike is an excellent choice. These are small bicycles that can squeeze through tight spaces, you can carry them on trains and buses, and you can easily store them in a corner of your home.
How do I choose an electric folding bike?
When choosing the best electric folding bike, you need to consider your needs and priorities. Consider how much power and range you need from the electric system, how tiny you want the folding bike to be, and whether or not you need any accessories.
Final Words
When it comes to urban and multi-modal commuting, nothing beats a folding electric bike. They are easy to use, store, or carry around. Plus, the electric motor enables you to ride faster and go further, even if you haven't ridden a bike in years.
However, choosing the right folding e-bike can be a daunting task for laymen, which is why we've created this guide. We comprised our list by including high-quality, tried, and true choices, so you won't make a mistake whichever you choose.
Don't fold up your tent when it comes to cycling until you've given folding electric bikes a chance!