Yeti ARC is a reimagined retro classic hardtail with all-new geometry, components, and looks. It's a 29er inspired by the old school but built for modern times.
The ARC hardtail has been an integral part of Yeti's lineup for years. More specifically, the model was introduced back in 1991 and ran until 2016, when it was temporarily discontinued. Finally, Yeti Cycles reintroduced the ARC model on their 35th anniversary, in July 2020.
The new ARC has its roots in the successful tradition of its predecessor, but have no doubts—this is a modern hardtail trail shredder with new-age geometry and build kits that will take your breath away.
Yeti ARC is now longer, slacker, lower, and more capable than ever before. It's also more attractive than it has ever been and built around an ultralight carbon frame.
Unfortunately for many, ARC is also a lot more expensive than we remember. Perhaps too much so? Let's find out.
Yeti ARC Key Features
Yeti Cycles ARC has little in common with the original ARC, except for tradition. In this case, that's good news because the new ARC is even better than the old one.
Yeti imagined ARC as a capable, fun, and versatile hardtail bike built for trails, long XC days, and even bikepacking. To make that diversity a real-world possibility, Yeti jam-packed it with premium features.
Comes with a top-tier, lightweight TURQ carbon frameset.
Modern geometry makes ARC longer, slacker, and lower than before.
Features a 130mm Fox front suspension.
Fully internally routed cables and a chain slap protector.
Dual-sided downtube mounts to carry more water.
Enough room in the seat tube for a 200mm dropper post.
Comes with a press-fit BB92 bottom bracket and an integrated headset.
Yeti ARC Build Kits
The new and improved Yeti ARC comes in five distinct builds, built around the high-grade TURQ carbon frameset. The price for complete models starts at $3,600 and tops at $6,800. The frame-only option is available as well, at $1,900.
In addition to that, a special ARC 35TH model is available as well, built to commemorate the company's 35th anniversary. If you want to own this unique, limited model, you'll have to part with $9,900. Ouch!
That's quite expensive for a hardtail bike, considering you can get a decent full-suspension trail bike for less than $3,000. But Yeti did not write those numbers without any justification, as you're about to see.
C1 TURQ – MSRP $4,000 – Fox Performance 34 fork with Shimano SLX components, and Shimano Deore brakes.
C2 TURQ – MSRP $4,400 – SRAM GX Eagle components, a Fox Performance 34 fork, and SRAM Level TL brakes.
C1.5 TURQ – MSRP $4,400 – Fox Performance suspension coupled with Shimano XT components and better DT Swiss M1900 wheels
T2 TURQ – MSRP $6,300 – SRAM X01 components, Fox Factory 34 suspension, and SRAM Level TLM brakes.
T3 TURQ – MSRP $7,500 – Top-tier model with SRAM XX1 components, Fox Factory 34 suspension, and SRAM Level Ultimate brakes.
Yeti ARC 35TH Anniversary Limited Edition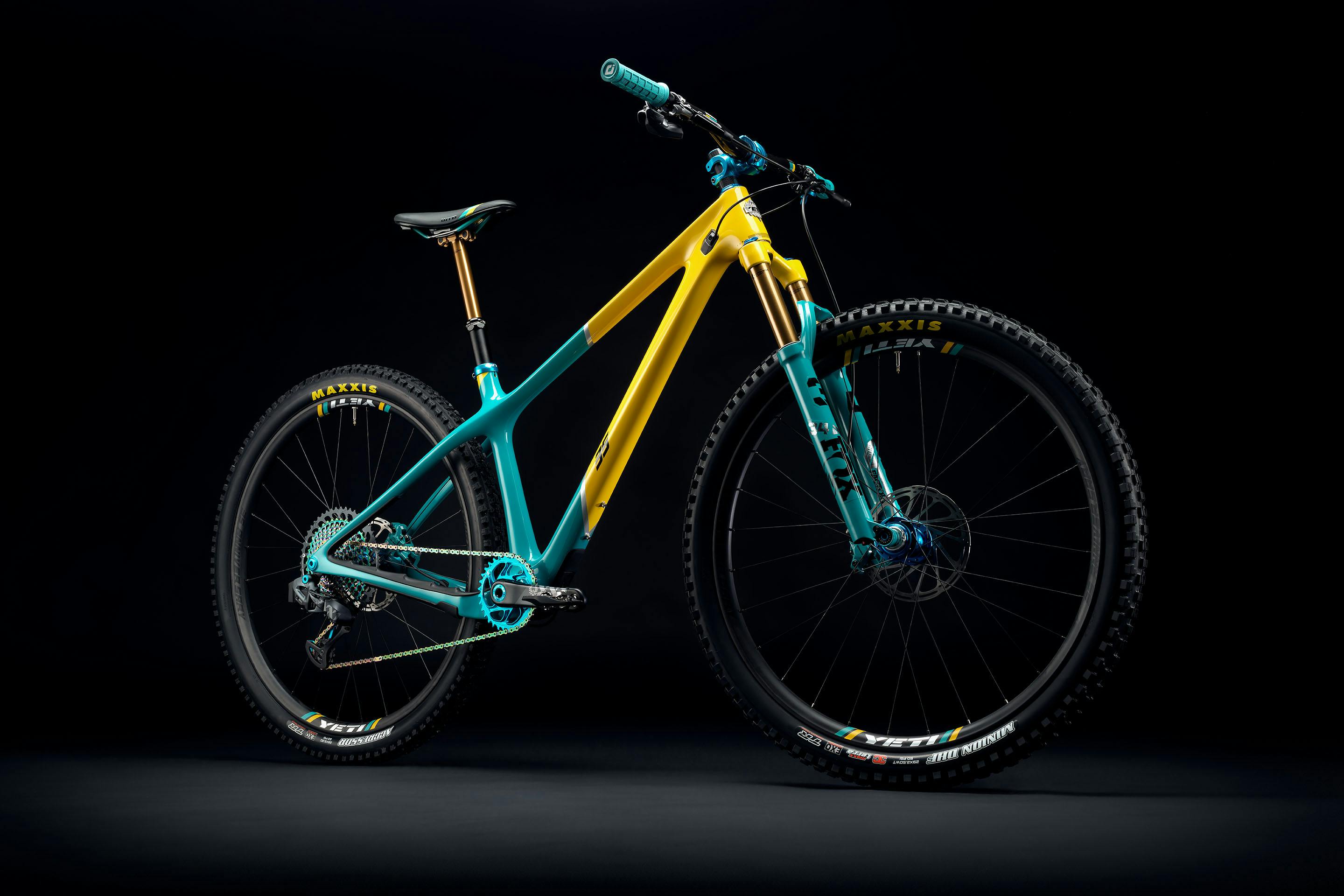 Yeti ARC 35TH is a limited-edition build that was made in just 100 pieces. This is a premium build with custom parts and a head-spinning price tag of $9,900!
ARC 35TH has a retro yellow-blue color scheme that resembles the first ARC models ever made in 1991. But that's where the similarities stop.
This hardtail monster features all-new geometry, a TURQ carbon frameset, Fox Factory 34 130mm fork, SRAM XX1 Eagle AXS groupset, custom Yeti wheelset, and Maxxis tires. All prerequisites are there to shred any terrain you have in your area.
The reality is that this bike is so incredibly beautiful that most would keep it propped up on a wall as a showpiece instead of test its limits on singletracks and rugged descents.
Yeti ARC is the sum of its parts, so let's take a closer look at the individual components, such as the frame, suspension, groupset, wheels, tires, and more, to see how this bike stacks against the competition.
Ultra-lightweight TURQ Carbon Frame
Contrary to what we're used to with Yeti's full-suspension SB- models, Yeti ARC is not available with the cheaper C/Series frame. All of the ARC builds come with a lightweight TURQ carbon frame that weighs just 2.82 lbs.
The frame has an aggressive, modern appearance and robust build that can handle a lot of abuse, especially in the BB area. You get to choose from two color options — Turquoise or Raw Carbon.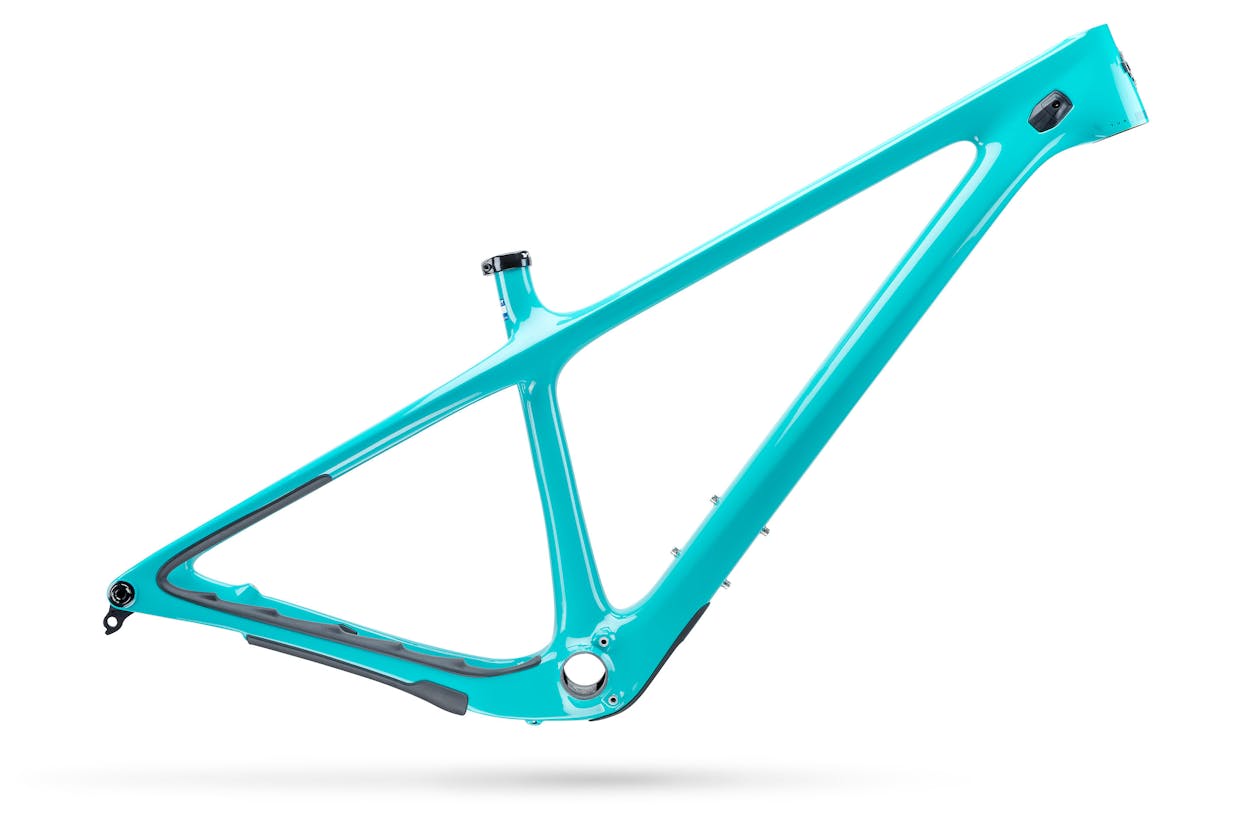 The TURQ frame is characterized by full internal cable routing, a press-fit BB92 bottom bracket, an integrated headset, BOOST dropouts, and an integrated derailleur hanger. It's optimized for 29″ wheels, which makes the bike fast and efficient on rough sections.
TURQ frames are incredibly light and stiff, so you can expect Yeti ARC to climb like a mountain goat and feel nimble in tight turns.
The new ARC also includes integrated tabs to mount a chain guide, as well as dual-sided downtube mounts to carry two water bottles.
Capable 130mm Fox Suspension
Yeti ARC is built around a 130mm fork with a 44mm offset that gives it a pretty aggressive angle of approach. Depending on the build you choose, you'll get either the cheaper Fox Performance 34 or the premium Fox Factory 34 fork.
A hardtail with 130mm of travel means you get a fun package and efficient performance. ARC has serious descending genes, just like its full-suspension brethren, even though it shines the most on twisty singletracks.
This suspension setup gives ARC a 67° headtube angle and a 76° seat tube angle, which is just right to be able to use this bike for different kinds of trail adventures.
High-Level SRAM and Shimano Components
Yeti ARC is not cheap, but it is not cheaply made either. This is a premium hardtail bike with top-of-the-line SRAM and Shimano components.
The cheapest build comes with a Shimano SLX 1×11 groupset, whereas the most expensive build has nothing less than SRAM XX1 Eagle. The other builds boast SRAM GX Eagle, Shimano XT, and SRAM X01 Eagle.
In addition to these groups, you get a Fox Transfer 175mm dropper post, but there's enough room in the seat tube for a 200mm dropper as well.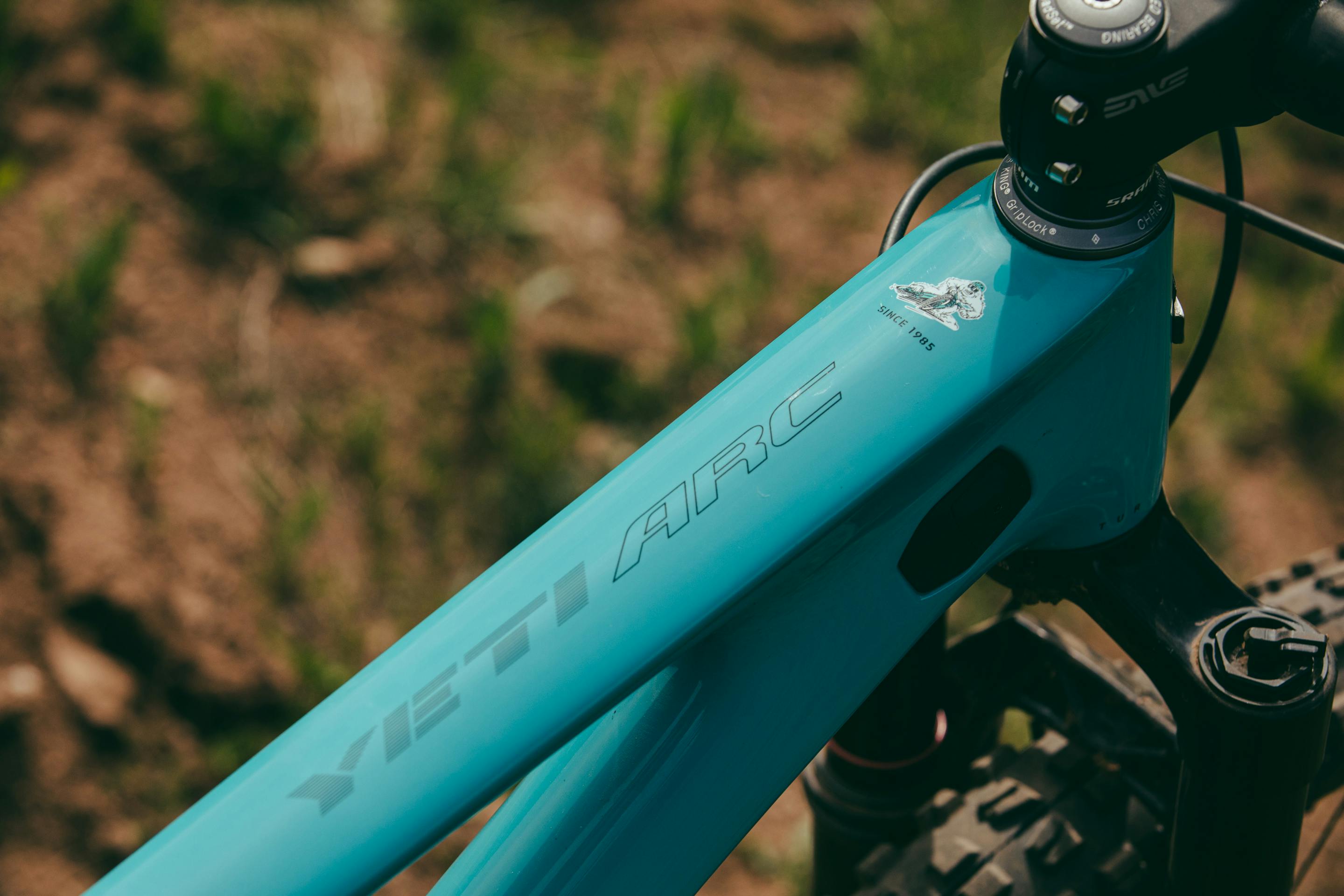 Yeti ARC rolls on 29″ DT Swiss XM1700 30mm wheels on the more expensive "T" models and M1900 30mm on the more affordable "C" models. The tires are the same throughout—Maxxis Minion (F) and Rekon (R) 2.6″ wide. With such massive tires and a 130mm fork, you will have loads of grip and confidence even on the most extreme terrain.
Yeti ARC models also come with Cane Creek integrated headsets, ODI Elite Pro grips, and either Ergon or Silverado saddles. Therefore, you get a well-rounded package for your money.
Modern Trail Geometry and Ride Feel
Same as the full-suspension Yeti SB100, SB130, or SB150 bikes, Yeti ARC also has a redefined new-age trail geometry that makes it more stable and more fun to shred with. It is longer, lower, and slacker than before, so it feels confident when climbing and descending.
Yeti ARC rolls on super-wide 29″ wheels coupled with a 130mm fork, which is the ideal amount of travel for a hardtail, according to the company. It has a 67° headtube angle, a 76° seat tube angle, and a 44mm offset. In the Medium frame size, ARC also has a 445mm reach, 310mm BB height, a 433mm chainstay length, and 1171.5mm wheelbase. Therefore, it is long and low.
Just as you can expect from a carbon hardtail, Yeti ARC flies up steep climbs, and the 130mm fork lets you go fast downhill as well. It's a fun trail machine that's almost as capable as a full suspension.
Yeti ARC Sizes
Yeti ARC is available in four frame sizes that fit riders between 5'1″ and 6'7″, which suits most people out there, except for the extremes. Find your ideal frame size based on your height below:
Small: 5'1" – 5'7"
Medium: 5'5" – 5'11"
Large: 5'10" – 6'3"
X-Large: 6'1" – 6'7"
Other Models
ARC is Yeti's only hardtail bike, which is not everyone's cup of tea. Are you perhaps looking for a full-suspension model to ride more challenging trails and take more extreme lines?
If that's the case, you should check out our reviews of Yeti's full-suspension models below. You might like one of these better:
Yeti SB100 (Read our review) — A short-travel full-suspension bike built for XC racing and trail riding.
Yeti SB130 (Read our review) — A medium-travel full-suspension versatile trail bike that can shred any type of trails you have in your area.
Yeti SB140 (Read our review) — A long-travel trail machine with a progressive geometry that's leaning towards the enduro category in terms of capabilities.
Frequently Asked Questions
Here are the answers to some of the questions we frequently receive about Yeti ARC and Yeti bikes.
Final Verdict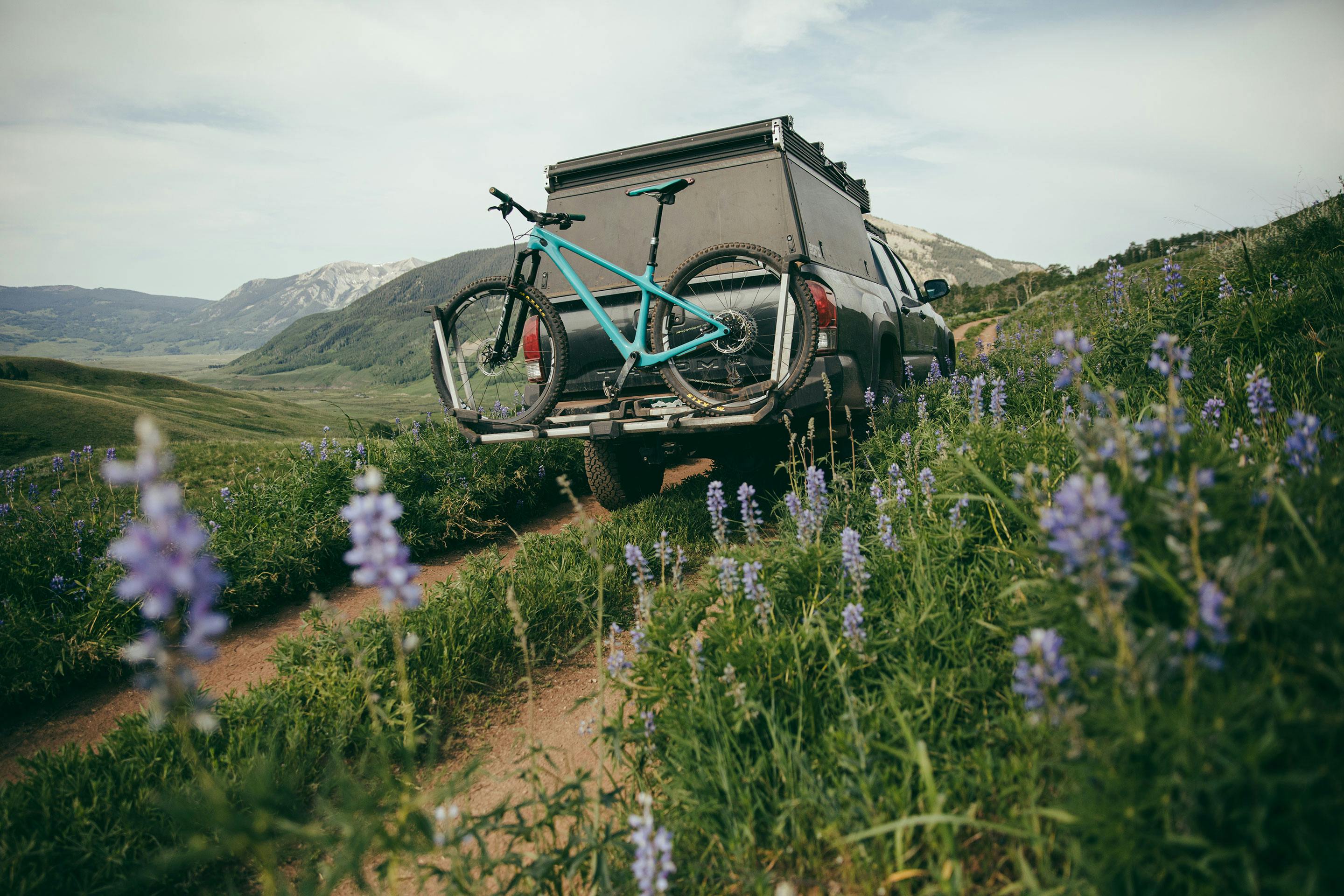 If you are looking for a hardtail bicycle that can complement your full-suspension setup and still be capable enough to ride hard, Yeti ARC is the one. We agree that the price is steep for a secondary bike, but if you like having fun and feeling every feature of the trail, you'll love this bike just as much as your full-suspension rig.
Yeti ARC's power lies in the lightweight TURQ frame, 130mm Fox Factory/Performance front suspension, an aggressive geometry, and excellent components. For the majority of riders out there, it does not really have any big downsides.
If you can get past the price tag, this might be the right bike to fill the gap in your garage.
Pros
Lightweight TURQ carbon frameset
Premium SRAM and Shimano components
Fun and lively trail geometry
Capable 29" wheels and 2.6" Maxxis tires
130mm of high-end Fox front suspension
Cons
Expensive for a hardtail
Only two colors available
There are no comments yet, add one below.