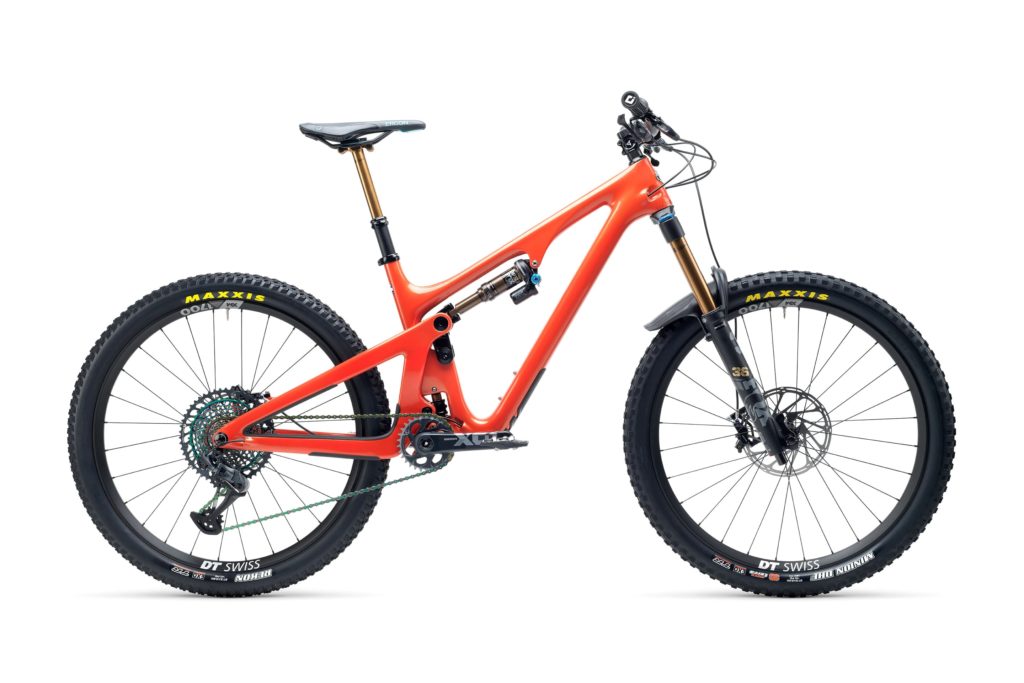 Yeti SB140 is a 27.5″ trail ripper with the playfulness you'd expect from smaller wheels and capabilities that even some 29ers lack.
Yeti Cycles has done some impressive work with 29″ mountain bikes recently. The SB100, SB130, and SB150 models have rocked the MTB scene and established themselves as go-to choices for versatile trail riders.
Now the time has come to pay some attention to the 650B side of the market as well. That's why Yeti has pushed out the new and improved SB140 trail bike.
The long-travel SB140 is a bike for all trails. As Yeti says, "SB140 never met a dirt it didn't like." That makes sense when you consider the Switch Infinity system, Fox suspension, top-tier carbon frames, massive 2.6″ tires, and efficient 1X drivetrains.
Yeti SB140 Key Features
As you can probably guess from its name, Yeti SB140 has 140mm of rear travel, paired up with a 160mm fork. As is usually the case with Yeti bikes, this model has a long list of innovative features and high-level components that would impress many. However, what it also has is a high price that makes it unattainable for most casual riders out there.
If your wallet is thick enough, here are a few reasons why you might consider riding Yeti SB140:
Yeti's new school geometry that's designed to feel like an extension of the rider.
Slack 65° head tube angle and a steep 77° seat tube angle perfectly center the rider.
Fox front and rear suspension with 160mm and 140mm of travel, respectively.
Switch Infinity suspension system that improves pedaling efficiency and control.
Available with high-grade TURQ carbon frames or with lower-grade C/Series carbon.
Comes with high-end and mid-range SRAM or Shimano components.
Confident both when climbing and descending.
Rolls on 2.6″ wide Maxxis tires and 27.5″ DT Swiss wheels.
All builds come with dropper posts and 170mm cranks.
Yeti SB140 Build Kits
You can get Yeti SB140 in one of the five available complete builds, ranging in cost from $5,200 to $8,700. Additionally, you can opt for the frame-only solution and get the TURQ frame with shock for $3,600.
Here's a quick run-down of the available builds, their prices, and characteristics, to help you choose the right one for your needs.
C1 C/Series – MSRP $6,200 – The most affordable build with a lower-grade C/Series carbon frame, Fox Performance suspension, and Shimano SLX components.
C2 C/Series – MSRP $6,500 – A more expensive C/Series build with a SRAM GX Eagle 1×12 drivetrain and the same Fox Performance suspension.
T1 TURQ – MSRP $7,900 – The most affordable build with the TURQ carbon frameset. It features Shimano XT components and Fox Factory suspension.
T2 TURQ – MSRP $8,800 – SRAM X01 Eagle components coupled with SRAM G2 RSC brakes, Fox Factory suspension, and the high-grade TURQ carbon frameset.
T3 TURQ – MSRP $10,200 – This is the top-tier model with SRAM XX1 1×12 components, Fox Factory suspension, and SRAM G2 Ultimate brakes.
Yeti SB140 Full Review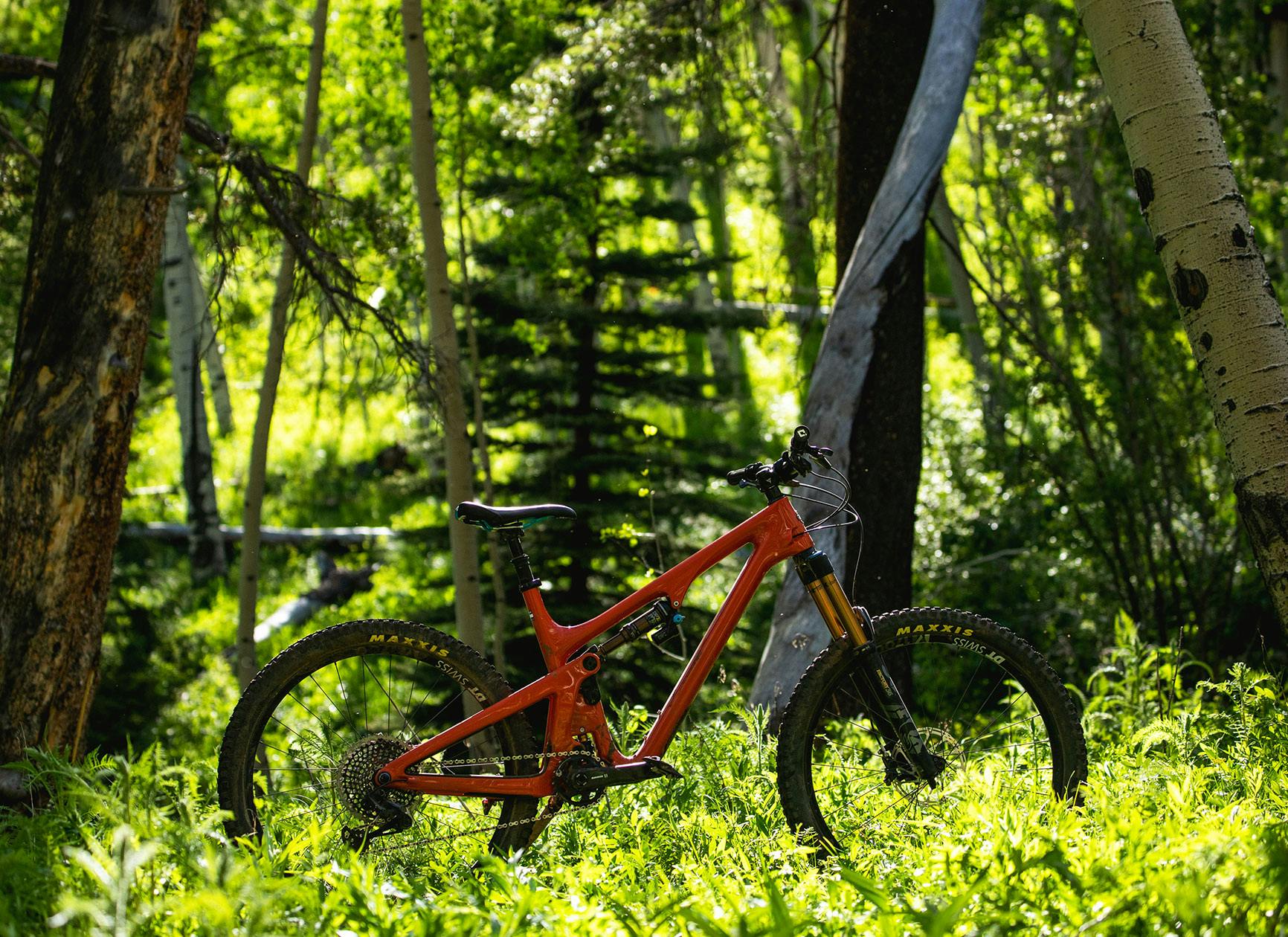 The SB140 is a modern trail bike with progressive geometry and Yeti's Switch Infinity suspension system. Therefore, it is a good-for-all two-wheeler that can climb, descend, jump, drop, and do whatever else comes to your mind.
Since this bike and its real-world capabilities are the sum of its parts, let's take a closer look at some of the most important features that you're getting for your money.
Top Tier TURQ & C/Series Carbon Frames
Yeti Cycles SB140 comes with a carbon frame made from either TURQ or C/Series carbon. TURQ carbon is Yeti's premium material, characterized by extreme stiffness and lightest. The C/Series carbon, according to the company, is just as stiff and strong, but it is slightly heavier. The difference in weight between these two framesets is around 250g, which is not a dealbreaker.
If you don't mind the added weight, you should be good to go with the cheaper variant. Both frames feature full internal cable routing, BOOST dropouts, Switch Infinity suspension technology, integrated headsets, press-fit BB92 bottom brackets, integrated derailleur hangers, and sealed enduro max pivot bearings.
Yeti SB140 comes with 27.5″ wheels and 2.6″ tires, which is almost in the 'plus' category. The frame offers plenty of clearance, so you can go with even wider tires.
Thanks to a unique design, the frame also has enough room for a full-size water bottle in the front triangle. This will make a lot of riders happy, especially those who like spending the entire day exploring the trails.
Fox Suspension and Switch Infinity Technology
Yeti SB140 has a suspension system that's tweaked for fun, especially when compared to the new-age 29ers that strictly mean business.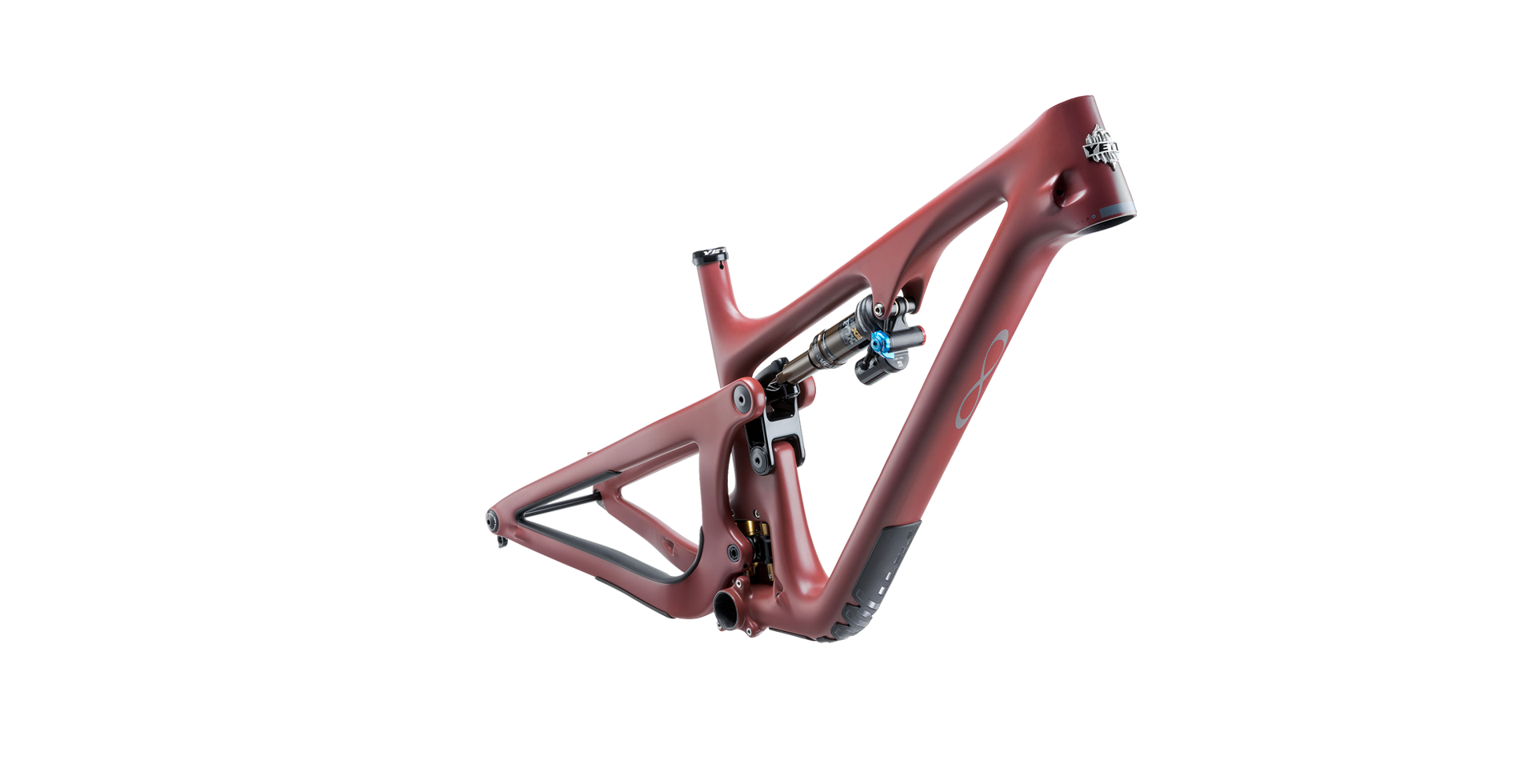 Depending on the build you choose and the budget you have, your SB140 trail bike will come with either Fox Performance 36 or Fox Factory 36 suspension. You get 140mm of travel in the rear, coupled with 160mm in the fork. That translates to confidence, stability, and control on the trails, especially when combined with the Switch Infinity technology.
Yeti SB140 feels quick, snappy, and playful, no matter if you're climbing, descending, or pedaling hard to storm a flat section.
The Switch Infinity technology is one of the most innovative and authentic suspension systems in the MTB industry. As a result, the design has won numerous Editor's Choice Awards.
The Switch Infinity linkage connects the front and the rear triangle to allow SB140 to have anti-squat properties that come into effect when pedaling or bottoming out. This improves pedaling efficiency and minimizes the dreadful kickback that happens in the second half of the travel curve.
Top-Tier Components
Yeti SB140 comes equipped with top-tier SRAM and Shimano components that have been tried and tested many times before. The groupsets vary from mid-range to high-end, depending on which build we're talking about.
For example, the most affordable C1 C/Series model sports a Shimano SLX drivetrain with Shimano Deore 4-piston brakes. The most expensive T3 TURQ model comes with a SRAM Eagle XX1 drivetrain and SRAM G2 Ultimate brakes. In-between, there's also SRAM X01 Eagle, Shimano XT, and SRAM GX Eagle.
In addition to that, all SB140 builds come with Fox Transfer dropper posts with 125mm–175mm of travel, depending on the frame size.
Related: Best Dropper Posts
You'll also get a Cane Creek integrated headset, Yeti Carbon or Race Face Aeffect 780mm bars, ODI Elite Pro grips, and Silverado Custom saddles. Overall, the package presents a pretty decent bang for the buck.
650B Wheels and 2.6″ Tires
As mentioned before, Yeti SB140 rolls on 27.5″ wheels and super-wide 2.6″ tires.
To be more precise, the wheels are 30mm DT Swiss XM1700 on TURQ models and M1900 on C/Series models. Though, they are upgradeable on the TURQ models, so you can swap them for an EXC 1501 Carbon wheelset.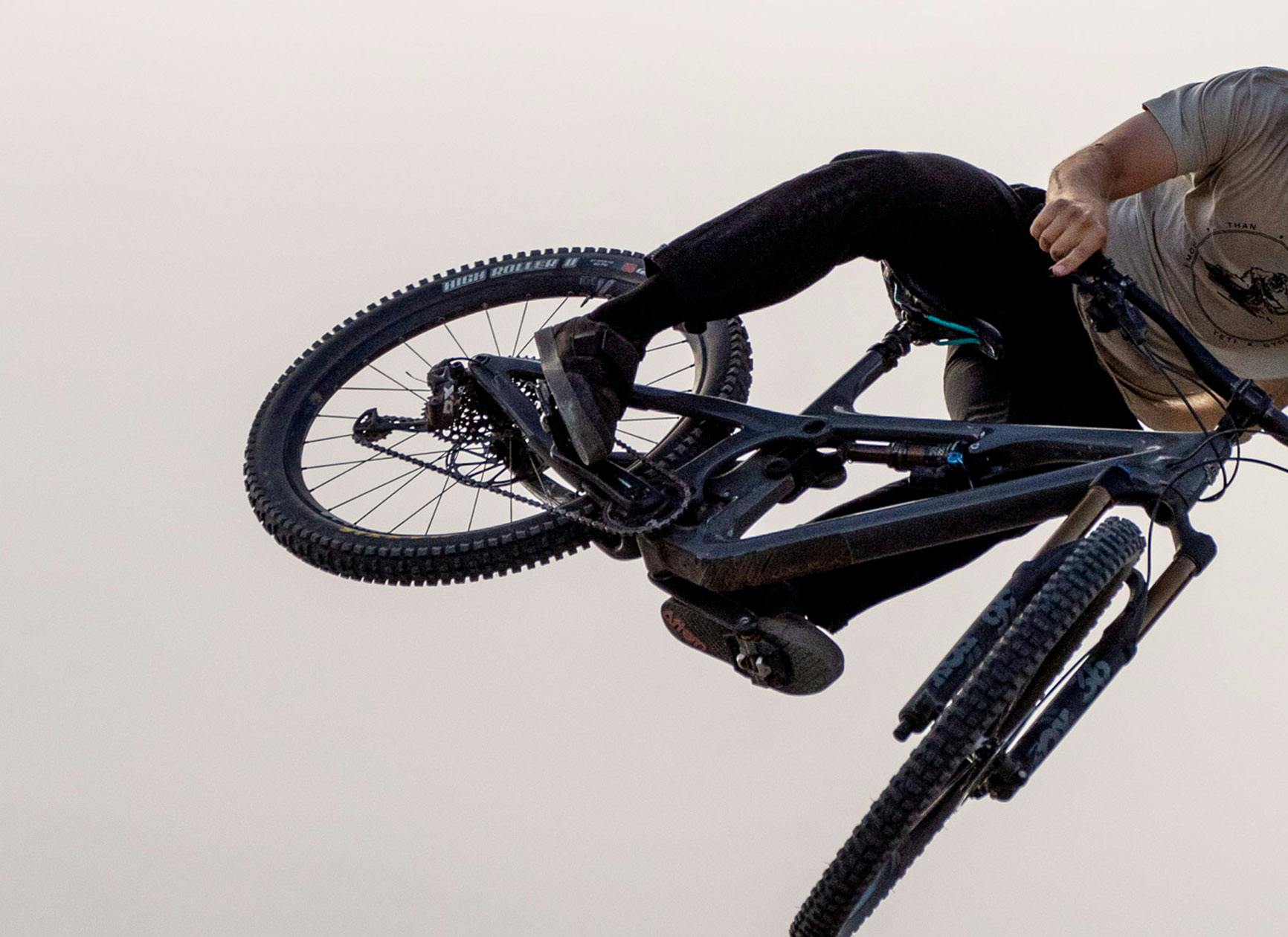 The tires are the same on all builds. You get Maxxis Minion DHF 2.6″ on the front wheel and Rekon 2.6″ on the rear. These are excellent tires for hardpacked and dry singletracks you'll find on the West Coast. However, they might not be the best choice for wet and muddy trails found on the East Coast.
If you're not happy, swapping the tires on SB140 is an easy step, and you can go even wider with your choice into the proper 'plus' world.
All in all, the tires are wide and grippy, offering more than enough traction and stability over rocks, boulders, hard and soft dirt. The wheels are light and stiff, but it's a shame the carbon EXC 1501 wheelset does not come stock with the most expensive build.
Modern Geometry = Unprecedented Ride Feel
Yeti Cycles SB140 is a long, slack, and aggressive trail machine. This bike has a super-slack 65° head tube angle, combined with a super-steep 77° seat tube angle.
The slackness of the front end gives you more stability and a better attack angle. These come in particularly handy during speedy and technical descents, which is where SB140 shines the most.
However, the steep seat tube angle means that your weight will not be too far back. That's important considering that SB140 has a pretty long front end (460.1mm reach in the medium frame), which would otherwise make the front wheel unstable. This way, there's enough weight on the handlebar to keep the front tire firmly on the ground even when pedaling up very steep climbs.
Yeti SB140 is fun, fast, nimble, and smooth to ride thanks to the tires, the geometry, and the exquisite suspension. Bikes with 27.5″ wheels are slower than 29ers, no doubt about that, but this bike is made to have fun and enjoy the most technical trails you can find in your area.
Yeti SB140 Sizes
Yeti SB140 is available in five frame sizes, which is one more than the company's 29″ models, such as the SB100 or SB130. The official website contains all the information you need to pick the right frame size, including a detailed geometry chart.
Here's a quick size table that you can use to find the right size based on your height.
X-Small: 4'11" – 5'3"
Small: 5'1" – 5'7"
Medium: 5'5" – 5'11"
Large: 5'10" – 6'3"
X-Large: 6'1" – 6'7"
Other Models:
If you don't think this is the right model for you, you should check out our other reviews of Yeti trail bikes to find something that suits your needs better.
SB100: A short-travel XC race-oriented bicycle with 100mm of rear travel and a redefined Switch Infinity suspension technology.
SB130: A medium-travel 29″ trail bike with a 130mm rear shock and a 150mm suspension fork. This is one of the most versatile trail bikes that Yeti makes.
ARC: A premium hardtail bicycle with 130mm of front travel, built for XC racing and trail riding.
Frequently Asked Questions
Find our answers to the most popular questions about Yeti bikes below.
Final Verdict: Is Yeti SB140 Worth the Money?
As Chris Conroy, the president of Yeti said in one interview, the SB140 is a shredder's bike. It's the right bike for someone who's on a mission to smash every feature on the trail. If you're that person, you'll love how fun and capable this bike is.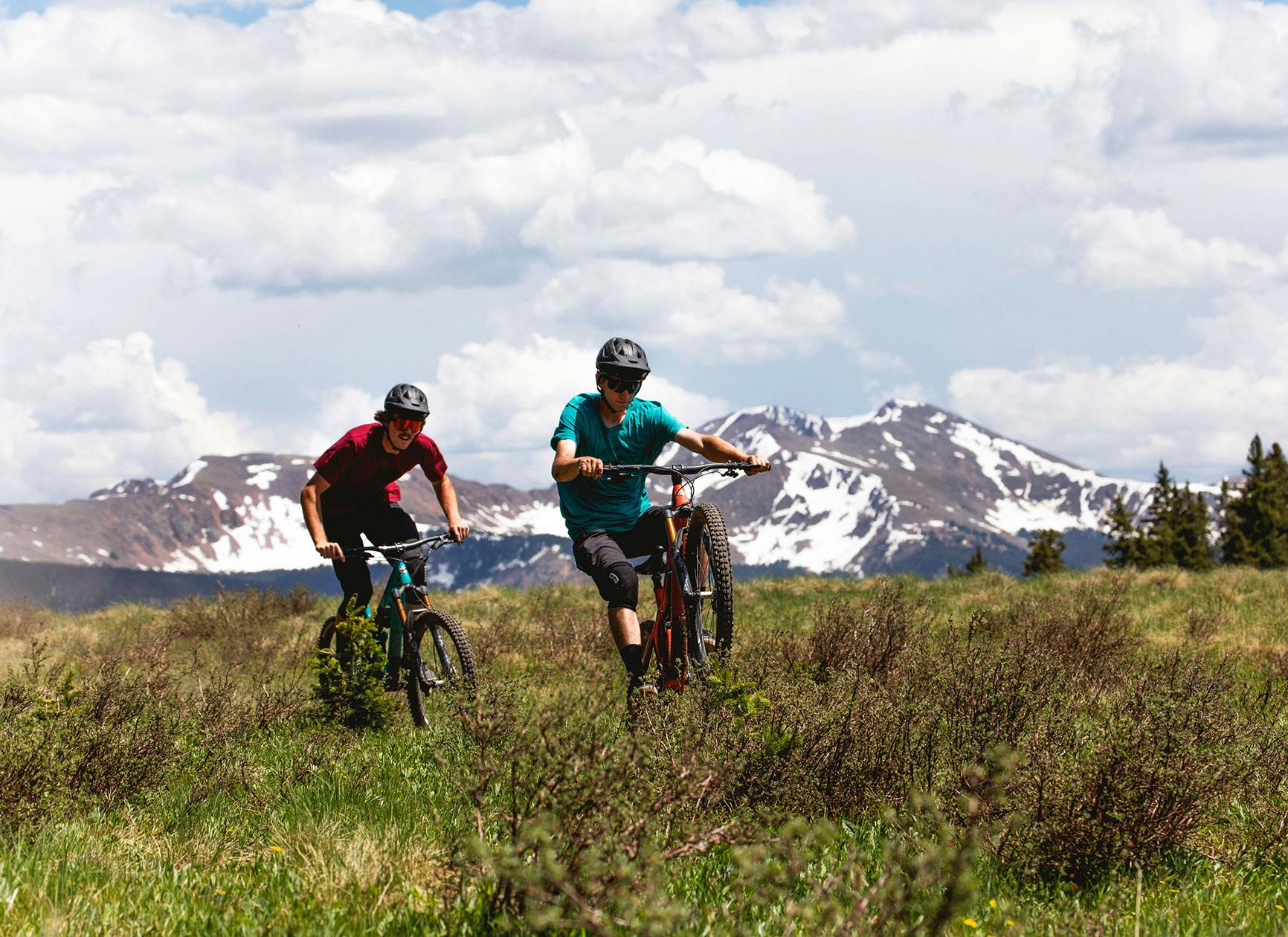 To the right person, Yeti SB140 is worth the money. Though 29ers are dominating the market at the moment, smaller-wheel rides are far from becoming obsolete.
Yeti SB140 is packed with impressive features that you'll be happy to have when the going gets tough. Meaty tires, spotless suspension, and top-tier components being just a small part of it.
So if you're looking to incorporate more fun into your trail rides and experiment more with your lines, Yeti SB140 is the right trail bike for you.
Pros
Lightweight and stiff carbon framesets
Premium Fox suspension with all builds
Switch Infinity suspension technology included
Excellent Shimano and SRAM components
Modern geometry that emphasizes fun
Cons
Pretty expensive
Subpar wheels with the most expensive build
There are no comments yet, add one below.