The popularity of personal e-transport has reached the level when you see a hoverboard or unicycle in the street and don't get surprised by that. Another thing is an e-bike – the interest may increase drastically as you start to look better at the design features.
According to eBicycles.com, these devices are still not so popular because of their high cost, but the trend is rapidly changing towards cheaper models. A couple of years ago, to buy the simplest electric bike required a minimum of $5-9k, today an inexpensive model will require $2-5k. The average cost of a mountain e-bike is $4,500. Competition has done its job, resulting in different manufacturers offering affordable options.
Electric bikes are still very expensive, with some models costing as high as $9,000 and above. And to understand which is the best choice, I have gathered a few important facts on choosing these convenient devices. If you are about to get yourself a solid e-bike here are some tips you may want to consider before buying.
Speed adjustment
First things first. And it's not about speed level and battery capacity (we'll get to that a bit later), but the type of speed adjustment that will be most convenient for you. There are 2 main systems: pedal and throttle.
The pedal adjustment works according to the principle of acceleration by rotating the pedals. It is quite simple and convenient: sit, push, accelerate and the smart machine does the rest. But such system hides a drawback: stopping rotation, acceleration also stops, and the motor needs your assistance.
Throttle adjustment works on the type of bicycle, the more you turn the handle, the more acceleration you get. That is, you can forget about pedals at all, but then you can not "help" the bike and the speed will remain within the declared limits (typically around 19-25 mph).
Combined adjustment includes both options and is the most convenient. To understand which hybrid is best for you and make no mistake, ask for a test drive.
Compactness
E-bikes can be folding and ordinary. The first ones are more comfortable for riding around the city, the latter is universal and more passable, equally pleasant to ride both on the asphalt and off-road.
Often the question of whether an e-bike is folding or not becomes decisive for a buyer. If there is no place to store the device, it is better to choose a folding model which will perfectly fit your car's trunk, hallway, room, etc. In terms of compactness, this device is close to an electric scooter.
Read our review of Best Electric Folding Bikes
Motor
Another important point is the motor power. It affects traction, how an e-bike goes up and accelerates. Obviously, the more powerful the engine is, the more "daring" your electric bike will be. The power regulation is done by selecting the gear. The motor connects to the battery and controller.
There are 2 main types of motors:
Mid-Drive – When the motor is positioned in the middle of an e-bike (pedal/frame area). This is a complex system that consists of a large number of mechanisms. E-bikes with such systems are usually more expensive since it balances the center of gravity, making it easier to operate.
Hub-drive (front or rear wheel). E-bikes with front-wheel motors are easier to control. However, those models that have it on the rear wheel are better in torque, as well as winning the design (the motor is not too conspicuous).
In both cases, the advantages of such an engine are in the ease of repair and replacement. For example, if your engine will not be repairable, you can simply replace the old motor-wheel with a new one. With a mid-drive engine, it won't work that way.
These motors are divided into gear hub motors (a direct drive that turns many times faster) and gearless hub motors (direct drive). E-bikes equipped with gear hub motors have less weight which helps to pull away from a stationary position far more quickly and with less effort. Other advantages are compactness, less drag, more torque. The advantages of gearless hub motors are high speed, silence, durability. Though their acceleration is less rapid, and the design itself is quite heavy.
There are also chain drives which have lower cost, good traction but have a high noise level.
Choose models that have built-in hub-drives which are virtually invisible. The models with motors on the outside are not the best choice because of their weak durability and noise.
As for the power, in budget models it rarely exceeds 350 W. So with a small budget is not particularly choose. But it's quite enough to ride the streets of your city at 22 miles per hour.
Battery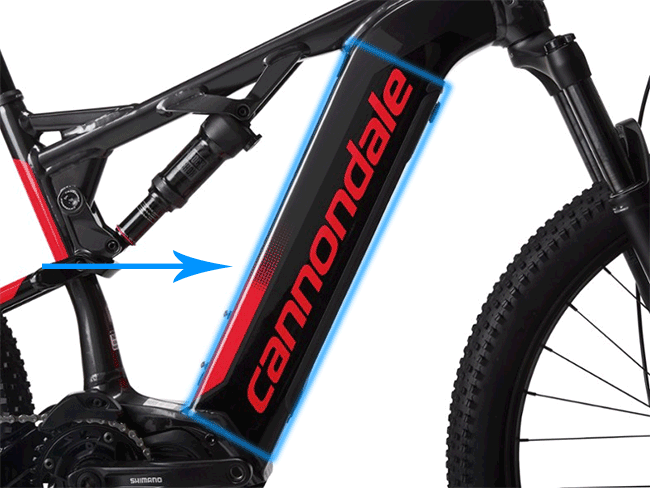 Its capacity guarantees the possibility of travel without the need to pedal. The average distance that you can "lazily" ride on different models is 31 miles. Once the battery is discharged, the rider has to pedal to continue the trip. The battery can be charged using a regular power outlet.
The passive distance may also be shortened if the headlamps are switched on while riding, as they are also powered by a battery.
Related: Best eMTBs
Battery types:
SLA is a Sealed Lead Acid battery which is the most budget-friendly and has the shortest service life. All types of lead-acid batteries are too heavy to fit on a bike. Their weight is comparable to the weight of the bike itself with an acceptable power reserve of 360 kWh. In addition, they can't allow deep discharge. Currently, they are not used for installation on e-bikes, even in the medium price range.
NiMH is a Nickel Metal Hybrid battery with a longer service life than SLA;
LiMnO2 (Lithium-Manganese Dioxide) is lithium-manganese batteries, can be recharged up to 800 times, lightweight but costly;
Li-Ion. Lithium-ion batteries are the most common type, the best price/quality ratio.
The maximum mileage of an e-bike depends directly on the battery capacity. The higher it is, the greater the distance you can travel. Battery life matters, but then again, you can't do a lot with a few dollar bills in a pocket.
Mostly lithium-ion batteries which have a large number of charging cycles, light weight (about three times lighter than lead-acid batteries), and overall durability are used. Other types of batteries are virtually non-existent.
Of all types of lithium-ion batteries, preference should be given to batteries that use either LiNiMnCoO2 or LiFePo4 as cathode materials.
These two types of batteries have a cycling life of 1000-2000 cycles and a wide range of operating temperatures (-4~140F), allowing them to really cope with the harsh operating conditions on e-bikes.
Controllers
Most often the device has such components:
Levers – to switch gears;
Brakes – for timely stopping your e-bike;
Some e-bikes also have on-board computers to control the energy consumption and power of the engine.
Shock absorbers. Two scenarios – you either have it or you don't. In the latter case, the e-bike will vibrate while riding which will make your hands tire faster, and you will feel the full impact of every bump/hole on the road.
Brakes can be disc, mechanical, and hydraulic. Electric bikes are usually equipped with any kind of disc brakes because they are more powerful. Well, if you choose between mechanical and hydraulic, it is better to opt for the latter since they are most powerful of all three options.
And lastly, the size. It should be selected according to the rider's parameters (height, weight, and arm length).
Questions to ask yourself
Before buying, you have to answer a number of questions:
How often do you plan to use your e-bike?
What distances will you travel?
Where will it be stored?
What conditions will you use it in?
Does the weight matter?
What speed will you ride at?
After answering the above questions, you will be able to:
Chose a lighter model (if you have to use an elevator);
Buy a folding compact model if you don't have enough storage place;
Buy a special mountain/sports e-bike model if you plan active rides in harsh conditions and with certain loads;
Get an e-bike to ride in winter, etc.
Whatever you choose, pay attention to famous brands, be attentive to features and stick to your needs. Don't overpay for useless "benefits".
Have yourself a great e-bike and enjoy your riding!
Read next: Best Electric Bikes
There are no comments yet, add one below.