Balance bikes are the new thing. They've made training wheels obsolete. Indeed, if you've ever witnessed a child riding a bike with training wheels and crying in frustration, you've likely thought, "There's got to be a better way!"
And you'd be right! There definitely is a better way, and it is the balance bike. Not only is the balance bike the best option for a child learning to ride a bike, but the woom 1 and woom 1 Plus are also the best of the balance bikes on the market today.
Perfect For Toddlers
---
The woom 1 has been intelligently and exhaustively engineered to be the #1 toddler bike in the world. Nearly all of the parts are manufactured exclusively for woom and are brilliantly chosen to provide the best possible experience for the interested child. Notice there. I said, "interested child" for a reason.
The bike will only be useful for a child who is interested in learning how to ride. Some children will not be interested at all and will resist any encouragement, and that's okay. If your child is interested in riding a bike though, the woom 1 is for you.
Related: Balance Bikes Explained
Constructed of high quality, lightweight AL-6061 aluminum, the woom 1 is very easy to handle for the young rider. It is designed for ages 18 months – 3.5 years or height 31″-40″, and the geometry is clearly supportive of your little one.
The woom 1 weighs an astonishingly light 6.6lbs. Your child will have an easy time moving this little bike around obstacles.
The woom bikes come in 5 different, very vivid, and attractive colors. They are offered in Red, Blue, Green, Purple, and Yellow, and they are beautiful. They are perfect color choices for children. Aside from the main color for the body of the bike, it is black and white.
Wheels and Tires
---
Woom uses super lightweight 12-inch WOOM-SOOPA-DOOPA-HOOPS alloy rims to reduce the weight.
Even further, and where Strider and other brands use bulky and heavy plastic, these bikes have industrial bearings hubs connected with stainless steel spokes. The tires are 12 x 1.35″ Schwalbe G-One Speed.
Air Tires
This differs from many balance bike manufacturers (cough *Strider* cough) who use solid rubber tires. The air tires used on the woom 1 do a few things slightly better.
They reduce weight, provide improved grip and traction, and decrease roll resistance. The presence of greater roll resistance is not good. It reduces the joy and freedom felt with coasting because, with greater roll resistance, the rider must work harder to continue moving.
Really, there's only one downside to air tires:
They must be pumped up every so often.
Fortunately, woom has added car-style (Schrader) valves that fit with all standard bike pumps. On the side of these already amazing tires, woom has placed reflective strips for safety and visibility.
The Saddle
---
The seat is not hard plastic or generic rubber. It is high quality and specially designed with a U shape that encourages a forward seat position. It even has protective sides so that it can be leaned against walls without worry.
It rests on a fully adjustable seat post that has a highly convenient seat clamp that very securely holds the saddle in place.
Related: Full overview of woom bikes
In order to mount the woom 1, the child doesn't have to swing their already precariously balanced little legs over a large bike frame. The shape of the frame is designed in such a way as to allow little legs to simply step through. So the child only has to step through the bike, stand over the ultra-low frame bar, grab the handlebars, and sit down.
Our Story
---
Surprisingly, the problem with most balance bikes is that they are kind of terrifying once your child has come up to any speed.
My son learned early, he was captivated by wheels pretty early on. He would lay down and stare at the wheels of little toy cars while he moved them back and forth.
He wouldn't leave the wheel of a wheelchair alone when he encountered one as a 10-month-old.
When he turned 1, he got an un-powered plastic toy motorcycle that had all the annoying buttons that make sounds that babies and young toddlers love. It required no balance at first because it came as a three-wheeler, but once he was fairly steady on that, it was converted to a two-wheeled configuration.
He spent hours and hours on it, scooting the colorful thing with 4 inch wide hard plastic tires all over the house and backyard.
At 16 months, we got a very small used Y Velo Twista baby balance bike that also converted from three-wheeler to two-wheeler. He quickly mastered the Velo and when we found out that Michael, a toddler next door, had a Strider 12 he refused to ride, we proposed a swap. Michael got the Velo and my son got the Strider. It was a vast improvement over the Velo, and suddenly my son was able to go a lot faster.
Brakes
At about 2 years old, my son was zooming along the neighborhood sidewalks. I had to jog to keep up so that I was there for all of the inevitable encounters with dogs, cars, street-crossings, and anything else that can put a 2-year-old in danger.
Related: Best bikes for kids
He would be racing along, and I'd shout "Stop!" and he'd put the toes of his shoes on the ground and drag them until he wasn't moving anymore.
This was entirely too slow, destroyed his shoes, and had the effect of activating my stress response and irritability during what was supposed to be a joyous activity for both of us.
Surprisingly, woom comes with brakes! It's an excellent way to teach your kids how to use brakes early on.
The Thing Is…
---
If only I had known that the woom 1 was an option at the time. This little bike comes with a real brake! You know, like the ones that are on real bikes! The ones that will slow you down or stop you based on how much you squeeze the lever with your hand on the handlebars!
My son is 3 years old now, and he uses a woom 1 with the hand brake, and life is better during his bike rides. I'm no longer being frightened out of my wits at each intersection, dog, or car. He can stop on a dime, compared to the situation before. Plus, now he's ready to use these kinds of brakes when he moves on to using a pedal bike.
Sweetening the deal is the fact that the lever is fully adjustable. It can be rotated up or down or in and out, depending on your child's hand size and body positioning.
Great Feature: Steering Limiter
---
The woom 1 has something called a steering limiter. And it is great!
It is a small strap connecting the center of the handlebars to the frame. It helps limit how much the handlebars can be turned. This stabilizes steering and prevents overturning and falls.
When my son was learning to ride on the Strider, he would occasionally have an accidental fall when he was walking the bike around very slowly. He'd overturn and the bike would fall down right out from under him, and then he'd fall on the bike. I can see how those accidents would have been avoided if there had been a steering limiter present.
Seeing the woom bike, I wish I could turn back time so that he could have learned on the woom. I haven't found a drawback to having it, but it can be removed easily by an adult since it simply uses a rubber o-ring for the attachment.
Grips
---
Speaking of handlebars. The woom uses sandblasted anodized aluminum for its stylish handlebars, and that's not even the best part.
They have these wonderful grips that fit a child-size hand perfectly, with a big bumper on the outside that looks purposefully placed and fits the contour of the grip itself. Indeed, the function of the bumpers is to cushion the fall of the bike when the child inevitably and carelessly drops it to go run for dinner or to go hug grandma.
The bikes of the past had a grip that had cheap outside bumpers that would bust open and expose the metal tubing underneath. I still have a scar on my torso from falling onto the aluminum tubing when I was a child. This would not have happened had my bike in 1989 had these woom grips 🙂
Read next: How to ride better (for kids & adults)
Strider vs woom Balance Bikes
---
The biggest difference between Strider and woom is that woom made a tremendous effort to properly and smartly scale all of the features of a good adult bike down to a toddler's size.
In addition, woom added several safety touches that Strider simply doesn't bother to include. It's as if Strider designers asked themselves, "How can we make a small enough balance bike with bike parts that already exist and standard bike manufacturing techniques."
Oh, and let's ensure not to incur any extra costs on the manufacturing floor.
Whereas woom designers asked themselves, "What's the ideal bike for a toddler?
What sorts of features should it have in order to maximize safety and ease of use? Oh, the parts for that don't exist?
Okay. Let's design them. We're going to have to design a bike from the ground up. Let's do this right, and spare no expense." Thus, woom bikes are more expensive and for good reason.
That's the trade-off for excellence.
The woom Line-up
---
Let's take a quick look
Related: woom 2 review
To get a better idea about how to choose a bike for your kid, see our guide about how to choose the right size and what to look out for.
Bottom Line
---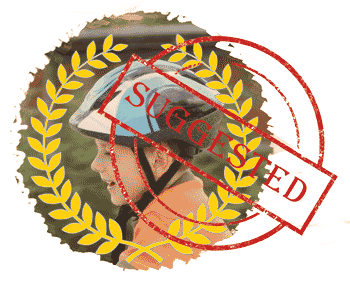 The woom bikes are the best of the best.
There is absolutely no doubt.
My son adores his Woomy. I feel confident in him while he rides it. It's safe, durable, and prepares him for future bike sizes and components (pedals).
I will more than likely be enrolling in the woom upcycle program, which is somewhat of a customer loyalty program that woom offers. For a one-time charge of $59, woom will take your old bike and give you a 40% discount on every woom bike you buy to match the growth of your child.
It easily pays for itself after the first upgrade.