Do you have a child that is doing well on the balance bike, but is still quite young and fairly small? If the coordination is there, and the child is full of interest and eagerness to try out a pedal bike, the woom 2 is the choice for you.
Constructed of high quality, lightweight AL-6061 aluminum, the woom 2 is simple to handle for the beginning rider. By contrast, the Strider 14, which is the equivalent bike in terms of age appropriateness, has a heavier steel frame.
The woom 2 has been designed for ages 3 yrs-4.5 years or height 37" to 43". The shape of the bike is very evidently supportive of your little cyclist. Once your child is on the bike, he or she will be riding free, easily maneuvering, racing along, and enjoying all of it.
The 2nd model is a very lightweight bike.
At 12.3 lbs your child will have fun while very easily moving this little bike around obstacles, and woom offers a cute set of cones to set up for training? Have a child interested in track racing, set up a small track in your quiet neighborhood, parking lot, or lawn, and have your child race along on the track!
Related: woom 1 review
The woom bikes come in 5 very vivid and appealing colors. They come in Red, Blue, Green, Purple, and Yellow. They are perfect color choices for children. Aside from the main color for the body of the bike, it is black and white. All woom bikes are offered in these colors.
Wheels and Tires
---
Woom uses ultralight 14-inch SOOPA-DOOPA-HOOPS aluminum rims to reduce the weight even further. These bikes have industrial bearings hubs connected with 16 stainless steel spokes. The tires are 14" x 1.5″ low-resistance air tires. This differs from many balance bike manufacturers (cough Strider cough) who use solid rubber tires. The air tires used on the woom 1 do a few things better.
They reduce weight, provide improved grip and traction, and decrease the roll resistance. These tires, in particular, have knobby grips for gravel and off-roading experiences.
The presence of lots of roll resistance is not favorable. The thrill and freedom felt with coasting are lost with greater roll resistance, because the child must pedal harder and faster to continue their forward motion.
Really, the only downside to air tires is that they must be pumped up every so often. Fortunately, woom has added car-style valves that fit with all standard bike pumps. On the side of these already amazing tires, woom has placed reflective strips for safety and visibility.
Saddle
---
The seat is not hard plastic or generic rubber. It is high quality and tasteful and is designed to support the growing seat of a child.
It rests on a fully adjustable seat post that has a highly convenient quick-release seat clamp that very securely holds the saddle in place. The sides of the saddle are padded as well, to protect it from when the child drops the bike carelessly.
Brakes
---
The woom 2 is equipped with front and rear brakes. From what we've come to expect from woom, the brakes are very high quality. The levers are small and within reach for little hands. The rear brake lever is a bold green color to draw the attention of your little one.
Since the rear brake is the brake your child should be using first, either alone or with the front brake, it makes sense that woom would make the rear brake lever stand out. Sweetening the deal is the fact that the levers are fully adjustable. They can be rotated up or down or in and out, depending on your child's hand size and body positioning.
When my son got on the woom 2 for the first time, I had a short conversation with him about the brakes. He had never used hand brakes before, so it was important for him to learn what they did before getting on the bike. I told him that he was to use the green lever to slow down or stop the bike.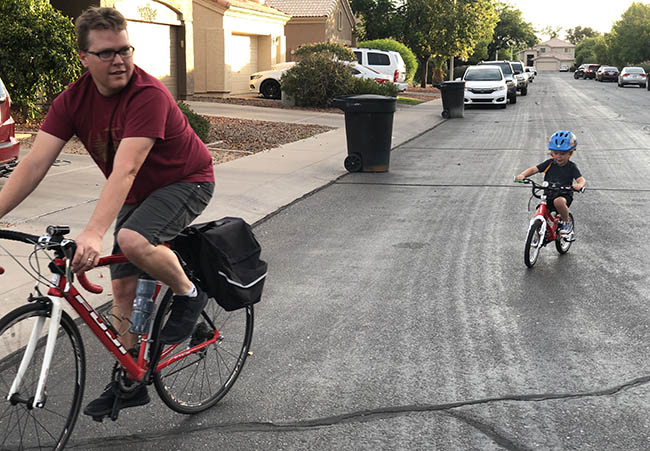 I told him to squeeze the green lever while trying to push the bike forward. Then, I had him get on the bike and move it forward just like he'd done on balance bikes. He tested out the brakes, both the rear and the front, and demonstrated that he understood them.
The look on his face was magical! He had seen other kids and his daddy ride bikes and use brakes like these, and he was thrilled to have them on his bike.
Steering Limiter
---
The woom 2 has a genius little thing attached to the handlebars called a steering limiter.
It is a small strap that connects the center of the handlebars to the frame that puts a limit on the rotation of the handlebars. This stabilizes the child, encourages forward motion, and prevents the overturning that leads to falls.
Grips
---
The woom handlebars are made of sandblasted anodized aluminum, and they have grips that ensure a comfortable, ergonomic experience for the child-size hand. At the outside ends, they have reinforced bumpers for frequent falls of the bike when the child throws, crashes, or drops it.
The bikes of the past and some current bikes have a grip that had minimal material on the outside ends that would break and expose the metal tubing underneath. I have a scar on my torso in the shape of a ring from falling onto the steel tubing when I was a child. These grips will prevent such a scar for our children.
Gain Ratio
---
The woom 2 is very easy bicycle to ride. There are many reasons for this, and one of them is due to the gain ratio. Put very simply, the gain ratio is how far the bike will travel in relation to how far the pedals are moved. With a gain ratio of 3.7, the woom 2 will move forward 3.7 inches for every 1 inch the pedals are moved.
This makes for very easy acceleration, but it doesn't sacrifice on the ability to continue moving fast once the bike gets going. As a bike goes faster, it gets easier to balance, so this enhances the fun factor for your child.
Add this to the already lightweight frame, and you've got a speedy little machine!
Good thing for the brakes, eh?
Related: Best Child Bike Seats
Chain Guard
---
On such a small bike, it almost looks surprising to have a metal chain, but the Woom 2 incorporates a sturdy plastic chain guard. It ensures that little fingers, toes, and stray shoelaces don't touch the moving chain.
It prevents injuries and saves your couch from dirty, greasy fingers. The chain guard can be removed for chain cleaning and maintenance. A perk for this guard is that it helps protect the chain as well.
Strider vs woom 2
---
The most significant disparity between Strider and woom is that woom intelligently and efficiently scales all of the components of a standard adult bike down to a young child's size.
In addition, woom sets its bikes up with safety in mind. Strider bikes aren't really equipped like this.
Most of their parts are clearly stock parts, in use on larger bikes, that they'd decided will work for the smaller riders. Take a look at the difference between the stems. Strider went with the quick release for easy adjustability. This is, in my view, a mistake.
To me, the quick release represents instability. It takes a careful hand to tighten a quick-release lever to the point where it is effective but isn't too hard to pull. I have too often seen a quick-release lever protruding out and posing a risk to the nearby limb. The woom, on the other hand, carefully designed a stem that supports safety and function over ease of use.
True, you must have a hex tool to adjust the handlebars. But in my book, this is preferable for two reasons. First is the fact that needing a tool virtually assures the adjustment is made by an adult, and second is that there's almost no room for error. It's either tight or not tight.
There's no sweet spot to search for. Again, in my opinion, the woom stem looks better too. So it's up to you, buy the strider that is functional, slightly more dangerous, and cheaper, or buy the woom which is safer, carefully designed with proprietary parts, and a bit more expensive.
Related: Buying Guide: Balance Bikes
The woom Line-up
---
What are the other woom models out there?
[table id=15 /]
Bottom Line
---
The woom 2 bike is an excellent first pedal bike. It can be used as a balance bike, but where it shines is with the pedals attached with a freewheel.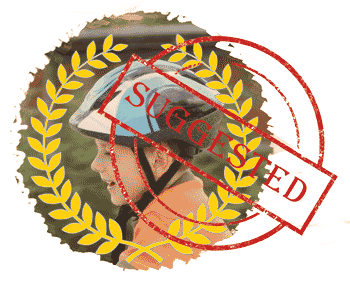 My son loves his. At 3 yrs, 3 weeks old, he demonstrated agile handling, confident braking, and self-starting all while riding on a shared walkway near the beach last week.
I am confident in the bike and its design to hold up to my son's likely 2 years of riding, dropping, parking, and crashing it nearly daily. We look forward to many more years of woom riding as we participate in the Up-cycle program,
Woom's loyalty program where for a one time fee of $59, you can upgrade your child's bikes as they grow.
Simply return your used woom bike for a 40% discount on the next size up. After the fee is paid, you can do it as many times as is needed for your child.
There are no comments yet, add one below.