The Marin Mark Hill series is one bike that many riders opt for, and with good reason. Bringing all the parts that make a Marin Hawk Hill together creates a harmonious bike, integrating all the features and components that an avid biker needs to take on the rugged trails.
Marin bikes were made for fun, but their construction is no laughing matter. The entire family features a series three 6061 aluminum frame that's sturdy and lightweight, making this a nimble selection for hardcore shredders. This frame takes 120mm of travel on the rear and 130mm on the front.
The second thing you'll notice about these bikes is their single pivot MultiTrac suspension system. This suspension displays the pure character of the entire range of bikes. You can take on any range or terrain with excellent handling and unparalleled ease.
Another noticeable feature is the crisp three-color fade on the sturdy paint job that draws the right type of attention. Other prominent features on this family of bikes are the braking system, the intuitive riding mechanics and the wheels.
And also, all bikes across the Hawk Hill range come in 4 different sizes: S, M, L and XL. For smaller riders, the Hawk Hill 1 offers an XS option.
For bikes that cost below $2000, Marin Hawk Hill bikes are a steal. They feature all the specs necessary for a high-quality trail bike at a fraction of the cost of, say,
There is so much to cover that each bike warrants its own review. And that's what's next.
Marin Hawk Hill 1
This is the first bike on the Hawk Hill series that comes with $1,599
Drivetrain & Brakes
The 2021 Marin Hawk Hill 1 features a Shimano Deore 11-speed drivetrain, which includes a cassette with a roaring 11-51T gear range. Not only will you tear your way uphill with this drive train, you'll also get better lift-off on features and drops.
Shifting gears on this drivetrain is effortless. You get a versatile but stable riding experience with its 51-tooth climbing gears every time you shift gears. Outfitted to the bike is a 32-tooth Marin forged alloy and integrated steel crankset that makes pedaling this bike a breeze.
You can change gears using the efficient Shimano Deore 1×12-speed shifters on the handlebars of your bike.
The Hawk Hill 1 features Shimano BR-MT201 hydraulic disc brakes that offer instant and enormous stopping power in both dusty and wet conditions. The front disc uses a 180mm front brake rotor and a 203mm rear brake rotor that combine to offer potent braking action whenever needed.
Suspension
Using the MultiTrac suspension system with a single pivot, you get better handling out of this bike. You'll sense and respond to your terrain better as you ride up and down the trails.
This suspension system receives a complimentary enhancement from Hawk Hill's RockShox Recon Silver RL fork that has a travel of 130mm. It comes equipped with a solo air spring, and compression and rebound adjustment, keeping you in control of your bike despite bumpy terrain.
Alongside the rear suspension is an X-Fusion O2 Pro R shock absorber that will take as much pounding as you can throw at them.
Wheels
The Marin Hawk Hill 1 also comes with tubeless-ready Marin double-wall alloy rims with Shimano MT200B/MT400B hubs. These rims fit the 27.5-inch Vee Tire Crown Gem tires. Not only are they strong enough to withstand enormous drops without breaking, They also ensure that you get the smoothest ride out of them. You'll also suffer fewer flat tires, which goes to show the durability of this bike.
Marin Hawk Hill 2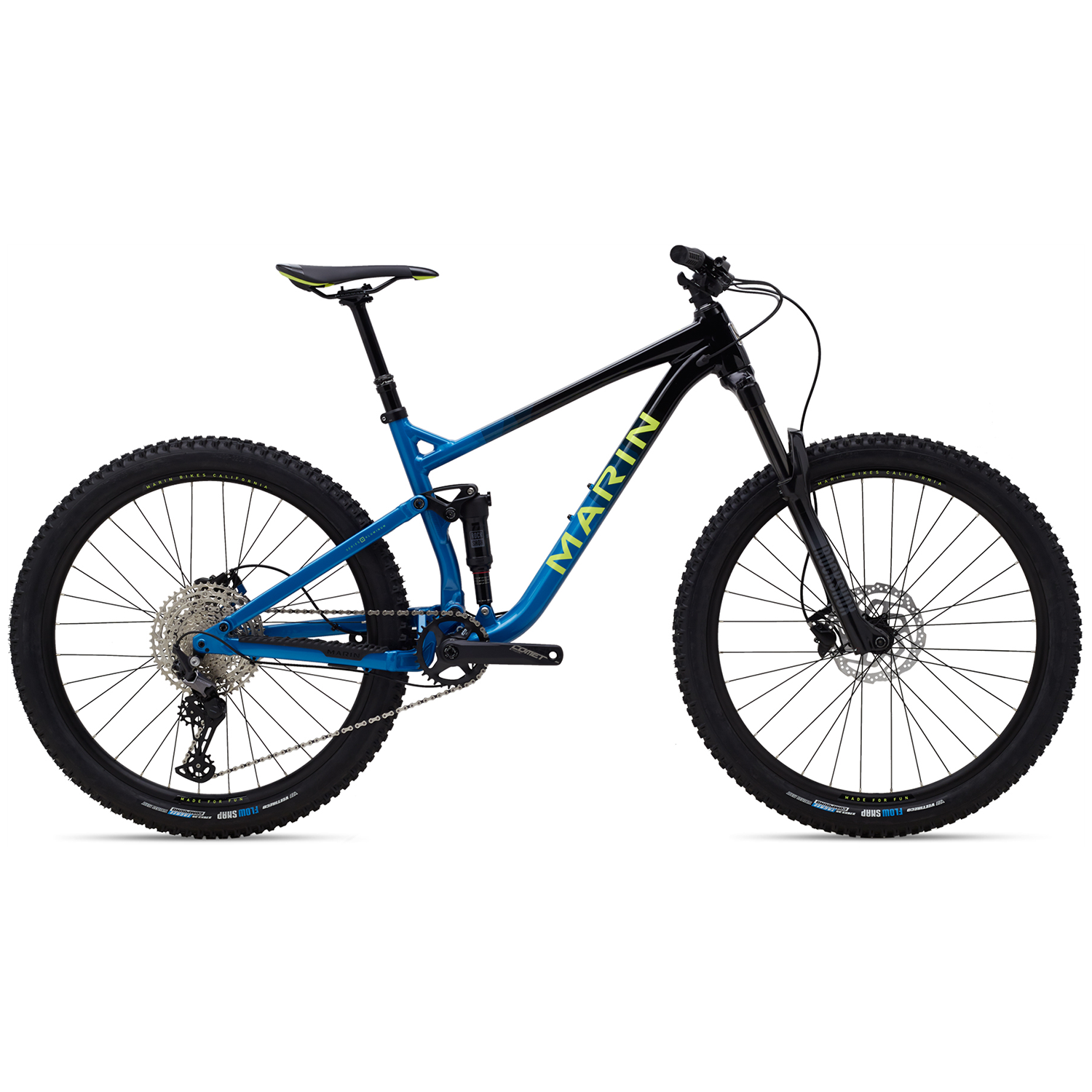 This is the bigger, more feature-laden version of the Hawk Hill family
Brakes & Drivetrain
The 2021 Hawk Hill 2 also features a set of Shimano BR-MT201 disc brakes. They are just as unparalleled in efficiency on this bike as they are on the Hawk Hill 1. No matter the weather or terrain conditions, these brakes will perform without failure
The Hawk Hill 2 does one better over the Hawk Hill 1 with a 12-speed drivetrain. It also comes with a 10-51T gear range that can tear through any hilly terrain. A 32-tooth FSA Comet crankset powers this drivetrain. With a hollow axle crank and light bearings, you'll find pedaling to be effortless and servicing your bike easy.
You change gears on this bike with a set of Shimano Deore 12-speed shifters.
Suspension
Taking after the model of the Hawk Hill 1, this bike also uses a MultiTrac suspension system. It helps you sense your terrain better and respond to sudden changes with more ease.
Alongside this system is a RockShoX Recon Silver RL fork with a 130mm travel. No surprises here, just top-of-the-class performance.
The Hawk Hill 2 bike comes standard with rear RockShox Deluxe Select R for extra comfort and impact resistance. It comes with 3-position compression abilities and an air spring that increases your stability as you ride. Aside from rebound adjustment, you can also custom tune this shock to get optimum resistance for your ride.
Wheels
Using Marin double-wall alloy rims and Shimano MT410B hubs, these wheels are about as strong as they can get. They're tubeless-ready and take 27.5-inch Vee tire flow snap tires that will last you many rides.
Regardless of how many drops you take with this bike, your rims retain their durability and shape, taking fewer flats because of their double-wall design.
A nifty feature that comes with this bike is the TranzX dropper post that will drop or lift your saddle fast at the push of a button.
Hawk Hill JR 24" Bike
Are your kids into mountain biking too? Well, Marin has something for them too. Unlike the previous two bikes, the Jr 24-inch bike has features that are specific for children and teens who want to go out on the trails with the big boys.
Brakes
Hawk Hill Jr comes standard with Shimano MT-201 hydraulic discs. The front-wheel takes a 160mm rotor disc while the rear wheel takes a 180mm rotor disc. Combined, these discs offer immense braking power the instant the rider applies the brakes.
Regardless of whether or terrain conditions, this bike offers strong brakes for your child.
A Marin forged alloy crankset with a hollow spindle and steel narrow-wide 32t chainring combines with a Shimano Deore 11-speed drivetrain and a SunRace 11-46T cassette to offer incredible propulsion. Your teen will tear up and down the hills and valleys of the trail like a rocket. The lightweight construction of the crankset makes pedaling smooth, making this bike easy for a youngster to handle.
Wheels
24-inch double-wall Alloy rims offer immense durability across the trails. They're also tubeless-ready, which means you'll deal with fewer flats. Another enormous benefit to this bike is that it can take 26-inch wheels. As your child grows, you can increase the wheel size for them.
Suspension
This bike frame takes after the Hawk Hill 1's MultiTrac suspension platform. There is nothing lost in the way this bike handles, offering the same capabilities that bigger bikes offer.
Taking after the Hawk Hill 1, this bike uses a custom-tune X-Fusion O2 Pro R shock. Designed to take as much of a bashing as possible, these shocks offer a supple ride for the youngster. Your child can now try out medium drops without losing control of breaking their bike.
Final Thoughts
In a market with a multitude of bikes, Marin stands out.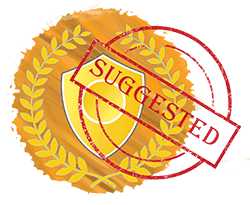 They keep their bikes fun to ride. The Hawk Hill series is proof. These bikes are not meant for racers or STRAVA enthusiasts. They make awesome shredders. If you love to ride the trails, jib over logs and tree roots, splash through puddles of mud and bounce off your rear wheel, then Marin Hawk Hill bikes are for you.
Whether you are a professional rider or you're just starting out, the Hawk Hill bikes will meet your immediate needs. These bikes are ultra-strong and can withstand repeated bashing and impacts. Hawk Hill bike parts are made of high-quality materials, and the bikes themselves were built to last.
There are no comments yet, add one below.