Positioned as an endurance road offering that also performs when the road disappears, the Salsa Warroad range is a great example of brands widening their horizons to current riding trends.
Without attaching the 'gravel' tag directly to the bike, and sticking with '80% road, 20% whatever', Salsa has effectively kept customers open to a bike that sounds like it can do anything (within reason).
Salsa is one of America's biggest names in gravel cycling, so by using relaxed endurance-based road geometry with the addition of useful mounting points for bags, the Warroad range ties in their expertise with a wider audience of road cyclists who are looking to dabble in gravel.
Let's take a closer look!
Warroad Apex 1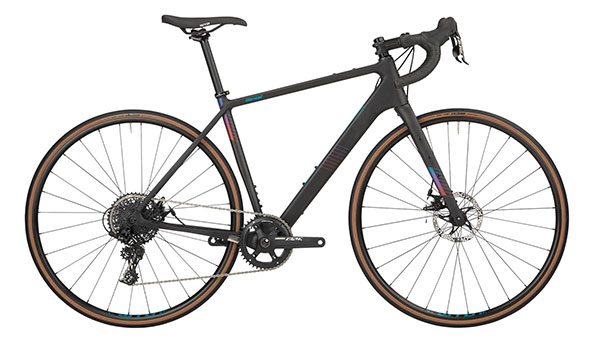 The Salsa Warroad Apex 1 is a versatile carbon bike with dual-wheel size compatibility. This means you can run either 700c or with the even more popular 650b wheel size. If fitting 700c wheels then the bike has clearance for 35mm tires. With 650b wheels, you'll be able to fit up to 47mm tires without clearance issues. 
Related: 8 Reasons Why Gravel Is the Hottest Trend in the Cycling World
Designed with endurance riding in mind, both on and off-road, a slack head tube angle and long offset fork establish the bike as stable when on rough surfaces. The 415mm chainstays mean the bike is agile in corners and off-road, but stable and smooth in straight lines. 
It features some of Salsa's bike technology including, Class 5TM Vibration Reduction which sees specifically designed seatstays provide flexibility and compliance to reduce vibration transmission to the rider. Salsa also include mounts across the frame for bags, bottle cages, and dropper posts, all things to make your endurance trip easier and more enjoyable.,
Related: Salsa Warbird (Gravel) 
SRAM's Apex 1 is a low to mid-range groupset option that will give you a wide range of gears. It's 11-speed and one-by so it only has one chainring upfront.
The bike is delivered with a 42t chainring and a range of 11-42t on the cassette. This is plenty for the majority of hills and technical trails you'll be able to use the bike on. It also comes with TRP Spyre-C disc brakes and 160mm rotors.
These are smaller in size but should provide enough stopping power for most circumstances on the road and light gravel. Overall the bike weighs 22lbs 2oz in a size 56cm and the MSRP is $2,799. 
Warroad Carbon 105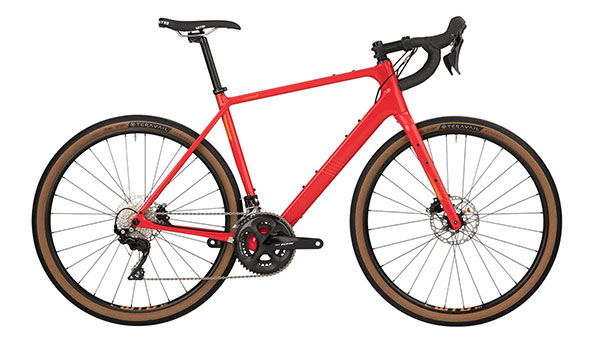 The Salsa Warroad 105 is a striking carbon bike with the typical endurance geometry expected of the Warroad range. It has dual-wheel size compatibility so riders can choose between using 700c or 650b sized wheels. Riders using 700c wheels can fit tires up to 35mm wide, and 650b riders can comfortably fit up to 47mm wide tires without clearance issues. 
Designed around Shimano's 105 groupset, the bike used a two-by setup for maximum gear ratios. Shimano 105 is commonly known as the workhorse of their range and provides great value for money for riders who want to focus on riding without spending a lot of time maintaining their bike.
It comes with a factory-fitted 50/34t chainset, and 11-32t cassette. The 11speed groupset offers a lot of options for hill climbing as well as going low enough for those who want to grind a big gear. It's worth noting that the bike can accept both 1x and 2x groupset options as well as electronic if riders wanted to upgrade. 
Related: Salsa Rival 1 & Fargo 
The Warroad 105 features typical Salsa technologies on endurance and long-distance bikes, including their Class 5TM Vibration Reduction System for a smoother ride, and plenty of mounting points for all the bags you'll ever need on a bikepacking trip.
Overall this bike weighs 19lbs 10oz in the 57.5cm size. Unlike the Warroad Apex 1, it's available in a striking red colorway, so it's sure to catch the eye of other riders. The MSRP of this model is $3,299 making it a mid-range model.
Warroad Carbon Ultegra 700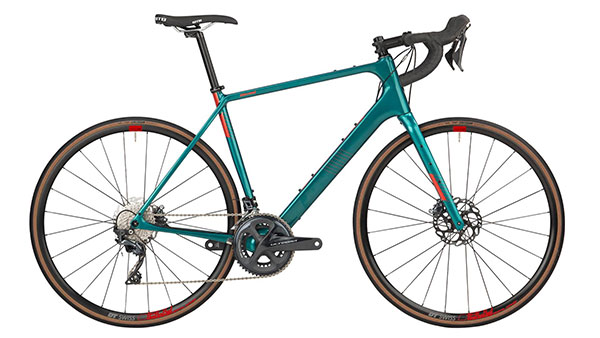 Recognisable by its eye-catching blue/green paint scheme, the Salsa Warroad Carbon Ultegra 700 is a thing of beauty. Designed for those who prioritize aerodynamics and speed in their bike choice, the Warroad Ultegra is lightweight and paired with Shimano's high-end Ultegra groupset, making this a very palatable choice indeed. 
Featuring the usual array of Salsa technologies such as built-in vibration dampening (Class 5TM VRS), and plentiful mounting points for those who need bags and bottles galore, the Warroad Ultegra is essentially their high end offering with a Shimano groupset.
The bike is incredibly lightweight weighing in at 18lbs 7oz in a size 57.5cm. Similar to other models in this range, the Warroad Ultegra is compatible with both 700c and 650b wheels, making it a versatile choice for riders of all heights as well as those who prefer wider or narrower tire options. 
Related: Salsa Journeyman (Gravel/Adventure)
Shimano's 11-speed Ultegra groupset features on this model with a 50/34t chainset and 11-32t cassette, perfect for climbing and long-distance riding. Paired with Ultegra hydraulic disc brakes, this bike will stop on a dime.
Although it may be worth upgrading the 160mm rotors to something larger if you have your bike fully packed up with bags. Similar to other models it's worth noting that the frame is compatible with 1x and 2x drivetrains, and electronic if the riders wish to upgrade. The MSRP of this bike is $4,299 seating it high up in the range of Warroad bikes. 
Warroad Carbon Force AXS 700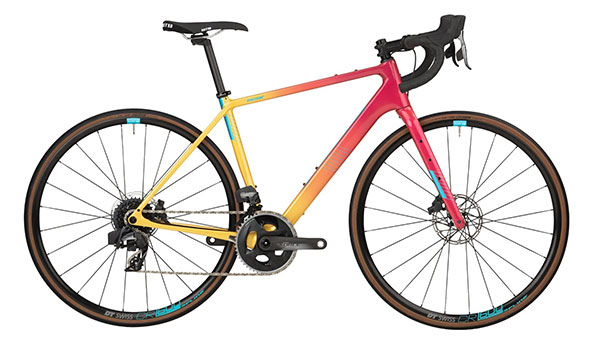 The flagship model of the Salsa Warroad range is the Warroad Carbon Force AXS 700. Delivered in a striking pink to yellow fade paint scheme, and on SRAM's high-end AXS groupset, this bike certainly looks the part.
The frameset promises to be lightweight and responsive thanks to the carbon construction, and endurance-based geometry. Paired with Salsa's Class 5TM VRS for excellent ride comfort and vibration dampening, the Carbon Force AXS is a versatile bike ready to be ridden on and off-road. 
Sram's Force AXS groupset is one of their high-end offerings and features electronic or 'eTap' shifting. Electronic shifting can lead to more precision shifting and allows riders to shift under load.
This model is equipped with a full Force AXS groupset, with a 48/35t chainset making it perfect for long or steep inclines, and more technical terrain. Salsa has used SRAM Force AXS Hydraulic disc brakes, which require minimal maintenance with superior stopping power. Overall this bike weighs 17lbs 11oz in the 54.5cm size and has an MSRP of $5,999. 
Similarly to other models in the Warroad range, Salsa has included a large array of mounting points across the bike, making it ideal for bikepacking or longer trips where you need all the bag space you can get. It also includes dual-wheel size compatibility. Although Salsa only sells this model with 700c wheels, it can take 650b wheels if you supply your own for wider tire clearances. 
Sizing
All sizes are the same across the range, as they use the same frame as the base of their models, so you can use one size chart no matter the model you are interested in. 
Frame size – Riders height
49 cm –  4'8″ – 5.1″ (142 cm – 157 cm)
52.5 cm – 5'1″ – 5'5″ (155 cm – 165 cm)
54.5 cm – 5'3″ – 5'8″ (162 cm – 173 cm)
56 cm – 5'7″ – 5'10" (170 cm – 180 cm)
57.5 cm –  5'10" – 6'2″ (178 cm – 188 cm)
59 cm – 6'0″ – 6'4″ (185 cm – 193 cm)
61 cm – 6'3″+ (190 cm+)
Final Verdict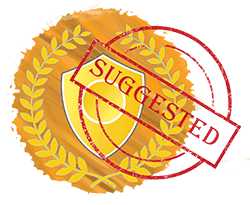 The Salsa Warroad range is built on a versatile frame, designed to provide comfort on endurance rides both on and off-road.
The dual-wheel compatibility is a bonus for those who want to switch between thinner and wider tires, depending on their trip. Overall they have set a benchmark and have a range to suit all budgets in desirable packages.
If you are looking for a road bike with typical Salsa quality and engineering, but don't want to be constrained by thin tires, then you should check out the Warroad range.