If you live in a big city, then you probably know all too well how valuable time is. You also probably know very well how easily you can lose a lot of it if you get stuck in traffic on your daily commute. So, let's see, what are the best commuter bikes out there.
Nobody wants to spend hours in a car on the highway, inching their way home, when they could be spending that time with their family. Let us suggest an alternative — commuter bikes.
Commuting by bike can often cut your travel time in half, and it doubles up as a daily workout that will help you lose weight, get fit, and stay healthy.
If you like the prospect of that, check out our selection of the 17 best bikes for commuting that will get the job done!
Related: Best E-Commuter Bikes
What Is the Best Commuter Bike?
Finding the best bikes for commuting is not rocket science. These bicycles are built with a simple mission in mind — to get you from point A to point B in the quickest possible time, with the least amount of fuss involved. Nowadays, there are so many options – from different bike styles to specialty bikes( like cargo bikes).
Therefore, the best commuter bike should meet the following demands:
Lightweight
Quality components
Easy to maintain
Cost-effective
Good-looking (optional but preferred)
Durable
Basically, you need a lightweight bicycle that will have quality components able to take the daily abuse and keep working smoothly the next day.
A commuter bike is a workhorse that needs to navigate intense traffic, haul a bunch of crap, and not squeeze the last cent out of your pocket on maintenance and repairs.
Therefore, if these are things that matter to you and that you believe your next commuter bike should offer, you can rest assured that the 17 bikes below are just what you need.
Co-op Cycles CTY E2.2
Best E-Commuter
MSRP: $2,699
Electric bike for commuting? Why not!
If you're not cycling to work because your commute also involves some big hills or you're worried about getting sweaty, that's not an excuse anymore with the Co-op Cycles CTY E2.2. This an electric commuter bicycle you can ride anywhere.
Tire size: 27.5″ x 1.95″
Battery: 504Wh
Motor: Shimano E6100 250w
Range: 50 miles
This electric bicycle rolls on wheels and tires of 27.5″ x 1.95″. It also has a powerful 250 W motor and a long-lasting 504 Wh battery. Its estimated range is between 50 miles, which is a very long commute if you need it.
The Co-op Cycles CTY E2.2 is an electric commuter bike that packs a strong punch when it comes to performing in any given situation and is full of top quality components
We should not forget about the Shimano Alivio 1×9 drivetrain which moves the bike in the first place — electrics are only there to lend you a helping hand.
Even if you go too fast, you can easily stop on a dime with the trusty Shimano hydraulic disc brakes.
Co-op Cycles CTY E2.2 also comes with fenders and a rear rack which adds to its functionality and makes it extremely practical in all weather conditions. That's why it is one of the best commuter bikes in this test.
Ride1UP 700 Series
Winner! Top Value Electric Commuter Bike
MSRP: $1,695
Ride1UP 700 Series is a top-value electric commuter bicycle with a pretty impressive list of specifications considering the low price. This aluminum hybrid e-bike is available in two frame designs (step-over or step-through), two colors (black or gold), and with or without additional accessories such as fenders and a rear rack.
Brakes: Hydraulic disc brakes
Battery: 48V15ah
Motor: 750W
Range: 30-50 miles
A lot of people avoid commuting by bike because they fear they'll get too tired or too sweaty and smelly. If you're one of those, an electric commuter like Ride1UP 700 Series will solve those problems. This e-bike has a peppy 750W rear hub motor, so you'll get a 28 MPH top pedal-assist speed (20 MPH on the throttle) and a range of 30-50 miles. With a setup like that, 700 Series will easily get you to work and back home.
Ride1UP 700 Series is the best choice for budget-minded commuters who want a fully-functional and reliable electric hybrid that can replace their car.
Ride1UP 700 Series also comes equipped with an entry-level Shimano Acera drivetrain and Tektro hydraulic disc brakes. Therefore, this is a capable bicycle even without the electronic parts.
If you get the build with a rear rack and fenders (it costs a bit more), you'll have an e-bike capable of year-round commutes, grocery shopping, and leisure riding on the weekend.
Electra Townie 7D
Second! Most Comfortable Cruiser-Style Commuter
MSRP: $530
Electra Townie 7D is a bike made to spend its life on smooth bike paths along the seaside, chasing the sunset, and fulfilling its ultimate mission — getting you where you need to be in style and with the fun-factor.
Frame material: Aluminum
Number of gears: 7
Components: Shimano Tourney
Tire size: 26″ x 2.20″
Townie 7D is packed with features that improve comfort which justifies its title as one of the best cruiser bikes. First of all, it's built on a light aluminum frame made from 6061 alloy and fitted with an ergonomic saddle with elastomer bumpers. You'll feel like riding on a sofa all day long.
Electra Townie 7D is one of the best choices for urban commuting in all possible conditions. Use it to get to work, get your daily dose of vitamin D, or do a grocery haul.
Other features that make Townie 7D a great choice are its 7 gears with a Shimano Tourney rear derailleur and lightweight linear-pull brakes. These are entry-level parts, but they are great for beginner riders who want to keep things simple.
Add the burly 26″ x 2.20″ Semi-Slick Street tires to the image and you get a bike that's capable of tackling paved and unpaved roads. If you plan to ride at night, you can fit it with lights to improve visibility.
Electra Townie 7D is a foolproof choice if you want to get one of the best cruiser-style commuter bikes.
Rad Power Bikes RadCity 4
Electric Commuter Bike with the Best Range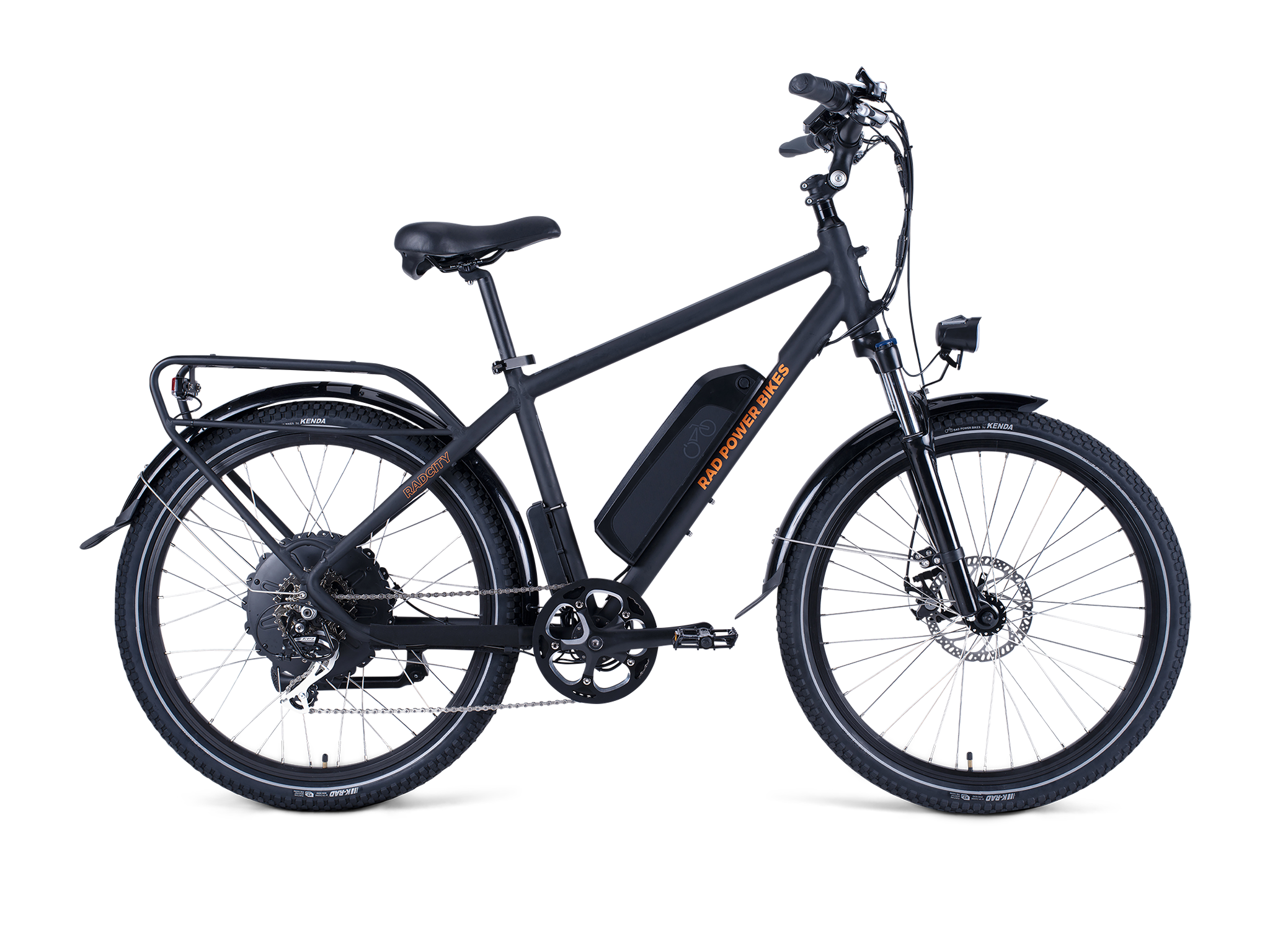 MSRP: $1,499
Rad Power Bikes is a USA-based brand that has become synonymous with affordable entry-level e-bikes equipped with high-torque motors. RadCity 4 is a hybrid electric commuter with 26″ wheels, front suspension, and numerous accessories for more practical everyday riding.
Tire size: 26″ x 2.3″
Battery: 48V, 14 Ah (672 Wh), Samsung cells
Motor: Shengyi direct-drive, 750W
Range: 45+ miles
Full overview of Rad Power Bikes
This is a Class 2 e-bike meaning that its pedal-assist and throttle functions will push you up to 20 MPH. The bike itself is rather heavy, but thanks to the massive 672Wh battery, you can get a 45+ mile range from a single charge. Its aluminum frame has a 275 lb. payload capacity, so you can carry heavy panniers or a child on the rear rack.
RadCity 4 is one of the best-equipped e-bikes made by Rad Power Bikes. It's a dream-come-true for beginner cyclists looking for an affordable daily companion.
To achieve the super-competitive $1,499 price, Rad Power equipped RadCity 4 with a Shimano Altus 7-speed rear derailleur and Tektro Aries mechanical disc brakes. These are entry-level parts, but they offer more than enough performance for beginner commuters.
The best thing about RadCity 4 is that it is fully customizable with numerous additional accessories. Visit Rad's official website to see how you can personalize it.
Salsa Journeyer Apex 1
Best Gravel Bike
MSRP: $1,799
Salsa Journeyer is ready to conquer any city street or dirt road you start riding along. It has a durable and compliant aluminum frame along with 38 mm slick tires that don't mind occasional curbs or potholes.
Frame material: Aluminum
Components: SRAM Apex
Brakes: Mechanical disc brakes
Tire size: 700c x 37 mm
First of all, it sports an aluminum frame and fork that are strong, lightweight, and compliant when they need to be. Add to the mix the 37 mm tires and this bike becomes as comfortable as your couch.
If you don't like tampering with the derailleur and the drivetrain, you're in luck — The SRAM Apex is a single chainring groupset that requires next to no maintenance. Just clean and lube the chain from time to time.
We chose to recommend Salsa Jouneyer because it provides an excellent ride quality thanks to the smart selection of parts fitted on it.
If you're concerned about rain, water, and mud, you'll be happy to see mounts for front and rear fenders when the Journeyer needs to be loaded it is perfect for adding bikepacking bags.
There are also plenty of mounts on the frame and the fork to fit front and rear racks and two water bottles. Thanks to these and the comfy drop bars, the Journeyer is ideal for bike touring and bikepacking adventures.
Yuba Mundo Lux Cargo Bike
Best Cargo Commuter
MSRP: $2,499
If you like the idea of decreasing your carbon footprint by commuting by bicycle, but you need to haul a lot of stuff with you, Yuba Mundo Lux is what you're looking for. Being one of the best cargo commuter bikes, it has…
Frame: Steel frame and fork w/ an integrated rear rack
Tire size: 26″ x 2.15″
Components: Shimano Altus
Number of Gears: 27
Cargo bikes are a phenomenal choice for commuting because you can equip them with panniers to haul groceries or bring necessities along. You can also fit a child seat on the rear rack and take your kids to school or bring them along for the adventure.
Yuba Mundo Lux is one of the best cargo commuter bikes on offer that will allow you to leave your car in the garage and still be able to get anywhere while carry everything that you need.
The Yuba Mundo Lux features solid mid-range components. The 9-speed drivetrain is comprised of Shimano Altus parts, which is a reliable and affordable groupset. Moreover, this bike uses Hydraulic disc brakes to slow down, which have incredible stopping power.
If you are worried about getting muddy on your commutes the Yuba Mundo Lux has integrated mudguards as standard, which is a lovely touch.
So if you're looking for a fantastic cargo commuter bike with excellent components and a solid steel build, you can safely go for Yuba Mundo Lux.
Sixthreezero EVRYJourney
Best Bike For City Riding
MSRP: Check on Amazon
Yes, we believe a cruiser can be one of the best bikes for commuting.
If you live near your office and you just need to cover a few kilometers every day on bike paths to get to your job, sixthreezero EVRYJourney gives you just enough bang for your buck.
Frame material: Aluminum
Components: Shimano
Brakes: Alloy V-brakes
Tire size: 26″ x 2″
This is a cruiser-style commuter bicycle intended for relaxed rides to and from work, school, or a ride to the supermarket. It's ideal to take your kids to school and pick them up afterward.
EVRYJourney has a brightly colored aluminum step-through frame with a rigid fork. This makes it really easy to mount and dismount quickly.
Sixthreezero EVRYJourney is available in a large variety of colors and gear options, so anyone can find a model that suits their preferences perfectly.
Moreover, it rolls on wide and comfy 2-inch tires wrapped around stable and responsive 26″ wheels. To stop them from rolling, just engage the fuss-free alloy V-brakes.
The model we chose comes with 7 speeds and Shimano components on the drivetrain. But depending on what you need, you can choose 1-spd, 3-spd, and 21-spd models as well.
This is the best commuter bike for those who want to commute in style and whose main requirement is comfort. Sixthreezero EVRYJourney is made for you!
Schwinn Wayfarer
Best Retro-Style Commuter
If you love the timeless design of stepover diamond frames, Schwinn Wayfarer will put a big smile on your face. This is a retro-looking bike with modern components and a comfortable commuting geometry.
Frame material: Steel
Components: 7-speed twist shifters
Brakes: Alloy V-brakes
Tire size: 700C
Schwinn made the Wayfarer for men and women who love commuting in style while looking around and enjoying the views.
Its main highlights include the durable and light steel frame equipped with fenders, a rear rack, and a chainguard. Therefore, it's ready for year-round commuting.
The bike is powered by a 7-speed drivetrain with easy-to-use twist shifters. This is an entry-level groupset (it's an affordable bike, after all), but you don't really need much more if you're a beginner. You'd just be paying more for something you won't use.
Schwinn Wayfarer is a two-wheeled machine that can casually cruise city streets or pick up some speed if you're running late for an important meeting.
This bike also boasts a comfortable dual-spring saddle to take the edge off on long rides, as well as reliable alloy V-brakes.
City folks, this is one of the best bikes for commuting you can get at this price!
For more retro-themed bikes, see our Public Bikes review.
Priority 600
Zero-Maintenance Carbon Belt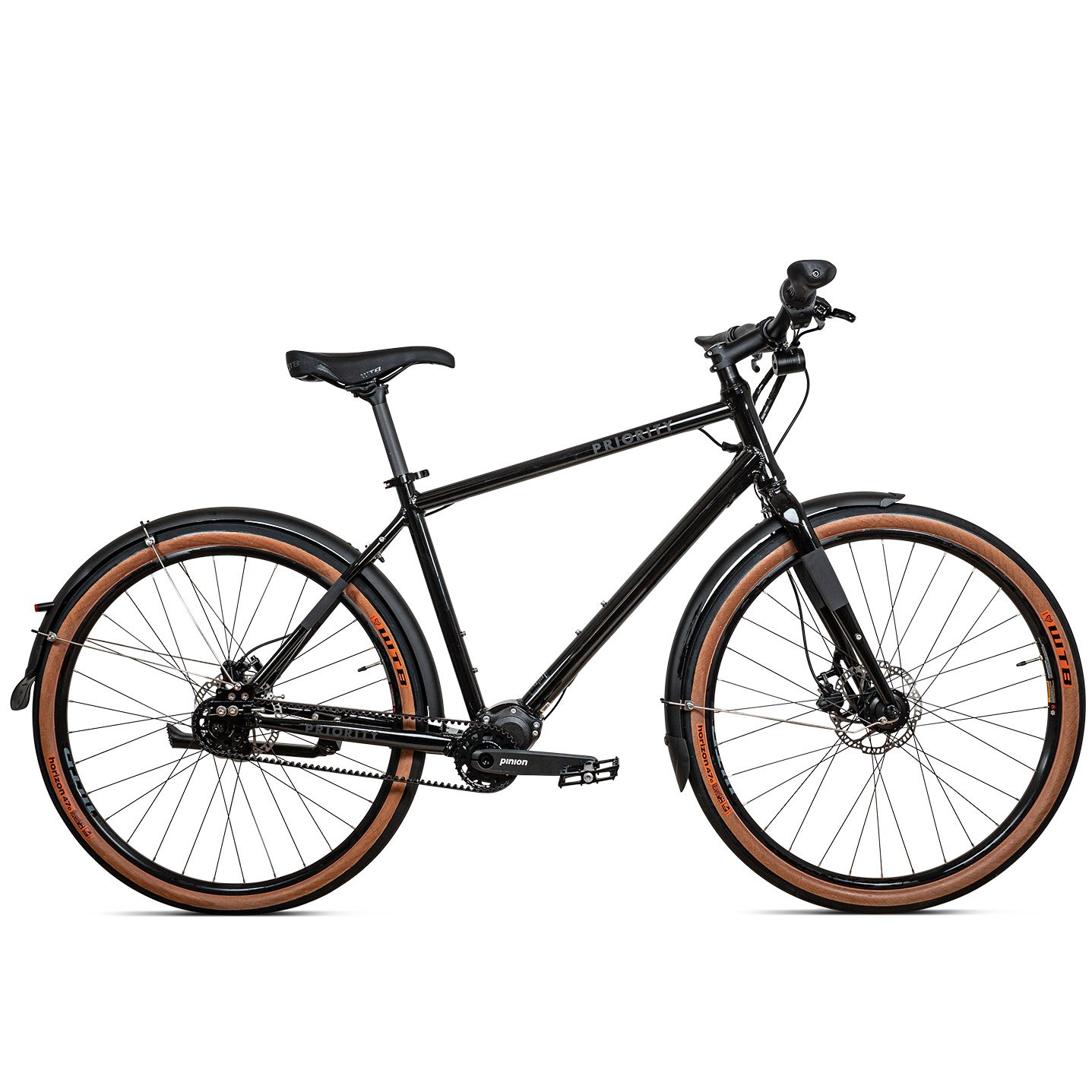 MSRP: $2,299
How does a zero-maintenance bike sound to you? Nothing to grease and degrease, just sit, ride, and get where you need to be. That's what Priority 600 is all about.
Frame material: Aluminum
Gearbox: Pinion C1.12 12-speed w/ Gates carbon belt
Brakes: Hydraulic disc brakes
Tire size: 650B x 47 mm
As we mentioned, Priority 600 is practically a zero-maintenance urban bicycle that requires no lubrication because it has no chain. Instead, the drivetrain is powered with a durable Gates carbon belt that requires almost no attention from your side.
To make things merrier, this bike has a centrally-mounted Pinion C1.12, 12-speed gearbox that's completely sealed. That means that the entire gearing system is protected, cannot get dirty, and does not need to be cleaned or lubed.
Priority 600 is an ideal bicycle for someone who lacks the time, knowledge or willpower to do regular maintenance on their bicycle but values smooth gear changes and high performance.
In addition, Priority 600 has hydraulic disc brakes and wide 650B x 47 mm tires, both of which will provide you with much-needed confidence when out and about.
It's truly one of the best picks for riders who have simplicity on their mind and just want to ride.
Cannondale Quick CX 2 Bike
Best Hybrid Bike For City
MSRP: $1,150
Are you wondering why the world is going crazy for hybrid bike commuting right now? The Cannondale Quick CX 2 bike is your ticket to the exciting world of urban commuting on a hybrid!
Frame material: Aluminum
Brakes: Hydraulic disc brakes
Tire size: 700 x 40mm

Have you ever seen people commute on bikes to work and then use them out at the weekend? This is the type of bike they use.
Cannondale Quick CX 2 is a simple and lightweight bicycle built around a durable aluminum frame, with a hard-to-believe price, running on an easy to maintain 2×9-speed drivetrain.
This Cannondale model has Suntour front suspension, which not only gives you the ability to enjoy trail but maximum comfort on the roads.
It comes with 700c durable wheels with fast and grippy 40 mm tires ideal for rugged city streets and rough trails. The groupset is a mix of Shimano Alivio and Shimano Acera which is slowly taking over the market for budget components.
The bike comes ready for commuting with front and rear fenders mounts. You can also fit a water bottle cage to stay hydrated.
Last but not least, Cannondale Quick CX 2 comes in a beautiful and elegant Midnight Blue color perfect for riders who care about style.
Get the Quick CX 2 if you want a simple bike that will get you from point A to point B no matter what the terrain, this is it.
Ride1UP 700 Series E-Bike
Most Powerful E-Bike for Commuting
MSRP: $1,595
Ride1UP 700 Series is a budget-friendly electric commuter bicycle with super-powerful electronics. It can help you get from one place to another faster than ever before and without breaking a sweat.
Frame material: Aluminum
Components: Shimano Acera
Brakes: Hydraulic disc brakes
Tire size: 27.5 x 2.4
Ride1UP 700 Series is available with a step-over and a step-through frame. The components are completely the same, though the step-through model has a sweptback handlebar. Therefore, if you like mounting the bike with ease and riding more upright, get the latter.
As one of the most powerful commuter e-bikes in this price range, Ride1UP 700 is equipped with a 750W (60Nm) rear hub motor and a 672Wh battery. It has a 28 MPH top pedal-assist speed and a 20 MPH top speed with the throttle. However, this (and more) can be adjusted on the advanced color LCD display.
The 700 Series is also fitted with Shimano Acera components that deliver 8 gears, which is more than enough for commuting when paired up with electric assistance.
Moreover, this bike has hydraulic disc brakes and gnarly 27.5 x 2.4″ tires, so you can take it on a serious gravel test if you want to.
Ride1UP 700 Series is a capable electric bike that can be used for commuting, fitness or traveling on all types of terrain.
The geometry on this bike is slightly upright, with a longer wheelbase, which adds to comfort and stability. The saddle is quite comfortable and the 100mm fork also adds to the smoothness of the ride.
If you're looking for more adventure in your life, you can begin with Ride1UP 700 Series.
Priority Current
Best Commuter Bike (Electric)
MSRP: $3,299
Finally, something for e-bike lovers out there who appreciate a simple and utilitarian design. Priority Current is the ultimate electric bike to make your life easy and your commutes fast and smooth.
Frame material: Aluminum
Battery: Integrated 500 Wh
Motor: 500W mid-drive with a torque sensor
Range: 30-60 miles
Ever since e-bikes were introduced to the cycling world, we've seen a boom in the number of cyclists on the city streets — and we love it.
Thanks to the high-spec'd Priority Current, there are no more hills that are insurmountable or locations that are too far away to cycle to.
Priority Current is a pedal-assist bicycle with a 500 Watt / 140 Nm motor and a 500 Wh battery. This means you can develop a 28 mph (45 kph) speed and cycle for anywhere between 30 and 60 miles on a single charge. That's more than enough to get you to your office, run errands after work, and leisurely cycle back home.
Apart from these high-tech gizmos, the Current also features a Shimano Inter-5 internal hub drivetrain paired up with a maintenance-free Gates Carbon Drive CDX Belt.
Stopping the bike is easy as well, thanks to the Tektro hydraulic disc brakes and 650B x 47mm wide WTB tires that provide plenty of grip.
The package also includes front and rear fenders, a kickstand, and front and rear lights. You can also easily fit a rear rack and turn Priority Current into your favorite do-it-all electric workhorse.
Co-op Cycles CTY 1.1
Cheapest on This List
MSRP: $599
As its name tells you, Co-op Cycles CTY 1.1 is a bike that can serve as a city commuter and drive you around urban streets on your way to work or home.
Frame material: Aluminum
Components: Shimano Tourney/Acera
Brakes: Mechanical Disc Brakes
Tire size: 700 x 40 mm
Full Review of CTY series by Co-op Cycles
We like Co-op Cycles CTY 1.1 because it is affordable, simple, and versatile. It is not a flashy bicycle that will impress everyone, even its paint job is quite inconspicuous.
It has a durable aluminum frame with an even more durable fork that will last you a lifetime. These feature numerous eyelets where you can mount fenders, lights, racks, water bottle holders, and whatever else you need to ride comfortably.
Co-op Cycles CTY 1.1 is a do-it-all cheap bicycle with excellent value, that does a fantastic job of transporting you and your stuff from one place to another.
The components are entry-level Shimano Tourney and Acera which shift smoothly and are a good deal for this price. In total, there are 24 gears at your disposal — I can't imagine a situation where you will need more.
One thing lacking is more accessories, but you can easily add these later on. Finally, the 40 mm tires will ensure a comfortable and stable ride every single time.
Cannondale Quick Disc 3 Remixte
Best Women's Commuter Bike
MSRP: $1,050
Cannondale Quick Disc 3 is a versatile women's commuter bike that sports a modern design. We love the concept behind it and the surprises it packs considering the price.
Number of gears: 14
Components: Shimano Alivio/Acera
Brakes: Tektro hydraulic disc brakes
Tire size: 700 x 35 mm
When it comes to the materials, the engineers at Cannondale decided to go for a mixture of aluminum and Chromoly steel when building Quick Disc 3. The reason is simple — aluminum is a stiff and lightweight material whereas steel brings the production costs down and improves comfort.
The drivetrain puts a decent number of gears at your disposal — a 2×9 setup operated by the Shimano mixed groupset. A solid groupset that will shift swiftly for years if you take good care of it. Plus, with these many gears, you can climb most hills and keep a comfortable cadence.
Cannondale Quick Disc 3 Remixte is a simple, straightforward, and elegant bicycle that feels at home when using it to commute or go on day-long tours off the beaten path.
This bike does have hydraulic disc brakes which are very powerful and will stop you on a pin. They have huge advantages and are much easier to use than mechanical brakes and require much less maintenance.
The main reason why this is one of the best commuter bikes out there is that it is fast and comes with mounts to attach a rear rack and fenders. Thus, you can haul weight and ride it on any type of terrain without paying through the nose.
Juiced CrossCurrent X
Commuter E-Bike with the Best Accessories
MSRP: $2,399
Do you view a bicycle as more than just a means of transportation? If a bike is also a workhorse and a fashion statement for you, then you will love the unique style and performance CrossCurrent X offers.
This bike is great for male and female riders thanks to a practical step-through frame.
Frame material: Aluminum
Components: Shimano Altus
Brakes: Tektro Hydraulic Disc Brakes
Tire size: 28″ x 1.75″
CrossCurrentX is one of the best e-commuters on our list. Its main focus is both on performance and practicality, so you will be making a statement wherever you go. It comes with a long list of accessories and even lets you attach additional ones.
CrossCurrentX has a 750W drive motor combined with a huge integrated 994Wh battery. This is a class 3 e-bike, so it will assist you up to 28 mph. Depending on how you use the assistance, you can get a range of up to 80+ miles, which is pretty good. The motor is powerful, zippy, and will give you everything you need.
Moreover, this is a 9–speed bicycle that touts a lightweight aluminum frame with a Suntour suspension fork. Out of the box, this bike comes with lots of accessories, such as a rear rack, fenders, lights, a kickstand, and more.
The Juiced CrossCurrentX is a durable everyday electric commuter that has it all — attractive design, reliable components, a powerful electric motor, and a surprisingly reasonable price.
Shimano Acera components are entry-level, but they are excellent for everyday riding. Shifting is smooth and you don't have to adjust them too often.
CrossCurrentX also has simple flat handlebars that keep your body in an upright position and give you a good view of the road ahead. Coupled with 28″ x 1.75″ tires, you will be stable and comfortable on the road.
Co-op Cycles Generation e1.2
Best Electric Cargo Commuter
MSRP: $1,899
Are you serious about commuting and are willing to spend a bit more on your bike? Then you can get the Co-op Cycles Generation e1.2 premium electric commuter bike, which is going to make your travels easy work.
Full Review: Co-op Cycles Generation e Series
Frame material: Aluminum
Drivetrain: Shimano Altus
Brakes: Hydraulic disc brakes
Tire size: 20″ x 2.4″
This is a bicycle that you can use to run daily errands, commute, carry groceries, or go on a weekend picnic. Whatever comes to your mind, you will have a trusty electric companion.
It's powered by a 350W Bafang Motor with 80Nm of torque and a 672Wh battery. As a Class 1 bike, the Generation has a 20 MPH maximum assisted speed, but a max range of 50 miles.
Co-op Cycles Generation e1.2 is a high-end foldable cargo electric commuter bike that combines a powerful motor, high range, and quality components to bring you the ultimate commuting experience.
This bike has front and rear racks already built into the frame which makes this bike excellent for carrying loads and commuting to work. Having the motor makes the riding so much easier than you might think.
Its Shimano Altus groupset will give you smooth shifting and paired up with the hydraulic brakes, smooth stopping too. For the money you're spending you get a lot of value that will give you years and years of perfect riding.
So if you're looking for a bike that is going to give you loads of happy miles and make cycling practically and easy the Generation e1.2 is the bike you need.
Cannondale Tesoro Neo X 2 Remixte
Best Women's Step-Through E-Commuter
MSRP: $4,100
What does the perfect women's commuter e-bike should look like? Something similar to Cannondale Tesoro Neo X 2 Remixte. Stylish, elegant, and electric, with versatility and performance in mind. This is a unisex bike, so both men and women can ride it and use it for daily commutes.
Frame material: Aluminum
Components: Shimano Deore
Brakes: Hydraulic disc brakes
Tire size: 29″ x 2.25″
Cannondale Tesoro Neo is all you need from an electric commuter bike and much more than that. It has a lightweight aluminum frame with an SR Suntour XCM 100mm suspension fork that makes riding easy and comfortable. The classy step-through design makes it simple to get on and off the bike, especially if you have a knee or hip injury.
Tesoro Neo features a Bosch Performance Line Speed 250W motor with a 28 MPH maximum speed. The 500 Wh battery will give you up to 52 miles of range, depending on how you use the assistance.
This bike also has a kickstand, so you can park it anywhere you like and go about your day. Just remember to lock it, because we're sure a lot of thieves would like to own this beauty!
Cannondale Tesoro Neo X 2 is equipped with every possible feature that a practical electric daily commuter should have — upright geometry, great looks, strong motor, and quality components.
Apart from these, Tesoro Neo also features a straightforward 1×11 Shimano Deore drivetrain which eliminates the front derailleur and all of the complications that come with it. It brakes using Shimano hydraulic disc brakes which are tried and true.
The bike also comes with a rear rack, fenders, front and rear lights, and a chainguard. Therefore, you can ride it in all conditions, day or night. Take it grocery shopping or attach a child seat and take your kids to school.
How Did We Choose?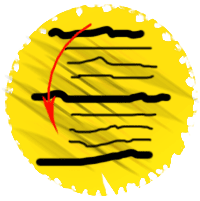 Deciding which 17 commuter bikes to include on this list is a task that we took very seriously.
Each and every bike was analyzed by our team of experienced cyclists and bike commuters.
Additionally, we evaluated the current situation on the market, checked user reviews, and spoke with engineers and product managers. Of course, we relied on our experience as well to give you a first-hand idea of what riding these bikes feels and looks like.
To make the cut and appear on this celebrity list, each bike had to meet rigorous demands in the following areas:
Price
Comfort
Performance
Value
Handling
Looks
Reliability
Fun
FAQ
To Sum It Up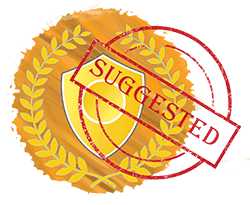 When we were deciding which bikes to include, we made sure to only choose reliable bikes that come with quality parts and a quality build.
In terms of components, you get what you pay for, but even the cheapest bike on this list is made to last for years and ride for thousands of miles.
Therefore, whichever model you end up choosing, you will get a practical, durable, and fun commuter to ride every day, avoid traffic jams, and stay healthy and happy.
Happy riding!