Maintaining your bike is one of the most important parts of owning it. If you do it right, you'll have a good-looking and functioning machine for years to come. If you neglect it, you'll end up with a bunch of metal ready to be scrapped.
Have you ever asked yourself the question "How to lube bike chains?". Well, you won't have to look any further.
The most crucial part of maintaining your bike is cleaning the chain and applying chain lube. It's one of the essential moving parts on any bicycle that wears off easily if not taken care of.
Doing this properly will take 15 minutes or less, but will prolong the life of your chain and allow you to ride for a lot longer and save money in the long run.
In this guide, we'll tell you everything you need to know about taking care of your chain, cleaning it and applying lube. If you don't know anything about the process, that's about to change soon.
We'll also recommend the five best lubes money can buy, so you'll have all the right tools to do the job properly.
Different Types Of Bike Lubricants
The chain lube market is huge and caters to different types of riders, different types of bicycles, and a variety of riding conditions. The selection of all the different types of bike lubes out there truly seems daunting.
However, we can easily classify all of these into three main categories:
Dry Lubes
Wet Lubes
All-Around Lubes
Each of these three best bike chain lubes serves the same purpose but behaves differently in different conditions. To be able to choose one over the other, you need to know something about their main properties and characteristics of bike chain lubricants.
1. Dry Bike Lubes
Dry lubricants are usually made from wax, Teflon, or ceramic. When you apply them on the chain, they are wet, but they dry quickly, forming a protective layer.
They are usually suspended in some sort of a liquid that allows them to penetrate deep into the chain, between the pins and rollers. The liquid then evaporates, leaving a dry protective film.
Dry bike chain lube usually dries for around 2 hours.
It's worth noting that dry lubes do not do well in wet weather and muddy conditions. They are best used for dry weather and dusty conditions.
Their main advantage over wet lubes is that they do not attract dirt. The dry protective layer will not allow dirt and dust to attach to the chain, so they are ideal for mountain bikes in dry weather.
Their biggest disadvantage is that they generally need to be applied much more often than dry lubes. However, they stay clean for a longer period of time, so the cleaning process is not as messy as with wet lubes. Moreover, the long "drying time" makes them impractical if you need to lube your chain and go for a ride straight away. You need to plan in advance.
2. Wet Bike Lubes
Wet bike lubes (also called bike chain oils) have a more viscous, stickier consistency and are best used in muddy and wet conditions.
They do a great job acting as water repellents, so they protect your chain from rust for longer.
Wet lubes are typically oil based, which means they are quite sticky. This means they can stay on the chain for a longer period of time, but that also means they will attract more dust and dirt to it.
Wet lubricants come in different viscosity. A more viscous lube means that the liquid will be thicker and provide a better protection against water. However, that also means that it will be stickier and attract more dust, sand, and grime.
Once you apply a wet lube to your chain, depending on how often and where you ride, you can continue to cycle for weeks before needing to clean the chain and reapply the lube.
3. All-Around Lubes
If you want to get the benefits (and the disadvantages) of both dry and wet bike lubes, then you should choose an all-around lube.
They behave decently well in all weather and riding conditions, but they are not the perfect option for any specific setting.
They are a great compromise if you know you will be riding in both dry and wet weather and you do not like the idea of frequently switching between dry and wet lubes.
Step-By-Step Guide: How To Clean Your Bike Chain
The process of cleaning and lubricating a bike chain can be as long and complicated as you make it. If you're lazy or you're just in a hurry, you can do it in a couple of minutes. If you love your bike as much as we do and you want to give it the attention it deserves, you can spend considerably more time.
In this section, we'll show you two ways in which you can get your chain to be clean and shiny once again, working as it should.
One is fast, the other one is thorough!
The Quick And Easy Way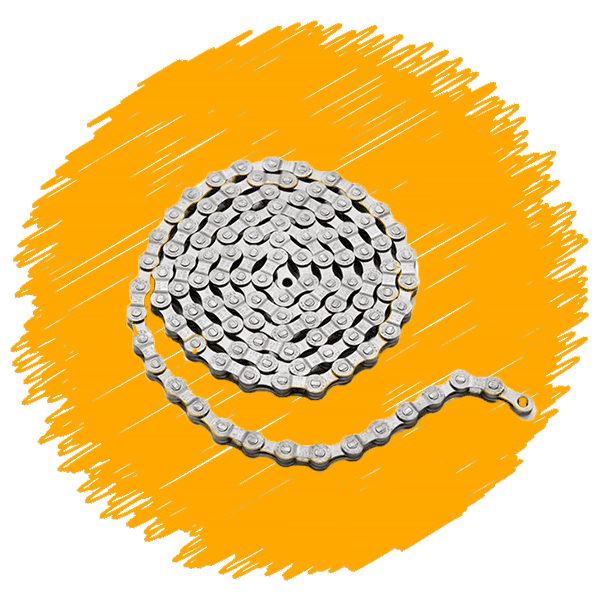 This is a good way to clean your chain when you are in a hurry. If your chain is not completely covered in gunk and dirt, you can clean it several times this way and postpone a more thorough cleanup.
To clean the chain this way, all you need is:
A bicycle
A dirty chain
A clean rag
Bike lube of choice
Here's a step-by-step process of how to do it!
Find a clean, dry, lint-free cloth that you're ready to throw away afterwards.
Wrap the chain in the cloth and turn the pedals backwards to wipe off the muck.
Repeat the process several times, using clean patches on the cloth.
Keep repeating the process until the cloth stays rather clean.
Use the cloth to get the muck off of derailleur pulleys as well.
Apply your lube of choice and wipe off any excess lube if necessary.
The Right Way For Perfectionists
If you have enough time and energy to do it, or your bike chain obviously requires it, you should do a thorough cleaning and lubrication of the chain.
The question here is, should you take the chain off or leave it on the bike? Seeing mechanics take chains off, soaking them in a jar or degreaser and shaking them around was quite common in the past.
Modern bike chains are more delicate as they they are used on more sophisticated drivetrains with more gears. Taking the chain on and off repeatedly can create weak spots that might cause it to snap or malfunction.
Therefore, we recommend leaving the bike chain where it belongs—on the bike!
To perform this thorough clean up, the necessary props include:
A bicycle
A very dirty chain
A stiff-bristled brush
Rubber gloves (optional if you don't mind getting messy)
An air compressor
A degreaser liquid
A chain keeper (optional)
Running water and a sponge
A chain cleaning tool (optional)
Lubricant of your choice
Step-By-Step Process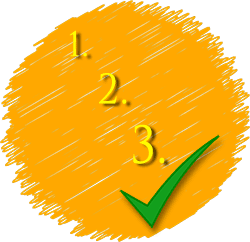 As you can see, the list is a bit longer than the one above, but the process is longer and more complicated as well. However, don't be afraid. Just follow our simple step-by-step process below and you can't go wrong.
The first thing you need to do is decide whether or not you will use a chain keeper. This is a simple pulley that allows you to take off your wheel and clean the cassette off the bike, while still being able to turn the pedals.
The next step is to apply a degreaser and use the brush to take off the majority of the dirt and gunk. Do this for the chain, chainrings, cassette, and derailleur pulleys.
If you have a chain cleaning tool, you can make this process much less messy, by simply turning the pedals while the chain is inside the tool.
Use running water to rinse off the chain, cassete, chainrings, and the derailleur. Don't use high-pressure hoses!
Let everything dry or use a dry cloth or an air compressor to speed up the process.
Reinstall the rear wheel (if you took it off) and apply your chain lube of choice.
The Do's And Don'ts Of Bike Chain Maintenance
When cleaning and lubricating a bike chain, there are some things that could make the process easier and others that could make it worse.
Here's a quick list of bike chain maintenance do's and don'ts that you should keep in mind when working on your chain. If you follow these, you'll ensure that the functionality and the integrity of your chain (and your entire bike) is not compromised by poor decisions and practices.
Do's & Don'ts
Don't use high-pressure washers – Using high-pressure washers to clean dirt off of your bike seems like a good idea, but it's not. There's a chance that the highly pressurized water will get into your hubs, peel off decals, or lift chipped paint.
Do suspend the bike to clean it – If you want to make the job easier, use a bike stand to suspend your bicycle. Avoid flipping the bike upside down when cleaning it because the dirt will run down your frame.
Don't use unspecific lubes and cleaning products – You might want to save some money by using car motor oil to lube your chain or dishwashing liquid instead of a degreaser. These might do the job, but they will not do it well and will shorten the life expectancy of your chain.
Do take the wheel off – If possible, always take the wheel off when cleaning your chain. This way, you can clean the cassette much more thoroughly. Moreover, you'll avoid getting oil on the disc (if you have disc brakes) or on the braking surface of the rim.
Don't submerge parts in liquid – Never submerge your entire bike or individual parts in liquid. If you do this, water and other liquids might end up where they are not supposed to be, such as inside the hubs or the bottom bracket.
Do use water and soap – You should not be afraid of getting water anywhere near your bike. Do use water and soap to rinse your bike and get it sparkling clean.
Looking for more information? Take a closer look at how to take care of your bike.
---
Best Bike Chain Lubes
There are hundreds, if not thousands of different bike lubes out there. Where do you begin? How do you choose the best bike chain lube? We've chosen for you, so all you need to do is order and follow the steps mentioned above!
Finish Line (Dry Teflon)
Best Lube For Dry Weather
Type: Dry Wax-Like Synthetic lube
Size: 2 oz / 4 oz / 8 oz / 17 oz/ 32 oz / 1 Gallon
Finish Line is the best dry bike chain lube in our opinion. This is a wax-based synthetic lube with Teflon fluoropolymers which will keep your bike chain clean and lubricated for a longer time.
The addition of Teflon fluoropolymers also reduces friction between the chain and the chainrings, so it makes your pedaling more efficient and saves you precious watts.
After one application, you can be riding for up to 100 miles in dry weather without having to worry about reapplying another film.
Finish Line is applied wet, but dries in record times, allowing you to hop on your bike quickly and start riding. It can be used both by road cyclists and off-road cyclists, but it works best in settings with dry dirt, sand, and dust.
This dry chain lube is available in 7 different sizes and packages, including both squeeze bottles and aerosols. A 2 oz bottle is perfect to take on a ride with you, whereas the 1 gallon jug is ideal for mechanics and professionals.
Finish Line is easy to apply, dries quickly, and lasts longer than other dry lubes due to Teflon additives. However, it will rinse off quickly if you ride in wet and muddy conditions.
Finish Line (Wet)
Best Wet Chain Lube
Type: Wet Lube
Size: 2 oz / 4 oz / 8 oz / 32 oz / 1 gallon
If you live in an area with a lot of rain or you just need a good chain lubricant to survive the muddy conditions, the Finish Line wet lube is a great choice.
This bike chain lubricant is made from high-viscosity synthetic oils that stay wet for a long time, penetrate deep inside the chain, and provide continued protection and lubrication.
Related: Bicycle Chain Cleaning & Maintenance
Finish Line wet lube is also enriched with water-repelling polymers, as well as advanced anti-wear additives. It will protect your chain both from water and rust, and from excessive wear and tear.
This wet lube is the ideal choice for long and hard rides as it has a proven performance of more than 100 miles. It was tested in long rainy commutes, muddy off-road conditions, under moderate and intense strain.
No matter if you ride competitively, recreationally, or just use your bike to commute, Finish Line Wet should do a great job at making your cycling easier and protecting your chain.
Finish Line Wet is a high-viscosity lube that provides unprecedented protection against water, wet weather, mud, and excess wear and tear. However, its high viscosity will attract more dust and dirt compared to a dry lube. Definitely the best wet bike chain lube.
Park Tool CL-1 Synthetic Blend
Longest Lasting Chain Lube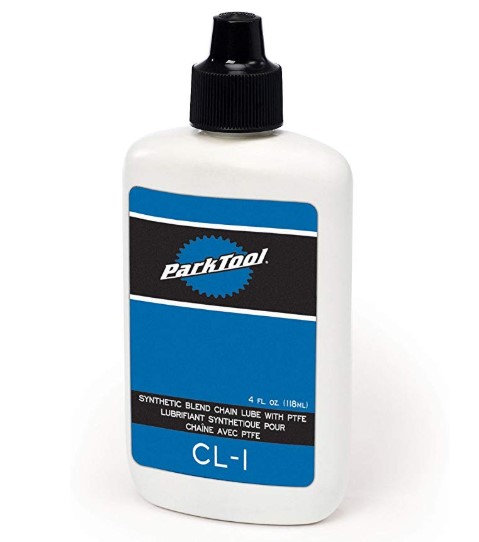 Type: Synthetic blend of oils (Wet & Dry)
Size: 4 oz
Park Tool Chain Lube is made from a proprietary blend of synthetic oils and the addition of PTFE, which is a synthetic fluoropolymer. It prevents water and other wet substances from sticking to the chain and affecting its performance.
Park Tool CL-1 works great in both wet and dry conditions. Therefore, it is ideal for riders who cannot put their passion for cycling on pause even when it's raining outside.
The delicate viscosity of this lube allows it to penetrate deeply into the chain, reduce friction, and protect the chain from rust and physical damage. This might just be the longest lasting chain lube on this list.
Apart from lubricating your chain, you can also use the Park Tool Chain Lube on spoke nipples, and cables, as well as on brake and derailleur pivots.
If you live in an area with changing weather and you cannot be bothered to use a different chain lube every day, Park Tool CL-1 is the best bike chain lube for this.
The biggest advantage of Park Tool Chain Lube is that it works well in both wet and dry conditions. However, if you're looking for a lube for a specific type of riding, this might not be the best choice.
Finish Line Ceramic Wax
Best Wax Bike Chain Lube
Type: Ceramic Wax (Dry)
Size: 2 oz / 4 oz / 32 oz
If you are looking for a dry lube that does not sacrifice distance to give you all of the benefits you need, the Finish Line Ceramic Wax might be the best choice.
This is a wax based chain lubricant, with an addition of ceramic, that lets you ride for up to 120 miles before having to reapply it.
Its properties have been tested time and again, even in racing conditions, by Finish Line's WorldTour teams. Of course, this lubricant is best for dry conditions, but can be used both in on-road and off-road situations.
Every additional time you apply the Finish Line Ceramic Wax lube, the original coating inside the chain is enhanced, offering better protection and more durability.
The best thing about this dry lube is that it is made to not build up over time. Therefore, your chain will not become sticky and slimy after several applications and will not attract dust, dirt, and sand.
Finish Line Ceramic Wax lube lasts longer than regular dry lubes thanks to its ceramic properties. It protects your chain from dirt and dust and makes sure it operates smoothly. Its main disadvantage is that it will not perform well in wet conditions.
Finish Line Chain Cleaner Kits (With Lube & Degreaser)
Best Bike Chain Cleaner Kit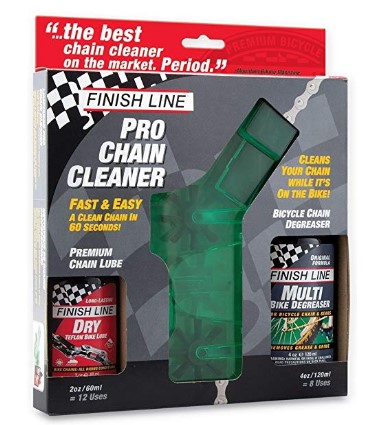 Type: Dry
Size: 2 oz Lube & 4 oz Degreaser
If you have no idea where to start with bike chain cleaning and which tools you need to get the job done, this kit is the perfect product for you.
It consists of a heavy-duty bike chain cleaner, a degreaser, and a dry lube to get everything going again once you're done.
The cleaner is extremely convenient as it clips right onto your chain, so there's no need to remove it. The exit angle of the chain is 30-degrees, which will prevent any dirt and oil to splash around—perfect if you're cleaning your chain in the apartment.
The cleaner consists of three rotating brushes and a magnet at the bottom. This combo will thoroughly clean your chain and collect any metal filings at the bottom.
When your chain is sparkling clean, you can use the long-lasting Finish Line Dry Teflon-based lube to lubricate your chain and prepare it for the next ride.
The biggest advantage of this kit is that you get all you need to keep your chain clean and lubricated with one purchase. The chain cleaning tool reduces both mess and the time required to get the job done. The disadvantage is that the 2 oz Dry lube bottle is small and enough for just 12 applications.
FAQ
Conclusion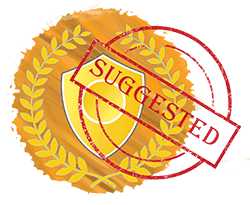 As you can see, bike chain maintenance is not really rocket science! It's a simple task that can be done in a couple of minutes, so there's no excuse to postpone it.
Don't be that person who rides a bike with a rusty and squeaky chain—I get shivers even thinking about it!
Follow our advice on choosing the right type of lube and pick one of the five we've recommended. They have a great value to price ratio, so you won't be paying through the nose for the brand.
Do you have any personal tips and tricks when it comes to cleaning and lubricating the chain?