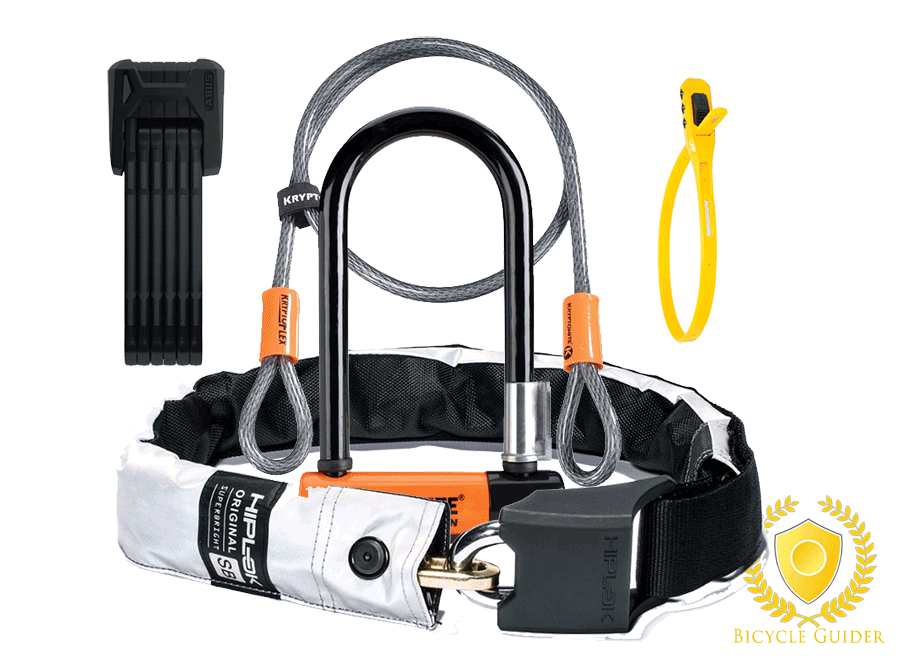 Any serious cyclist will know that a bike lock is not simply a secondary consideration when buying a bicycle. Your lock should be the single most important piece of equipment that you purchase to go along with your bike and the quality of it should match that of your bike. So, let's check the best bike locks on the market.
The more expensive your bike, the more attention it will attract, and the more secure your lock will need to be. Experts suggest purchasing a lock that costs at least 10% of the total value of your bike. While there is no such thing as a 100% secure bike lock, some of the top-quality locks mentioned below are practically impenetrable.
So, let's see, what are the best bike locks on the market
Our thoughts about this lock type: A high-quality D-lock, when combined with steel looped cables for the wheels, is generally considered to be the best overall solution when it comes to bicycle security. This is the most common method of bicycle safety and theft avoidance used in cities around the world that suffer from a high rate of bike-related crime.
The Kryptonite Evolution series of bike locks come with a steel looped cable, three stainless steel 'Key Safe' keys and a one-year anti-theft protection guarantee up to $2,500. The combination offers the best all-round bicycle lock package at an affordable price from one of the top-rated bike lock makers in the world.
Kryptonite Evolution locks come in five different sizes from the Lite Mini to the Standard so they are ready to fit any needs. All locks are crafted from hardened max-performance steel with hardened double-deadbolts and pick and drill resistant disc-style key cylinder, making them near-invincible to even the most hardcore bicycle thief!
After purchase, you should register your keys online with the Kryptonite Key Safe program so that they can be replaced anywhere in the world. Kryptonite Evolution locks have the highest level Sold Secure Gold rating.
Shackle width: 14mm
Dimensions: 4″ x 11.5″
Weight: 1.75 kgs
Security Rating: 8/10
If you are looking for the best standalone U-lock, look no further than the Kryptonite Evolution Series 4. The Evolution Series 4 Heavy Duty lock is 4″ x 11.5″ and crafted from 14mm max-performance hardened steel that is resistant to all the common types of lock-breaking techniques. No average bolt cutter or angle grinder will be any match for this steel.
Don't forget to lock your wheels too!
The Evolution Series 4 features a smaller crossbar and a pick and drill resistant disc-style key cylinder which now has even stronger security than before. As with all Kryptonite locks, it comes with 3 replaceable Key Safe keys and two additional free replacements in the event of a loss – just remember to register them as soon as you can!
As with all new Kryptonite locks, the Evolution Series 4 comes with the new Transit Flexframe-U holstering system for easy transportation. This nifty little piece of equipment makes it really easy to attach the lock to lots of different places on your bike.
Shackle width: 18 mm
Dimensions: 3.25″ x 6″ (8.3cm x 15.3cm)
Weight: 4.55 lbs (2.06 kg)
Kryptonite's Security Scale: 10/10 rating
Warranty: Lifetime
Mini U-locks have some advantages compared to their larger cousins, which can come in handy when trying to outwit bike thieves. They're smaller and more compact, which makes them easier to carry around with you. They also provide better security against leverage attacks because it is harder to fit a tool inside the lock. The Kryptonite New York Lock Fahgettaboudit might be small, but don't be fooled by its size — it's heavy-duty and does not give in easily!
This Kryptonite's mini U-lock provides the ultimate security in the smallest possible package. It's made from an 18 mm wide max-performance steel shackle that's very hard to cut through. It features a patented steel sleeve that provides double security to deter potential thieves.
Moreover, the pass-thru crossbar design comes with anti-rotation features, which requires the shackle to be cut twice in order to get it off. That will buy you valuable time in case of an actual attack.
Other popular methods won't help bike thieves either since the Kryptonite New York Lock Fahgettaboudit comes with the Highest Security Disc-style Cylinder that is pick and drill resistant.
When you purchase the lock, you will receive three stainless steel keys, including one replaceable LED key fob. In case you lose them, Kryptonite will send you two keys for free thanks to their Key Safe Program.
They also have an Anti-Theft protection offer in place that offers you up to $5,000 in reimbursement for one year in case your bike gets stolen due to a fault in the lock.
Bar width: 5.5mm
Dimensions: 33.5″ x 0.4 x 0.4″
Weight: 1.5 kgs
ABUS Security Rating: 15 (highest)
Sold Secure Rating: Bicycle Gold
Foldable locks are more compact than U-locks but also feature more moving parts, which can result in more potential fault points. However, some of these foldable locks certainly prove their worth and this offering from ABUS is one of them. For the absolute best security, I would still recommend a U-lock to ensure the highest level of protection. However, since they are not always practical for every type of cyclist, folding locks can be useful.
If a U-lock doesn't fit in your bag or attach easily to your bike and you need something more compact then this foldable lock is definitely the next best option. The ABUS Bordo Granit X-Plus 6500 consists of six hardened steel bars coated in protective silicon and connected via special rivets that are practically unbreakable.
With this comes the X-plus precision disc cylinder which is pick and drill resistant and comes with two stainless steel keys and an LED fob to help you see when unlocking in the dark.
The versatile design of foldable locks like the Bordo Granit makes them more adaptable to lockable objects so you won't have much trouble finding somewhere to secure your bike. Unlike most U-locks, foldable locks can fit easily around the bike frame, wheels, and a pole or bicycle stand.
This means you may not need to carry additional looped cables for the wheels. The ABUS Bordo Granit X-Plus 6500 is almost three feet long so you can stretch it around a wide range of unusual objects like trees or pillars.
Lock thickness: 12mm
Chain thickness: 10mm
Chain length: 33.5 inches
Weight: 1.8 kgs
Sold Secure Rating: Silver
Full Review: Hiplok Superbright
Our thoughts about this lock type: Chain locks are highly versatile and are often the easiest locks to transport due to the multiple different ways in which they can be carried. However, the chain links seldom feature the same thickness of steel that can be found in U-locks, which means that some chain locks are more attractive to thieves with big bolt-cutters.
However, if you choose a very thick, strong chain with hardened steel like the Hiplok Wearable you will still pose a tough challenge to most of the tools in any bike thieves arsenal.
The Hiplok Wearable chain lock is particularly attractive due to the thick, soft sheath that covers it. This makes it very comfortable to wear over the shoulder or around the waist and protects the coating on your bicycle when it's locked up. It also features a super bright reflective paint job to make you highly visible to motorists and other cyclists at night.
The lock benefits from Sold Secure Silver status and can be clipped on and worn securely without needing it to be locked, making it easier to attach and release.
The chain links are forged from 10mm hardened steel and at 1.8 kgs, the entire lock and chain weigh a bit more than most U-locks. However, it does give you much more versatility and options for where you want to lock the bike up.
Get From REI
Or read the full review
Never leave an unlocked bike unattended!
Shackle width: 12mm
Dimensions: 11.3″ x 7.3″
Weight: 1.5 kgs
Alarm locks are trending currently!
Bicycle locks with built-in alarms are becoming increasingly popular as security concerns grow. Alarm locks come equipped with built-in detection systems that monitor movement and sound a high-pitched alarm should anyone tamper with them.
As soon as a thief touches the lock, the alarm will sound attracting the attention of passersby or waking up the neighbors. No thief will risk trying to continue breaking a bike lock once an alarm sounds unless there is nobody for miles around.
The Abus 440A features a high-tech 3D Position Detection System with a 100-decibel alarm built into a tough U-lock with a 12mm shackle and pick and drill resistant cylinder lock. The alarm is activated from even the slightest of movements and automatically switches off and then reactivates after 15 seconds.
These modern types of locks can be a bit more expensive than standard U-locks but the added level of protection could be invaluable if you live in an area with high bike theft.
The Abus 440A lock comes with CR2 batteries included and has a Sold Secure Silver rating.
Chain length: 430 mm
Weight: 70g
Full Review: Hiplok Z Lok Combo
Zip tie locks are intended for short-term bicycle security or to secure less valuable items to a bike or other vehicle. They usually feature weak key systems or 3-digit lock combinations so they are relatively easy to pick and therefore not 100% secure for longer time periods.
However, Zip tie locks are great for quickly securing your bicycle while you pop into a shop or while it is in transit on a trailer or roof-rack. They can also be used to secure helmets or other items onto the bike while it is parked or to secure suitcases, cabinets or other objects.
The HipLok Z Lok Combo security tie utilizes a "clinch, lock and hold" design combined with a 3-digit lock for quick attach and release. The fully adjustable design means the lock can be used to fasten a wide range of different sized objects onto the bike or another object.
With a steel core and 430mm locking length, the light-weight, practical and affordable Hiplok Z weighs only 80 grams and is the perfect addition to a complete security solution.
Get From REI
Or read the full review
Kryptonite Evolution
Don't buy cable locks without anything stronger! Unfortunately, there are no cable locks that provide meaningful security on their own. A simple pair of bolt cutters or rose clippers will make short work of even the strongest cable locks available.
Cable locks can be a useful addition to an overall security solution but should never be used on their own. They are best utilized for securing low-cost parts like wheels, helmets or seat posts. The looping steel cables that usually come with Kryptonite Evolution D-locks are generally of high-quality materials.
We haven't yet found any cable locks that are worth using independently so always ensure you use one of the many alternatives above. If we do find one, we will be sure to add it here in the future.
---
Security ratings
Bicycle lock security is usually rated by two systems, Sold Secure and ART. Always ensure that any bicycle lock that you purchase is rated by one of these authorities. Most bicycle insurance companies will require that you use an ART-approved or Sold Secure-approved lock with a minimum rating or your claim could be rejected.
Sold Secure
Sold Secure is a non-profit British company established in 1992 by the Northumbria and Essex police department to help fight crime. Sold Secure products have three classifications, Gold, Silver, and Bronze, and offer various levels of insurance with each option. Devices are tested and classified based on the tools used and the amount of time spent testing, with Gold being the highest level.
A gold-classified Sold Secure lock will be almost impossible to break without a lot of time and industrial level tools, whereas a Bronze lock will only offer short-term security against opportunistic thieves. These days, many bicycle thieves carry powerful bolt cutters or other tools which render Bronze locks unreliable for security.
ART Foundation
The ART Foundation is a collaborative effort between the Royal Dutch Touring Club and agencies from the Dutch automotive industry. The companies combined to produce a system of classifying and promoting anti-theft provisions for vehicles.
The organization classifies a wide range of bicycle, motorbike and car locks based on a star rating system of 1 to 5. One star products are usually thin cable locks that offer little protection, while five-star products include Kryptonite and ABUS U-locks and chain locks.
All products that ART approved will feature a label or imprint with the highly recognizable ART logo plus the number of stars confirming its category. When buying an ART approved lock, always look for products with at least a 4 or 5 star ART rating.
Related: Best Bicycle Pumps
How to Recognize a good bike lock
Depending on the country there may be different brands of locks on offer but ABUS and Kryptonite are generally accepted as the best quality locks available all over the world. Top of the range ABUS and Kryptonite locks consistently rank highly on both Sold Secure and ART ratings.
A bike manufacturer that trusts its own product will usually offer theft protection to cover the cost of your bicycle should it get stolen as a result of the lock failing. This is a surefire way of knowing that a lock is of exceptionally high quality.
Forget The Cable Locks
Even the best quality cable locks are only made of tightly-wound steel wire that is easy to cut through within a matter of minutes. These locks may be useful to secure your bike while you quickly go shopping but even then only offer a minor deterrent.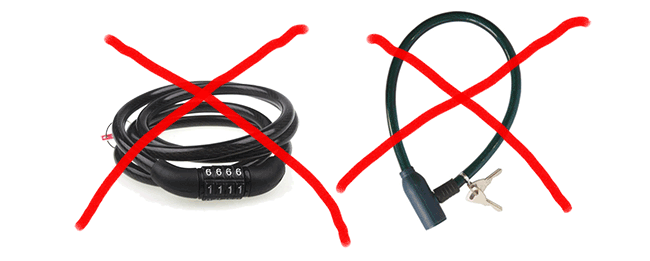 A thief with bolt cutters will take only seconds to break the lock and could steal your bike as soon as your back is turned. Cable locks should never be used as the main lock to secure a bicycle of any value, even a cheap one. The low price may seem attractive but you would be better off buying a chain and padlock.
In the long-run, a proper bike lock such as a U-lock or chain lock is an investment that will last you a lifetime and pay itself off multiple times over.
"Why do people spend hundreds, even thousands on a bike and then buy a lock from Poundland?" – a bike thief during an interview with Road.cc.
---
How To Lock A Bike (Properly)

How To Lock A Bike (Properly)
Choose a decent lock. Ensure that it fits your bicycle frame design, for both locking up and transporting.
Lock it to something solid. Ensure that you use a solidly grounded object like a tree, lamp post or pillar. A thin tree branch that can be broken or sawed through is no good.
Make it visible. Don't lock it in a dark, deserted area. The busier the area, the better.
Prioritize the frame, then the rear wheel. Lock the bike frame if you can only fit one piece but most big U-locks or chains will fit around the back wheel and down tube.
Use a cable or zip lock to secure the front wheel – especially if it has a quick release. Alternatively, remove the front wheel and lock it with the frame and rear wheel.
Keep everything as tight as possible – thieves will leverage free space to break locks. Try to face the keyhole downwards for the best protection.
How To Open/Cut A Bike Lock
Even low-quality U-locks are no match for bolt cutters. Thieves will seldom try to pick locks as it's almost always quicker to cut a lock. For stronger locks, thieves might use a battery-powered angle grinder if the bike is on a quiet street.
Bolt cutters are the most common tool used by bicycle thieves as they can cut through weak cable locks in seconds.
Thieves usually scout out where bicycles are parked during the day and then come back to steal them in the evening. For this reason, never leave your bike on the street overnight and try to lock it up in a slightly different place each day. Thieves usually avoid cheap bikes, so best to have a second cheap bike when going out for the night.
While most thieves target bikes on the street, some also break into gardens and sheds – so be sure to lock your bike even if it's on your property. Shed doors are easy to remove with a screwdriver, so ensure you use tamper-proof screws or an alarm on the door.
Where To Mount Bike Lock
On attaching
Never attach the lock through a piece of the bike that can be removed, ie: the wheels, seat post, or handlebars. Always ensure the lock goes through the middle of the bike frame or the rear triangle.
Ensure the lock is attached to the strongest piece of the frame and to an object that is at least as strong or stronger than the lock itself. Don't forget to use additional cables to secure both wheels. Some people also secure their saddle in particularly high-crime areas.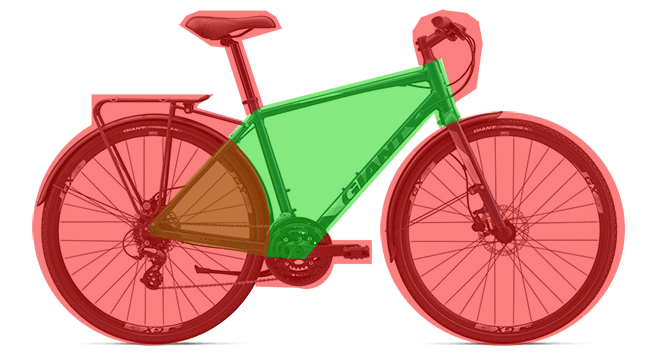 Transporting
Depending on the lock you choose there are different ways to transport it. Many commuters simply keep the lock in a bag or looped over their shoulder if its a chain lock. Small locks like the Hiplok Z can attach to your belt or clip onto your pants.
U-locks usually come with a frame holder to attach the lock to your bike. This can be clipped onto the down tube, cross tube or seat post. If there is no free space on your frame, a U-lock can usually slip through the metal bars under your saddle.
Where To Buy a Bike Lock
Popular bike locks like ABUS and Kryptonite are found in all major cities around the world. Any decent bicycle shop or outdoor sports equipment store should stock at least a few different makes from these brands.
If you are looking for where to buy a bike lock in your area, you should head to the nearest local bike shop. Failing that, there are several online stores that stock quality bike locks for delivery.
The safest bike locks brands are:
---
How Did We Choose?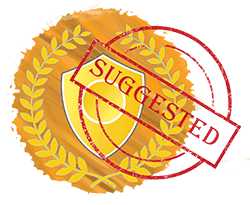 Through extensive testing and by making several comparisons between the weight, portability, and convenience of various locks we reached our above conclusions. There are some locks that offer even higher levels of security but are prohibitively expensive or too heavy for the average cyclist to carry.
The best type of lock is one that is easy to transport otherwise you are less likely to want to use it, making it redundant
Without fail, Kryptonite and ABUS make bicycle locks that are the strongest and most resistant to almost all types of theft. They are also the lightest for what they offer and are usually the easiest to carry around. When using a Kryptonite or ABUS lock with Sold Secure Gold classification your bicycle should be safe from even the most dedicated of criminals.
Key Take-Aways:
Never rely on a cheap cable lock – ensure a good Sold Secure or ART rating
Always lock up your wheels too – preferably with a U-lock through the frame and rear wheel
Try to find a well-lit, busy street – never leave your bike overnight on a quiet street
Stay Safe!
There are no comments yet, add one below.