Hiplok Superbright is a heavy-duty bike lock that solves one of the biggest problems quality locks create — ease of transportation. This lock can be worn as a belt around your hips or around your shoulder.
It protects your bike due to sturdy design and improves your visibility at night thanks to reflective materials.
Riding your bike in urban areas means that you need to be vigilant when it comes to leaving your bike unattended. A heavy-duty lock is a good solution, but carrying such a lock can be a hassle. That's one of the reasons many riders go for light cable locks that provide almost no protection.
Hiplok Superbright has the best of both worlds! We tried it out and here's what we think about it!
Hiplok Superbright Original Bike Lock Main Features:
High Security (Silver Sold Secure)
Easy wearable design
Adjustable belt: 28″ – 44″ (71cm – 111cm)
Reflective outer sleeve
3x coded replaceable keys
Lifetime warranty
Locking Length: 33.5″ (85cm)
Weight: 4 lb. (1.8kg)
Design and Elements
---
Three Versions
Hiplok Superbright is a bike lock that can meet the needs of different types of rides looking for different levels of protection. This lock is available in three different options:
They differ in weight and the amount of protection they offer. All three variations are rated by Sold Secure — Lite has a Bronze rating, Original is rated Silver, and Gold… well, Gold.
We got our hands on the Original version with a Sold Secure Silver rating and tested it thoroughly to see whether or not it would budge.
Safety Features
Hiplok Superbright consists of an 8mm wide hardened steel chain that's locked together with a cumbersome 10mm hardened steel shackle. It features a steel-impact resistant body with a really strong plastic case.
The locking circumference is 85cm, which is enough to get around your seat post and rear wheel, and even grab the front wheel if you take it off and position it next to the rear wheel.
As mentioned, this version has a Sold Security Silver rating, which is the second-highest you can get. We could not really mimick their testing procedure, but we tried hitting, pulling, and abusing the lock in other ways — it did not give in.
Ease of Use
---
Hiplok Superbright is pretty straightforward to use. Even though it has a carrying belt and a buckle running along the chain, these do not get in the way when locking the chain.
The package includes 3 coded keys and you can see that a lot of attention to detail has gone in their design. The keys and the lock feature a curved design, which makes it easier to access the keyhole when the chain is on the bike. Kudos to Hiplok for thinking about it.
The circumference of the Superbright lock is 85cm and we did not have any problems running the chain through the rear triangle and around the seat post to secure the bike.
Need extra protection? Consider the Hiplok Z Lok Combo
Transportation
---
Reflective Outer Sleeve
Hiplok Superbright's 8mm chain is placed inside a reflective outer sleeve that shines bright at night and greatly improves visibility. The belt is made from 600D water-repellent material, so you can expose it to rain and snow on a daily basis.
One of the downsides or this sleeve is that you need to be careful not to get it smeared with chain grease. The stains will show on the white surface and you might even get your clothes dirty if you don't wipe it properly.
Adjustable Wearable Belt
The wearable function of the Hiplok Superbright bike lock has been designed well. The lock features a clip on one end of the lock that connects to the adjustable belt on the other side. The system resembles a car seatbelt, so it's pretty easy to clip and unclip.
In order to wear the lock around your hip, the chain does not need to be locked. The adjustable belt has a length of 28″ – 44″ (or 71cm – 111cm), which means you can wear this bike lock either around your hips or over your shoulder.
Keep in mind that the Original version weighs around 4 lb. (1.8kg), which is pretty heavy. However, it puts less strain on your low back than if you were to carry it in a backpack, so you don't really feel it on short to moderate rides.
Value and Verdict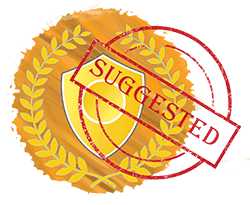 Hiplok Superbright with the Original (Silver) safety rating costs just under $90. We believe that's a fair price considering what you get for it.
The rule of thumb is to spend at least 10% of your bike's value on protection, and we'd feel more than at ease to lock a $1,000+ bike with Hiplok Superbright.
Hiplok Superbright is robust and massive but provides a good way to carry the lock around with comfort and ease. We like it!
Apart from safety, you also get a wearable design that will definitely make your life easier if you commute on a daily basis.
There are no comments yet, add one below.