A fixed-gear bicycle is the simplest, purest, and oldest way of cycling. It eliminates all redundancies and puts the ultimate focus on the bike and the riding experience.
Fixed-gear bicycles date back to the 19th century, making them the original predecessor to the huge variety of bicycles we have today. Though dated, this cycling dinosaur has made a comeback in recent years through a renaissance of fixed-gear riding.
Why are there so many fans of fixies nowadays? Because riding fixed-gear means becoming one with the drivetrain, putting aside all distractions, and focusing only on the rotation of the pedals. Simplified maintenance, ease-of-use, and affordability are additional advantages that draw cyclists to these rudimentary machines.
Take a look at our selection of the best fixed-gear bikes below and read in-depth reviews to find the model that suits your needs the most.
What Is a Fixed-Gear Bike?
Fixed-gear bicycles (also known as fixies) are single-speed bikes that lack the freewheel mechanism. Instead, the rear cog is fixed to the wheel and cannot rotate independently. Therefore, whenever the wheel is rotating the pedals will be rotating as well.
Since the rear cog is directly tied to the motion of the pedals, that means that you can pedal both forward and backward. However, unlike on regular single-speed and geared bikes, you cannot coast on fixies. As long as the wheel is turning, you have to keep pedaling as well.
---
Best Fixed Gear Bikes
---
Priority Ace
Best Fixed Gear Bike
Frame: Aluminum | Hub: Flip-Flop | Tire Size: 700 x 28 | Extra: Carbon Drive Belt
Priority Ace is the best fixed-gear bike with a flip-flop hub and a carbon drive belt that's not common on fixies. It's made with a lightweight aluminum frame and comes in two builds—Ace of Clubs and Ace of Spades.
Ace of Clubs is the cheaper of the two and features a steel fork, alloy seat post, and loose ball bearings in the hub. The Ace of Spades model instead comes with a carbon fork, carbon seat post, and sealed hub bearings.
Priority Ace is an affordable, low-maintenance fixie with a flip-flop hub that's excellent for commutes or casual rides.
However, both builds have dual-pivot front and rear brakes, WTB ThickSlick 700c x 28mm tires, a kickstand, and a flip-flop hub to ride fixed or single-speed.
For more information, see our review of Priority bikes.
The main selling point is the carbon belt drive that keeps maintenance requirements to the minimum, as well as the clean looks. This is a great choice for commuters and fitness riders who want to pedal every day or cruise on the weekends.
Electra Cruiser 1
Best Comfort Features
Frame: Steel | Hub: Freewheel | Tire Size: 26 x 2.125 | Extra: Flat Foot Technology
Electra Cruiser 1 is built for comfort. This single-speed cruiser bicycle has a long list of features that will make your riding experience more pleasurable.
First of all, its cruiser-style steel frame incorporates Electra's Flat Foot Technology. It moves the pedals in front of the seatpost, puts you in an upright riding position, and gives you more stability. Moreover, this is a step-over frame, so mounting and dismounting the bike is a breeze.
If you're a laid-back person, you need a laid-back bike such as Electra Cruiser 1.
It's worth noting that this is not a fixed-gear bike, as it comes with a freewheel. However, its single-speed drivetrain is simple to use and the coaster brake is intuitively straightforward.
Comfort is at the forefront of priorities, so this bike has smooth 26″ x 2.125″ balloon tires and a wide saddle with elastomer springs.
Related: Electra Bikes
To sum, Electra Cruiser 1 is built to be enjoyed. So kick back, grab the sweptback handlebar, and go for a casual ride down the beach to get a dose of vitamin N(ature).
P3 Cycles Track
Most Simplistic Fixie Design
Frame: Aluminum | Hub: Flip-Flop | Tire Size: 700 x 25 | Extra: Mustache Bar
P3 Cycles Track gives you a trendy fixie design with deep wheels and an attractive paint job. It's a modern single-speed/fixie commuter bike that delivers a high-quality build at an affordable price.
This best fixed gear bike makes cycling simple thanks to its minimalistic approach without any gears or derailleurs. All you get is a single-speed/fixie drivetrain, a good-old coaster brake, and front and rear rim brakes.
P3 Cycles Track is simplistic yet trendy, as well as comfortable yet nimble and speedy.
The track-style frame is made of aluminum, as is the fork. If you want more than the bare bones, you can fit fenders and a water bottle. The top feature is definitely the mustache handlebar that will put you in a relaxed, upright position that you can maintain for hours, even if you work as a full-time bike messenger.
In combination with 700c x 25mm tires, the aluminum frame feels comfortable and fast, so the bike justifies its name—Track racer. Use it to get to work, ride to the gym, cruise along bike paths, or just show off on the weekends.
Golden Cycles
Most Vibrant Fixed Gear Bike
Frame: Steel | Hub: Flip-Flop | Tire Size: 700 x 25 | Extra: 45mm Deep Rims
The Golden Cycles fixie bike is an affordable and attractive choice with all the bells and whistles you could ask for. It's built around a comfortable and durable steel frame with a steel fork that's available in more than ten color combinations.
The most eye-catching feature is definitely the 45mm deep alloy wheels painted in different colors depending on the model. They look fast and roll smoothly thanks to the thin and sleek 700c x 25mm road tires.
The Golden Cycles fixed-gear bike has track geometry, modern looks, and deep section wheels so it rides fast and looks neat.
This Golden Cycles model has a flip-flop hub that lets you conveniently switch between fixed-gear riding and freewheeling. You also get front and rear rim brakes, in addition to the coaster brake when riding with the freewheel.
If you live in a busy city, this is an ideal bicycle for you because of the narrow riser bars. Thanks to these, you'll have a good overview of the road ahead and be able to squeeze through tight traffic, if that's your thing. As far as fixed gear bikes go this is excellent.
Ride it fast and have fun, skid, or equip it with accessories to commute year-round.
6KU Aluminum Fixed-Gear
One Of The Best Fixie Bikes
Frame: Aluminum | Hub: Flip-Flop | Tire Size: 700 x 25 | Extra: Weighs 21 lbs.
The 6KU Aluminum Fixed-Gear bike is inspired by track racing but built to be ridden every day. Due to its aluminum frame and fork, this is the lightest fixie on this list, weighing just 21 lbs. That's quite impressive for a bicycle that costs well under $500.
Apart from the lightweight frame, this 6KU fixie also features 30 mm deep wheels and 700 x 25mm tires that are super-fast on smooth city roads.
The 6KU Aluminum Fixed-Gear Bike is available in six sizes (47cm–61cm) and fits riders between 4'10" and 6'6″ tall, so you should easily find the right fit.
You can ride fixed or with a freewheel by turning the wheel around thanks to the flip-flop hub. Either way, the bike is 100% road legal as it comes with front and rear rim brakes that will stop you on a dime if need be.
If you want a high-quality daily rider that's lightweight and fast, this is an excellent choice. You can easily carry it upstairs and the black paint job is stealthy so it won't attract unwanted attention.
Schwinn Stites
Best Everyday Urban Bike

Frame: Steel | Hub: Flip-Flop |Tire Size: 700 x 28 | Extra: Comfy Riser Bars
Schwinn Stites has everything you wanted in a simple fixie bike. Track-inspired steel frame? Check. Deep V wheels? Check. Flip-flop hub? Check. Streamlined urban look? Check.
Stites is an agile bike with a 46T chainring and an 18T rear cog. The gearing is not too hard, so you won't have to mash the pedals up the slightest change of gradient.
Schwinn Stites is the go-to choice for riders who love fixies but are not ready to give up the perks of comfortable and relaxed riding.
Depending on your preference, you can use the flip-flop hub to ride this bike with a fixed cog or a freewheel. Either way, you'll feel comfortable thanks to the Schwinn urban seat and grips and the convenient riser bars.
This bargain urban track racer also gets front and rear brakes, deep V wheels, and versatile tires that can easily deal with imperfect city streets.
Schwinn Stites is a well-built fixie that's available for the price of a decent pair of cycling glasses, so it's definitely worth the money.
State Bicycle Co. – Wulf
Best Retro Look
Frame: Steel | Hub: Flip-Flop |Tire Size: 700 x 25 | Extra: Old-School Cool
State Bicycle Co. Wulf is a super-affordable fixie bike for newcomers, yet it has all the bells and whistles you could ask for. This steel fixed-gear bike has a retro appearance, it comes in matt black and is completely customizable.
The old-school retro design gives off the "aesthetic bike" vibes and will leave others looking at your bike in awe. The Wulf has been given a beautiful stealthy look and every part on the bike matches its design.
State Bicycle Co.'s Wulf is one of the coolest budget-friendly fixies out there, perfect for commuting, cruising, or making a statement.
The Wulf has a flip-flop hub and front and rear rim brakes as well, so it's practical for commuting, fitness riding, or just casual zooming around your neighborhood.
This bike rolls on puncture-resistant road tires. You'll be pretty comfortable on your daily commutes thanks to the steel frame and fork.
If you like the old-school cool, you'll love cruising on the Wulf.
Consider Also: Retrospec Harper
---
How to Choose the Best Fixie?
Best Fixed-gear bikes look cool and most of them appear to be quite similar, but there are some crucial differences between the individual models.
When shopping around for your next fixie, the most important features to consider include:
Frame
Gearing
Brakes
Tires
Comfort
These are all points that could make it or break it for your style of riding. Most fixed-gear bikes have steel track-style frames which are very comfortable, but quite heavy. If you plan to carry your bike upstairs to your apartment, consider getting a lighter frame made from aluminum or even carbon.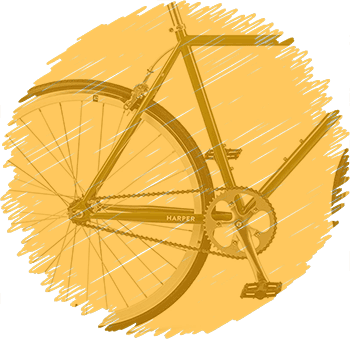 Even though fixies have just one gear, the gear ratio is not the same on all models. The best way to find the perfect gear for your needs is to think about it in gear inches. The lower the gear inches measurement, the easier it will be to pedal.
Next, all best fixed-bikes feature coaster brakes which are fun but not very practical. If you don't intend to ride like a daredevil all the time, you should look for a model with hand brakes as well. You'll improve safety without necessarily increasing the price.
When it comes to the tires, 700C is the standard diameter in the fixed-gear world. Most models come with 25mm or 28mm tires, which are fast and sleek. If you value comfort more, you can swap them for 30+ mm tires, if the frame clearance allows it.
Finally, if you plan to commute every day, consider comfort features such as the saddle, handlebars, and grips. These will make a huge difference and allow you to spend more time on the bike, without pains and aches.
Looking for more options? Take a look at our best single speed bikes.
FAQ
There are no comments yet, add one below.