On the outside, best single-speed and fixie bikes look pretty much the same. They both have a 1x crankset and one rear cog. However, there's an important difference between the two.
Single-speed bikes have a freewheel, so the cog is only turning when you are spinning the pedals, and the pedals do not spin along with the rear wheel. You can stop pedaling whenever you want and just coast.
If you don't know what these are, then read on to find out more.
Single Speed Bikes In a Nutshell
Single Speed bikes are unique because they feature only one gear with a freewheel mechanism to keep moving without pedaling. Coasting downhill is easy on a single-speed bike because the freewheel keeps rotating independently of your pedals. This means they don't have any gear shifters, front or rear mechanisms, or gear cables, making their design very simple compared to other bikes.
You can comfortably focus on enjoying your ride instead of worrying about shifting gears. Single Speed bikes have become popular for recreational and professional bikers because they are low maintenance and real fun to ride.
They are simple to operate, and coasting allows you to relax, which keeps you on your saddle longer.
On the single-speed bike, you get a freewheel cog that rotates independently of the pedal motion.
---
Rad Power Bikes RadMission 1
Winner! Best Single-Speed E-Bike w/ Disc Brakes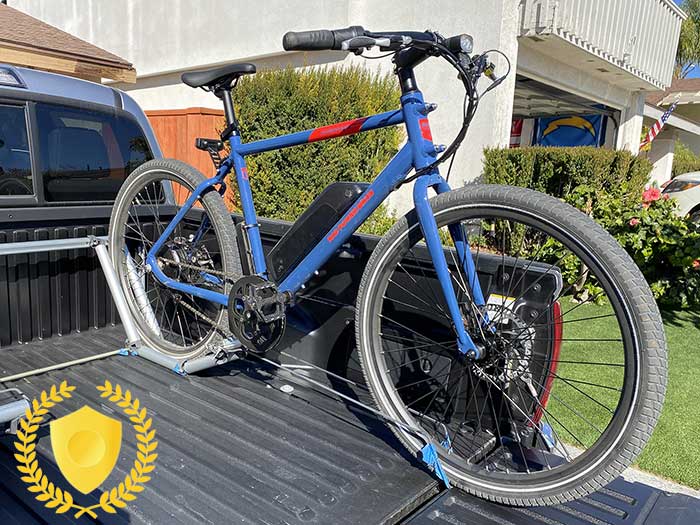 MSRP: $1,199
Rad Power Bikes is a relatively new USA-based brand that specializes in making affordable, attractive and easy-to-use electric bicycles. The RadMission 1 model stands out as a simple, single-speed commuter with powerful electronics and handy accessories.
Top Features:
500W geared rear hub motor
672Wh removable battery
Bright front and rear lights
Mechanical disc brakes
Wide multi-surface tires
RadMission is by far the best-equipped bike on this list, which is a bit surprising as it costs only $1,099. Even though it is built for paved roads and city streets, this bike can also be ridden on hardpacked gravel and dirt roads.
Rad Power Bikes is known for not holding back when it comes to equipping its bikes with accessories and useful features. Though RadMission is made to be simple, it still has bright front and rear lights, a kickstand, and numerous eyelets to fit front and rear racks, fenders, and a water bottle cage.
The 500W rear hub motor is operated with a throttle and four pedal-assist levels. The maximum assisted speed is 20 MPH and the 672Wh battery provides a range of 45+ miles, depending on how you ride.
RadMission has a simple single-speed drivetrain and powerful mechanical disc brakes. Therefore, you don't need to be wary of really cranking up the speed when you're in a hurry.
A few other notable features include an LED control panel, lightweight design, and versatile 27.5″ x 1.95″ Kenda Kontact tires with puncture protection and reflective sidewalls.
Get this bike if you have a limited budget but you want to get some help uphill and enjoy riding every day without breaking a sweat.
Ride1UP Roadster v2
Second! Best Affordable Single-Speed E-Bike
MSRP: $1,095
The Ride1UP Roadster V2 is one of the most expensive models on our list, but it is well worth the money. It is a stylish and fast single-speed e-bike that can be used for daily commutes or leisure rides. Apart from the electric components, this bike also has a carbon belt drive which makes maintenance a breeze.
Top Features:
350W geared rear hub motor
Fully integrated 250Wh battery
Carbon drive belt
Front and rear brakes
Lightweight aluminum frame
Our full review of Ride1UP bikes
Ride1UP Roadster is one of the best single-speed e-bikes out there because of its low price, integrated electronics, and low-maintenance components.
Ride1UP is an emerging USA-based brand that aims to make e-bikes more accessible to the general public. This model costs just $1,095 and offers decent pedal-assistance capabilities to help you ride faster and longer.
Ride1UP Roadster packs a 350W Shengyi geared motor in the rear hub and a 250Wh battery integrated into the down tube. You can control the motor with five pedal-assist levels that are dosed with a cadence sensor. Unlike other bikes in this price range, Roadster has a backlit LCD display that shows all the important info.
This bike comes with Kenda Kwest tires that are 28 mm wide, so they can go quite fast on smooth city streets. For stopping, you get a pair of dual caliper rim brakes that have more than sufficient power to bring you to a stop.
The reason why this is one of the best single-speed e-bikes is that it comes with a carbon belt drive instead of a chain. Carbon belts are much more durable than chains and require almost zero maintenance.
If you're not worried about spending a bit more to get the best of the best in terms of performance and quality, the Ride1UP Roadster will help you go fast and ride long.
Priority Ace
Best Fitness Single-Speed
MSRP: $499–$799
Priority is an aspiring bicycle manufacturer that builds premium maintenance-free commuter bikes. Luckily for us, it decided to enter the fixie playground as well. Its entry ticket is the Priority Ace, which is an affordable fixed/single-speed bike available in two builds. It has an all-black color scheme and four sizes to pick from.
Top Features:
Aluminum frame with steel or carbon fork
Carbon belt drive
Front and rear brakes
Comfortable 700 x 28c tires
Two builds: Ace of Clubs & Ace of Spades
Priority Ace is not an ordinary fixie. It is one of the best single-speed bikes for fitness riders who love riding but hate complicated maintenance.
Depending on your budget and your preferences, you can get the cheaper Ace of Clubs or the more expensive and better-equipped Ace of Spades.
Priority's Lightweight Aluminum frame is built to be fast but also to put you in a comfortable riding position. The Ace of Clubs features a cromoly fork, whereas the Ace of Spades comes with a stiff carbon fork.
To make the long rides possible, you have numerous bosses that you can use to fit this bike with a rear rack and two water bottle cages. No need to carry your stuff in a backpack and soak your shirt in sweat.
Priority Ace also has a flip-flop hub, a carbon drive belt, front and rear brakes, and WTB ThickSlick 700x28mm tires. All of these features come together to make this bike a viable everyday commuter even for inexperienced riders.
The main takeaway is that Priority Ace is for those who have a tight budget but want a maintenance-free bike from a reputable manufacturer.
Avasta Single Speed Commuter
Best Retro-Style
The Avasta is the perfect single-speed/fixed-gear bike for riders who cherish the old times. This is a simple retro-style bicycle with a flip-flop hub, brakes, and numerous stand-out details.
Top Features:
Premium steel frame
40mm deep V-rims
Front and rear brakes
Comes with a toolkit required for maintenance
The Avasta is our favorite retro model on this list. We like the pure grey color, but the other two colors are sleek as well, even though they are a bit more modern. Whichever you choose, it will come with a high-quality steel frame that's compliant and very strong.
The Avasta is a 1speeder with an everlasting design that our grandpa would have picked in the store without any second-thoughts.
The Avasta comes with old-school riser bars and comfy grips. The saddle is quite plush as well, so your bum won't be sore after a day's worth of commuting or riding around the city with your friends.
It also has deep-section rims so it can be pretty fast when you want it to. Of course, that depends on your legs. You can easily switch between a fixed and a free cog thanks to the flip-flop hub so you can choose your style of riding.
Most importantly, the Avasta comes with a toolkit that you can use to maintain it, even though maintenance is ridiculously easy.
Get it if you want a cheap, reliable, and stylish option.
State Bicycle 4130
Best with Drop Bars
If you are looking for a single-speed bike with drop bars that will give you a performance boost and a recognizable classic look, State Bicycle Co. is our recommendation.
Their 4130 line is unique in different senses. This is a fixie/freewheel single-speed bike made from the double-butted 4130-grade Chromoly steel that's known to be both extra-durable and decently lightweight for this type of material.
We love the fact it has brakes on the front for stopping without using the coaster option. The paint job looks sleek and would be excellent for city or countryside riding.
State Bicycle Co's single speed bikes can be ordered in 11 unique and attractive colors and the frame is available in six sizes, which is remarkable in terms of freedom of choice.
Top Features:
Double-butted 4130-grade Chromoly steel
Attractive colors and six sizes
Drop bars
Front and rear caliper brakes
Internal cable routing
This bike comes with both front and rear rim brakes, which is a big plus in terms of safety. Some fixie purists might not like that, but it is becoming law in many countries now.
For those of you who are wondering, 4130 line's single-speed models come with a flip-flop hub. You can easily flip the wheel and switch between the fixed and freewheel cog. The frame has horizontal dropouts, so you can always easily adjust the chain tension properly. As with all other bikes, make sure that the bolts are tight.
If you're not obsessed with the minimalist look, it's good to know that this State Bicycle Co. model has numerous eyelets. These will allow you to mount a rear rack and a water bottle, so you can ride longer and carry more stuff.
This bike is also seriously fast. Thanks to its drop bars, you can be in a more aerodynamic position and glide through the air more smoothly. This bike is the closest to a single-speed road bike on this list (looks and speed-wise).
Consider Also: 4130 All-Road
So, if you want the best entry-level single-speed bike to ride in the drops, State Bicycle Co. 4130 single-speed options are attractive and surprisingly affordable.
P3 Cycles Track
Cheapest Option
Are you looking to spend the least amount of money on your single-speed/fixie bike? Then P3 Cycles Trak Bike is just the machine you're looking for. For around $350, you'll get a good-looking and quality-built bike, and you'll still have plenty of money left to end your rides with a cold beer.
Top Features:
Durable aluminum frame and fork
Sleek 700 x 25mm tires
Comfortable Mustache handlebar
Front and rear rim brakes
Three colors
P3 Cycles makes some of the best fixie bikes for sale and their Track model is one of the best builds they have. The frame is available in three unique colors, all of which are quite retro and elegant. There are only four sizes you can choose from, though, but the bike still fits riders between 4'11" and 6'3″.
The bikes that our fathers and grandfathers used to ride all had mustache bars. They had them for a good reason. This handlebar type is one of the most comfortable options out there and they also make you look pretty damn cool. That makes it the best fixie for commuting in a suit and tie.
P3 Cycles Track is one of the cheapest single-speed/fixie bikes we could find, which does not mean it is less of a reliable and practical choice.
One of the quirky things about the P3 Cycles Track Bike is its coaster brakes. It's the easiest and the most intuitive way to slow down the bike. Just press the pedals backward and come to a stop. In addition to that, it also has front and rear rim brakes for more secure stopping.
The flip-flop hub lets you easily switch between single-speed and fixie riding, just by turning the wheel around.
P3 Cycles Track is the simplest bike on this list. It has no gears, no derailleurs, no electronics, nothing of that sort. Just raw metal and rubber that guarantee a fun and worry-free ride every time.
Golden Cycles
Best Design Winner
Have you ever seen those daredevil bike messengers crushing it on the streets of New York and other big cities? Many of them ride bikes like this Golden Cycles. This is a bike that looks ridiculously good, rides fast, and is super-easy to maintain.
Golden Cycles is one of the best single-speed (and fixed gear!) bikes for those who want to go fast and who cherish a clean and modern look.
Top Features:
High-tempered steel frame.
Traditional track geometry.
Front and rear rim brakes.
45 mm deep rims
Flip-flop hub
This Golden Cycles fixie is inspired by track racing but comes with a modern twist that makes it suitable to be ridden on city streets. It's a great choice as a fast commuter or an everyday bike to ride instead of a car or public transport.
The biggest highlight on this Golden Cycles model is definitely the design and paint job. The frame is painted white and the golden rims provide a beautiful contrast. Check out other colorways as well, as this brand doesn't hold back when it comes to the wow factor.
However, its deep-section rims also make it stand out. They will improve your aerodynamics, so this bicycle can be seriously fast. Not only that, but they provide a more aggressive look that is recognizable for fixies.
This bike is fast, so it's a good thing that comes with front and rear rim brakes. You can still use the coaster brake, but it's always a plus to have a plan B.
Golden Cycles is equipped with a flip-flop hub, allowing you to ride fixed or freewheel, and features comfortable riser handlebars. It's an excellent choice at this price point.
Priority Brilliant L Train
Best Single/Fixed-Looking Geared Bike (with a Belt)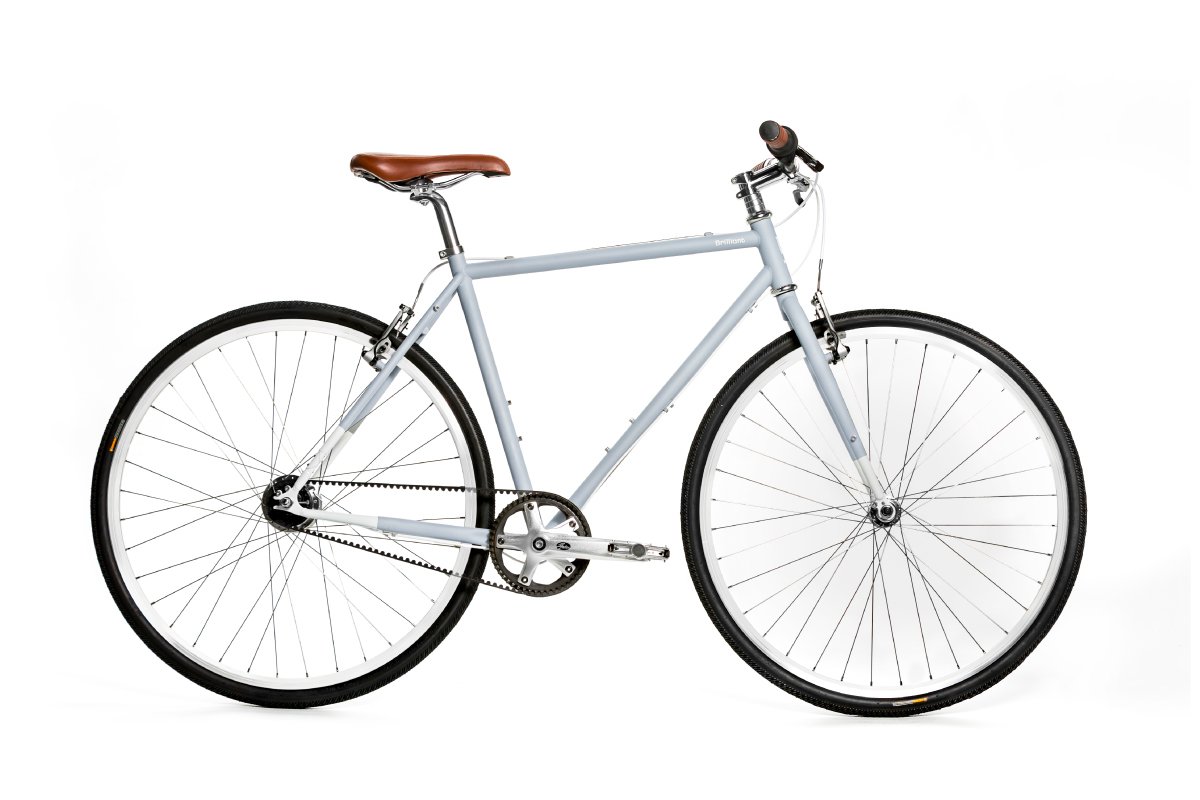 MSRP: $650
Do you really like the minimalist look of single-speed and fixed gear bikes? But you don't really appreciate having just one gear or not being able to coast with a fixed cog? Then the Priority Brilliant L Train is a brilliant compromise made for you. It has a carbon belt and 7 gears, but it looks like a fixie!
Top Features:
Maintenance-free Gates carbon belt
Shimano 7-Speed Internal Hub
Lightweight Chromoly Frame
Front and rear Shimano brakes
Puncture Resistant 32mm tires
We are simply in love with the Brilliant L Train due to how well it mimics a single speed bike. It's sleek and simple, but it's actually packed with quality components.
The Gates carbon belt is a remarkable choice for a day-to-day bike such as the Priority Brilliant L Train, as it requires no maintenance and rides for upwards of 20,000 miles.
Priority Brilliant L Train has 7 gears that are hidden inside the rear hub. This is Shimano's internal hub derailleur that is protected from the elements and requires no maintenance or adjustment. Water, sand, and dirt cannot get inside, so it lasts very long before you need to do any work on it.
The frame is available in three sizes that fit riders between 5'2″ and 6'2″ tall, which is a pretty good range. Two colors are available — Matte Gray and Matte Hudson Blue.
Another feature that will simplify your life is the puncture-resistant tires. They are 32 mm wide so they are quite comfortable as well.
If you want to ride the best belt drive single speed bikes but you're willing to cheat with a few more gears, then Priority Brilliant L Train checks all of your boxes.
6KU Urban Track Bike
Lightweight Aluminum Fixie with Brakes
6KU makes excellent bikes for all kinds of riders. The prices are very affordable and there's an excellent choice of colors, builds, accessories, and so on. The 6KU Urban Track Bike is simple, sleek, and well-built, giving you what you need and eliminating all redundancies.
Top Features:
Lightweight aluminum frame
Two attractive colors
With front and rear brakes
Includes a flip-flop hub
30mm deep aluminum double-wall rims
This is a versatile bike that features a flip-flop hub that will allow you to ride it fixed-gear or freewheel.
6KU Urban Track Bike is known for making sleek, simple, fast, and attractive bicycles that are easy to maintain and are built to be ridden every single day.
The 6KU Urban Track Bike features a streamlined aluminum frame with track geometry that rides fast. The bike comes in two simple colors, black and white, and without any decals or unnecessary details.
The handlebars are slightly raised and quite narrow, so you will be able to move through busy traffic easily and get to your destination right on time.
Moreover, this bike also comes with aerodynamic 30mm double-wall aluminum wheels, which means they are durable and well-built. You can ride it even if you are on the heavier side.
All in all, if you're looking for an affordable and versatile everyday commuter, the 6KU Urban Track Bike is worth giving a shot.
Electra Cruiser
Coolest Design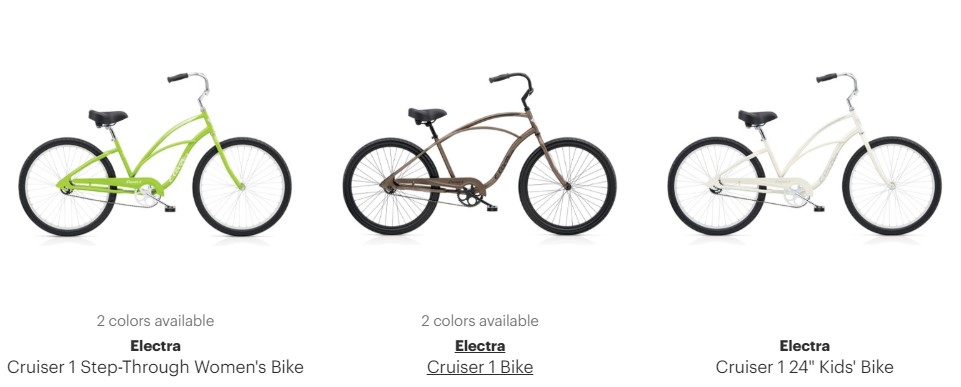 MSRP: $290 – $325
Electra Cruisers are our top pick of all the best single-speed bikes that we've looked at out there. The main reasons are that they have the coolest design and you get the most for your money — very little money, it's important to stress.
These are bikes built for everyday city commuters and experienced riders with comfort on their mind. It will allow you to ride it every day and get a good workout.
Top Features:
Steel frame and fork
Coaster brakes
Different wheel sizes
One-size-fits-all
Many colors and designs
Electra is a simple and straightforward bike built with a high tensile steel frame and a steel fork. Both are fully tig welded, which goes far both in terms of appearance and in terms of strength and durability. This structure is bulletproof. The frame is available in different colors and the selection includes both adult and kids' models.
The handlebar is comfortably swept back and puts the rider in a comfortable riding position. The chainguard will protect you from getting smeared with grease and ruining your pants.
The 26″ rims on adult bikes are wrapped with 2.125″ tires that roll smoothly on tarmac and dirt roads. Kids' models come with either 16″, 20″, or 24″ wheels.
If you want the most bang for your buck in terms of build quality, materials, and looks, Electra Cruisers offer the golden middle of all these characteristics!
FAQ
Final Thoughts
Single-speed bikes are not everyone's first choice, but there is definitely a place for them. These are simple and sleek bicycles that provide a lot in terms of speed and performance but require little in terms of maintenance and upkeep.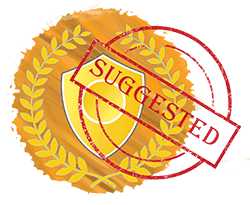 If you're looking for a daily commuter that can replace your car or get you out of public transportation, one of the bikes on this list will make you happy. They're affordable, fun to ride, and some even have electronic components that will help you ride faster and go further.
Let us know what you think about this list and tell us about the single-speed you're riding!
There are no comments yet, add one below.