Rad Power Bikes, a Seattle-based company, makes different kinds of high-quality, yet affordable e-bicycles intended for city riding, off-roading, commuting, and even transporting cargo. They plan on making e-bikes available for everyone.
Ebikes are humanity's best chance to replace gas-gobbling cars and work towards a greener planet. However, their price is a big hindrance. Most electric bikes cost upwards of $3,000, which is enough to buy a decent, used car as well.
Rad Power Bikes
, a Seattle-based e-bike company, is trying to change that. They are focused on making
accessible and practical
everyday electric bikes that cost much less than the market average. To achieve that, they're relying on some clever production and retail solutions.
If you're in the market for an electric bicycle, our Rad Power Bikes review will tell you all you need to know about this affordable company, including an overview of the best models to consider.
A Brief History of Rad Power Bikes
The first baby steps towards establishing Rad Power Bikes were made by Mike Radenbaugh in 2007. At the time, he was a high school student who needed an affordable way to commute to school every day. Therefore, he decided to build his first e-bike. That's what everybody would do, right?
His first bike was made from very rustic components, including lead-acid batteries, a brushless motor, and Tupperware to encase the wiring. However, he was hooked and started making more e-bikes for his friends, family, and neighbors.
In 2015, he finally founded Rad Power Bikes by joining forces with Ty Collins, his childhood friend, and a fellow e-bike enthusiast.
Today, the company is a direct-to-consumer business with an evergrowing number of employees and a lineup of 9 attractive electric bicycles.
Position in the Market: What Do They Offer?
Rad Power Bikes makes motor-assisted and battery-powered bicycles that are constantly developed and improved. Unlike many other companies out there that make both traditional and electric bikes, Rad Power Bikes puts all of their brains and manpower towards the electric market.
Rad Power Bikes is an e-bike-specific company focused on expanding the electric bicycle market and reaching a large number of customers around the world.
At the moment, they offer a total of 10 bikes, but the lineup is regularly updated. Their products are mostly built for commuting and mountain biking, but they are commonly used for leisure and fitness cycling as well.
Why Do Their Bikes Stand Out?
This Rad Power Bikes review will show you that their bikes are not your average e-bike. They stand out from the pack by offering a plethora of unique features that cannot be found anywhere else. These bicycles are utilitarian in nature, which is what makes them competitive. But, there are other important aspects as well:
Direct-to-Consumer Business Model
Low Price
750W Motor
Powerful Batteries
Extra Wide Tires
A Throttle
Practical Design
Rad Power Bikes makes bicycles and then sells them directly to cyclists, which is one way in which they are able to bring the price down. Another one is that they do not have exclusive partnership deals with big names in the industry, such as Shimano, Bosh, or Yamaha. Instead, they work with multiple vendors and build custom drivetrains.
The result is unique ebikes that cost $1,500 on average.
Rad Power Bikes Model Lineup
As we have previously mentioned, Rad Power Bikes has 8 models on offer at the moment. All of them are e-bikes. The lineup includes cargo, folding, commuter, hybrid, fat, and mountain bikes. Therefore, there's something for everyone.
There is also a choice of both step-over and step-through frames, which are ideal for older people to easily get on and start riding.
Check out the individual Rad Power Bikes reviews below!
RadRunner 2 Electric Utility Bike
---
Versatile Model
MSRP: $1,499
FULL REVIEW: RadRunner & RadRunner Plus
RadRunner 2 is one of Rad Power Bikes' most affordable models. It has small and wide 20″ wheels, which makes it a decent city commuter or an everyday workhorse.
Frame material: Aluminum
Tire size: 20″ x 3.3″
Motor: 750W, 80 Nm of torque
Battery capacity: 48V, 14 Ah (672 Wh)
Components: Single-speed
RadRunner 2 can best be described as a simple and fuss-free electric bicycle that can be as versatile as its owners need it to be.
It can serve as a daily commuter or it can be fitted with a plethora of accessories that will extend its functionality and give it much more carrying capacity than it originally has.
When it comes to the majority of components fitted on the RadRunner 2, it is pretty similar to all other bikes in Rad Power Bikes' lineup.
However, this bike differs because it has no rear derailleur since it's a single-speed. Therefore, bike maintenance is much easier.
You can equip it with passenger saddles, a center console, front rack, baskets, panniers, or a child seat.
Therefore, if you want to pay a bit less for your electric bike and add the accessories you need later on, RadRunner 2 is an excellent bang for your buck.
RadRunner 3 Plus – Electric Utility Bike
---
Premium Utility E-Bike Experience
MSRP: $2,499
RadRunner 3 Plus is Rad Power Bikes' more premium and better equipped version of the good old RadRunner 2. This is an eye-catching utility bicycle packed with the newest upgrades and accessories.
Frame material: Aluminum
Tire size: 20″ x 3.3″
Motor: 750W, 80 Nm of torque
Battery capacity: 48V, 14 Ah (672 Wh)
Components: Shimano Acera 7-speed
Brakes: Hydraulic discs
The previous RadRunner Plus was a major success and the new RadRunner 3 Plus should reach the same heights, despite its elevated price tag.
This model comes with Rad Power Bikes' standard 750W motor (with 10% more power and speed when climbing), but it has dual-battery compatibility, so with two 672 Wh batteries you can expect a 100-mile maximum range.
Its big tires and suspension fork make it suitable for both urban and light off-road rides. It will make your commutes more comfortable no matter the terrain.
It also features front and rear lights, 350+ accessory combinations that you can fit on it, hydraulic disc brakes, a 7-speed drivetrain, fenders, and so on.
It's a real head-turner that will cause you to stand out from the pack wherever you go!
RadWagon 4 – Electric Cargo Bike
---
E-Cargo Bike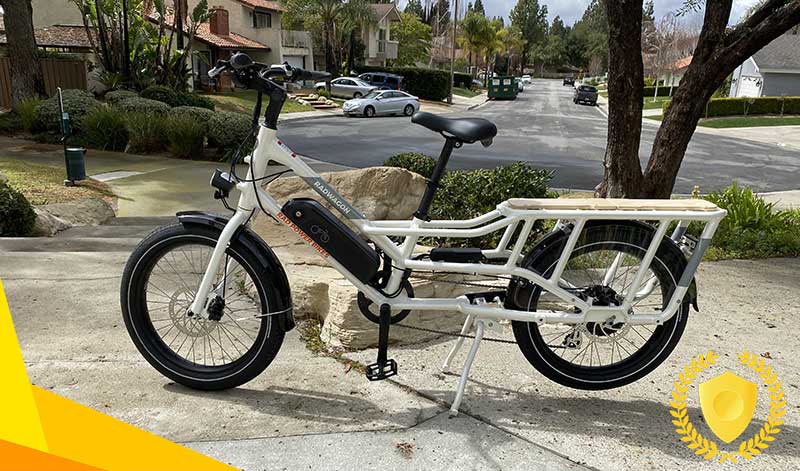 MSRP: $1,999
FULL REVIEW: RadWagon 4
RadWagon 4 is basically a station wagon in the world of electric bicycles. It has a massive frame with a large wheelbase and a huge integrated rear rack that can easily fit two sets of full-size panniers.
Frame material: Aluminum
Tire size: 26″ x 2.3″
Motor: 750W, 40 Nm of torque
Battery capacity: 48V, 14 Ah (672 Wh)
Components: Shimano Altus
If you need an ebike to haul massive loads, take your kids to school, or do weekly grocery shopping, this is the right beast for you. It's built with a durable and strong aluminum frame, a rear hub motor, and a motorcycle-style kickstand for added stability. The only downside is the weight which approaches 70 lbs.
The bike comes rich with various accessories that will make your ride safer, more comfortable, and more practical.
RadWagon 4 is your ideal car replacement. Its extra-long integrated rear rack can fit bike bags or a maxi child seat that can fit two kids at the same time.
The well-known 750W motor can assist you up to 20 mph and the battery provides you with 25-45+ miles of range on one charge.
Rad Power Bikes thought about everything to make the ultimate electric cargo bike!
If you want to learn more about this model, check out our full RadWagon 4 review here.
RadRover 6 Plus
---
All-New Electric Fat-Tire Bike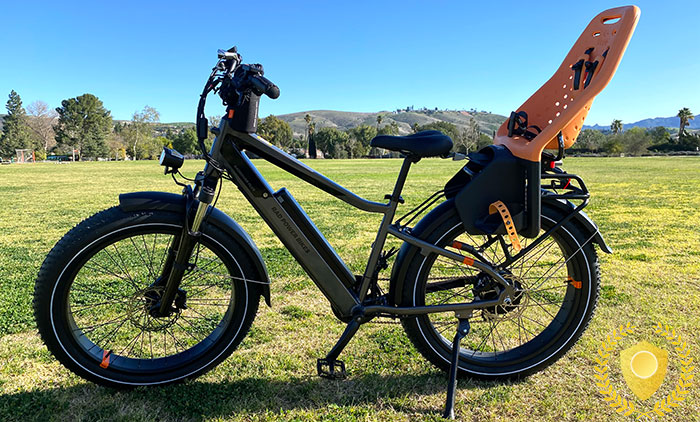 MSRP: $1,999
RadRover 5 was a huge success among outdoorsy Rad Power Bikes fans. The all-new and improved RadRover 6 Plus seems like a worthy heir to that fame.
The new model is built on the same platform, but it has better hydraulic disc brakes, a semi-integrated battery, a more intuitive user interface, and an updated geometry.
Frame material: Aluminum
Tire size: 26″ x 4″
Motor: 750W, 80 Nm of torque
Battery capacity: 48V, 14 Ah (672 Wh)
Components: Shimano Altus
RadRover 5 is a very capable fat-tire e-bike, but it would struggle to keep up with RadRover 6 Plus. The latest model has the same 750W motor, but Rad Power Bikes' engineers have tweaked it to deliver even more oomph and power, especially when climbing.
The 48V 14Ah 672Wh battery has undergone a complete revamp and now sits inside the downtube.
One of the most important improvements is the hydraulic disc brakes, which makes RadRover 6 Plus the first Rad Power Bikes model to boast this feature.
All other features you're used to having on RadRover 5 are still here, such as a 7-speed drivetrain, 60mm front suspension, battery-powered lights, fenders, 26″ x 4″ tires, and a handy kickstand.
All of these improvements can be yours for a $300 upcharge compared to the previous model!
RadExpand 5
---
Best Electric Folding Bike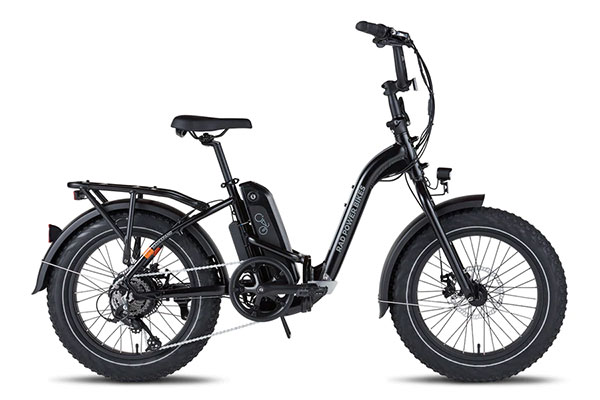 MSRP: $1,599
Full Review: RadExpand
Rad Power Bikes' RadExpand 5 is the lighter, adjustable, and more comfortable version of the RadMini, while also providing a stronger and more stable ride. The RadExpand is a folding electric bike with 20″ wheels, just like the RadMini, but this with all-terrain tires that are nearly an inch wider than the RadMini.
Frame material: Aluminum
Tire size: 20″ x 4.0″
Motor: 750W, rear hub
Battery capacity: 48V, 14 Ah (672 Wh)
Components: MicroShift 7-speed
The RadExpand 5 has a 6061 aluminum frame with adjustable handlebars (not included on the RadMini) that you can use to customize your ride.
RadExpand 5 is perfect for not only commuting, but also all-terrain riding and rough road riding. You can jump on the RadExpand and head for the train, then fold up your bike for the trip, and make it to work without ever breaking a sweat.
The RadExpand 5 features a steel rigid fork which might not be as forgiving as the RadMini's spring fork, but it is significantly lighter.
While the small foldable electric bike in the RadMini 4 is a great buy, the RadExpand 5 adds another level of customizable comfort and overall capabilities with its wider tires and all-terrain design.
RadCity 5 Plus
---
Upgraded City Commuter Bike

MSRP: $1,999
The new and improved RadCity 5 Plus is finally here. It boasts more range, better brakes, an upgraded motor, a more comfortable frame, and better stability and user experience. The design has also been revamped, giving RadCity 5 Plus clean lines and a modern look that stands out.
Frame material: Aluminum
Tire size: 27.5 x 2.0″
Motor: 750W
Battery capacity: 48V, 14 Ah (672Wh)
Components: Shimano Altus
The newest iteration of RadCity has a lot in common with the previous models but sports numerous improvements.
The battery has the same capacity as before (672Wh), but it is now semi-integrated into the frame, comes with a 10-level LED charge indicator, and offers 11% more range thanks to better tires.
The 750W brushless geared rear hub motor has also been revamped, so expect 40% more power and higher speeds when climbing steep hills.
RadCity 5 Plus offers loads of value to any urban commuter thanks to an improved range, a more powerful motor, better brakes, and a stable and modern-looking frame.
With these upgrades, Rad Power Bikes has transformed RadCity into an even more practical urban commuter bike, suitable for different types of riders and terrains.
RadTrike – Electric Tricycle
---
RadTrike is the newest addition to the Rad Power Bikes lineup. As the name hints, this is an electric tricycle.
Frame material: Aluminum
Tire size: 18″ x 2.25″
Motor: 750W
Battery capacity: 480 Wh
Components: unspecified
Like all Rad Power Bikes' models, this electric tricycle is powered by powerful electronics. With a promised range of 20-55 miles, no destination remains unreachable.
The three-wheeled design makes it perfect for people who struggle with balance, or are just looking for more comfort.
RadTrike uses a single-speed drivetrain, which is easy to operate.
Front wheel operates a mechanical disc brake, but the rear wheels use a coaster brake as a stopping mechanism.
The RadTrike combines sleek looks with quality and practicality – this bike will pay for itself.
---
Assembly Required: A Few Tips
Rad Power Bikes' direct-to-consumer business model includes shipping costs; however, the assembly part is on the customer.
If you've assembled bikes before, then you will have no issues with putting the bike together and going out on the road in less than an hour. If it's your first time, you might need some help.
Included in the box is a toolkit of all the tools you will need to assemble the bike, such as different hex wrenches and a screwdriver.
If you don't know where to begin but you're willing to give it a try, check out Rad Power Bikes' YouTube channel for extremely useful assembly videos, available for every model they make.
Basically, all you need to do is assemble the stem and handlebar, attach the front wheel and the pedals, add any accessories that come with the bike, and adjust the brakes and the gears.
If you think that's more than you can handle, Rad Power Bikes has a partnership with Velofix which operates in most North American cities and can assemble your bike at your home for a $199 fee.
Related: Things To Consider Before Buying An E-Bike
Rad Power Bikes Accessories
If you need to extend the practicality of your bike, there's no need to hunt down accessories in random online bike shops and try to figure out whether or not they will fit. You can get all of the accessories you need on Rad Power Bikes website.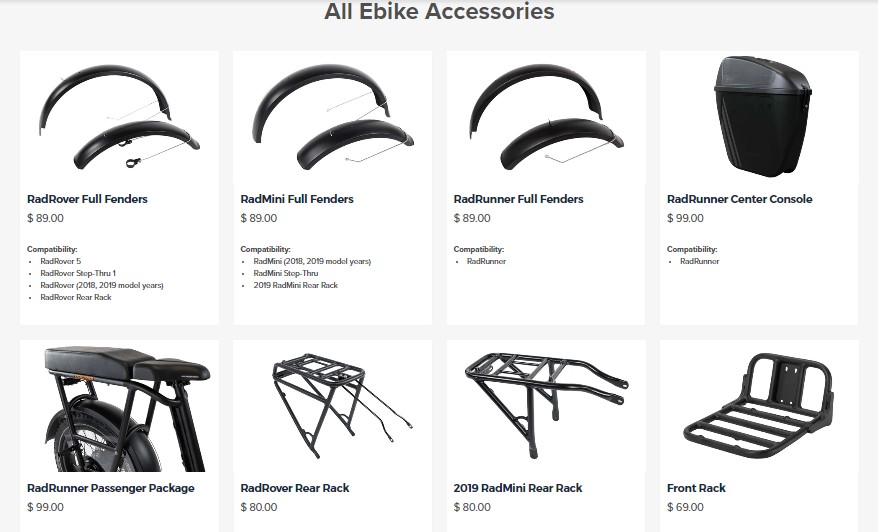 The Rad Power Bikes Accessories/Parts section on the site includes:
Fenders
Front and Rear Racks
Locks
Pannier Bags
Helmets
Displays
…and many other interesting extras as well, that will boost the functionality of your bike.
This section also includes replacement parts such as battery packs, chargers, tires, tubes, brake pads, grips, saddles, and more. These are all parts that are subject to wear and tear, so it's definitely something to keep in mind.
Electric Bikes Are Booming Worldwide!
Just a decade ago, e-bikes were considered to be another one of the passing cycling fads that come and go in a short period of time.
However, it is now more than obvious that electric bicycles are here to stay. That is why their electric bikes are extremely popular and competitive on the cycling market.
Other manufacturers are getting on the bandwagon as well. Rob Roskopp, one of the founders of Santa Cruz bikes, said in a Pinkbike interview that he believes in five years, 50% of the models in Santa Cruz's catalog will have a motor in them. That's huge.
Therefore, Rad Power Bikes are a great choice for anyone who wants to make their commute to work or school easier, continue riding past old age, or overcome pesky injuries.
They're also a great choice for those who want an e-bike, but do not want to break the bank by shelling out $4,000 and then eating noodles three times a day for the rest of the year.
FAQ
Here are the answers to the most frequently asked questions we get regarding Rad Power Bikes.