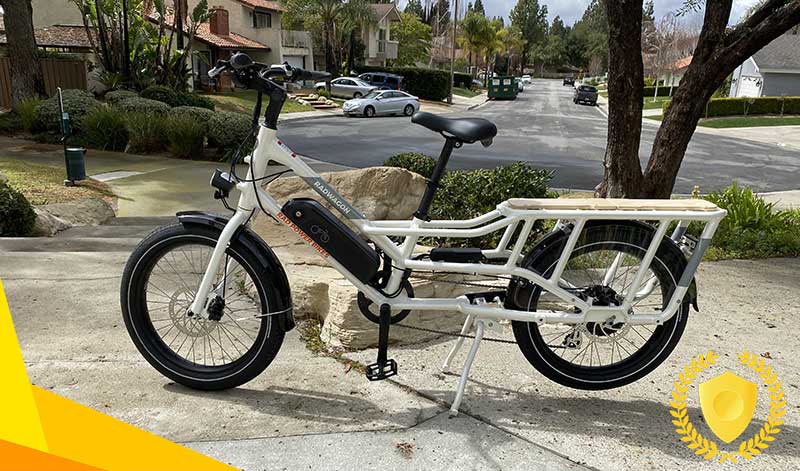 The Rad Power Bikes RadWagon 4 Electric Cargo Bike has the potential to replace your car without reducing you to a pile of misery, lactic acid, and sweat. It's one of the most capable e-cargo bikes we've ridden so far.
Did you know that car trips of under a mile add up to more than 10 billion miles a year? To put that into perspective, that would be the same as the entire population of Chicago driving to Las Vegas and back!
However, such short trips (as well as longer ones) can easily be substituted with an e-bike such as RadWagon 4. The benefits include saving tons of money on gas and maintenance, as well as saving time on looking for a parking spot.
If you're still skeptical, read our review to find out why this $1,899 electric cargo bicycle stands out from the bunch and why it's an excellent replacement for your car!
A Thorough Look at RadWagon 4's Main Specs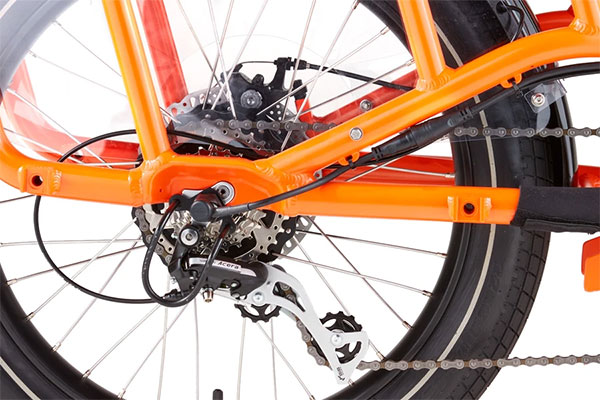 RadWagon 4 is an e-cargo bicycle that comes with numerous clever technological and practical solutions. When it was first introduced, it sold for a bit more but the company managed to lower its price in the meantime by making it simpler and more efficient. It now costs just $1,900 and offers amazing value for your money.
It has a step-through design and an integrated rear rack that can be fitted with numerous accessories. The rack also includes bag holders that double up as footrests when you're riding your kids or friends around.
The bike comes with a 7-speed drivetrain with a Shimano Acera rear derailleur, which is an entry-level groupset. Having a range of gears to choose from really makes it easier to climb hills. Plus, it improves the pedal-assistance experience since this bike comes with a cadence sensor.
The Tektro Aries mechanical disc brakes clench 180 mm rotors both on the front and on the back and are quite good at it. I was able to adjust them easily and felt confident braking even when the bike was fully loaded.
Weight and Weight Capacity
Due to its oversized build, the entire bike weighs 76.7 lbs, which sounds heavy, but remember that this is a cargo bike after all. It has a total payload capacity of 350 lbs, whereas the integrated rear rack has a 120 lbs carrying capacity. That's enough for the rider, two kids or one adult passenger, and some cargo. Or only the rider and loads of cargo, it's up to you.
The fork is made from steel which is necessary to make the construction stronger. Steel also has some vibration dampening properties, so it will make your rides smoother and more comfortable as a result. The fork does not have any mounting points, but you can attach a specially designed front rack to the headtube and improve this bike's carrying ability.
In terms of components, RadWagon 4 does not offer anything too flashy. Still, having in mind that this is a budget e-cargo bike, the value for the money is high.
When it comes to sizing, this is a one-size-fits-all frame suitable for riders between 5'1″ and 6'4″ tall, with 28-34.5″ inseams. You can adjust the fit to your needs by changing the position of the handlebar and the saddle.
Lights and Tires
It also comes with integrated front and rear lights powered by the battery. The lights are continuously on when you're riding, whereas the rear light also works as a brake light. The headlight is sufficiently bright to illuminate the road in front of you far ahead. In addition to these, the tires have reflective sidewalls, so you will be easily seen from all sides at night.
The bike rides on custom 22″ x 3″ tires, which are as wide as on fat bikes. However, these tires are not too knobby, which makes them ideal for paved surfaces.
They are extra-durable as well since they feature a puncture-resistant liner. It will prevent the tire from getting flats, so you don't really need to carry a patch kit with you everywhere you go.
The previous model came with 26″ wheels, but Rad Power Bikes opted for the 22″ diameter on this model. It lowers the bike's center of gravity making it more stable and also makes it easier to load and unload the bike with heavy stuff.
Related: Full Overview of Rad Power Bikes
Powerful Motor
The absolute highlights on the RadWagon 4 are the motor and the battery. They're extra strong and durable, which is necessary on a bike that's designed to haul 350 lbs (160 kg) and maintain pedal-assist speeds of up to 20 mph.
The 750W geared hub motor develops 80 Nm of torque and has plenty of power. You can easily climb hills even when fully loaded, especially if you shift to a low gear. I tested the bike up a few 5-6% hills, and I easily made it over, though I wasn't able to maintain the maximum 20 MPH speed.
This rear hub motor can be operated in two pedal-assist and throttle modes, which makes this a Class 2 e-bike. The pedal assist mode has 5 levels, plus walking mode, which gives you plenty of choices.
RadWagon 4 is one of the rare e-cargo bikes that can be ridden in both pedal-assist and throttle modes, which makes it especially interesting and desirable.
The throttle is located on the right side of the handlebar and can be turned on or off with a simple switch located next to it. Therefore, you can eliminate the risk that you will engage it by accident.
All electronics are fully sealed and waterproof, so you can feel free to ride it while it's raining without worrying about any components.
Long Battery Life
Another highlight on this bike is the 48V, 14 Ah (672 Wh) battery, rated for 800 charge cycles. That's a lot in terms of durability and longevity. This capacity translates to a range of 25 to 45+ miles, depending on how much assistance you require. If you rely on the throttle too much, expect a range of around 25 miles. But if you stick to PA levels 1-3, I think you can easily extend the range to 45 miles.
The battery comes with a lock and a key, so you can easily remove it or lock it and leave it on the bike. There's also a wide and clear LCD display mounted on the handlebar which will show you all the important stats such as speed, distance, battery level, time, level of assist, and so on.
The LCD display also features a USB charging port, which is a very handy feature. I used it to keep my smartphone and other electronics charged at all times. Additionally, you can use it to install a supplementary USB-powered headlight on the handlebar for even better visibility.
Accessories and Cargo Hauling
RadWagon 4's main selling points are definitely the accessories it comes with. I love that it's jam-packed with features that made my days easier while I was testing it.
The stock accessories include front and rear fenders and a double-legged kickstand. It will keep the bike centered when you park it even when it is fully loaded.
The bike also comes with a wheel skirt on the rear wheel, which will protect the passengers from the moving wheel.
This bike also features a telescoping seat post with a 375mm maximum length, as well as an adjustable stem with an 80-degree angle. This really helped me to find the right fit and feel comfortable while riding. The package also includes a wooden deck on the integrated rear rack that can be equipped further with more accessories.
RadWagon 4 can be fitted with different types of front and rear racks, baskets, panniers, kids seats, plushy passenger seats, handrails, and a lot more.
That allows you to customize the bike to fit your specific needs, which is something I really like. I'm sure future owners will appreciate it as well.
With all the available accessories, you can specialize this bike to perform different tasks. You can make it as comfortable and as practical for riding your kids to school. You can optimize it for running errands around the city and carrying incredible amounts of cargo.
Or you can equip it to go on long family rides and picnics while carrying one or two children and all the necessary food, toys, and equipment, which was my favorite way of using it.
See More: Best Cargo Bikes
Riding Experience and Impressions
The first thing that left an impression on me is that RadWagon 4 is a big, long, and heavy machine. I thought it would be hard to maneuver it and balance it, but I was wrong. The weight of the bicycle is ideally centered and the 22″ wheels keep the center of gravity low. Therefore, I felt quite stable and confident while riding it.
Thanks to the powerful 750W motor, you can't actually feel the weight of the bike. The power from the motor is available on-demand, without any delay, especially when you twist the throttle.
This cargo bike is ideal for paved roads, bike paths, and light gravel roads. The 3″ wide tires have plenty of grip, even though they are not knobby at all. While testing it, I purposefully went on some light trails and fire roads and it held up nicely, though the experience was quite bumpy and rough.
Despite the low price and some entry-level components, RadWagon 4 is seriously capable, well-built, and a blast to ride.
The thing I liked the most is the cargo area which provides you with countless ways of carrying stuff with you. The rear rack is long enough to fit two pairs of full-size panniers or two child seats. That's more than enough carrying capacity for most families out there.
The final impression is that Rad Power Bikes put a lot of thought into this bike, especially into the details that really make a difference when riding it daily and using it as a workhorse.
Other Reviews
Frequently Asked Questions
RadWagon 4 is a class 2 e-bike with a maximum speed of 20 MPH. You can achieve this speed both with pedal-assistance and the throttle. Once you reach 20 MPH, the motor turns off, so if you want to go faster, you will have to continue pedaling on your own.
RadWagon 4 sells for $1,699, which makes it one of the most affordable electric cargo bikes on the market. The stock version comes jam-packed with accessories and features, but you can add additional ones by purchasing them from the company, which would increase the price.
RadWagon 4 is one of the best affordable cargo electric bikes on the market. Even though this is an entry-level bicycle, it features high-quality components. The motor and battery have sufficient power to haul cargo and offer a fun and relaxed riding experience.
Should You Get the RadWagon 4?
So the ultimate question is whether or not you should get this electric cargo bike. But I think a better-suited question would be, "Why should you get a RadWagon 4?"
You should get it because you won't lose much in terms of practicality compared to owning a car. Unless you plan to haul an entire couch, this bike will have no problems dragging a bunch of your belongings along, all day long.
The RadWagon 4 is ridiculously fun as well. What's more important, it's fun for the entire family. Two adults, or an adult and two kids can easily fit on it and go for a ride.
For $1,900 (the lowest on the market), you can easily check it out for yourself!
There are no comments yet, add one below.