Even though Marin Bikes has been around for more than 30 years, they used to be an underdog recently for no good reason. Today, Marin is back in the game with high-end carbon bikes used by elite cyclists to win competitions, as well as entry-level and mid-range models for the average Joes. Should you get one? Let's find out!
Ever since the company's beginnings, Marin has been specializing in making ground-breaking full-suspension and hardtail bikes that turned heads.
That is still very much the case, though Marin is informed about the newest trends, so it has a decent offering of Gravel, All-Road and E-bikes as well.
In addition, Marin's hybrid, urban, and fitness bikes are also quite popular, allowing average people and enthusiast cyclists to stay fit, commute daily, and ride more.
Marin's bikes are also commonly seen in top-class MTB and gravel competitions, where they're ridden by successful athletes such as Matt Jones, Juliet Elliott, Martha Gill, Nikki Whiles, Mark Matthews, and others.
Read our Marin Bikes review to learn more!
The Marin Story: Where It All Began
Marin got its name after Marin County, California, which is the birthplace of the company and the mecca of mountain biking.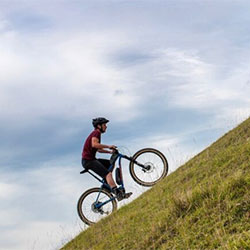 Marin Bikes was founded back in 1986 by Robert Buckley who took up mountain biking during the sport's early days when the availability of mountain bikes was scarce.
Faced with the lack of bikes that suited his riding style and allowed him to develop his skills, he decided to come together with a group of local enthusiasts to create their own, better bikes.
Their first mountain bicycle, the Madrone Trail, was a huge success and ultimately led Marin to establish themselves as one of the leaders in the growing MTB niche.
What followed were dozens of hardtail and full-suspension mountain bikes, hybrid and road bikes, and most recently gravel and all-road bicycles.
Marin's progress had slowed down up until 2013 when the company was sold and received new management which has completely overhauled the lineup and once again brought Marin to the very top of the market.
Marin Mountain Bikes
When it comes to mountain bikes, Marin is an expert. Marin's full-suspension mountain bikes and hardtail mountain bikes are intended for all types of riders.
Full-Suspension
Marin's lineup of full-suspension bicycles is pretty decent. It incorporates models that fit in almost all categories of mountain biking, including trail, all-mountain, enduro, and downhill.
Marin makes their FS mountain bikes in all price categories, so they are suitable for different types of riders. At the moment, three distinct model lines are available:
For example, trail beginners who don't want to break the bank can get the Rift Zone 1 model for around $1,600 which offers 130mm of travel, hydraulic disc brakes, slack trail geometry, and a Shimano Deore 11-speed drivetrain.
Apart from Rift Zone, one of the most popular models has to be Alpine Trail, which is a selection of super-slack aluminum 29ers with massive tires and 160mm of travel on RockShox suspension. The headtube angle is just 63.5°, so things don't get much slacker than that.
Hawk Hill is possibly the most playful trail bike Marin has ever produced, and one of the most affordable ones as well. It's ideal for beginner and intermediate riders who need a two-wheeler to use, abuse, and practice skills on.
Hardtail
When it comes to hardtail bikes, the selection Marin fans have is VAST. At the moment, there are eight models to choose from, including both 27.5″ and 29″ bikes. Riders can choose from trail, XC Race, and dirt jump models.
El Roy
Team Marin
Wildcat Trail WFG
Bolinas Ridge
Pine Mountain
Alcatraz
All of the bikes on the current roster are made with aluminum frames, so they will be most suitable for beginner and intermediate riders. However, that does not mean that some of them are not race and competition ready.
For example, the Bolinas Ridge is a lineup of entry-level XC bikes intended for recreational riders and weekend warriors. They're excellent for exploring local trails and singletracks, but they might lack in some areas if put to the real test.
On the other hand, the San Quentin bikes were designed in collaboration with Matt Jones, the freeride legend, so they're built to be sent. They come with massive 27.5″ tires and RockShox suspension but are still pretty reasonably priced.
However, the lack of full carbon models at the moment means that more serious riders who want to win races don't really have much of a choice in Marin's lineup.
Or See the Options on GovVelo
Marin Gravel Bikes
Marin's most recent innovations include the addition of gravel and all-road bicycles with drop bars to their offering. Gravel riding is the latest trend in cycling and time has shown that it's not just a fad—it's here to stay.
Right now, Marin's Drop Bar section consists of the following model series:
Headlands
Lombard
Gestalt
Gestalt X
These include bikes that are intended for pure gravel grinding, commuting, bikepacking, bike touring, as well as for a mix of pavement and dirt.
This is reflected in the materials used, the frame geometry, mount options, and wheel/tire sizes. By this, we mean whether the bike is made from carbon, aluminum, or steel, whether or not it can take front and rear racks, and if it's tires are versatile or intended for pure off-roading.
For example, Nicasio 1 is an entry-level bicycle made from a steel frame and fitted with 30mm tires. It's ideal for commuters, all-weather riders, as well as adventure riders both on and off-road.
On the contrary, Marin Gestalt X is a more aggressive and more robust gravel bike with a 1x drivetrain, huge tire clearance, and even a dropper post for descending. It comes with 40mm tires but can go much higher than that.
So if you need an all-road bicycle to use as your winter bike, to commute no matter the weather, or explore those tempting gravel and dirt trails in your area, Marin has a pretty decent offer.
Marin Hybrid Bikes
Marin's production of hybrid bikes started in the early 90s when they decided to diversify their offering, which included only mountain bikes until then.
This turned to be the right move and they never stopped. Today, they make dozens of hybrid bikes in different categories, such as fitness, urban, commute, etc. Check out the list below:
Fitness
Presidio
Urban CrMo
Dual Sport
DSX
Kentfield
Stinson
The most attractive of these are probably the fitness models—Fairfax and Terra Linda. These are affordable aluminum bikes with sleek tires, disc brakes, and comfortable endurance road geometry. Fairfax is made for men, whereas Terra Linda is advertized towards female riders.
Chromoly fans can choose a model from the Urban CrMo lineup, which includes Muirwood and Larkspur models. Larkspur has a unique step-through frame design that turns heads when taken for a commute around town and all builds come with disc brakes.
There are also models with front suspension in the Dual Sport lineup, which are excellent for mixed-terrain riding. But versatile riders will like the DSX models as well, which are basically gravel bikes built with flat bars.
All in all, the success of Marin's hybrid bikes lies in the fact that they are very reasonably priced and look pretty unique, both in terms of frame colors and frame designs.
Marin E-Bikes
Another cycling trend that has been sweeping the market in recent years is electric bikes. Our Marin Bikes review would not be complete without mentioning it.
While Marin's selection of e-bikes is not as impressive as, for example, Trek's or Cannondale's, it is far from limited.
At the moment of writing this review, Marin offers a few hardtail mountain e-bikes and a few more urban e-bikes. These are:
Alpine Trail E1 & E2
Pine Mountain E1 & E2
Sausalito
Pine Mountain E1 and E2 come with 120/130mm of travel in the fork and huge 27.5+ tires that are 2.8″ wide. Don't get fooled into thinking that these are not proper MTBs just because they are electric—they are.
They'll help you get a few more laps around trails and allow you to send it down your favorite descents without crushing your hopes and dreams on the way up the hill.
Alpine Trail E1 and E2 are full-suspension electric beasts with 150mm of travel, made for serious trail and enduro riding. These bikes are powered by Shimano STEPS mid-drive motors and high-capacity integrated batteries, which is just what you need on a long day spent in the mountains. On top of that, the mullet wheel design will give you maximum rollover and handling ability. That is just what you expect from a top-tier FS e-MTB.
On the other hand, Sausalito e-bikes are intended for tamer riders who want to spend more time on the saddle, in spite of injuries, old age, or challenging terrain.
They're ideal for commuting, cruising, and multi-surface exploring. Plus, the offering includes both step-over and step-through models, which is good news for riders who have trouble mounting and dismounting.
Kids' Bikes by Marin
What's the best time to start riding a bike? The right answer is as early as possible. Luckily, Marin manufactures a decent number of kids' bikes as well, intended for recreational and more serious riding.
Hawk Hill JR
San Quentin 24/20
Bayview Trail
Hidden Canyon
The Hawk Hill JR model, for example, is a serious full-suspension bike ideal to shape the talent of any young future pro. It's available with either 26″ or 24″ wheels, so it suits teenagers and school-age kids. With a light aluminum frame, 120mm of travel, and wide knobby tires, it's more than any young trail rider will ever need.
The other models are available with 24″ and 20″ wheels and are intended for a more recreational type of riding. They'll easily get any child hooked to riding and the trails.
FAQ
Or See All Available Marin Bikes on GovVelo and Jenson USA