Traditional and modern are no longer juxtaposed thanks to Marin's Nicasio performance gravel bikes. Modern geometry and classic steel design give new meanings to comfort and performance.
The Marin Nicasio series consists of three steel endurance bikes built for those who want to keep riding even after the road runs out of pavement.
Marin Nicasio bikes feature Series 1 and Series 2 steel frames, clearance for 700C x 40mm or 650B x 47mm tires, flat-mount disc brakes, and the signature Beyond Road geometry that enhances handling and stability.
If you want to explore the path less traveled or make your rides a lot more comfortable, you should read the rest of our Marin Nicasio review.
Nicasio 700c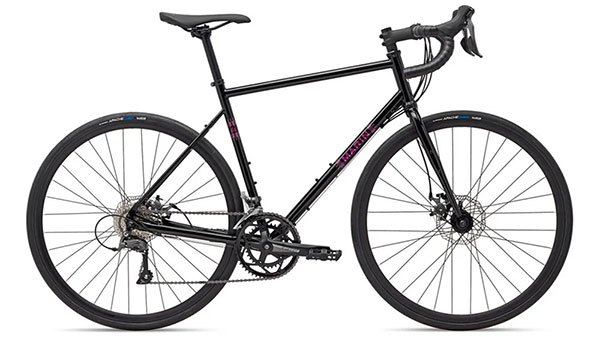 Marin Nicasio is the most affordable of the three models. It's suitable for beginners or riders who are not overly concerned about performance riding, average speed, and elevation gain.
The bike is made around a Series 1 double-butted CrMo frame that's slightly heavier than the Series 2 frames you get with some of the more expensive models.
However, the geometry is the same and the frame features mounts for three water bottle cages, as well as mounts for front and rear racks and fenders. You can pack it heavy for bikepacking and touring adventures.
When it comes to the components, Nicasio sports an entry-level Shimano Claris 2×8 drivetrain and Promax mechanical disc brakes. These are great options for beginners and commuters—they're not fancy high-end parts, but you'll get decent performance and precision.
This Nicasio build rolls on 700C x 30mm tires that are suitable for riding on mixed surfaces. However, if you want something for more rugged roads, you can swap them for up to 40mm wide tires. The aluminum double-wall rims are pretty solid for the money.
Related: Best Gravel Bikes
To sum, if you need a comfortable everyday commuter or a gravel/adventure bikepacking machine, this Marin Nicasio build will surprise you with its value.
Nicasio 2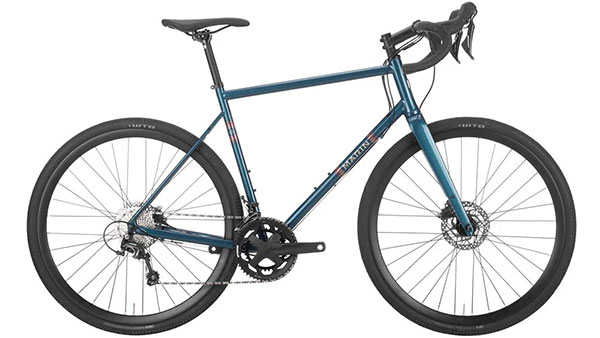 Marin Nicasio 2 is the second 700C model and, at the same time, the most expensive build of the three. It boasts a higher-quality Series 2 CrMo frame with 142x12mm thru-axle dropouts and Beyond Road geometry. Moreover, it has a full carbon fork, which makes it even lighter and faster.
This model is more suitable for serious gravel riding thanks to its 700C x 37mm tubeless-ready WTB Riddler Comp tires. If they're not wide enough for you, you can go up to 40mm in width.
The Shimano Tiagra 2×10 components give an excellent bang for the buck in this price range. This is not a race-ready groupset, but it provides smooth and precise shifting, as well as reliable gear changes in challenging conditions.
Another improvement compared to its more affordable sibling is the pair of Shimano hydraulic disc brakes. They're easier to adjust and lend more braking power and precision.
Marin Nicasio 2 is a pretty strong and durable bike as it has thru-axles front and rear, as well as a tapered head tube. Therefore, it will take a lot of abuse before it shows any signs of wear.
Get it if you want a high gravel fun factor at a reasonable price.
Nicasio +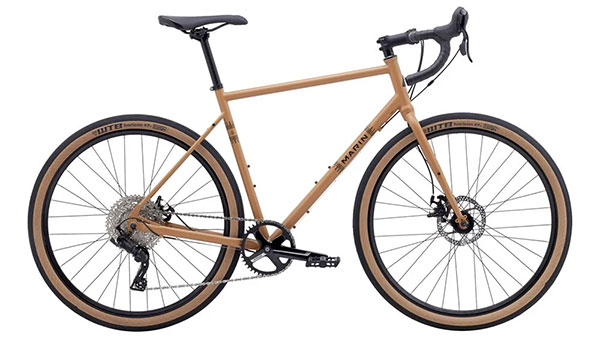 The Nicasio+ model is for the rider who's looking for the ultimate comfort and grip that only 650B wheels provide. This model comes with the more basic Series 1 steel frame but features massive 650B x 47mm WTB Horizon tires that open up new possibilities when choosing which route to take.
A lot of people don't know that Shimano, SRAM, and Campagnolo are not the only bike groupset manufacturers. Nicasio+ is equipped with a solid entry-level MicroSHIFT Advent rear derailleur with 9 wide-range gears. It has great reviews online as it shifts smoothly and precisely despite the low price.
The list of specs also includes reliable Tektro mechanical disc brakes with 160mm rotors, so you don't need to worry about slowing down when the road starts going down.
The only disadvantage this model has is the weight. The Series 1 frame is heavier than Series 2 and the 650B wheels and tires are quite beefy. However, unless you plan to climb very steep hills, this shouldn't be too much of a concern at this price.
We recommend that you buy Marin Nicasio+ if you love riding on soft gravel, rough dirt roads, and hardpacked singletracks. It will put a big grin on your face.
Nicasio Ridge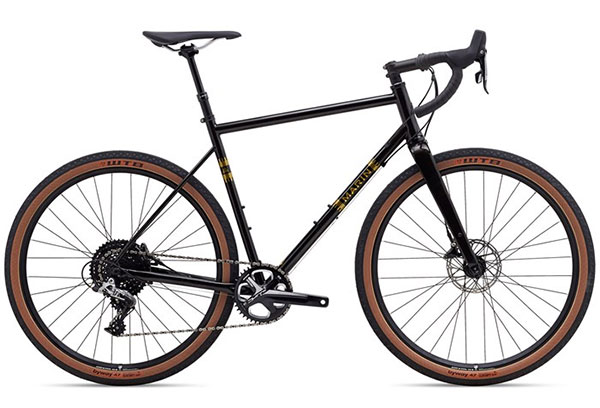 Marin Nicasio Ridge is the 2020 model with 650B wheels and better mid-range components than the other three builds reviewed above.
It's built around the Series 2 CrMo frame with Marin's recognizable Beyond Road geometry. This frame boasts thru-axles, an integrated headset, as well as fender and rack mounts. The full-carbon fork is light, stiff, and has rack mounts as well.
Nicasio Ridge features a SRAM Rival 1 rear derailleur with 11 wide-range gears. The 9-44T cassette and 42T crankset make it a capable climber. On the other hand, the SRAM Rival hydraulic disc brakes significantly improve its descending capabilities.
Compared to the 2021 models, Nicasio Ridge also has lighter and better-performing WTB KOM i25 tubeless-ready rims and WTB Byway 650Bx47mm tubeless-compatible tires.
However, the biggest surprise has to be the TranzX dropper post with 105mm of travel. It makes this bike suitable for long days of bikepacking and gravel riding, as well as for riding more serious gravel routes that require technical skills.
This model is best suited for avid gravel grinders who track all of their rides on Strava, chase KOMs/QOMs, and constantly try to improve their performance by crushing previous PRs.
Marin Nicasio Sizes
Marin Nicasio bikes are available in up to seven frame sizes, which gives you a lot of freedom to choose the size that fits you the best.
Check out the size chart we've created below and choose the perfect frame size based on your height.
| | | | | |
| --- | --- | --- | --- | --- |
| | Nicasio | Nicasio 2 | Nicasio+ | Nicasio Ridge |
| 47 cm | 4'10" to 5'0″ | 5'0″ to 5'3″ | 5'0″ to 5'3″ | 5'0″ to 5'3″ |
| 50 cm | 5'0″ to 5'3″ | 5'3″ to 5'6″ | 5'3″ to 5'6″ | 5'3″ to 5'6″ |
| 52 cm | 5'3″ to 5'6″ | 5'6″ to 5'9″ | 5'6″ to 5'9″ | 5'6″ to 5'9″ |
| 54 cm | 5'6″ to 5'9″ | 5'9″ to 6'0″ | 5'9″ to 6'0″ | 5'9″ to 6'0″ |
| 56 cm | 5'9″ to 6'0″ | 6'0″ to 6'2″ | 6'0″ to 6'2″ | 6'0″ to 6'2″ |
| 58 cm | 6'0″ to 6'2″ | 6'2″ to 6'4″ | 6'2″ to 6'4″ | 6'2″ to 6'4″ |
| 60 cm | 6'2″ to 6'4″ | | | |
Other Marin Series
Over the years, Marin has become one of the biggest bike manufacturers in the world. If you feel that the Nicasio lineup does not meet all of your needs, you can easily find other Marin models that could fill those gaps.
The company makes Mountain, Drop-Bar, Fitness/Transit, and Kids' bikes. Therefore, riders can choose between trail, enduro, XC, bikepacking, gravel, hybrid, comfort, and even electric bikes.
At the moment, Marin offers around 35 model families. The Marin Nicasio series is just the tip of the iceberg, so we recommend looking at what's underneath to make sure you get the best bike for your needs.
To get a better idea of their bikes, see our detailed review of Marin bikes.
FAQ
The Marin Nicasio is an excellent beginner gravel/commuter bike. It's slightly heavier than ideal as it has a heavy-duty steel frame, but its main traits are comfort and durability. If you love enjoying your rides and commutes rather than racing and being in a rush—this is the right bike for you.
Yes, Marin Nicasio is a gravel bike. It has either 700C or 650B gravel-specific wheels and tires. However, you can ride it on other surfaces as well. This specific build has 30mm tires that are suitable for paved and unpaved roads. The wider 47mm tires can tackle trails as well.
Marin Nicasio weighs around 25–29 lbs, depending on the build and the frame size. This is considered to be heavy-ish, but it's the price you pay to ride a comfortable steel frame. If you mostly plan to ride on flat roads, this weight won't make a big difference for you.
Final Verdict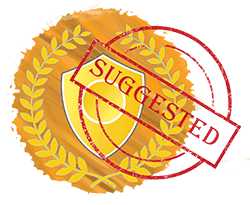 In conclusion, this is one of our new favorite steel gravel bikes. We'll explain why.
It's affordable, good-looking, versatile, and has all the bells and whistles you'd expect to get for this amount of money.
Sure, it's rather heavy, it has some entry-level components, and won't win any races. But that's not what this bike was made for in the first place.
This is a bike that breaks the n+1 equation, as it is versatile enough for road riding, gravel grinding, multi-day bikepacking, and exploring light to moderate trails.
If you want an affordable steel bike that looks and performs like far more expensive models, then this is the right choice.
There are no comments yet, add one below.