RadRunner 1 and RadRunner Plus are Rad Power's utility e-bikes with a crazy level of quality for the price. They're made to be customized with a total of 330 accessory combinations, which could make your daily commutes easier than ever. 
Whether you're looking to replace your car and travel in a more sustainable way, or you just need a convenient commuter, RadRunner 1 and RadRunner Plus might be for you.
These are affordable electric cruisers with pedal assist and throttle, long battery life, and high power motors. They'll help you conquer hills and stay in flow with the traffic around you.
Let's check them out – enjoy the review 🙂
RadRunner 1 & RadRunner Plus Review
At first glance, RadRunner 1 and Plus look way different. However, they have more similarities than differences. In terms of mechanical and electric components, you get pretty much the same package and the same value for your money.
Both bikes come with the same set of 20″ wheels and tires, brakes, and lights. You also get the same motor, and battery, and the same integrated rear rack.
However, the Plus model is a limited edition with many cosmetic upgrades, some additional practical accessories, and a different drivetrain.
RadRunner 1 sells for $1,200, whereas RadRunner Plus sells for $1,700. Are they worth the money? Let's find out.
---
RadRunner 1
---
Rad Power's RadRunner 1 is a utility e-bike made to be as practical as possible. It's intended to be used for long daily commutes, running errands around the city, and carrying weight, or even an additional adult passenger.
Urban riders will benefit from upright handlebars, comfortable geometry, a dual-leg kickstand, puncture-resistant tires, and many other features.
Here are some of the best ones.
Low-Step Aluminum Frame
RadRunner 1 is built around a lightweight aluminum frame made from 6061 alloy. It features a low-step design with a standover height of just 16.5″. Therefore, getting on and off the bike is incredibly easy, even for short or elderly riders.
The fork on this model is rigid and made of steel, so it adds weight, but it also adds some comfort, as steel is known to improve comfort.
At the moment, the frame is available in two colors—Forest Green and Black. It also features numerous eyelets that will allow you to attach all the accessories you need.
Simple Single-Speed Drivetrain
RadRunner takes maintenance out of the picture thanks to its easy-to-use single-speed drivetrain with a chain tensioner. This is ideal for new and inexperienced riders who want to ride without having to fiddle with the rear derailleur. Gears are not necessary anyway when you have a motor to assist you.
However, it's worth pointing out that the single-speed drivetrain will make RadRunner 1 a bit slower uphill compared to RadRunner Plus. Therefore, if you live in a very hilly region, consider getting the more expensive model.
Highly Customizable
What is this bike's main selling point?
In my opinion, it's the 330 accessory combinations that you can customize it with.
You can make RadRunner 1 truly your own by equipping it with additional racks, cargo platforms, bags, fenders, seats, and so much more.
All of these accessories are available on Rad Power's website and are not expensive at all. For example, the passenger package is $99, as is the center console, and the display upgrade.
The fenders are $89, which is also how much you need to pay for a front-mounted basket and Fremont panniers.
These upgrades and accessories are not necessary, but they will certainly make your life easier and give you more freedom.
750W Geared Hub Motor – Throttle and Pedal Assist
The Bafang geared rear hub motor puts 750W of power in your legs, which is more than enough to get you anywhere. It develops 80 Nm of torque, so RadRunner 1 can conquer any hill. As this is a geared motor, it means that it will pull nicely uphill, despite the single-speed drivetrain. RadRunner owners are generally happy with its power.
You can ride this bike in pedal-assist or throttle mode, meaning it can run as a pedelec or as an electric scooter. How cool is that! Plus, the 672 Wh battery gives you 45+ miles of range per charge.
The battery is removable, so it can be charged on and off the bike, as well as easily removed and replaced. It takes between 5-6h to charge it fully, so it's best to do it overnight. The battery pack also comes with a lock and a key, so you can be sure that no one will steal it. You can also put the lock in the Locked OFF position to leave it on the bike without worrying that someone will turn your bike on when you're not looking.
One downside to this bike is that it does not have an LCD display but an LED control panel. This simple control panel lets you turn the bike and the lights on or off, select pedal-assist level, and track battery power.
Integrated Rear Rack
RadRunner 1 would not be considered a utility vehicle without its integrated rear rack. It's incredibly strong and it can be fitted with numerous accessories. You can use it to attach different bags and panniers to carry your cargo or attach a child seat and take your kids for a ride.
The rack has a 120 lbs carrying capacity and the entire bike has a 300 lbs carrying capacity. With a passenger platform mounted on the back, that's enough room for two adult passengers on the bike.
Get Directly From RadPowerBikes.com
---
Limited Edition: RadRunner Plus
---
We mentioned that RadRunner 1 and RadRunner Plus are very similar. However, the Plus model is still an upgraded version of the original. Therefore, it comes with some sweet improvements for the money.
RadRunner Plus also looks more premium thanks to a different paint job that is quite sleek. Here is where the two differ.
7-Speed Shimano Drivetrain
RadRunner has become even more practical thanks to the Shimano Acera 7-speed drivetrain featured on the Plus model. It extends your capabilities for climbing hills and continuing riding even when you run out of battery.
Shimano Acera is an entry-level groupset, but it still offers smooth shifting and reliable performance for the average rider. With the 750W geared motor and the 11-34T freewheel, you will have no issues riding over hills in your area.
Passenger Package
RadRunner Plus lets you share the fun with a friend. The rear rack comes with an elevated passenger seat, footpegs, and a protective wheel skirt. The passenger package is a stock accessory on this model, really adding to the premium feel.
Plus, it's not just any passenger package, it's Rad Power's premium Espresso passenger package that costs $129 to add on your own.
Suspension Fork
RadRunner Plus can take you both through the city and through the countryside. It comes equipped with a spring fork with lockout and preload adjustment. It will make your out-of-town rides a lot more comfortable and also smooth out the rough city asphalt.
The fork in question is an RST spring fork with 80mm of travel. That's enough for city rides and hardpacked dirt or gravel rides. It adds a bit of weight to the bike, but it also adds quite a bit of comfort.
Full Fenders
The stock version of this bike comes with full-length front and rear fenders that will protect you from the elements. Bad weather is no longer such a strong excuse not to commute to work by bike or go out and enjoy your day.
LCD Display
RadRunner Plus also features a more advanced LCD display compared to RadRunner 1's LED control panel. This is a backlit display that will track your ride metrics and tell you all you need to know about the battery level and the pedal-assist mode.
You'll be able to see all the information at night easily, as the screen lights up bright blue. You can control the information on the screen using three buttons placed on the opposite side of the handlebar.
Premium Headlight
Last but not least, RadRunner Plus is ready to be ridden at night as well. Its premium set of LED lights will keep you visible and show you the road in front of you even in pitch darkness.
Get Directly From RadPowerBikes.com
---
Sizes
Both RadRunner 1 and RadRunner Plus bikes are available in just one frame size. However, this is a one-size-fits-all frame that's suitable for riders between 4'11" and 6'2″ tall, with an inseam length between 21″ and 34″. 
Check out Rad Power's size chart below for more info.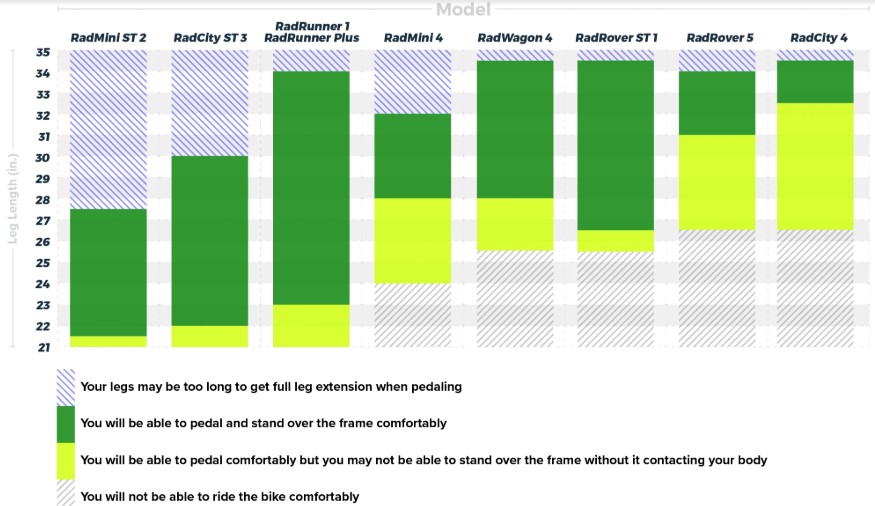 Warranty and Shipping
Rad Power bikes come with a one-year warranty on the frame and fork, as well as any components fitted on the bike, including the motor and the battery. A one-year warranty is not spectacular, but it is still good considering Rad Power bikes are pretty affordable.
The warranty will cover any manufacturing defects in materials or workmanship, but will not cover normal wear and tear.
The good news is that all Rad Power bikes come with free shipping inside the continental USA (excluding Alaska and Hawaii). After you place an order, you can expect your RadRunner to be at your doorstep in 2-6 business days.
Other models
Apart from the two models reviewed in this article, Rad Power offers several other unique electric utility bicycles that could suit your needs even better.
Final Verdict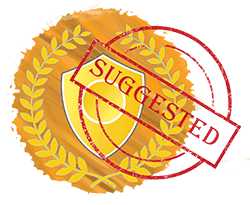 All things considered, there are many better e-bikes out there — lighter, faster, more efficient, and more durable. HOWEVER, there are no such bikes at this price. 
Considering the money to value ratio, RadRunner 1 and RadRunner Plus are a bargain. For $1,200 or $1,700, you get a practical electric bike with a solid range, quality components, powerful motor, and really good looks.
If practicality is a more important requirement for you than low weight and nimble handling, then this bike is an excellent choice. It will do everything a much more expensive e-bike will do, without taking the last cent out of your pocket.