The RadCity Plus by Rad Power Bikes is a multi-dimensional city cruiser with mid-range components and telescoping handlebars, a built-in rear rack, and a convenient step-through design.
The RadCity has made its way to thousands of hearts, but now there's an upgraded version of the fan favorite.
With higher-end components like a more powerful motor and hydraulic disc brakes and exciting features like a semi-integrated battery, the Rad City Plus is sure to impress.
The bike is customizable in every way. Perhaps Giorgio Armani said it best, "Accessories are important and becoming more and more important every day".
Featuring nearly 50 different accessories available for purchase, this quote surely holds true for the RadCity Plus. Riders can easily and quickly add a child seat, front basket, pet carrier, and even an extra battery travel case. Only a few e-bikes offer this many add-on options.
RadCity Plus Main Specs
Rad Power Bikes has done a great job improving its RadCity model. The new and improved RadCity Plus has improved in many ways – it's more powerful, has more range, and it looks so much sleeker than its predecessor. So what to expect from this bike?
Here's a quick rundown of the most important features:
Motor: 750W rear hub motor
Battery: 48V, 14 Ah
Frame: 6061 aluminum
Fork: Spring Fork, 50mm of travel
Gears: 1×7 speeds
Derailleur: Shimano Altus
Brakes: Hydraulic disc brakes, 180mm
Tires: 27.5″ x 2.0″
Weight: 64 lbs
Unisex, Step-Through Design
An easy-mount step-through design allows riders of all heights and physical capabilities to mount the RadCity Plus with little trouble.
The RadCity Plus is made of 6061 aluminum and weighs just 64 pounds. So, it can easily be lifted onto a rack or loaded into the bed of a truck.
With a standover height of just 21" and seat adjustability from 25.5" to 33", this electric bike can suit riders from 4'8" up to (we believe) 6'4".
Its upright design and high handlebar height (up to 47") enable riders to sit and ride comfortably with a straight back and without hunching forward, making longer rides possible without incurring aches.
A Mix of Low-to-Mid-Level Components
Most bicycles offer little adjustability beyond the seat height. That's not true with the RadCity Plus. Unlike most other electric bikes you will encounter, this electric bicycle offers a telescoping handlebar mount.
This means the handlebars can be rotated forward a good five inches to extend the distance from the seat to the bars. Ideal for taller riders with longer legs!
Likewise, the bars can also be rotated inward to close the gap between the seat and the bars. So, this bike is ideal for smaller riders too.
A nice upgrade from the RadCity is the addition of hydraulic disc brakes featuring 180mm rotors. A spring fork with 50mm travel offers just enough suspension to smooth out speed bumps and uneven streets.
A 7-speed Shimano Altus derailleur is more on the low-end, but we didn't find that it impacts the smoothness of the drivetrain at all.
A Robust 750-Watt Motor & the Battery
A powerful 750W rear hub motor adds more hill-climbing capability than many other Rad Power Bike models, including the RadCity and RadWagon.
With peak power at 750W, this electric bike ensures riders stay in compliance with most Class 2 regulations.
With a top speed of around 20 M.P.H., the RadCity Plus offers enough speed for most riders. We tested the electric bicycle on hills peaking at about 12-percent grade. The RadCity Plus handled them without issue, in low gears and high pedal assist levels.
One area where we wished the RadCity Plus shined more is the battery. Yes, it conforms to industry standards with a 48V, 14 Ah battery, but we wished it had a little higher capacity – say 18-20 Ah.
This would put the RadCity Plus in a class all its own. At its current battery capacity, the company says it can achieve 28-50 miles. However, our experience says the range is likely to max out at 22 miles. Perhaps a tiny bit more with a very light rider.
Read more: How to Choose an Electric Bike
However, a second battery and the battery travel case would double one's range, however – with some added costs. But, we think it might just be worth it. Range anxiety is no fun.
Lightweight Suspension Forks
Unlike many urban cruisers in this price range, the RadCity Plus does include spring forks with just 50 mm of travel, offering enough comfort for most street riders.
With preload and lockout features, riders can adjust the suspension to their liking – within the limited 50 mm of travel parameters.
A nice feature, this low-to-mid-level suspension is by no means highly robust. Instead, riders can expect a modest cushion when it's needed most which should satisfy the preferences of most.
Other Rad Power Bikes Models
Final Verdict – A Solid Choice for Urban Commuters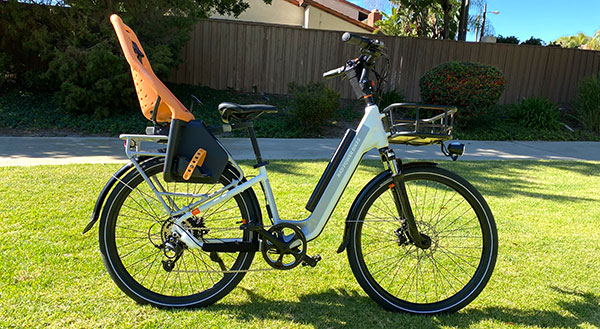 The RadCity Plus definitely offers more power than its predecessor. There are some nice upgrades, like the hydraulic disc brakes, improved range, and so much more.
We enjoyed testing out the RadCity Plus, cruising local streets, bike paths, and tackling some steep hills.
The RadCity Plus is a moderately-priced, highly versatile urban commuter that is ready to hit the road.
Our favorite feature of the RadCity Plus has to be the adjustable handlebars. We found it capable of extending or shortening the seat to handlebar range by upwards of six inches or more, which is pretty impressive.
The extensive optional add-on collection is also very exciting. Most riders should be very satisfied with their RadCity Plus purchase.
Or Get the Step-Through Model
There are no comments yet, add one below.